A White woman has apologized after causing controversy for winning a cosplay contest at Blerdcon—a convention geared towards people of color—in Arlington, Virginia.
The word Blerdcon is a portmanteau of "Black" and "nerds."
The annual convention that aims to be a place for diversity takes place in July for three days at the Hyatt Regency Crystal City at Reagan National Airport.
Attendees and fellow contestants in the costume competition that took place during the event became outraged when a White woman was awarded first place.

The woman—pictured below—was dressed as the character Sakura from Cardcaptor Sakura.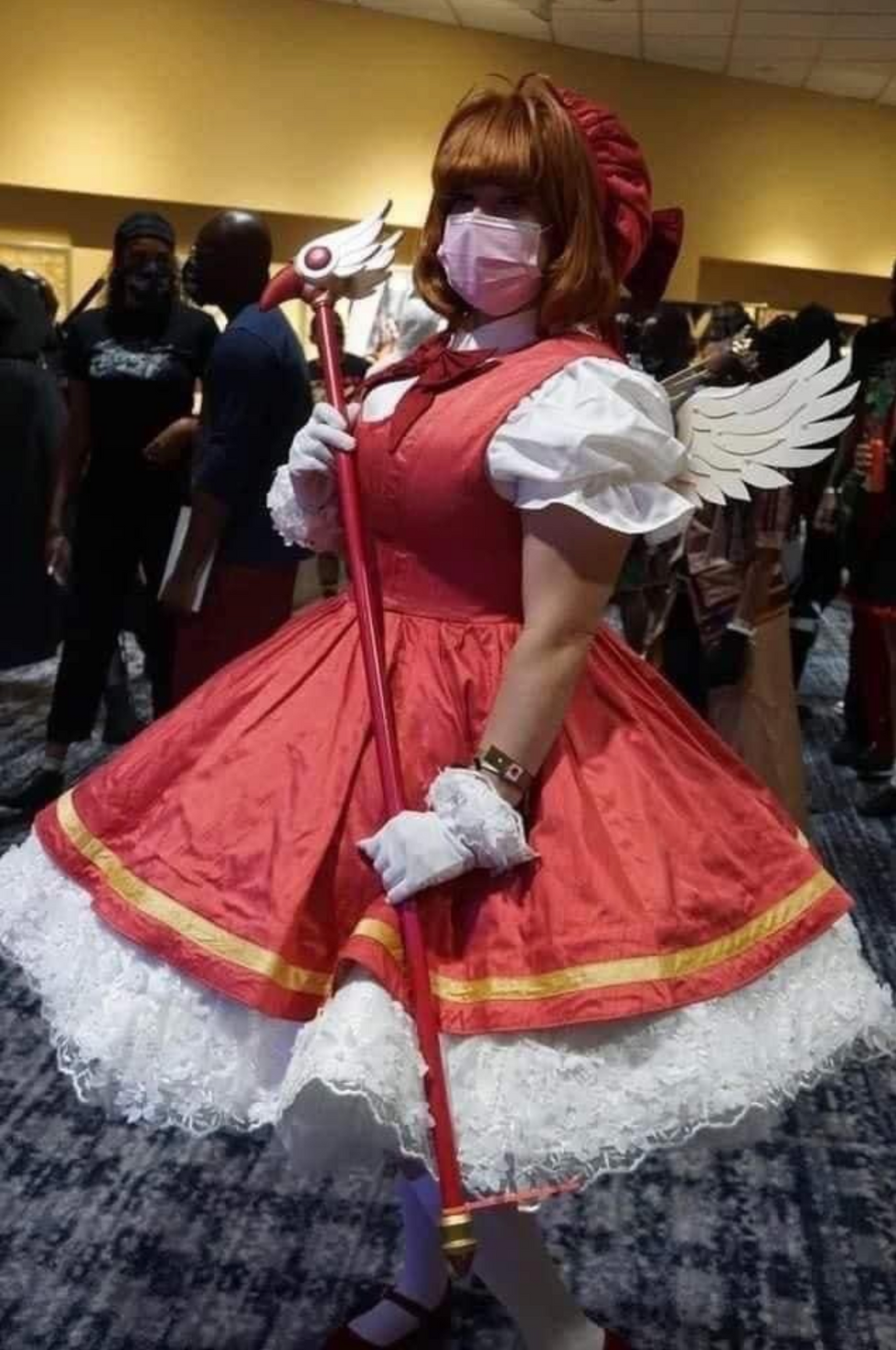 @Mizore_Tee/Twitter
The Blerdcon website states the event "highlights and celebrates Blerd culture and creates a marketplace of ideas where sharing that culture can take place with proper context, attribution and positivity in an inclusive environment."

But fans were surprised and shocked when the White woman won the contest at the event intended as a safe space for people of color.

She wrote a thread expressing her regrets over the controversy.
"I need to address the Blerdcon situation," she tweeted on Tuesday.
"First I want to apologize for not doing so sooner and appearing to avoid the situation. I was/am dealing with a family emergency and I was also waiting to hear back from Blerdcon themselves about their own statement."
"I am actively in the process of returning the prizes and have stepped down. I am sorry for centering myself in a space that was not mine to do so."
"There have been plenty of people who have said I should have read the room and not entered despite my friends encouraging me to do so."
But TikToker @capnkenknuckles maintained she believed the contest winner should not have participated in the first place.
Part of the impetus for Blerdcon and similar conventions is the racism and anti-Blackness prevalent at other conventions.

The user argued POC already have limited opportunities where they can express themselves.
@capnkenknuckles

Reply to @capnkenknuckles part 2 #fypp #blacktiktok #blackcosplayer #blackanimegirl #blackkpopstan #blackanimefan #blerdcon2021 #cosplaytiktok
The user showed a screengrab of a deleted Twitter thread in which @PhreshxBear said it was their fault for encouraging the woman to enter the competition.

"I understand the upset this has caused," wrote @PhreshxBears, adding, "but I would rather have that upset directed at me rather than at her."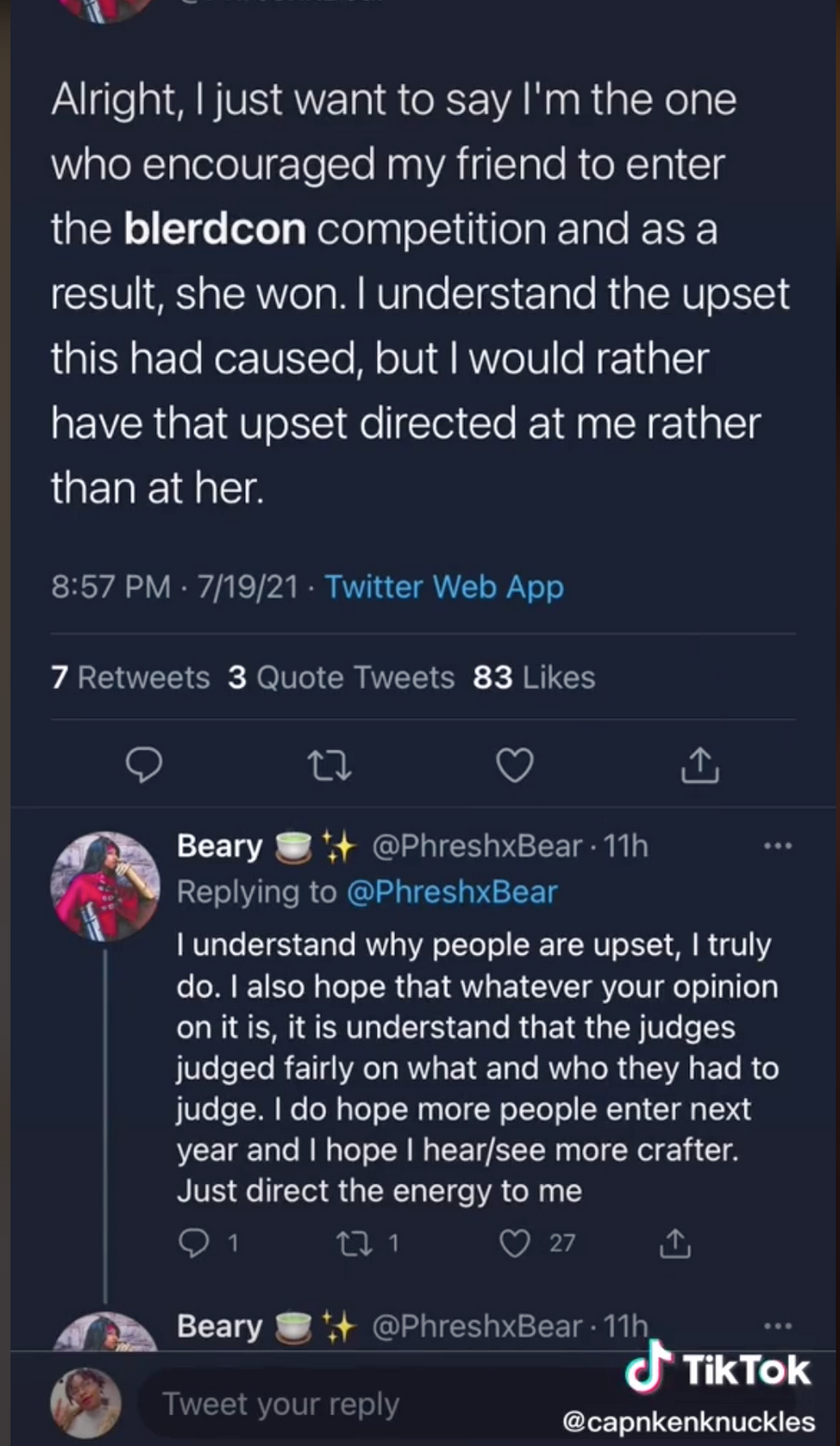 @capnkenknuckles/TikTok

@capnkenknuckles/TikTok

@capnkenknuckles/TikTok

@capnkenknuckles/TikTok
People became more upset when Twitter user @BendingBackward revealed the winning woman's costume was "actually a purchased costume after all and NOT hand-dyed, handmade, hand-sewn, nothing."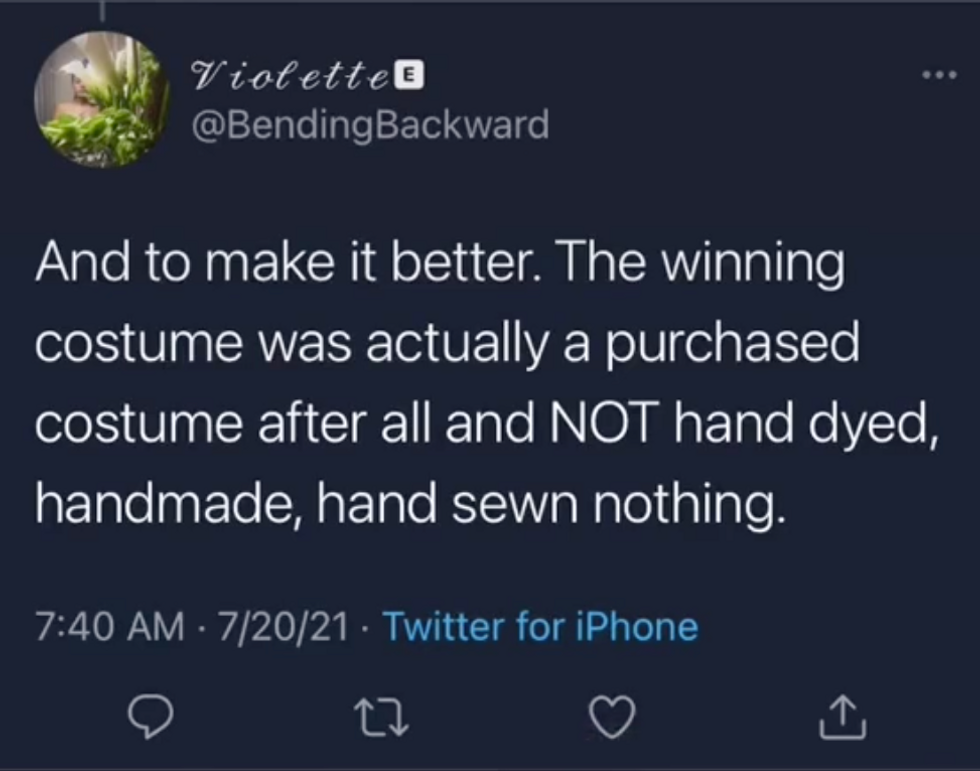 @capnkenknuckles/TikTok

@capnkenknuckles/TikTok
Blerdcon's founder, Hilton George, addressed the controversy in a Facebook video statement.

He said:
"We are an open space, we are not members of a private organization… we don't turn people away."
"There will always be people there who are not Black, who are not people of color, in participation."
He went on to denounce any bullying towards the judges and contestants and said he would ban the people who do that in the future.
One of the judges, Twitter user @Daxclamation, also discussed the 2021 Blerdcon cosplay scandal.
The judge also suggested going forward, the convention could "include specific categories within the costume contest more than just a top 3" as well as "potentially including an audience vote/fan favorite portion."

TikToker @capnkenknuckles clarified in her video, "I'm not against White people being at Blerdcon."

She added:

"But at the same time where is the thought process of you knowing that this is a Black convention for POC and Black cosplayers to have a safe space – because we don't have a safe space in anime conventions – and then you do this."
"Even as an ally, this doesn't seem like a good idea."
This is the second time a non-Black Blerdcon convention participant won the cosplay contest.