A Southhampton woman who worked as a cleaner at HSBC Banks called it quits and stuck it to her "cruel" boss in the form of a brutally honest letter.
Julie Cousins is a 64-year-old mother-of-seven and grandmother-of-seven who worked for an agency but spent five years cleaning at an HSBC bank location.
On her final day on the job, Julie Cousins penned the following letter and left it in a cleaning bucket to be found the next day.

"Hi Ladies, tomorrow will be my last clean for HSBC. I have made up a bucket of ISS cleaning materials for the next clear whoever that may be!!"
"I've left the job [manager's name] after the way you dressed me down in the office."
"It was nothing more than aggressive and cruel but that's a reflection on your character, not mine."
"So going forward, please all of you remember in a world when you can be anything, BE KIND."
"Because you are all no better than the cleaner. – Regards, Julie"
Cousin's son Joe posted the letter on Twitter where it went viral.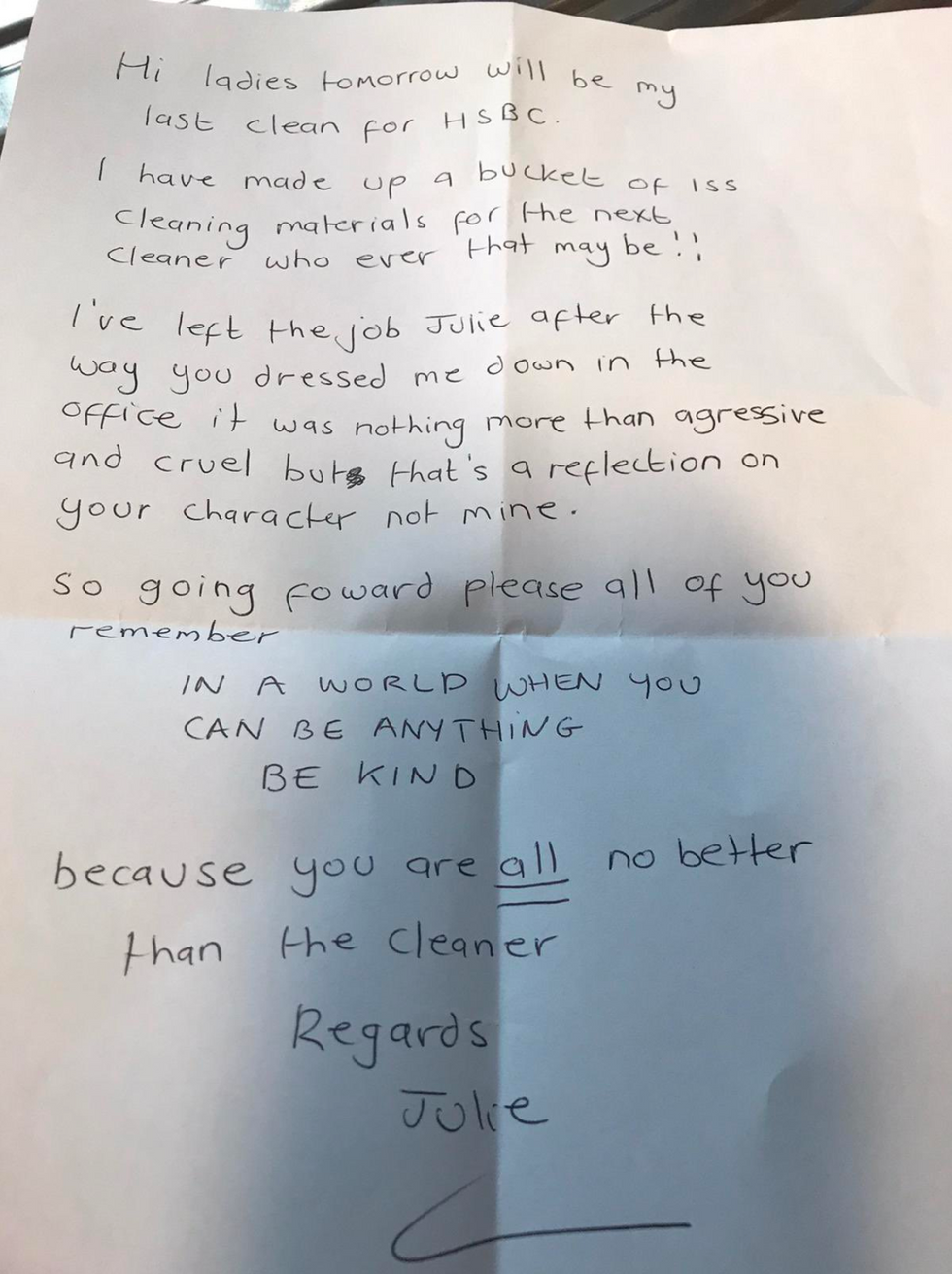 @joecousins89
"And this is why I love my mum," tweeted Joe, adding:

"She's been cleaning banks for 35 years and today walked out with this lovely note left for that awful manager. Happy retirement Mum - always have the last laugh eh!"
Cousins told the Daily Mail she had worked as a cleaner at various banks for 35 years and would often start her shift after her husband Kevin returned home from work at 5 p.m. to look after their children.

"People think it's 'just a little cleaning job' but it's not. I enjoyed it," she said.
Cousins added how she would rarely see other bank employees since they have already clocked out by the time she began her shift.
"Cleaners are forgotten people," she said.
Cousins added she had a difficult time grieving after her mother sadly passed away last year.
She said she could have chosen to remain on the payroll but cited her wanting to work with people she felt comfortable with was the reason for leaving.
Her letter resonated with many people on Twitter—many of whom were told to respect all people earning an honest living.
The letter served as an important reminder that no one is better than anyone because of a job title.

Here's to a happy retirement, Julie!