The saga surrounding embattled freshman New York Republican Congressman George Santos has taken a turn as his story collides with another deeply unsettling gay Republican—Christian Walker.

Walker is of course the son of infamous former Georgia Republican Senate candidate Herschel Walker.
According to Walker, Santos once flirted with him.
But given all the myriad lies Santos has told over the course of his campaign? Well, Walker has questions.
See his tweet about it below.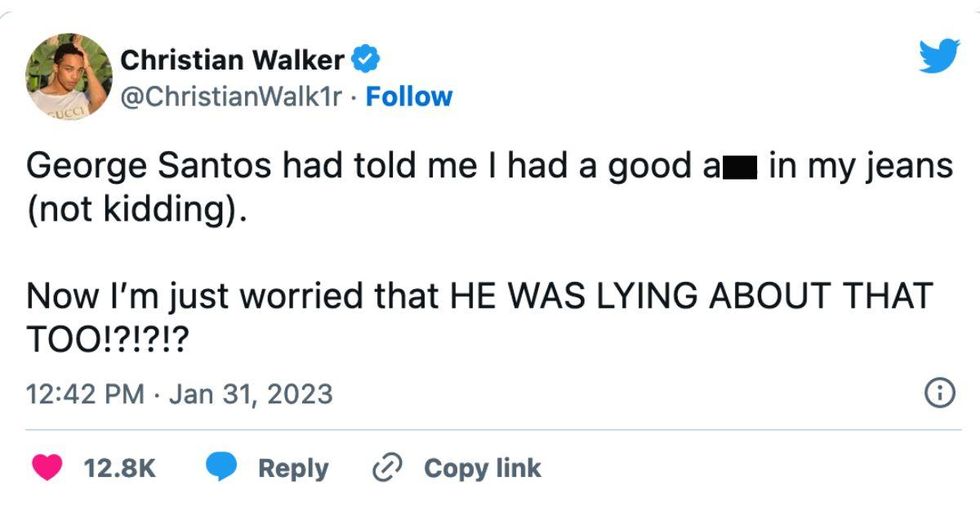 @christianwalk1r/Instagram
Santos also apparently told Walker he liked his friend's a** too.
Honestly Walker sounds a little jealous.
Telling his followers in an Instagram video Santos "lied to me about everything," Walker told a story of calling a friend who also knows Santos and comparing notes.
He said:
"I go, 'he told me my a*s looked good in my jeans. Is that a lie?' And my friend, no lie, goes, 'He told me MY a*s looked good in my jeans!'"
After all the myriad lies—about being the grandson of Holocaust survivors, the son of a woman who escaped the World Trade Center on 9/11 and, inexplicably, the "star" of the Baruch College volleyball team (huh?)—not to mention the drag queen lies...

Now he's two-timing on the butt compliments?
Of course the internet was just as shocked by this new development as Walker was.

All those lies just may be starting to catch up with Santos.

He's under so many investigations, including in other countries, that he's stepped down from all of his committeeships in the House of Representatives. Santos looks to definitely be staring down some legal troubles of the fraud variety.
It remains to be seen if his a** compliments will have similar repercussions.