Law & Order star Chris Meloni has gone viral for his response to an invitation to a fan's wedding.
For twelve seasons, Meloni played detective Elliot Stabler on NBC's Law & Order: Special Victims Unit and now on its spin-off Law & Order: Organized Crime.

So it's hardly surprising the 61-year-old actor has a dedicated legion of fans who've followed his character on many investigations from their living rooms and feel like he's a part of the family.

One couple decided to invite Meloni to their Law & Order-themed wedding.

On Friday, Kelly Heenan replied to a Meloni tweet requesting fan interaction with a screenshot of her wedding invitation, writing:
"Chris, please come to my wedding."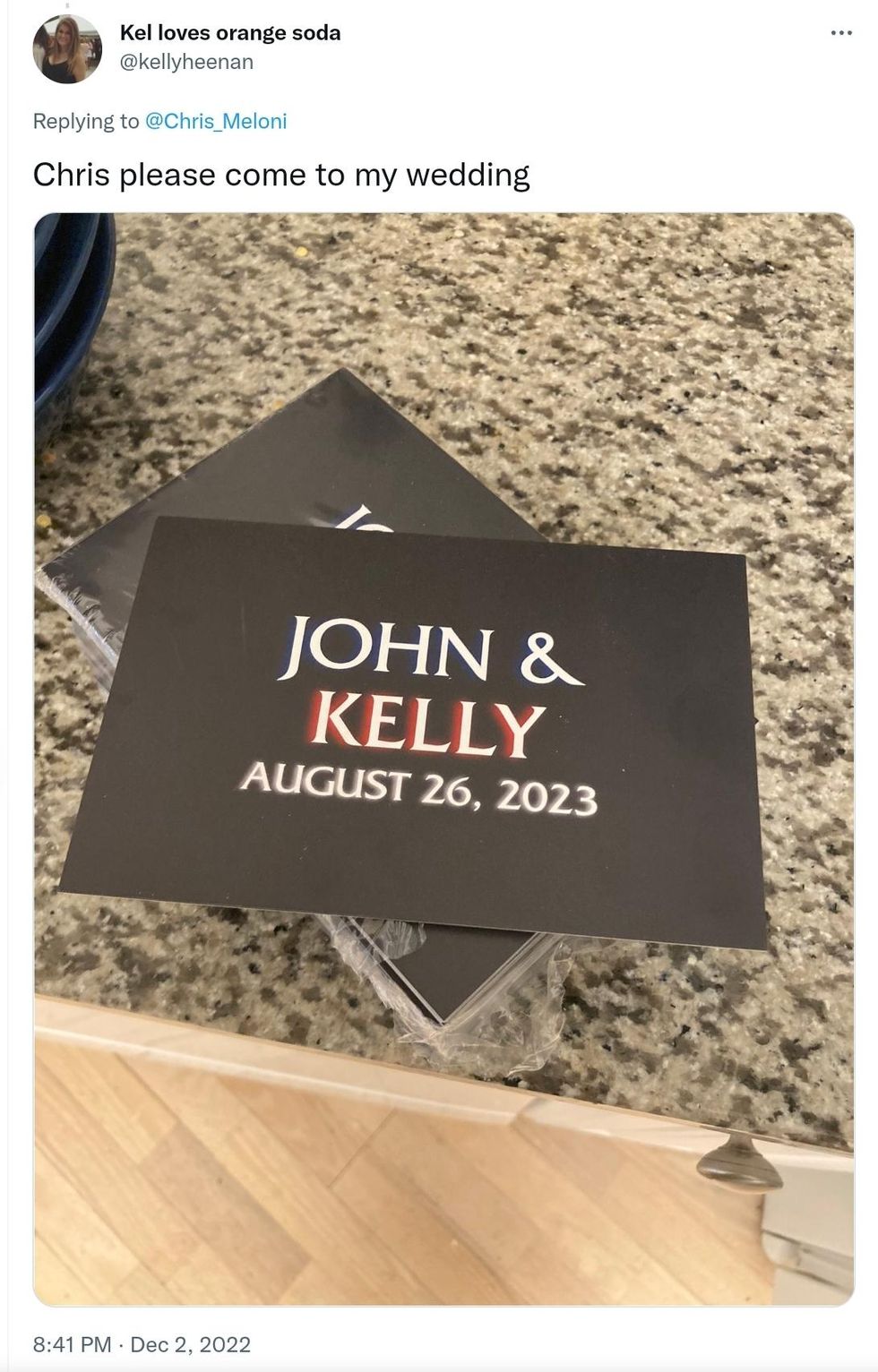 @kellyheenan/Twitter
The front of the invitation had the names of the bride and groom–followed by the date of their nuptials–written against a black background in the style of the crime show franchise's font.
Meloni responded to the invitation the following day with a reply that received over 64K likes over the weekend. We might deduce from his reply the actor was not planning on arriving at the scene without further information.
He quotetweeted:
"And do what?"
Which is a fair question.
How much fun is a wedding when you literally know no one there? Unless you've got a specific task, it could be pretty boring and awkward.
Fans shared their thoughts on his succint reply and on the wedding theme.
The bride—and others—suggested a few things Meloni could do.
The bride also added a photo of the text of her invitation.
People were even more enamored with the invitations after seeing them completely.
After fellow actor Rick Otto suggested Meloni serve hors d'oeuvres, Meloni replied:
"Intriguing."
Meloni also contemplated serving (his) cakes.
And upon his discovery of going viral online, Meloni tweeted:
"*heavy sigh*....AGAIN?!"
And, gavel drop.

While there wasn't a definite no or a definite yes, the bride definitely got a great wedding gift already.

Nothing ventured, nothing gained, right?