Dancer and actor Channing Tatum decided to comment on the controversy surrounding Dave Chappelle's latest Netflix special.
Trans rights activists and organizations took exception with Chappelle's jokes about trans women's genitals and referring to himself as "Team TERF" while misrepresenting author JK Rowling's many anti-trans statements.
After Netflix declared themselves "Team Chappelle," trans writers, employees and showrunners cut ties or quit the company. Trans staffers also planned company-wide walkouts in response.
On Sunday, October 17, Tatum decided what the issue needed was his perspective which he provided in an Instagram story.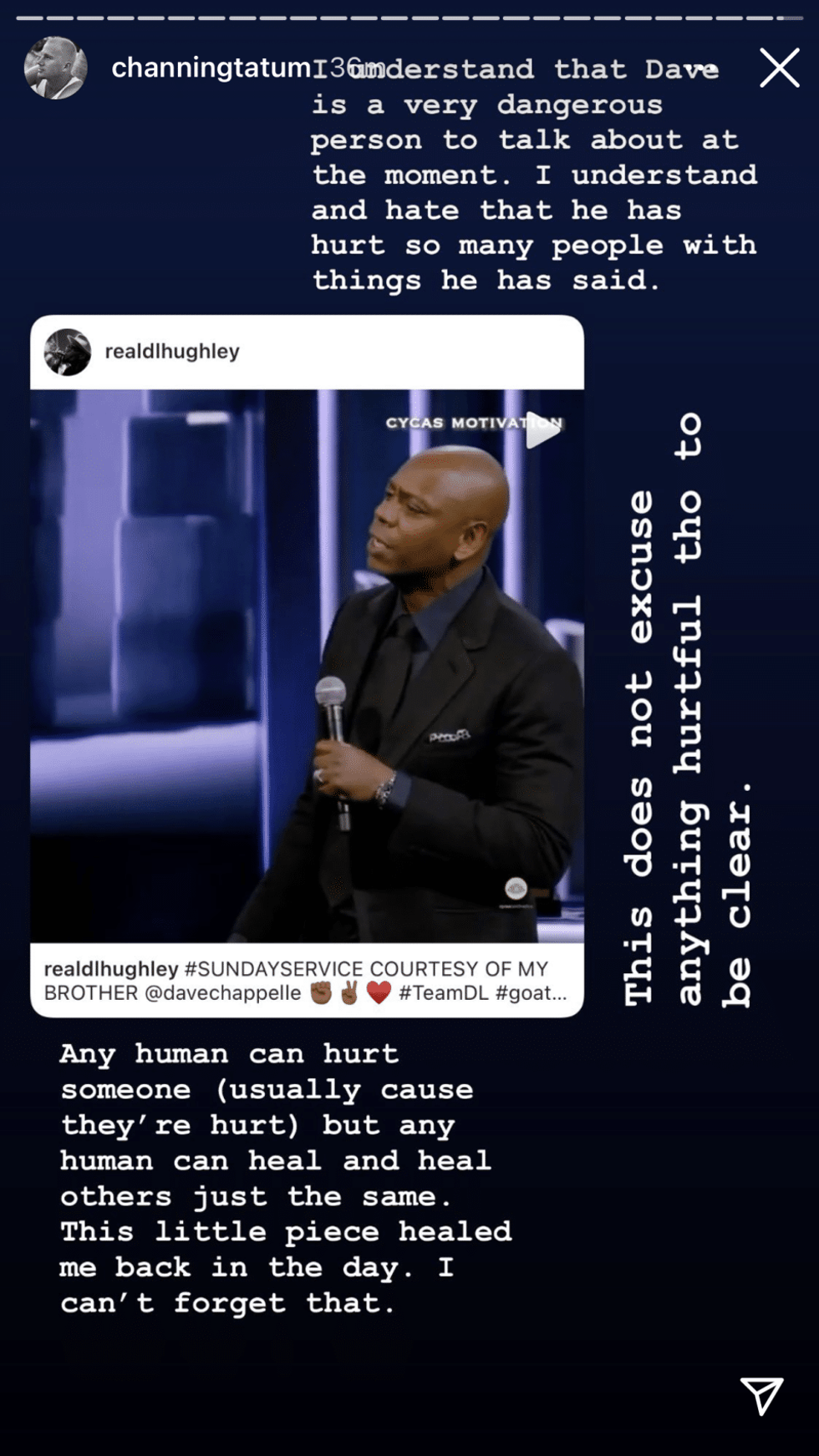 @channingtatum/Instagram
Tatum wrote:
"I understand that Dave is a very dangerous person to talk about at the moment."
"I understand and hate that he has hurt so many people with things he has said."
"Any human can hurt someone (usually cause they're hurt) but any human can heal and heal others just the same."
In reference to a speech Chappelle once gave, Tatum added:
"This little piece healed me back in the day."
"I can't forget that."
However the actor added:
"This does not excuse anything hurtful tho to be clear."
It's unclear what Tatum hoped to achieve by stating Chappelle definitely hurt people, but he gave a speech that inspired Tatum once.
But his hot take was met with mainly criticism from all sides.
Chappelle's defenders state watching the entire show gives needed context to his "I'm Team TERF" when Chappelle mentions his friendship with fellow comedian Daphne Dorman.
They claim Chappelle's painting of all trans women with the same broad brush and comments about their genitals are justified because of backlash he claimed Dorman faced from the trans community—which is not a single monolith—over their friendship.
Dorman died by suicide in 2019. 2019 also marked another record breaking year of murders of trans people—mostly trans women of color.
But his critics cited hypocrisy in Chappelle's anti-cancel culture justification for being against all trans women—the definition of Team TERF—when Chappelle has often mocked conservative Black women—like Candace Owens—and called for their "cancelation" from the Black community.
Now that Owens and Chappelle are both claiming Team TERF, maybe they can make nice with at least each other.