I will never love anything in my life like this child loves hockey and his pet tarantula.

During the Washington Capitals game earlier this week, an interview with the Mite of the Nite, Jackson Friedlander has everyone excited.
---
The boy's infectious energy is prevalent throughout the whole video.
This might have been the greatest Mite of the Nite interview EVER. @AAAMidAtlantic https://t.co/fKE8rmu7OU

— Washington Capitals (@Washington Capitals) 1571270458.0
Friedlander scored two goals in his mite game that took place in Washington's game against the Toronto Maple Leafs. He was very excited when his name was announced to be interviewed over the PA.

The very first thing we learn about the little hockey player is:
"All I wanted is to have some speed and have fun. Always remember hockey's not about winning; it's always about fun."
Which is said with such a happy energy you can't help but smile!
After he's asked who his favorite Capitals player is, the boy says Ovechkin, before immediately pivoting to his pet tarantula Michael.
Obviously.
"I have a tarantula named Michael. He's a curly hair. He just had 2 crickets on Monday, 1 on Sunday. He has a big appetite."
Yes, this information is incredibly important.

We want to hear Friedlander give us daily updates on Michael the Tarantula.
@sullyjr86 @Capitals @AAAMidAtlantic He's a curly-haired 😂

— Chris Clarke (@Chris Clarke) 1571309770.0
@CoronaPicks @Capitals @AAAMidAtlantic Tarántulas!!!!

— Basil Halworth (@Basil Halworth) 1571364481.0
@81COBEosauce @Capitals @AAAMidAtlantic Big appetite

— ty jordan | 104.9 virgin radio (@ty jordan | 104.9 virgin radio) 1571373897.0
I want to know more about this tarantula, missed opportunity for a follow up question. https://t.co/Mosev1rztG

— Brody Logan (@Brody Logan) 1571283257.0
Next, they cut to a clip of the hockey star's goals. The first one is a bit of a struggle, but the second one is a clear shot, even if he happens to flip on his back after making it.

Back at the interview, Friedlander is asked what he was thinking and he responds:
"All I wanted is to just shoot as hard as I can and go as fast as I can."
He's finally asked his last question: whether he has anything to say to his fans, which have probably increased exponentially in number because of this video.
He says:
"Everybody, my hockey team, Mom and Dad, I just love you so much everybody. Please, God bless everybody!"
Hearing his little voice sincerely wish the best for everyone is too much for this heart to bear.
We have no choice but to stan.
If the @Capitals don't tweet out the video of that Mite of the Night interview then they're doing the entire world… https://t.co/AGgYiPK1Ql

— Adam Russell (@Adam Russell) 1571270251.0
@SandraD_CLE2DC @Capitals @AAAMidAtlantic I agree @NHL hire him

— M W (@M W) 1571319627.0
2 minutes for being cutest hockey kid ever...Sound up https://t.co/uX5rYgLgrZ

— Steve Levy (@Steve Levy) 1571319004.0
This is the twitter content I'm here for. https://t.co/ZofLNjuOZ5

— Dean Shareski (@Dean Shareski) 1571359874.0
The video was shared across the internet, with Friedlander picking up new fans as it spread. It even became popular on Reddit's hockey board.

Over on r/Hockey, the fans couldn't help but share their ecstatic feelings for this little hockey player.
"I hope he makes it to the NHL and repeats this interview word for word after he scores his first goal." - violentgentlemen
"I like Tarantulas" - sup3rchi3f
"'just please god bless everybody'
well God, pucks in your zone, whattya gonna do? ignore this kid? yeah right he said please" - dank360
"He's already a better interview than every single NHL player in the history of the league." - yguns031
Honestly, if you can assure me all hockey interviews would be this great, I would become a lifetime fan instantly.

In the meantime, let's all wish Friedlander a great season and hope Michael the tarantula is getting plenty of crickets.
Can't quite do the live spider? Yellies! voice activated spiders, available here, can be the next best thing.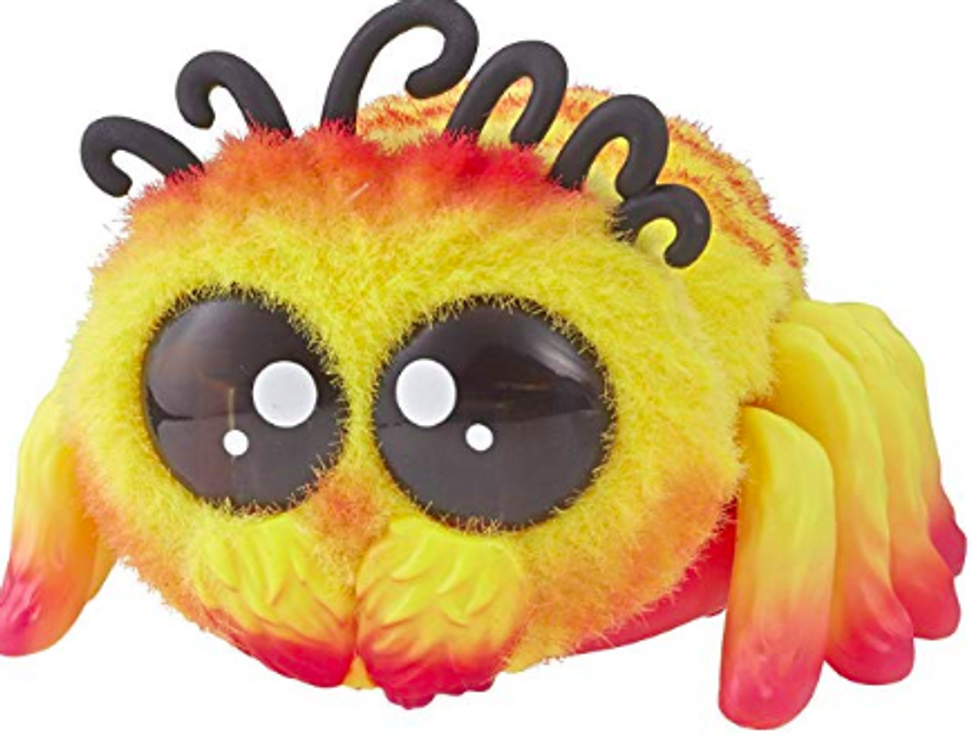 Amazon
******
Have you listened to the first season of George Takei's podcast, 'Oh Myyy Pod!'?
In season one we explored the racially charged videos that have taken the internet by storm.
We're hard at work on season two so be sure to subscribe here so you don't miss it when it goes live.
Here's one of our favorite episodes from season one. Enjoy!