A recently released bodycam video captured a pair of Maryland police officers as they told a 5-year-old boy his mother ought to beat him for his behavior.
The officers then handcuffed the child, apparently illustrating their idea of teaching the young Black child a lesson.
The 51-minute video, released by the Montgomery County Police Department, documented a much longer incident that began far before the two officers advocated for physical abuse against a child.
According to CBS News, the January 2020 encounter began when the 5-year-old boy wandered away from his school. Police were called to find and retrieve him.
The MCPD officers who responded did eventually find him. They put him in the back of their police car and drove him back to school.
He sobbed the whole way, as the bodycam video showed.
As the officers drove the boy back to school, one of them began to taunt the child.

"Does your mama spank you?"
"She's going to spank you today. I'm going to ask her if I can do it."
"This is why people need to beat their kids,"

Once the officers and the boy returned to the school, his mother came to pick him up.
True to her word, the officer suggested she beat her son to prevent further discipline issues. The mother then pushed back, saying she won't beat him for fear of ending up in prison.
The officer then assured her she "won't go to prison for beating [her] child."
Later, the other officer attempted to scare the child by putting handcuffs on him.

"You know what these are for? These are for people that don't want to listen and don't know how to act. That's what that is."
"They put you like that, and now you can't move, you can't free, you can't go anywhere. You do what we tell you to do. Is that how you want to live your life?"
"If somebody tells you to sit down and shut up—any adult—you better sit down and shut up."
The meeting eventually ended with one of the officers reiterating her advocacy for him to be beaten.

First, she spoke directly to the child.
"And I hope she does beat you when you go home. Because you deserve it so much for your actions today."
Then, she offered the mother some shocking logistical advice.
"You can beat your child in Montgomery County, Maryland. In front of him and everybody else you can beat him."
"And please don't leave no cuts or crazy cigarette burns, nothing like that. We're good, alright? Meeting adjourned."
Since the incident, several people have publicly denounced the officers' treatment of the 5-year-old boy.
His mother has brought a suit against both the officers, the Montgomery County Board of Education and Montgomery County as a whole, WBNS reported. The lawsuit prompted the release of the bodycam footage.
One of her lawyers, Matthew Bennett, touched on the seriousness of the case in comments to reporters.
"I felt surprised and shocked by some of the things [in the video]. Because we're not talking about a criminal. At five-years-old, you're not even competent under the law to be a criminal."
"The allegation, fundamentally, is a civil rights violation. You have the right to be free from unlawful seizure, unlawful search, unlawful overstepping by the police."
"And, so when that happens, for instance, if you grab someone and detain them against their will, that's considered a false arrest. It's also considered a constitutional violation."
Her lawyers also noted the boy has been receiving trauma therapy since the incident.
In addition, members of the Montgomery County Council have publicly criticized the actions of the officers.
In a statement, Councilmember Will Jawando described his horror upon seeing the video for the first time.
"I watched in horror as what can only be described as a nightmare unfolded for nearly an hour. It made me sick."
"We all saw a little boy be mocked, degraded, put in the back of a police car, screamed at from the top of an adult police officer's lungs, inches from his face."
"This is violence."
County Executive Marc Elrich also spoke out, assuring the public he'd advocated for changes to the training for police officers.
"I found the video of the incident involving the 5-year-old child difficult to watch, and it does not affect the training and expectations we have for our police officers."
"I have spoken with our Chief and directed him to revisit our training around how our officers are expected to interact with children."
@MontCoExec and @willjawando have both released statements regarding the newly released video. @wusa9 https://t.co/vFdITjOv6J

— Kolbie Satterfield (@Kolbie Satterfield) 1616778566.0
As for the Montgomery County Police Department itself, a public statement informed an investigation was conducted after the incident occurred over a year ago, in January 2020.
That investigation, the statement continued, has concluded.
"Consistent with MCPD policy, an investigation into the officers' conduct was initiated with the MCPD Internal Affairs Division."
"A thorough investigation was conducted of the entire event. The internal investigation has concluded."
"The findings of this internal investigation, as in all internal matters, are confidential under Maryland law."
"Both officers remain employed by the Montgomery County Department of Police."
People who saw the video were outraged by what they saw and couldn't believe the officers still haven't been held accountable.
@KolbieReports @wusa9 There were so many other ways to handle this. I was so disappointed in the female officer...w… https://t.co/IRoDuaL2Lt

— Monique Speaks (@Monique Speaks) 1616944419.0
@KolbieReports @wusa9 Nope they are still on the force, protecting your children...

— Peter Johnson (@Peter Johnson) 1616791738.0

Michelle Allison/Facebook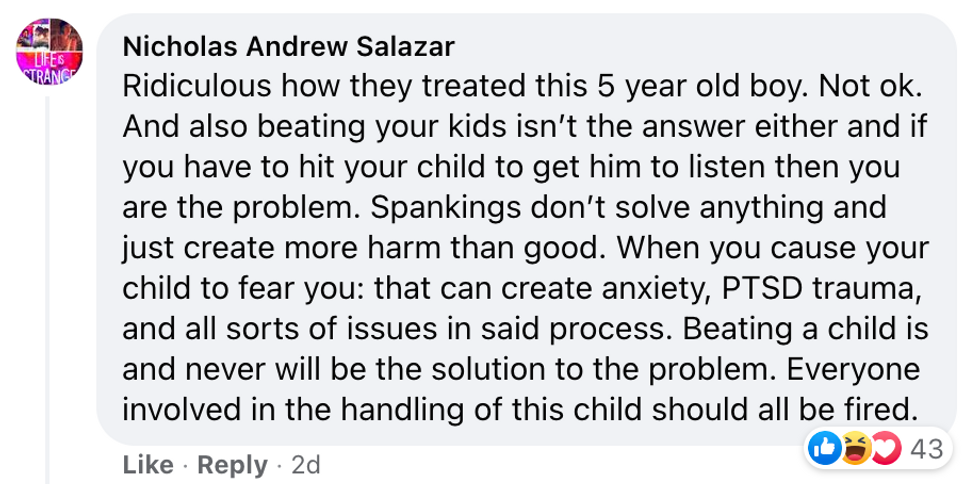 Nicholas Andrew Salazar/Facebook

Myranda Franklin/Facebook

Cm Gnau/Facebook
The incident provided yet another illustration of police officers refusing to treat children of color as children.

And with almost no pragmatic response made by the police department in response to the incident, only the lawsuit brought by the boy's mother remains as a possible mechanism for justice.