Angel Blue–who is a Black opera singer from the United States–canceled her scheduled performances in the summer opera festival at a famed Italian arena to protest the venue's use of blackface.
The racist act of blackface–in which White performers don Black makeup and exaggerated lips to caricature people of color–has long been denounced by civil rights organizations for its history of mocking and dehumanizing Black people and for perpetuating racist stereotypes.
Blue, who is a native of Los Angeles, California announced on social media she would be bowing out of Arena di Verona's production of La Traviata this month due to the theater's previous mounting of Giuseppe Verdi's opera Aida this summer.
The production of the opera classic—set in ancient Egypt—put White performers in blackface which Blue called "offensive, humiliating and outright racist."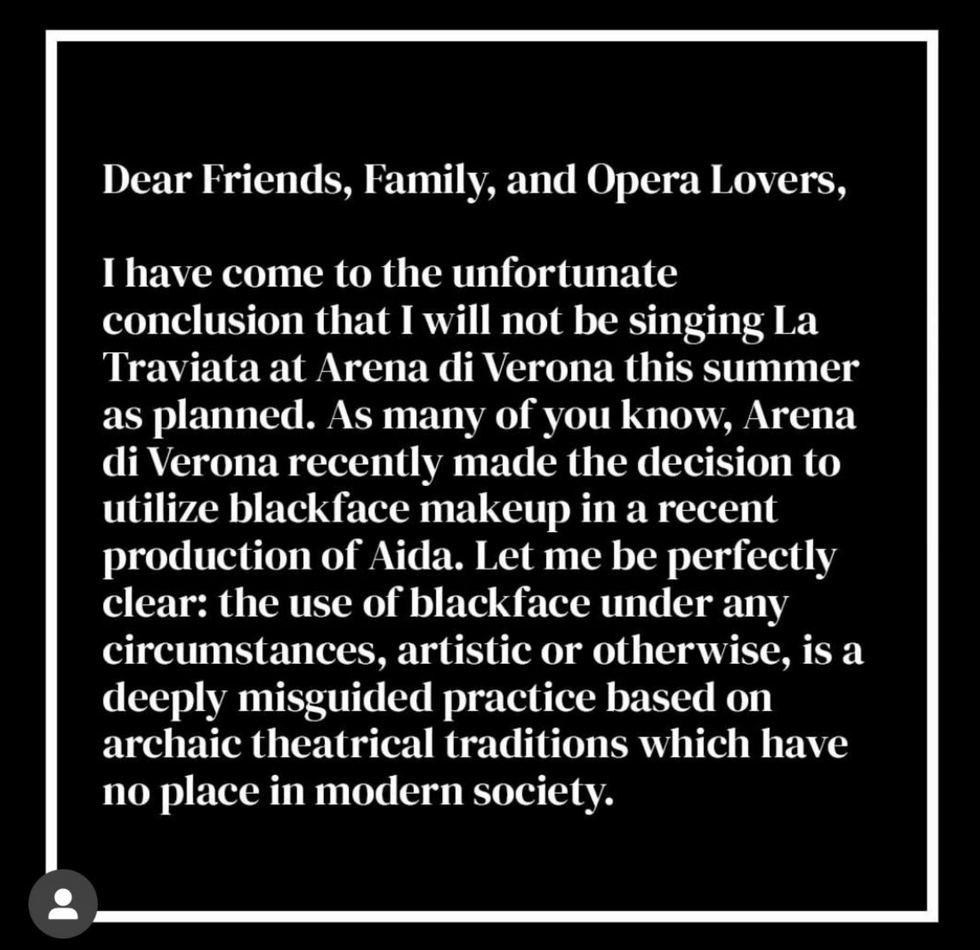 @angeljoyblue/Instagram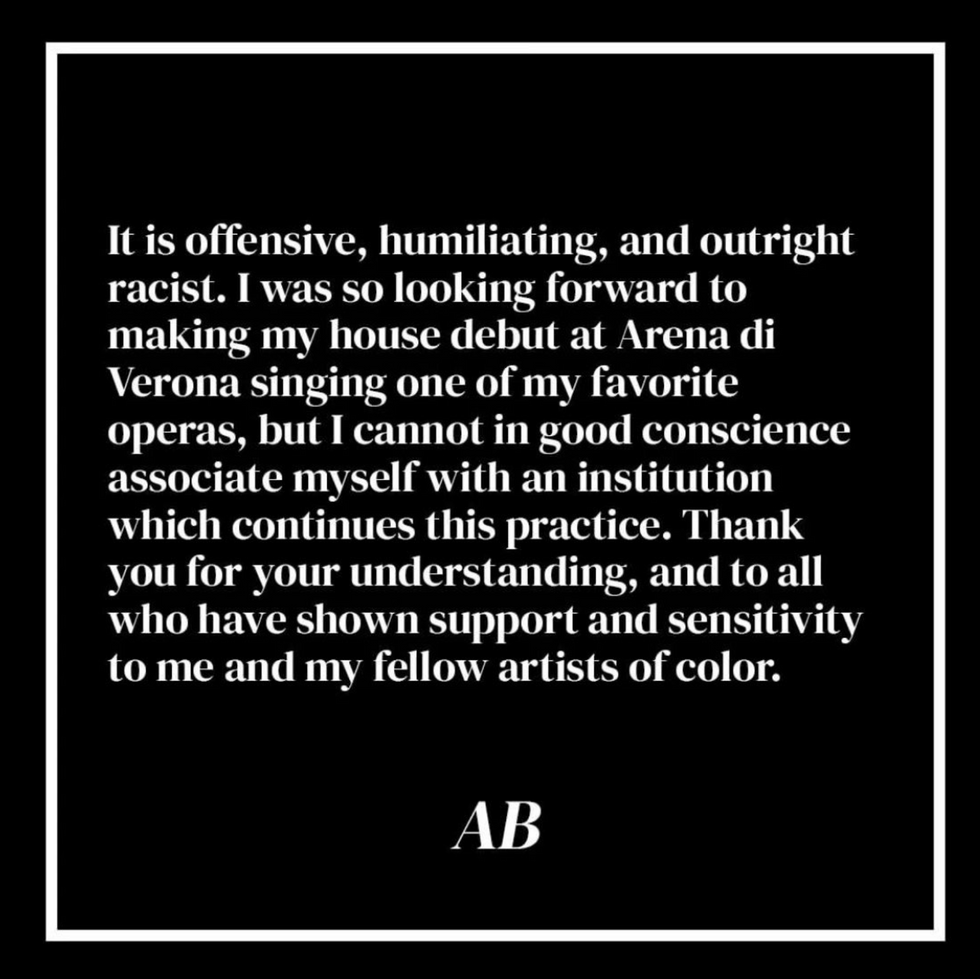 @angeljoyblue/Instagram
"I have come to the unfortunate conclusion that I will not be singing La Traviata at Arena di Verona this summer as planned," wrote the soprano in her now-deleted Instagram post.

The Arena used late Italian director Franco Zeffirelli's 2002 staging of Aida which used blackface to tell the story of an Egyptian military commander struggling between his love for the titular character–an enslaved Ethiopian princess–and his loyalty to the King of Egypt.
The Arena faced backlash after famed Russian soprano Anna Netrebko—who played the role of Ethiopian princess Aida in that production—shared photos of herself in blackface.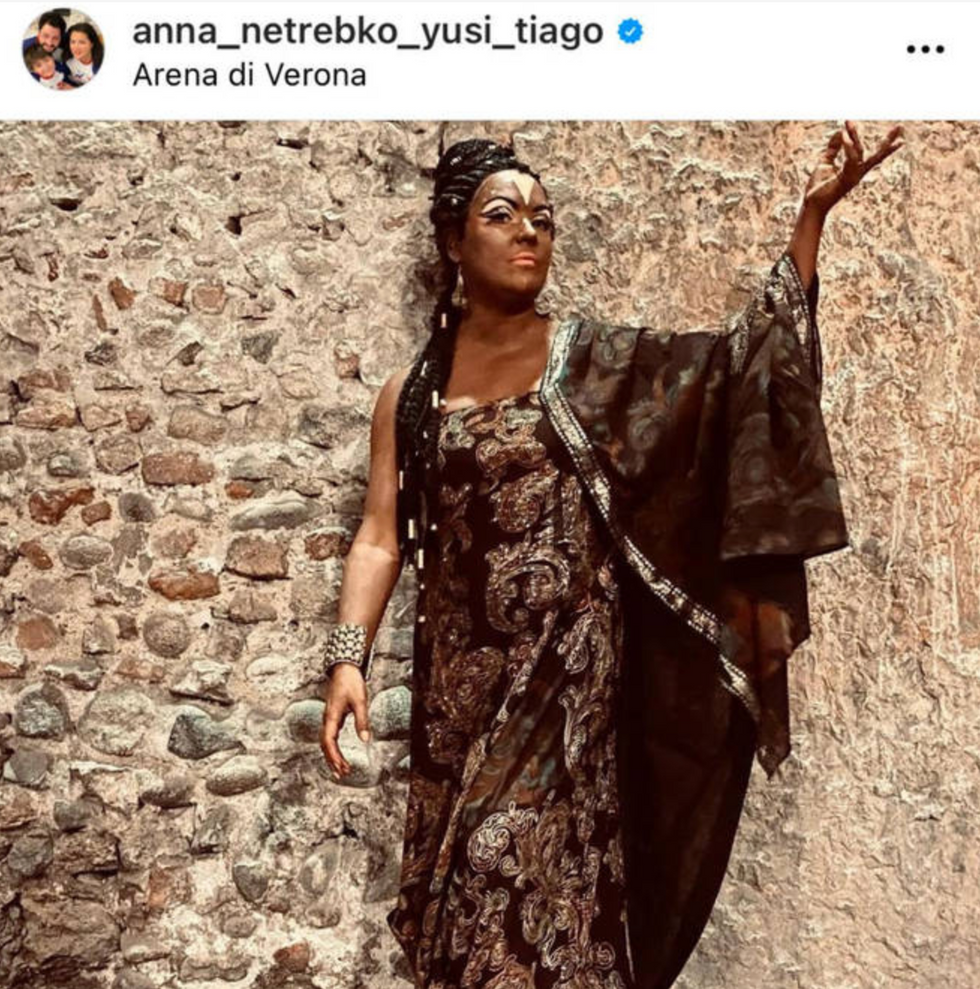 @anna_netrebko_yusi_tiago/Instagram
In response to the criticism, the Arena defended their makeup decision by claiming their performance was historical and "made when these sensitive topics were not such an issue."

But Blue strongly disagreed and made her objections to the Arena for using Zeffirelli's controversial staging perfectly clear.

"The use of blackface under any circumstances, artistic or otherwise, is a deeply misguided practice based on archaic theatrical traditions which have no place in modern society," she wrote.
Despite previously looking forward to her house debut at the Roman amphitheater in Piazza Bra in Verona, Blue said she could not "in good conscience associate myself with an institution which continues this practice."
She thanked everyone for their understanding and to those who have "shown support and sensitivity to me and my fellow artists of color."
In response to her announcement, the Arena issued a statement on Friday expressing they had "no reason nor intent whatsoever to offend and disturb anyone's sensibility."

They added Blue "knowingly committed herself to sing at the Arena" even though the "characteristics" of Zeffirelli's staging were "well known."
The theater said they hoped Blue would accept an invitation to meet with Arena officials to engage in a "constructive dialogue" over the issue.
The statement from the Arena of Verona Foundation said:
"Every country has different roots, and their cultural and social structures developed along different historical and cultural paths."
"Common convictions have often been reached only after years of dialogue and mutual understanding."
The Arena claimed a meaningful discussion would inspire an effort in mutual understanding "in respect of consciously assumed artistic obligations."
"Angel, we and the audience of the Arena di Verona look forward to meeting you: it will be the opportunity for dialoguing in a constructive and concrete way, beginning with your reflections."
"The digital world does not create the same empathy that only direct contact can bring about: just as in Theater."
"Contraposition, judgments, labeling, lack of dialogue only feed the culture of contrasts, which we totally reject."
The Arena further stated they "also appeal to everyone to work together to avoid divisions."
One Twitter user thought the Arena's statement was even more offensive.

Described as "the next Leontyne Price" by legendary opera star Plácido Domingo, Blue has won a Grammy for Best Opera Recording for the Metropolitan Opera production of Porgy and Bess at the 63rd Annual Grammy Awards.
As of Saturday, the Arena's schedule still listed Blue in the singing role of Violet Valéry in La Traviata on July 22 and 30.