Move over, Patrick Mahomes.
Tom Brady who?
Sit down, Aaron Rodgers.
There is a new NFL MVP and he is MVP until the end of time.
---
Who is this legend?
Why, the black cat that ran onto the field during this week's Monday Night Football game between the Dallas Cowboys and New York Giants, of course.
During the second quarter, he appeared as if from nowhere, like a late-Halloween talisman from another dimension, dashing downfield with what ESPN commentator Joe Tessitore called, "great lateral movement." Which is possibly the greatest understatement in the history of football.

I mean, look at this guy dashing for the endzone—and into our hearts.
Halloween isn't over yet 😹 https://t.co/XhLDP3NgJO

— New York Giants (@New York Giants)1572920276.0
As you might expect, over the course of the week Football Cat has gone viral on the ol' interwebs and become the NFL's newest star. In fact, he's even won a Heisman by unanimous vote.
Sound unbelievable?
Well here you go. There's now a documentary that finally sheds light on this heroic dark horse... cat...
The story of last night's cat 🐐 https://t.co/5BjyfiJX9e

— The Checkdown (@The Checkdown)1572971060.0
Finally, the tribute he deserves.
A 2.8 second 40-yard dash. He made a seasoned NFL player throw up in the weight room.
A LEGEND, AN ICON!
And all from a guy who grew up feral beneath the bleachers of MetLife Stadium.
Asked building security about the black cat on the field: Apparently there are some resident stray cats at MetLife—… https://t.co/un5Ge26rLs

— Madelyn Burke (@Madelyn Burke)1572922019.0
If that's not a uniquely American success story, I just don't know what is. We need a Football Cat biopic yesterday.
It's only fitting for a feline football phenom whose athletic meow-wess—sorry, prowess—had even State Troopers running onto the field for a bit of gridiron madness.
Anyway, as you might guess, Football Cat's documentary has really tugged at sports fans' heart strings.
@thecheckdown @NFL Will go down as a legend in this league I've never seen such talent on a football field , the tr… https://t.co/IPiNOtFfQb

— Deidera (@Deidera)1572984043.0
@thecheckdown ...mom cheering him on at home! @sepe_katie Lol https://t.co/VA6EkOeSY9

— Mama Psi (@Mama Psi)1572993266.0
@thecheckdown 😂 😂 😂 I'm dying...one of the best things to come out of a Cowboy game since we won our last Super Bowl!

— CowboysFanForLife (@CowboysFanForLife)1573000422.0
@CheepTalk84 @thecheckdown I think that's what makes him humble. We can all relate to having flaws. It's tough to h… https://t.co/FFzqmow2TJ

— Brandon Fludd (@Brandon Fludd)1572975901.0
And it seems that he was perhaps destined for football stardom, from a very young age.
@thecheckdown We did some digging and found their old high school footage. 👀🐱 (Via @hallmarkchannel) https://t.co/li3bhgP3s2

— Hudl (@Hudl)1572974681.0
And he's even inspiring new generations of football stars.

@thecheckdown @Journaltwits My little one dreams of the day when he can play. https://t.co/GH8SVa5san

— AStick (@AStick)1572984180.0
@thecheckdown My kitties are big fans! https://t.co/knskZzg72X

— agator (@agator)1572981434.0
@thecheckdown Barkley realized dreams do come true 🙏🏼 https://t.co/rn4E7HOF9W

— Lauren Ertle (@Lauren Ertle)1573046971.0
There is a legend in our midst—there's just no doubt about it.
I would've watched people try to catch the Monday Night Football cat for at least another hour

— Pablo S. Torre (@Pablo S. Torre)1572920345.0
New decoration for my cubicle courtesy of a coworker. #footballcat https://t.co/vAjAamHXzf

— JB in ZG (@JB in ZG)1573058285.0
Football Cat: the hero none of us asked for but we all definitely needed. Give him a trophy full of catnip immediately.

Cats, the only animal that chose to domesticate itself, are endlessly interesting. The film A Street Cat Named Bob, available here, based on the book A Street Cat Named Bob: And How He Saved My Life, available here, chronicles one such fascinating feline.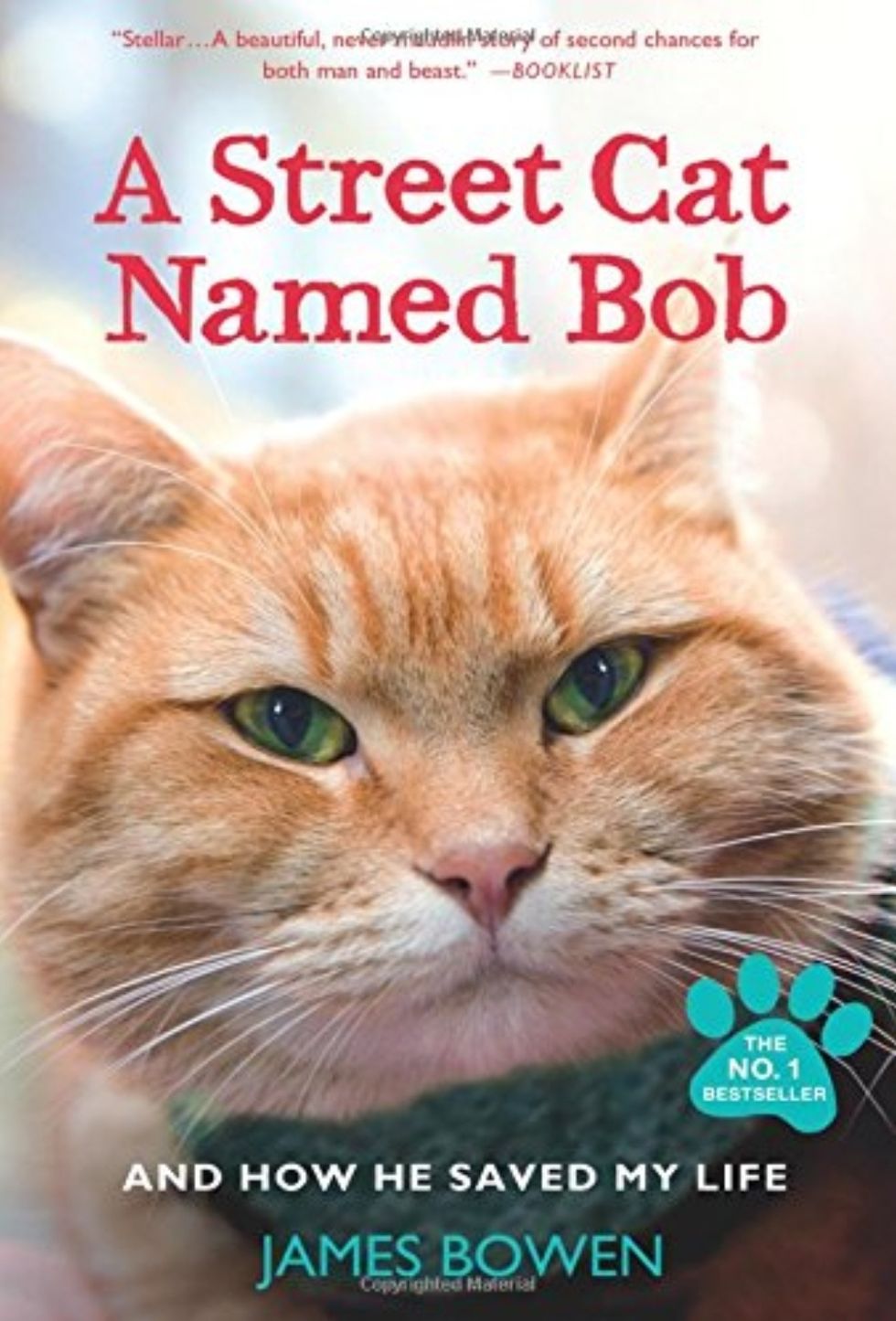 Amazon
The follow-up, The World According to Bob: The Further Adventures of One Man and His Streetwise Cat, is available here.