On TikTok, a Black customer posted a video of a White Bath & Body Works employee who asked if she was "pulling the race card" during an argument over a "rude" interaction.
Quinette Lashay, of Oklahoma City, Oklahoma shared the video. It reached 376.3 thousand views and 36 thousand likes quickly.
The disagreement was over how the employee greeted Lashay. When Lashay said "Hello," the employee just replied "cash or card."
Lashay has since made her TikTok account private, but a copy without original audio was shared on YouTube:
When Lashay questioned the employee's lack of greeting by saying "hello" again—this time in an asking tone—the employee fired back again with "cash or card."
Lashay explained:
"When I came over here, I said 'hello' and she said 'cash or card.'"
"And I said 'hello?' — 'cash or card.'"
Lashay told the manager who was mediating the situation the employee claimed she was "getting an attitude," even though Lashay had already started to get out her card.
The employee, instead of apologizing, argued she is required to ask the payment method before greeting the customer or starting the transaction.
Lashay felt that by continuing to argue, she was proving how rude she was:
"There's a lot of maturity that needs to happen here."
Suddenly, the cashier said:
"Are you pulling the race card?"
She then added:
"Because I have a Black boyfriend."
A collective gasp was heard by the other customers around them.
Another employee then pulled the cashier by the arm and dragged her away from the situation.

One person commented on the video:
"I work at BBW and we don't need to know your form of payment first."
"I hope this lil girl gets fired !"
Another commented:
"The gasp from the entire store!"
"Means the bystanders knew she was wrong as two left feet!"

@raz2real/TikTok

@SheBrittany/TikTok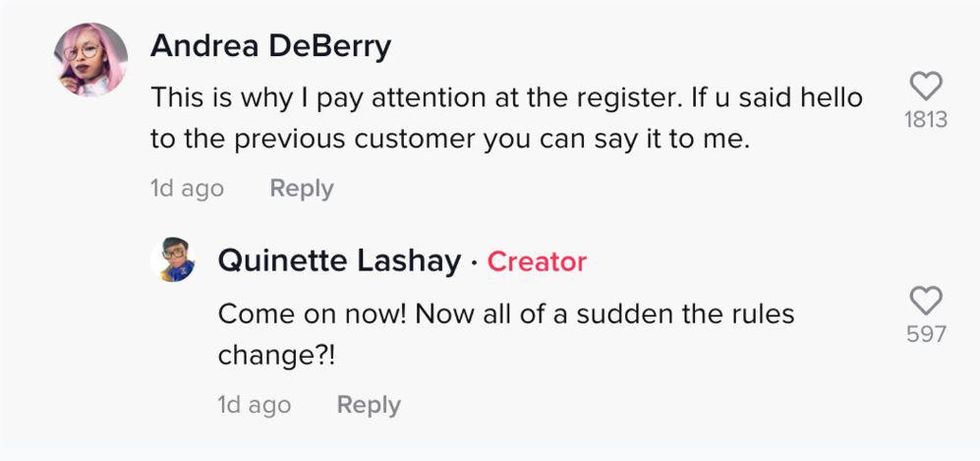 @Andrea DeBerry/TikTok; @thequinettelashay/TikTok

@Donielle_LaChelle/TikTok

@XOXO/TikTok
One commenter stated:

"This is why I pay attention at the register."
"If u said hello to the previous customer you can say it to me."
Many viewers felt the employee didn't seem to think she was in the wrong.
She seemed shocked even:
"She definitely wasn't ready for you putting her in her place."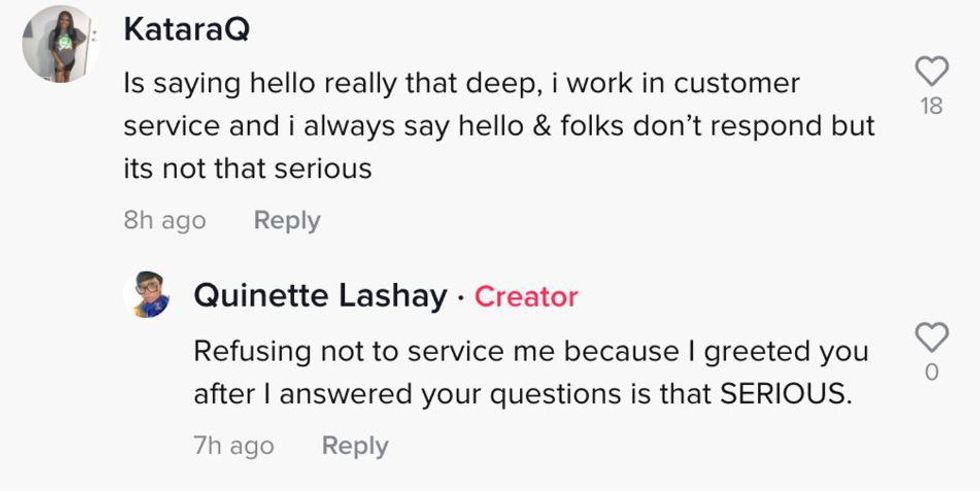 @KataraQ/TikTok; @thequinettelashay/TikTok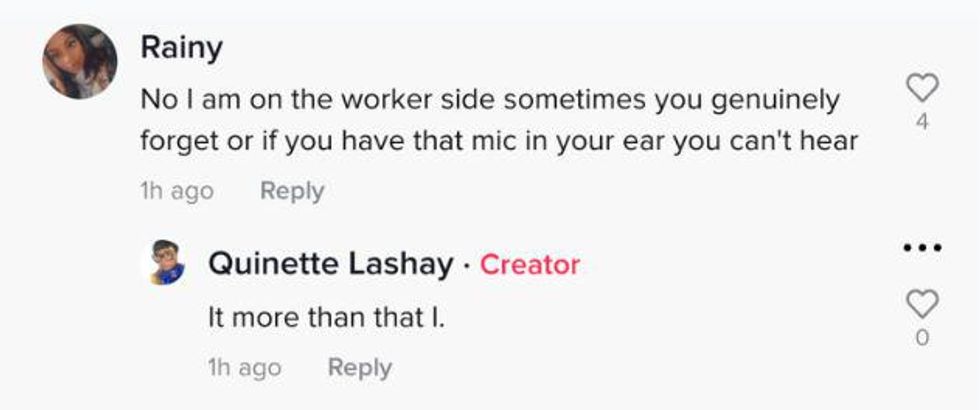 @Rainy/TikTok; @thequinettelashay/TikTok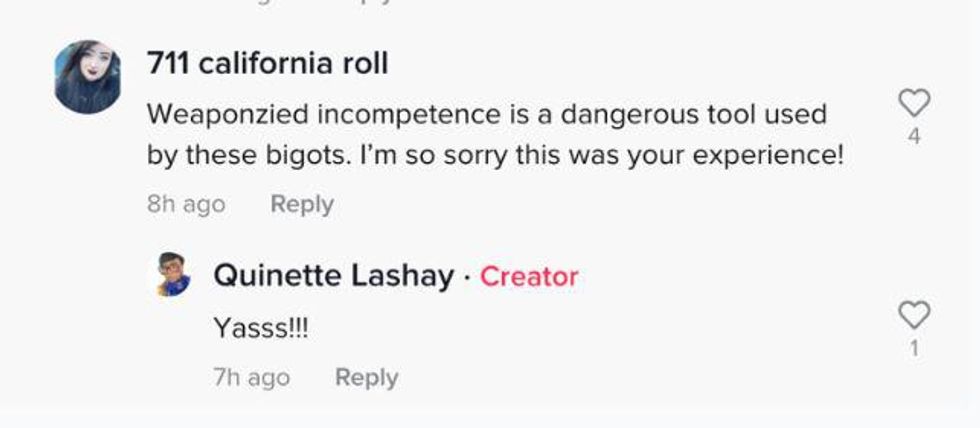 @711 california roll/TIkTok; @thequinettelashay/TikTok
Just say "hello," how hard is that?