Wikileaks founder and wanted man, Julian Assange has officially lost his first argument to have his U.K. arrest warrant dropped. The application for dismissal was made to the Westminster Magistrates' Court by Assange's attorney, Mark Summers, who argued that the U.K. warrant itself had "lost its purpose and its function."
This is because the original Swedish investigation into sexual assault allegations against Assange and its August 10, 2010 arrest warrant and subsequent extradition request have now been terminated and withdrawn by Swedish officials as of May of last year.

---
Julian Assange remains "willing to answer to British justice" – but "not at the risk of injustice in America", his… https://t.co/TvR8VVQ48N

— BBC News (UK) (@BBC News (UK)) 1517935800.0
At the time, the Chief Prosecutor in Sweden, Marianna Ny, stated:

All prospects of pursuing the investigation under present circumstances are exhausted.
Assange, was not present at yesterday's hearing because he is still holed up in the Ecuadorian embassy in London that has become his unorthodox home for the almost 6 years since he fled there in June of 2012, after the U.K. Supreme Court rejected his last challenge to Sweden's extradition request. He was granted formal asylum at the embassy by the Ecuadorian government just a couple weeks later.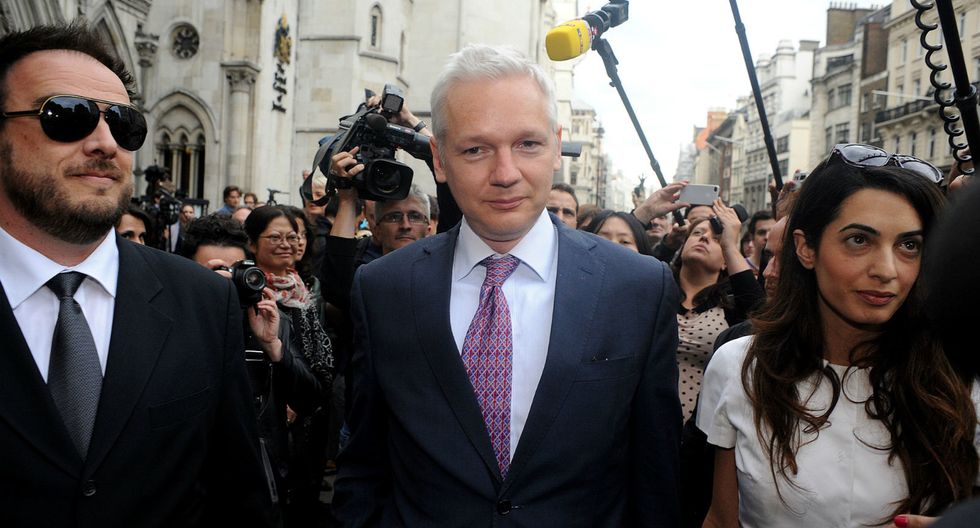 Assange leaves court with Human Rights Lawyer, Amal Clooney in 2011Photo by John Phillips/UK Press via Getty Images
Since then, British police have had a constant presence just outside the embassy, though the police detail has been reduced after the Swedish investigation was suspended and charges withdrawn in 2015.

So, if the the investigation is over and the warrant and extradition have been called off, why is Assange still trapped in the Ecuadorian embassy?
Because he refused to surrender himself way back in 2012 to British authorities and therefore broke U.K. bail terms. Assange did so because he feared unfair extradition to the United States to face potential charges of espionage and theft of government documents relating to WikiLeaks's publication of documents obtained by Assange through U.S. Army intelligence analyst, Chelsea Manning, who was tried and convicted of espionage and theft and who served time before finally having her sentence commuted by former President Barack Obama.
Now, Assange's legal team wonders can the British warrant be dismissed on the grounds that there is no longer a current investigation or Swedish extradition awaiting him. So far, the answer is no.
Senior District Judge, Emma Arbuthnot ruled today on Assange's first argument and said she was:
...not persuaded the warrant should be withdrawn.
But she also heard new arguments from Assange's lawyers regarding the public interest and his health. The judge adjourned after that judgement and reserved judgement on those other submissions until next Tuesday.

It's worth noting that last February, a United Nations human rights panel concluded that the British government was in violation of Assange's rights by "arbitrarily" detaining him. The panel also called for his release but the U.K. government did not comply and rejected the U.N.'s finding.
For anyone confused: 🔹Judge says warrant stands for #JulianAssange's arrest despite Swedish case being dropped as h… https://t.co/ZQvI1m06Ij

— Vincent McAviney (@Vincent McAviney) 1517936967.0