Having a baby is of course full of milestones—first teeth, first steps, first words, each more exciting than the next.
But for comedian and new mom Amy Schumer, the excitement might have gotten just a bit too intense—for her toddler son Gene anyway. Schumer recently posted a video to Instagram of her son saying "Dad" for the first time—a big moment for any baby.
But Schumer got so excited she startled the poor little guy—so much so that he burst into tears.
The video started out as a sweet greeting to Schumer's husband, James Beard Award-winning chef Chris Fischer.

"We just wanted to say hi Daddy, we miss you and we hope you're having a fun day."
Schumer then looked at her son Gene and tried to get him to say "Dad."
After a moment's hesitation, the toddler looked right into the camera with a giant, knowing smile and did just that.
Clearly not expecting this outcome, Schumer's face exploded with joy and the two other people in the room both began laughing in surprise. All three began clapping and cheering for Gene, who seemed impressed with himself—until it all became too much and the little guy threw his head back and bawled, giving the video a hilarious coda.
In her caption, Schumer expressed the joy the moment brought her—Gene bursting into tears notwithstanding.
"This video was clearly a surprise to us. Getting to experience these first moments with my son makes me feel so lucky"
Schumer also used her caption to raise awareness of DJ Henry, a Black Pace University student killed by police in 2010.
Several celebrities recently petitioned Attorney General William Barr to reopen Henry's case, in which a grand jury declined to bring charges.

On Instagram, Schumer's fans and fellow celebs alike were feeling the love and hilarity of Gene's big moment.

@goldiehawn/Instagram

@rubyrose/Instagram

@lindzlevesque/Instagram

@bravoandy/Instagram

@reallyjamielee/Instagram

@heidirkling/Instagram

@averagefashionblogger/Instagram
Several also thanked Schumer for using her platform to raise awareness of the Henry case.

@cynvisible/Instagram

@tpitt3211/Instagram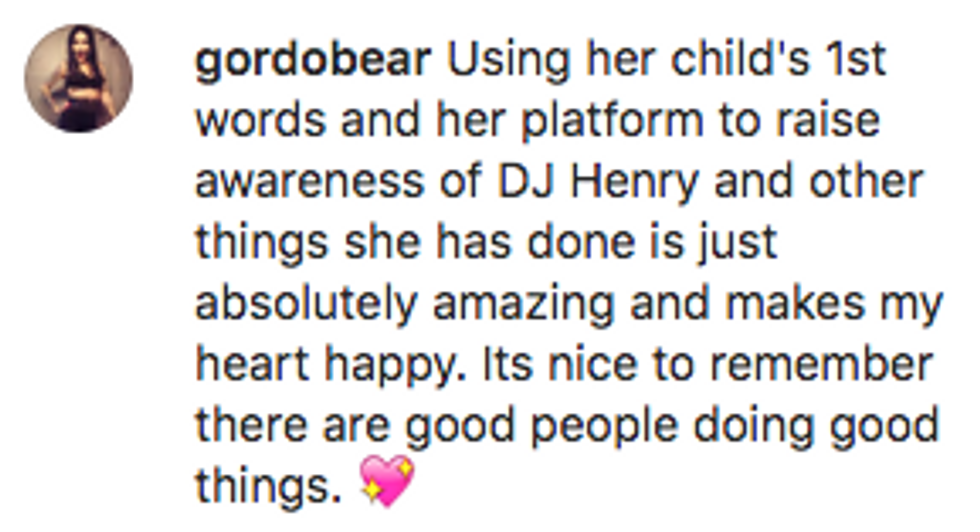 @gordobear/Instagram
Schumer has given fans many candid looks at her intro to motherhood—from her hospitalization while pregnant to the hilarious reason she had to change Gene's name.
Hopefully little Gene will give his mom plenty more hilarious content in the future.