In a heartwarming, viral video this week, we're reminded of just how far a small act of kindness can go.
A video was captured on a woman's Ring device of an Amazon delivery driver discovering a special surprise on her doorstep, and his reaction was priceless.
---
The video opens the same way any Ring video does, with the delivery driver dropping off the ordered packages. With the holiday season upon us, we're about to see an extreme spike in this type of video.
But the difference is what the woman, Kathy Ouma, had waiting for him. Off to the side of her porch, she had positioned a patio chair, facing anyone who approached the porch. On it, she left a bin full of soda drinks, water, candies, and snacks.
There was a note included, as well, which read:
"UPS, USPS, AMAZON, FEDEX. Please take some goodies to enjoy on your route. Thank you for making holiday shopping easy! - The Ouma Family"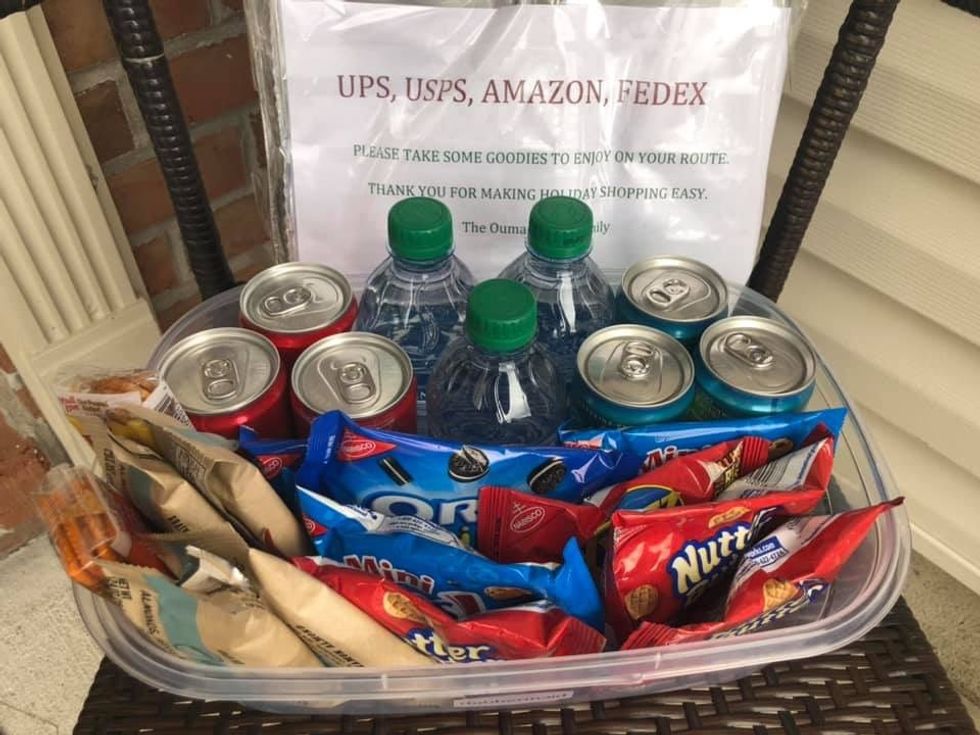 Kathy Ouma / Facebook
Upon discovering the basket of items, the delivery driver was overcome with emotion at the kind gesture.

While looking through the items available, the delivery driver couldn't stop commenting to himself how nice this was for someone to do.
Throughout the video, he says, with a progressively higher octave:
"Oh, this is nice! Oh, they got some goodies. Oh wow. Oh, this is sweet! Get out of here! This is sweet! This is so nice!"
But nothing beats the delivery driver's little happy dance caught at the end.
Kathy Ouma initially discovered the video in her Ring history and had to share the joy with everyone on Facebook.
Ouma wrote:
"THIS! I leave goodies out every year. Middletown, Delaware."
She even went back later and updated the post with the name of the delivery driver, Karim Earl Reed III, thanking him for bringing joy to so many people who had seen the video.
You can watch the video here:
The video has been shared across all platforms, particularly Facebook and Twitter.
The video has been shared more than 307 thousand times on Facebook and it has been retweeted 196 thousand times on Twitter.

The reactions to the delivery driver have been just as priceless. People noted how endearing his comments and dance were, and they also shared their inspiration to do something similar at their own doorsteps.
@flowerhunni A simple gesture can make someones day 😊

— Mumbler100 🎶🔊🔥🤟🏾🎯🎶 (@Mumbler100 🎶🔊🔥🤟🏾🎯🎶) 1575553459.0
@smojbianca @flowerhunni @melonagrl I just love him.

— Allison Is Not Impressed (@Allison Is Not Impressed) 1575582507.0
@flowerhunni Thanks for the inspiration 🙌🙌 https://t.co/70ift1QOix

— Cade (@Cade) 1575574519.0
@bonnie1020RBLX @flowerhunni @0uttaS1TE That's what I was looking at. His appreciation made me smile, as well. He… https://t.co/6MY3Dgypa0

— MattByers63 🏳️‍🌈 (@MattByers63 🏳️‍🌈) 1575574415.0
@flowerhunni @vicoleMB_ As an Amazon driver myself, you guys have no idea how these type of gestures make our day,… https://t.co/JXxqUVZIo9

— Moose (@Moose) 1575567104.0
@flowerhunni I've been doing this for the last couple of years but have never been home when our deliveries are mad… https://t.co/rzrLeQLCYV

— DizzyMaMa (@DizzyMaMa) 1575602169.0
@flowerhunni The dance !! People are so wholesome

— incognito slut | $4.99 onlyfans 💖 (@incognito slut | $4.99 onlyfans 💖) 1575523603.0
@Ashley_Says @flowerhunni It literally made me smile and giggle

— FKA LaReign Storm 💋 (@FKA LaReign Storm 💋) 1575553284.0
This is further proof that a little kindness goes a really long way, but also how kindness inspires further kindness.

It doesn't have to cost much, if anything, to be kind. Particularly at the holiday season, it's nice to think of how we can give back.