An aspiring actress who failed nine auditions to play her idol Belle from Beauty and the Beast the musical has stepped out of the spotlight – boosting her income by becoming a princess in real life.
When massage therapist Amber Lee Roberts' ambitions to become a star on New York's famous Broadway stage were thwarted, she decided to "live her own fairytale" by launching Springville Princess Parties – adopting Belle's look and persona to entertain children.
Amber, 32, of Springville, Utah, said:
"I auditioned nine times to play Belle, but the part always slipped through my fingers. Each time I was rejected it just reminded me of how much I loved her and wanted to be in her shoes."
She continued:
"Then, in May 2015, I was sharing my frustrations with a massage client, who asked me, 'Why don't you just get a Belle dress?'"
"So, I did. I've got brown hair and big brown eyes, so I look a little like Belle."
"Buying a navy-blue dress, an apron and doing my hair in a side ponytail I then hosted my first princess party for some local children."
"Inspiring the children and to see how excited they were to meet their idol was amazing – the most brilliant feeling, and I knew this was the career for me."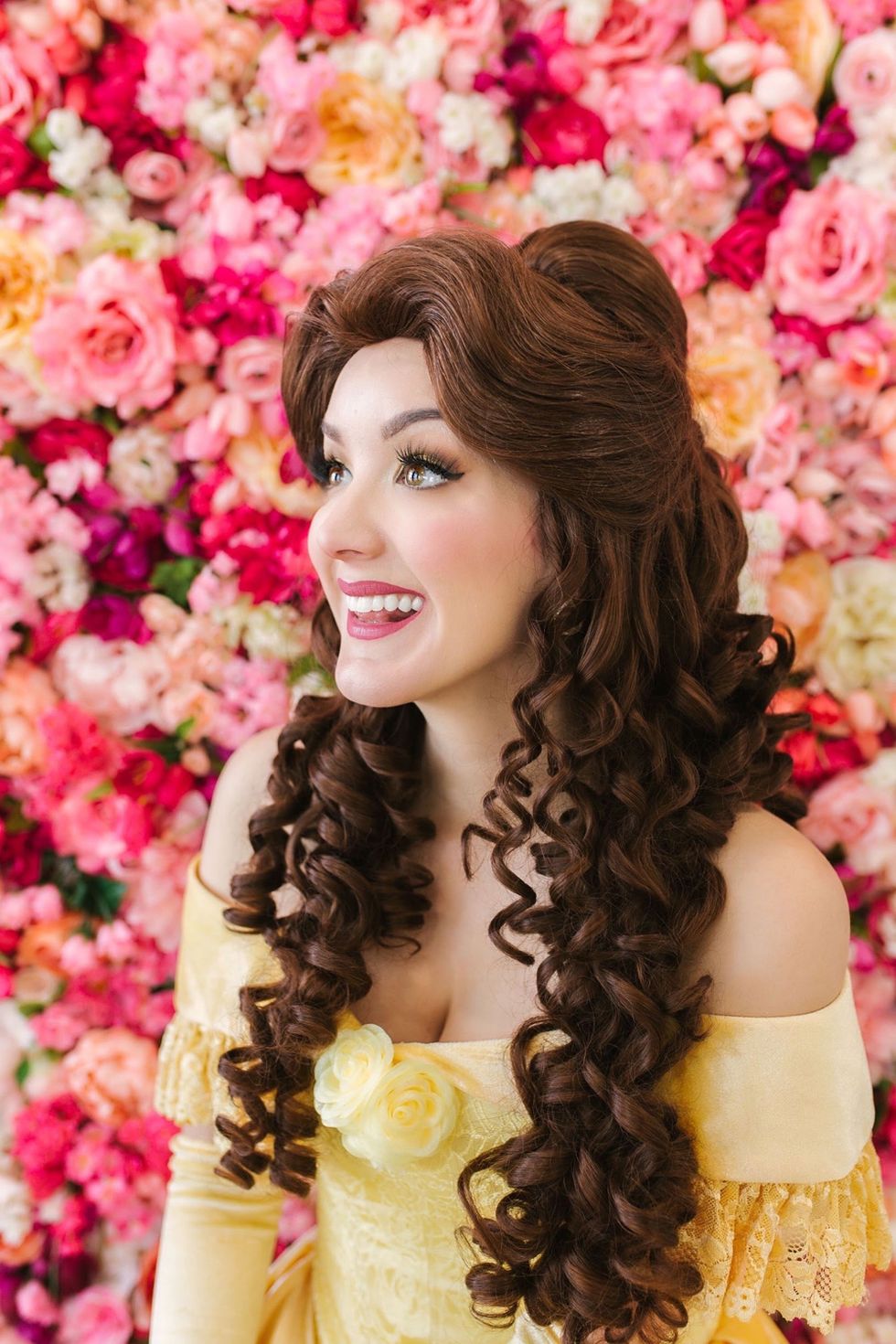 Amber Lee Roberts (Photo by Teresa Jack/ PA Real Life)
And she has not looked back – charging families $100 to appear at a children's party in the character of one of a number of princesses, with a further $50 for face painting, as well as making 15-minute video calls to children for $25.

"It's just the most magical job in the world," she said.
"Since I've started my company not only do I get to perform as a princess but I've also managed to take part in some amazing theatre shows too."
Amber transforming into Belle (Collect/ PA Real Life)
Transfixed by magical princesses – particularly Belle – since she was a child, Amber went on to study musical theatre and dance at Western Wyoming Community College when she finished school – hoping to become a star on Broadway.

But, soon after graduating, she embarked on a whirlwind romance with her future husband – who wishes to stay anonymous – and in 2010, they married and settled down.
Retraining at the same college later, she became a massage therapist – although she still acted as a hobby in local community theatre productions, where she was upstaged nine times, at auditions to play Belle.
Amber Lee Roberts (Sweet Rose Photography / PA Real Life)
Explaining why she feels such an affinity with the character, she said:
"In the 'Beauty and the Beast' musical, Belle feels out of place and like she doesn't always fit in."
"I suffer with dyslexia – a learning disorder which means I have difficulty reading – so when I was younger, I felt like I didn't quite fit in either, just like Belle."
Amber's awakening finally came in January 2015 when she bought her first princess dress and assumed the character of Belle to host a children's party.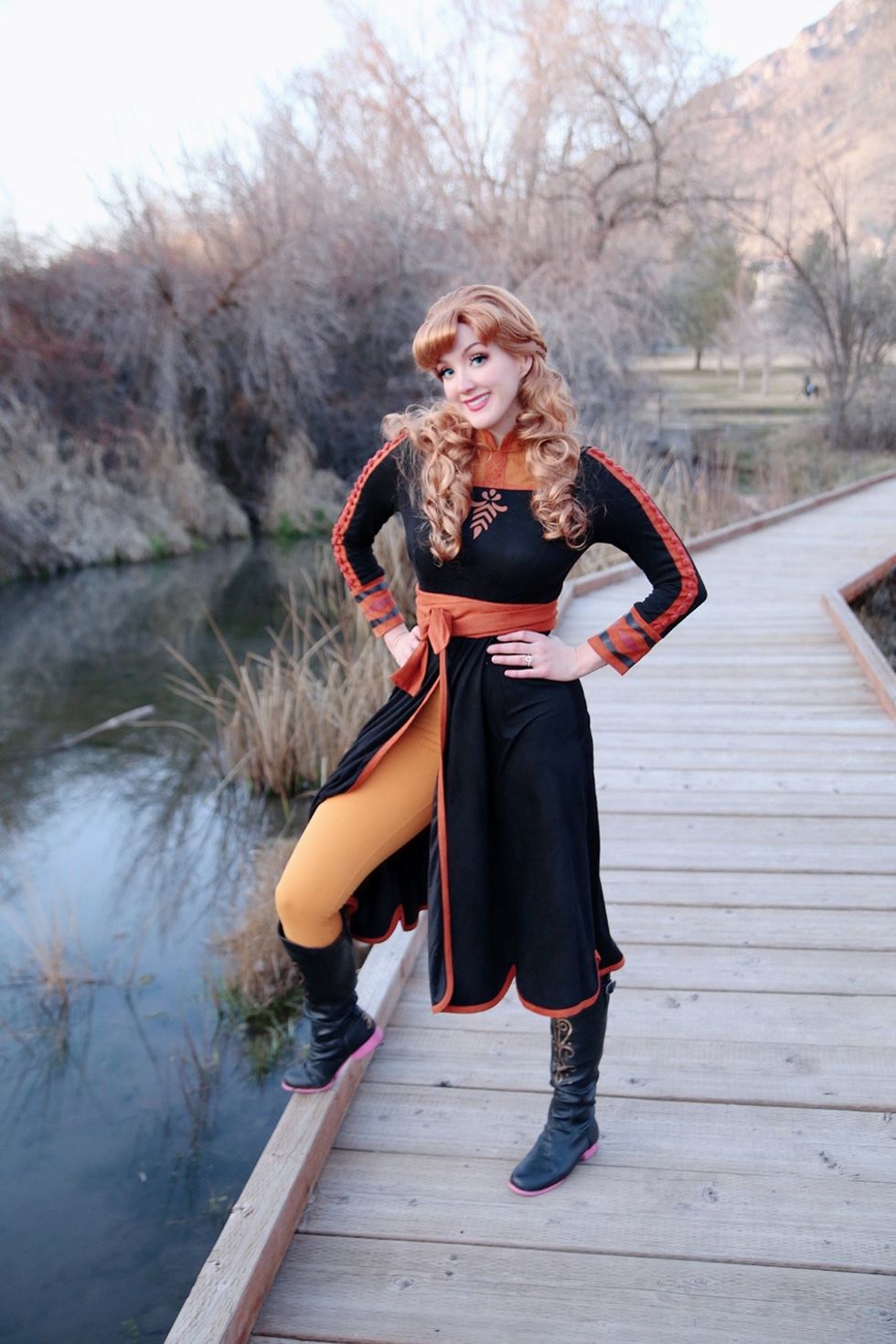 Amber as Anna from 'Frozen' (Sweet Rose Photography / PA Real Life)
She recalled:
"I bought a CD player and karaoke machine and sang them songs from 'Beauty and the Beast'."

"It was all a bit makeshift, but it was still magical, and the children loved it."
Realizing she had stumbled upon a potentially brilliant business idea, Amber invested $100 in a yellow ballgown dress in May 2015.
Amber as Anna from 'Frozen' (Collect/ PA Real Life)
"The costume was terrible at first – it was about five times too big," she laughed. "Luckily, one of my massage clients is a seamstress and she agreed to trade massage sessions in return for sorting out the dress."

Posing in her refitted ballgown for publicity photographs to advertise her business, soon Amber was bombarded with requests to attend princess parties, hosting her first ever party wearing Belle's ballgown in August 2015.
"Finally I got to play Belle regularly – it was like a dream come true," she said.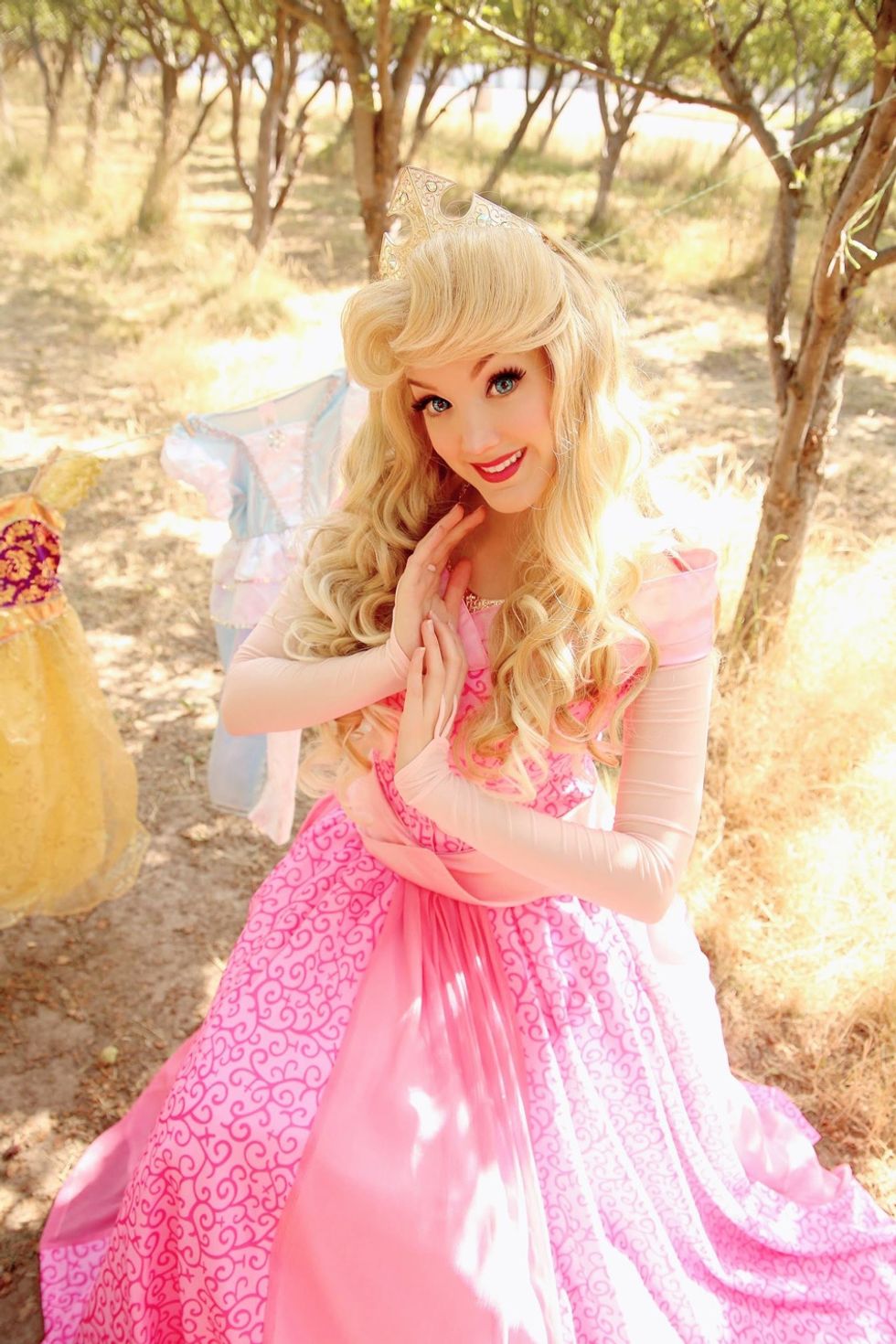 Amber as Sleeping Beauty (Sweet Rose Photography / PA Real Life)
Amber also had another reason for wanting to perform at princess parties, as she and her husband struggled to conceive, she enjoyed being a positive influence on the children.

"Performing at princess parties was really important for me because I really wanted to influence children in a positive way," she said.
"Because I was struggling to have my own it meant the world to me that I could influence and help show these little girls the magic of being a good person."
Amber as Cinderella (Photo by Teresa Jack/ PA Real Life)
To meet demand, in 2018, Amber branched out and played other princesses.

"As much as little girls loved Belle there was growing demand for other princesses," she said.
And after the film Frozen came out it seemed that all the children wanted to meet Elsa.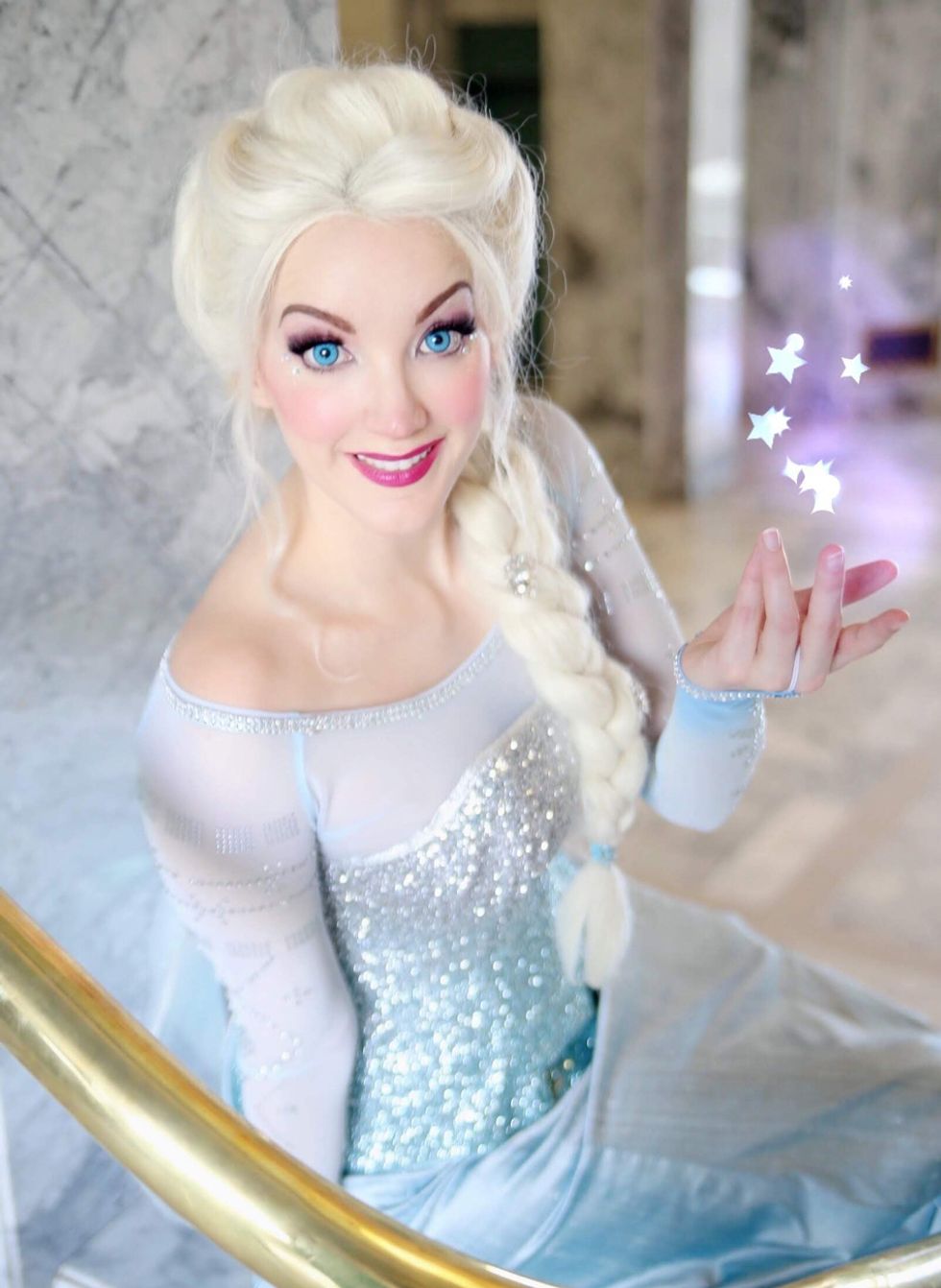 Amber as Elsa from 'Frozen' (Sweet Rose Photography / PA Real Life)
"At first I didn't think I could do the Snow Queen, which is my version of that princess, because I didn't have the best wig and I didn't look much like her," she said.

"But, after a while, my acting training kicked in and I carried it off."
"With this particular character she keeps a lot of things bottled up and I'm quite similar, so I used that to really get into the part."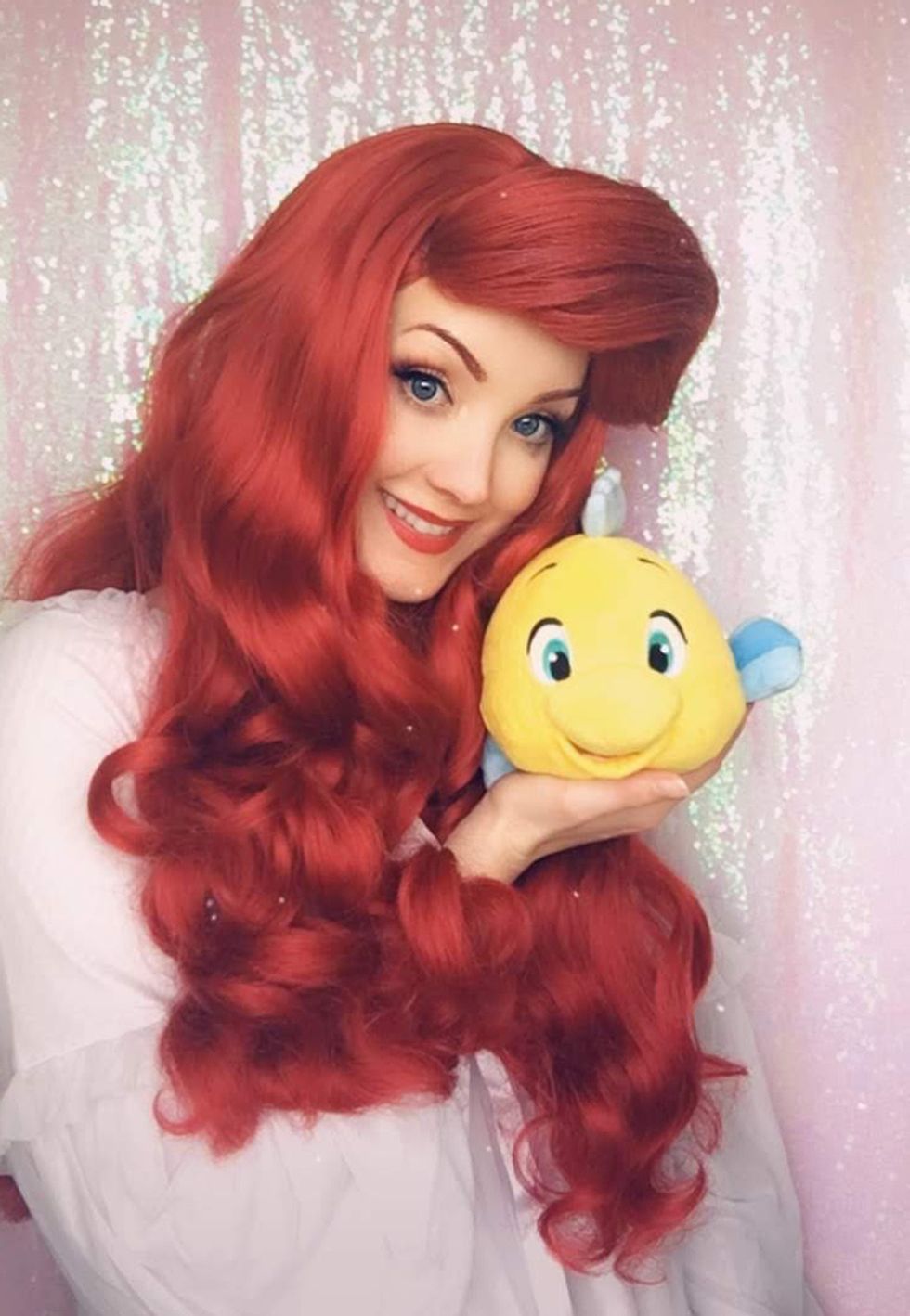 Amber as the Little Mermaid (Collect/ PA Real Life)
Transforming herself into her version of anyone from Belle to Cinderella to Jasmine from Aladdin, to Ariel from The Little Mermaid, or Elsa from Frozen is no easy feat, and Amber spends hours researching each princess, so she can play them convincingly.

"It's a good thing I love films, because I have to watch and re-watch them to make sure I get the princess' mannerisms and traits down to a tee," she said.
"I'm also a member of princess groups on social media, too, so we share tips and tricks with each other. But mainly, I have to think of the questions the kids will ask and be prepared for them."
Amber as the Little Mermaid (Collect/ PA Real Life)
She added:
"Sometimes they'll ask, 'Why do you have your nails painted?' I have to sound believable and say something like, 'Oh we have beauticians that come to the castle to make us look pretty.'"
Taking anything from 90 minutes to two hours to perfect her princess look is also an arduous task.
Amber said:
"I like to take my own features and then highlight them in a way to make them more princess-like – it's a lot of make-up work."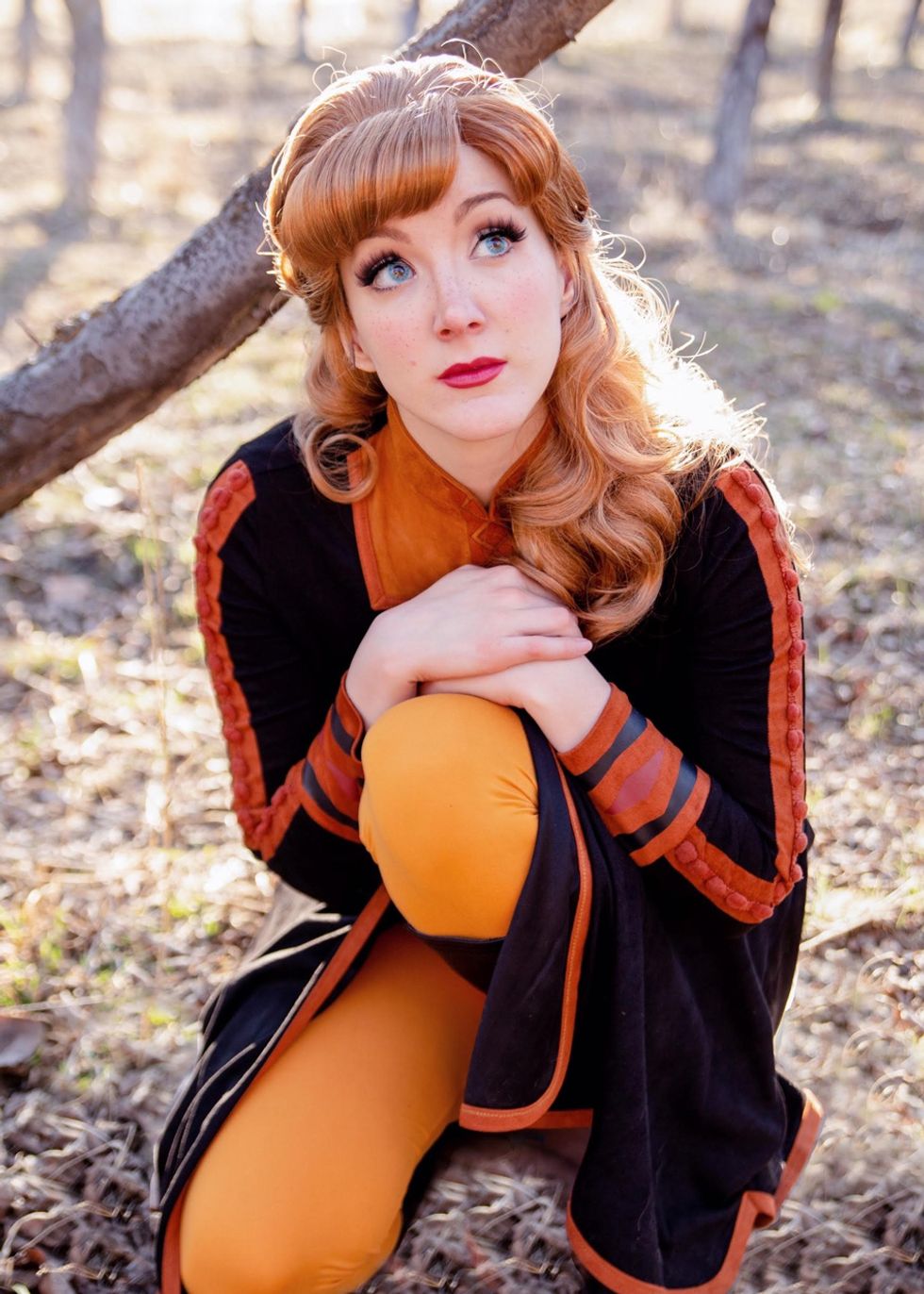 Amber as Anna from 'Frozen' (Sweet Rose Photography / PA Real Life)
She continued:
"I spend hours looking at YouTube videos, working out how best to do my face."

"Sometimes, if my make-up isn't quite right, I'll take it off and do it again which can be quite time consuming."
While she is now a seasoned pro, Amber insists the work of a princess is never quite done – with her hosting a princess party at least once a week, until events were put on hold by the lockdown restrictions.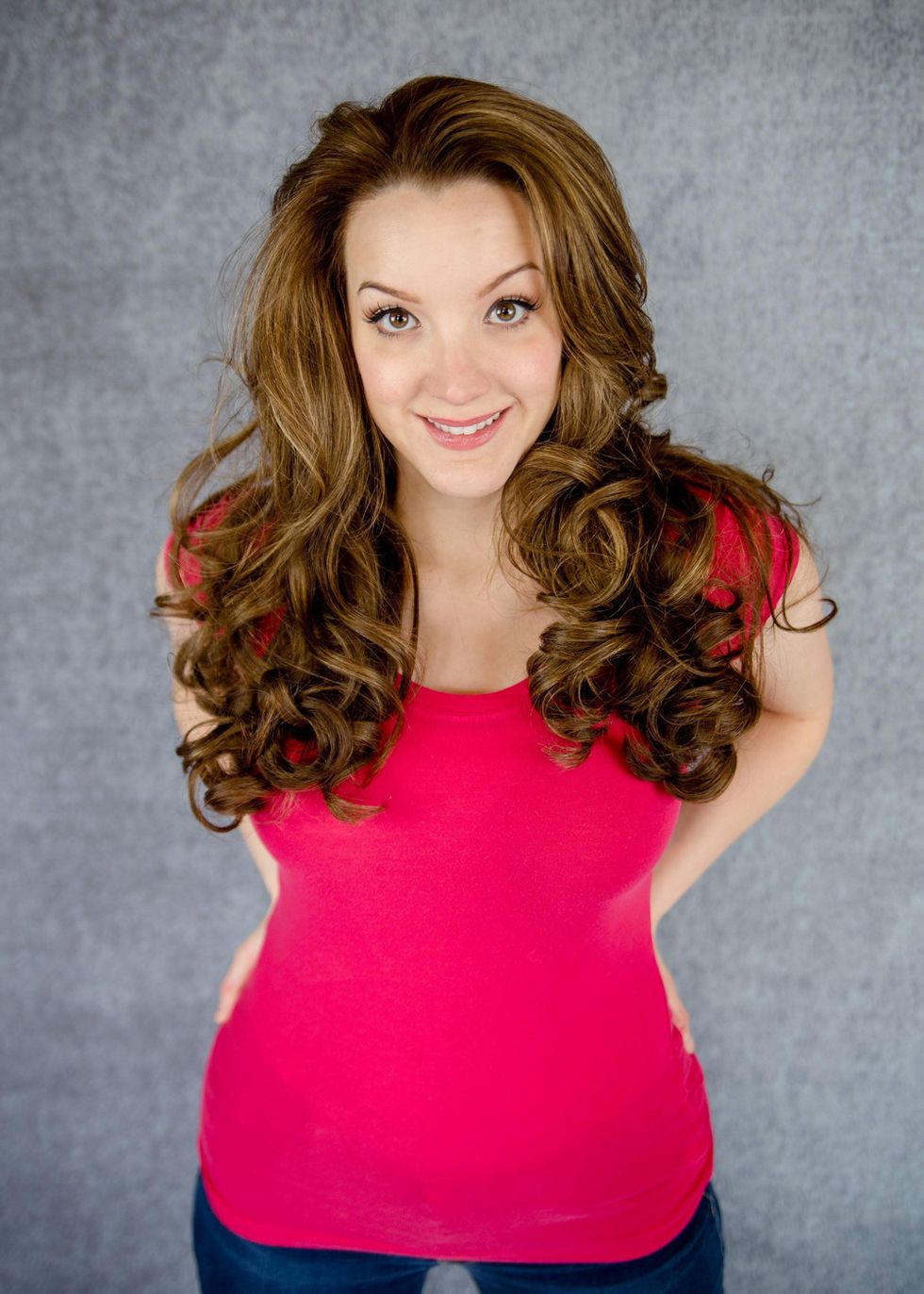 Amber Lee Roberts (Sweet Rose Photography / PA Real Life)
She said:
"I put my whole heart and soul into the parties."

"I perform songs the princess would sing and teach the children how to princess wave and curtsy – as well as taking and posing for pictures and answering their questions."
"I also make sure to find out the name of the birthday girl and make them a princess certificate that I decorate using glitter and jewels from a discount store, which I give to the birthday girl once the whole party has recited the princess poem."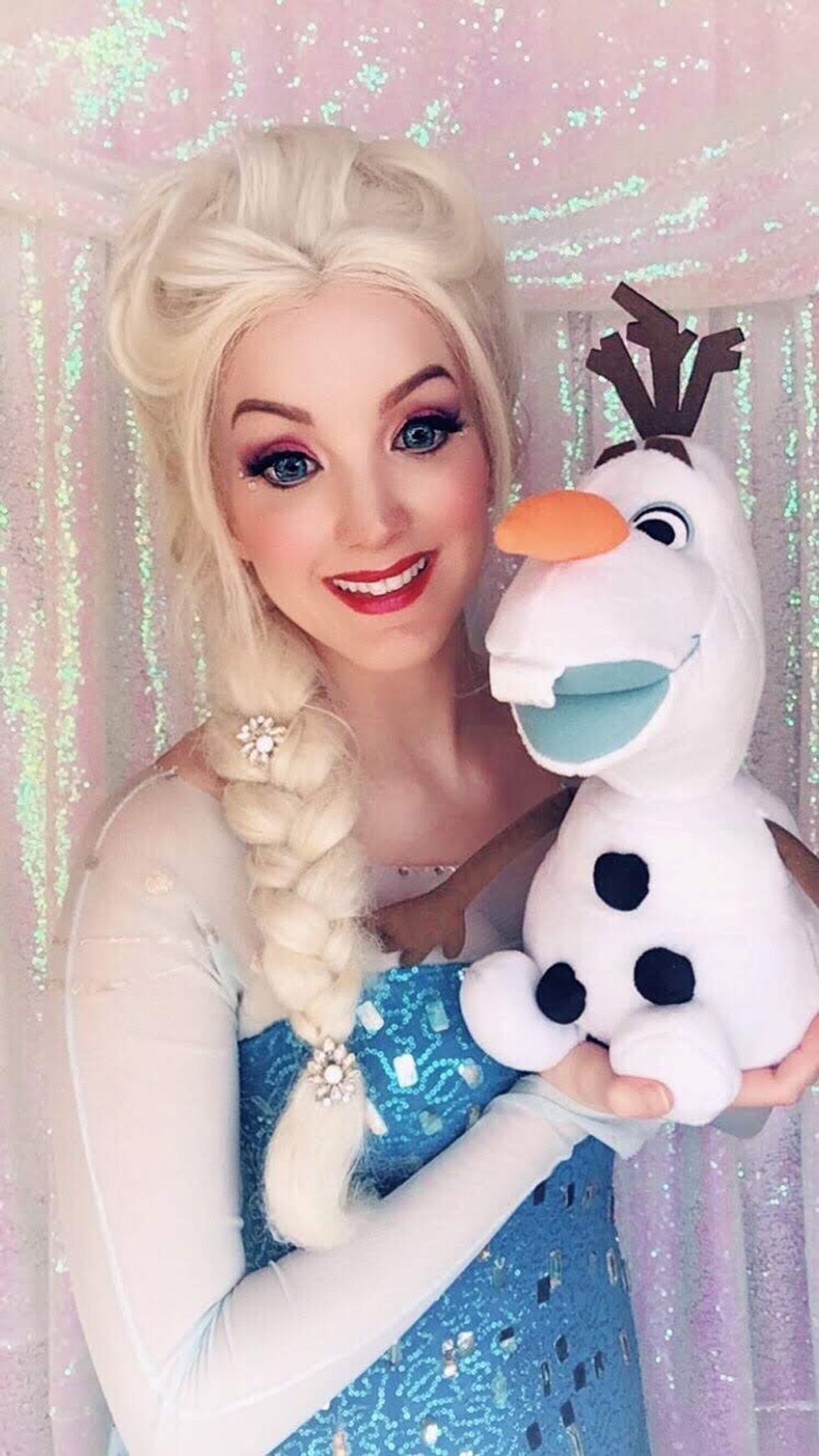 Amber as Elsa with her very own Olaf (PA Real Life/Collect)
She added:
"And if they ask for face painting, I paint a small design that represents the princess on the children's cheeks – they love it."

"I don't see it as a proper job, I see it as a hobby job. Being a massage therapist is my nine to five, while being a princess performer is more like a fairytale come true for me."
Amber also likes to teach children life lessons at parties and on video calls.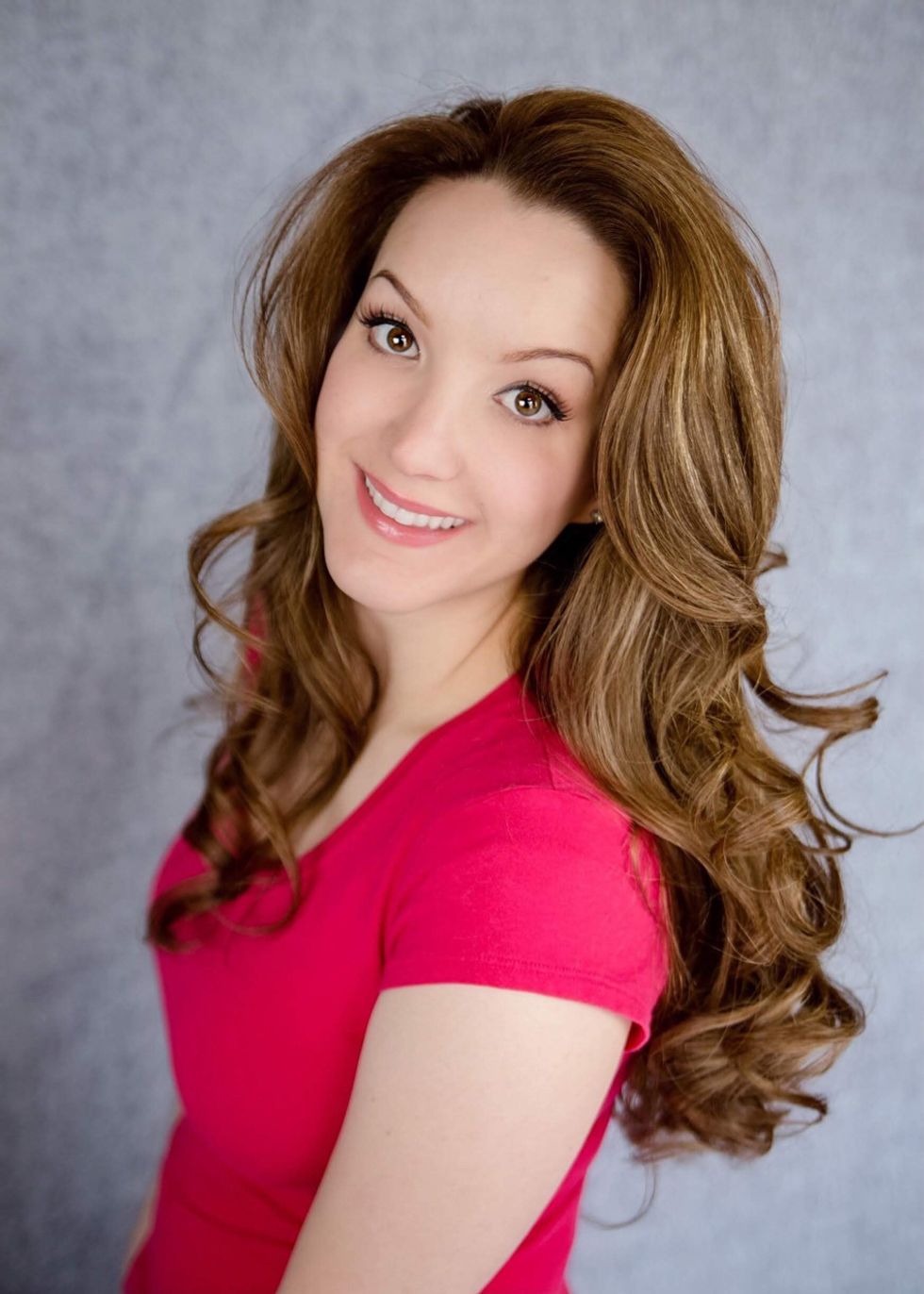 Amber Lee Roberts (Sweet Rose Photography / PA Real Life)
She said:
"A lot of parents like to offer a video call with a princess as some sort of reward for their children – like if they've completed their potty training."

"On the call, I usually try to teach them about having a good heart and to treat others how you want to be treated yourself."
"I'll also try and help their parents by encouraging the kids to clean up their kingdom, or to share with their siblings."
Amber as Belle (Collect/ PA Real Life)
She also works tirelessly to improve her performance, so her customers see her at her best.

She said:
"There's always room for improvement. I'm a trained singer and actress but I've had countless vocal lessons since I first started performing as a princess."
"As well as my performance, I'm always looking for ways to make my act more authentic. I always want to do better."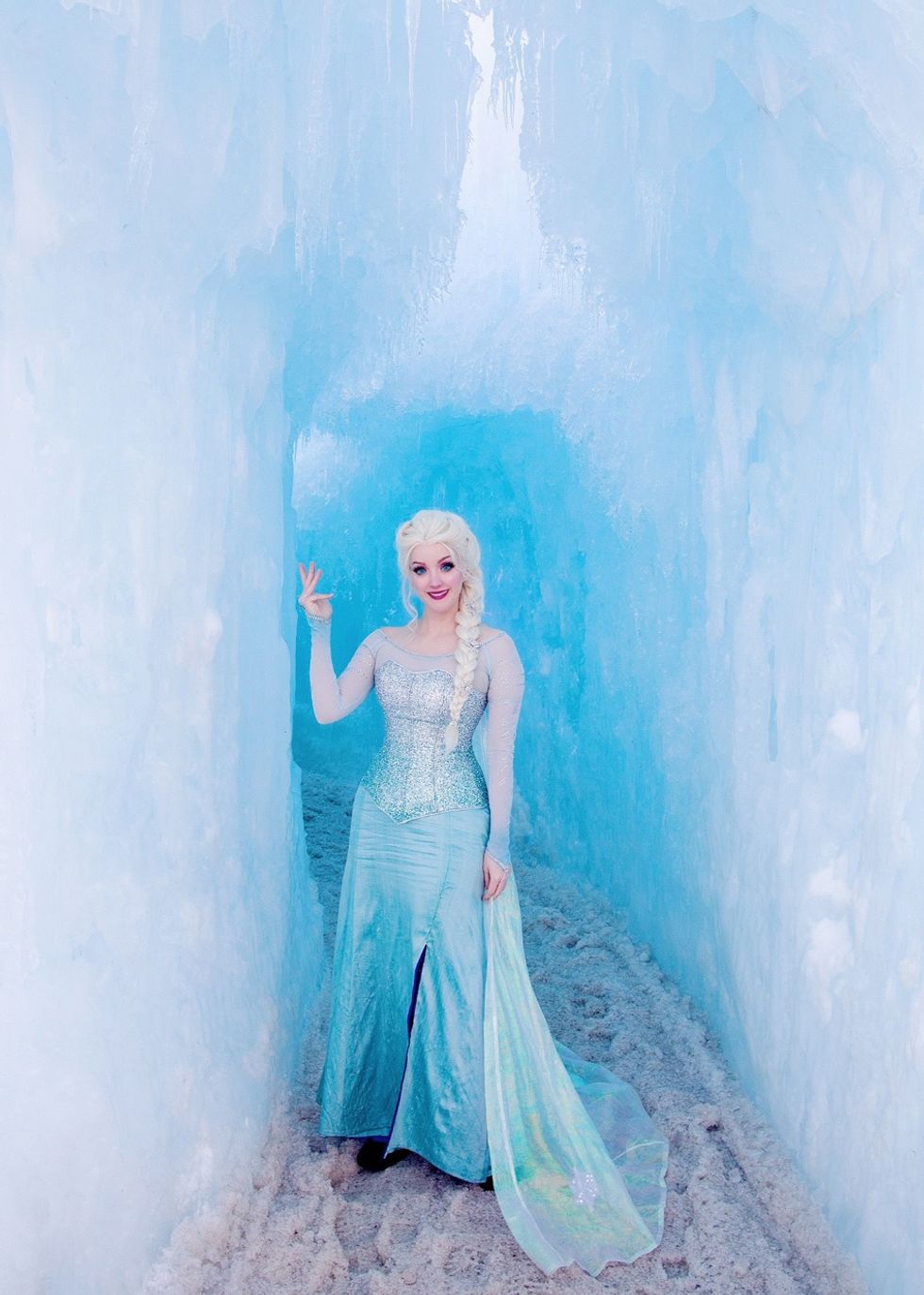 Amber as Elsa (Sweet Rose Photography / PA Real Life)
She concluded:
"But I enjoy putting in the hard work, because if I can teach children the magic of being princess and having a good heart, then it's all completely worth it."
To find out more visit springvilleprincessparties.com, @Springvilleprincessparties on Instagram, or Springville Princess Parties on Facebook.