Manpreet Singh, from Hisar, India, is unlike most 23-year-olds. He suffers from a rare condition preventing him from developing like an average adult his age.
He was born in 1995 a perfectly healthy baby, but his parents realized he stopped growing when he was still 11 lbs on his second birthday.
---
Manpreet has lived with his aunt and uncle since his parents weren't able to handle the 24-hour care he requires.
He otherwise looks like a healthy 1-year-old, but due to his perpetual stasis as an infant, his sagging skin and swollen legs prevent him from walking. His 42-year-old aunt, Lakhwinder Kaur carries him around.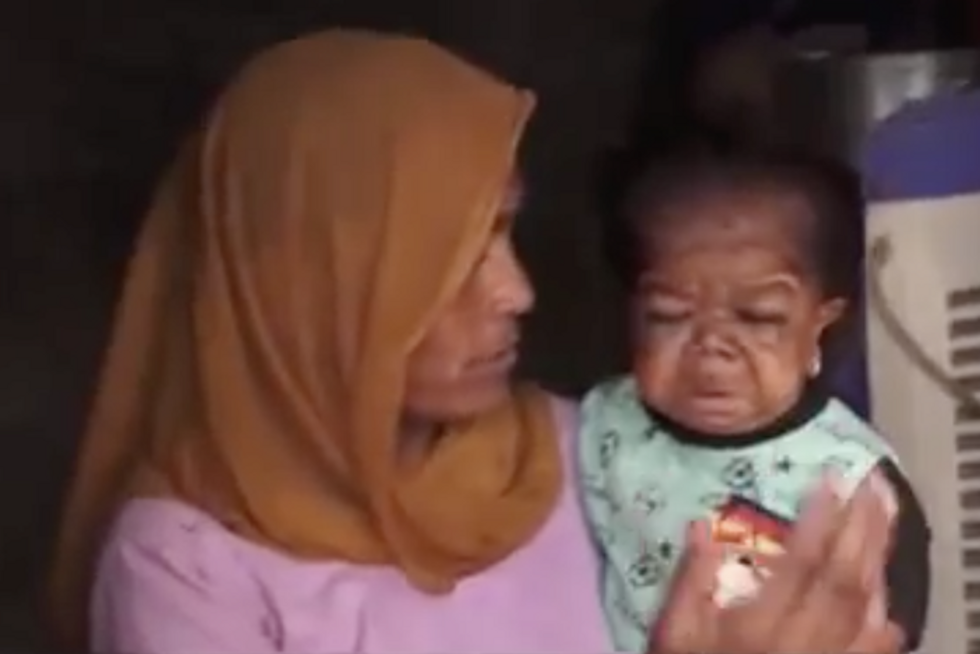 Manpreet's aunt, Lakhwinder Kaur.(TVN/YouTube)
Referring to his unfortunate anomaly, insensitive villagers in Punjab refer to Manpreet as the "pint-sized man."

Although he's unable to feed himself and has to be spoon-fed, he's able to drink liquids such as tea.
23-year-old trapped inside body of baby... https://t.co/72tBVeCsxV

— DRUDGE REPORT (@DRUDGE REPORT) 1524782439.0
In spite of everything, he has a cheerful disposition, according to His uncle Karanvir Singh, 45.
Manpreet giggles like a toddler and seldom gets sad.
It's only when the dogs or any other animal makes a sound, he gets terrified and cries. He is a delightful child and gestures the guests with his hands to sit, and tries to befriend them.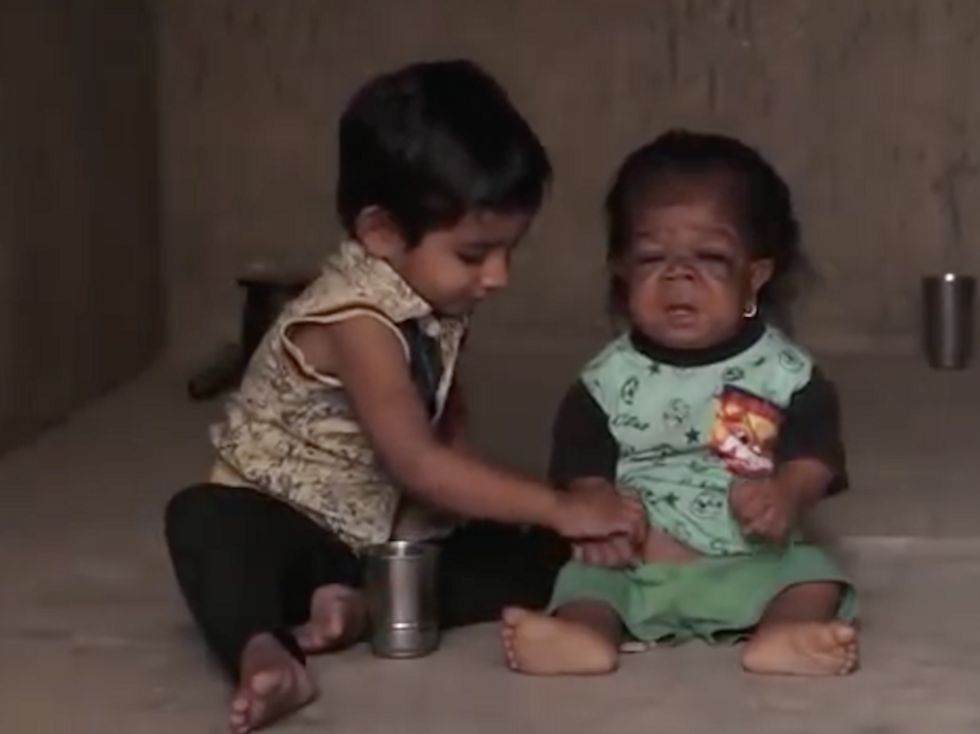 Manpreet shown here with a friend.(TVN/YouTube)
His aunt added:
We love this little bundle of joy so much that the idea of letting him go makes my heart sink.
Doctors don't understand why Manpreet stopped growing, since his brother and sister developed naturally without the same symptoms, but medical officer MK Bhadu believes that hormonal imbalance could be the reason for his disorder.
A child begins to develop mentally and physically from the age of three. 'If his body is not developing, the parents should take him to a better medical facility and get him treated.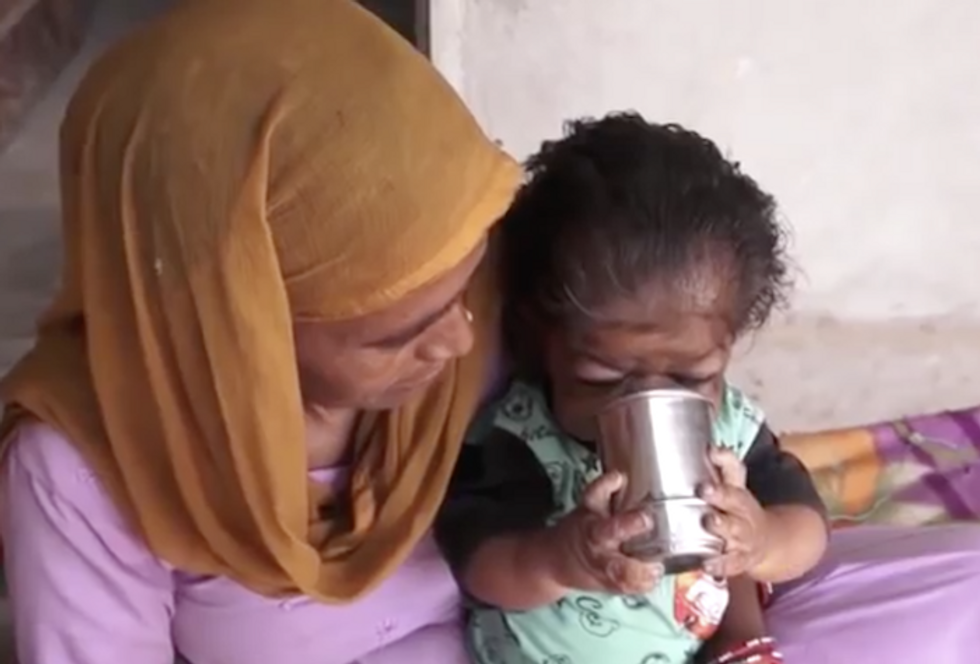 He can still drink liquids on his own.(TVN/YouTube)
However, scientists believe Manpreet suffers from a rare genetic disease called the Laron Syndrome, which affects 300 people around the globe.
Those afffected with Laron Syndrome lack the hormone called Insulin-like Growth Factor 1, or IGF-1, which stimulates cell growth.
A 23 year old man in India stopped growing mentally & physically at the age of one & therefore must be cared for li… https://t.co/CLpnFDsQ5D

— Rebecca Simon (@Rebecca Simon) 1524846191.0
Ketto, India's version of a crowd-fund campaign, is currently accepting donations to cover expenses for research, and proper treatment after diagnosis.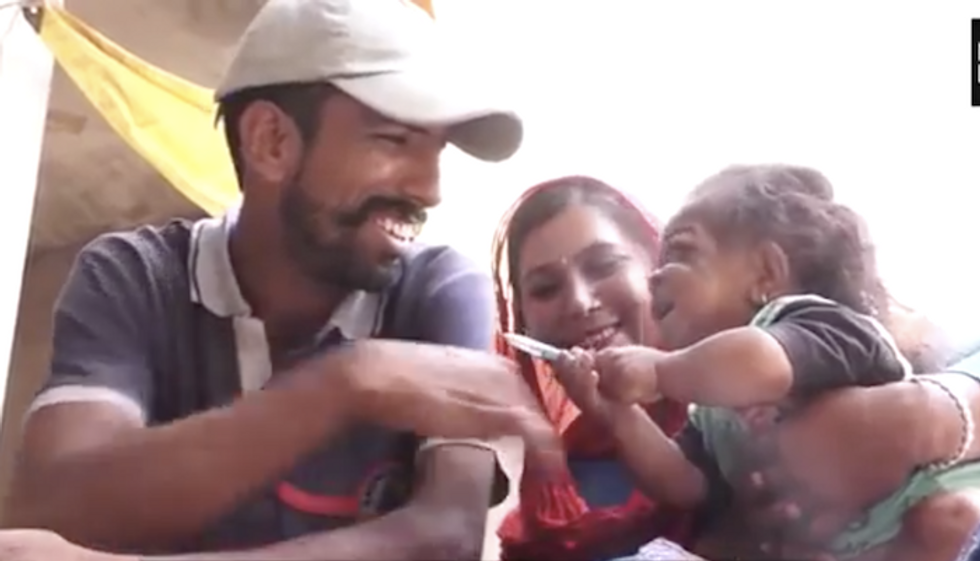 He's in good hands with a loving aunt and uncle.(TVN/YouTube)
Manpreet's crowd-funding page can be found here:
H/T - Metro, YouTube, ViralThread