The king of all SUVs has arrived, but you'll have to have a royal amount of cash to burn to dominate the road in this automotive marvel.
The Karlmann King is essentially a Ford F550 commercial cab chassis designed in China by a team consisting of over 1,800 people and hand-assembled. It's also touted as the most expensive SUV in the world.
---
According to the press release, the SUV has a hefty price tag of $3.8 million.
The King made its debut at the Dubai International Motor Show in November and wowed spectators with its visual pomposity, sporting a polygonal exterior and matte finish.
@HuffPost Looks like a stealth car designed to fool radar.

— 🦋Chloe 🕊📝📖🗽🎨🐈🐬🌊 (@🦋Chloe 🕊📝📖🗽🎨🐈🐬🌊) 1524882509.0
It's powered by a spruced up version of the F550's 6.8-liter V10 engine with a 398 horsepower boost to haul its 10,000-pound weight.
Since the SUV is meant for flaunting its hulking yet awkward shape, it's not meant for burning rubber at top speeds – which clocks in at a measly 87 mph. It would function better as a status-maker by parading around and turning heads.

But underneath the intimidating, post-apocalyptic shell is a posh interior that elevates the man-cave concept on overdrive.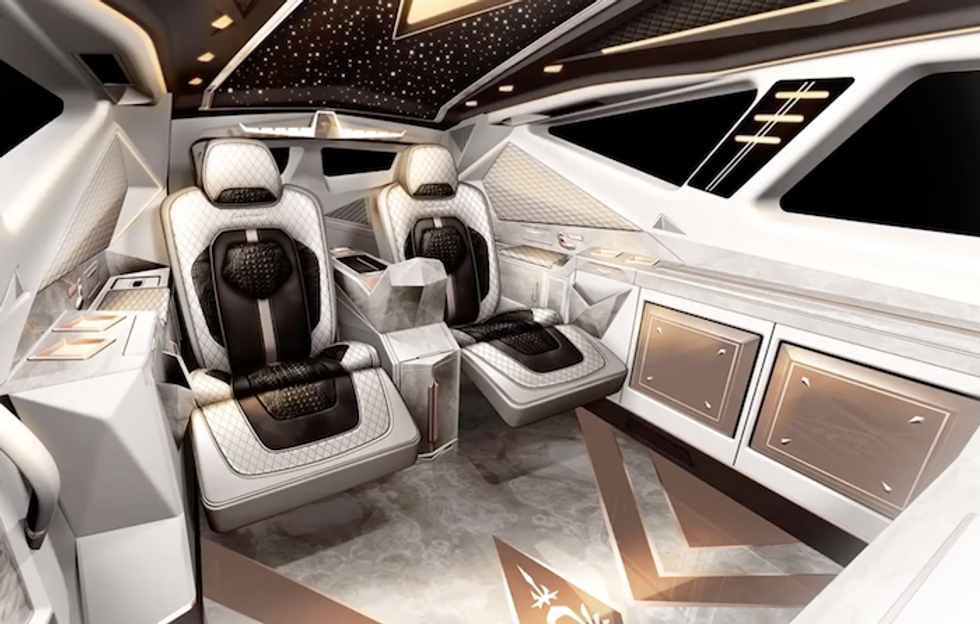 The spaceship interior.(Auto TV/YouTube)
Chances are, if you could afford the King, you wouldn't be behind the wheel. You're likely to luxuriate in the passengers' quarters, complete with a 40-inch TV screen, Internet, integrated laptops, Play Station, refrigerator, a bar, neon rope-lighting, electronic arm rests, and a coffee machine. A personal barista, unfortunately, is not included.
If you want to nab the King, the time to act is now. Maybe. Only 12 of these will be made. Any takers?
I would like 9 of these please... https://t.co/bF7pI0Z1xL

— Kevin Coleman (@Kevin Coleman) 1524929368.0
Despite the ostentatious unveiling, some were not impressed.
@HuffPost So for 4 million $$$'s they are getting essentially a fucking Ford??? 😂🤣😂🤣 no thanks.

— Tyrone Dotcom (@Tyrone Dotcom) 1524879240.0
@HuffPost What a Fugly thing. 🤔🤔

— Power2People (@Power2People) 1524879635.0
@HuffPost Can it fly also?

— Germano 🇺🇸🇧🇷🇵🇹🌎✊🌹🏍📎⚽️ (@Germano 🇺🇸🇧🇷🇵🇹🌎✊🌹🏍📎⚽️) 1524881896.0
But if this is your aesthetic, there's this.
@HuffPost Looks like a transformer!

— EileenCummings (@EileenCummings) 1524879495.0
It has niche appeal.
Karlmann King SUV is mind blowingly dope! #SUV #cars #motors #4x4 #offroad #badass #luxury https://t.co/9luUnawfdA

— Mazepress 😎🖖🏻💻 (@Mazepress 😎🖖🏻💻) 1524366785.0
H/T - KarlmannKing, HuffingtonPost, Twitter, NewAtlas, YouTube