A woman who lived in excruciating pain for seven years after an insect bite left her leg covered in oozing ulcers has had the limb amputated – and claims the op has changed her life for the better.
When Lisa Davis, 28, was nipped on the right foot by a bug as she waded in the sea during a holiday in Wales in 2011, she thought nothing of it, assuming the resulting redness was down to sunburn.
But the seemingly unremarkable event triggered years of agony for the former youth worker, of Bromsgrove, Worcestershire, who was later diagnosed with complex regional pain syndrome (CRPS) – where the body has an adverse reaction to a small injury.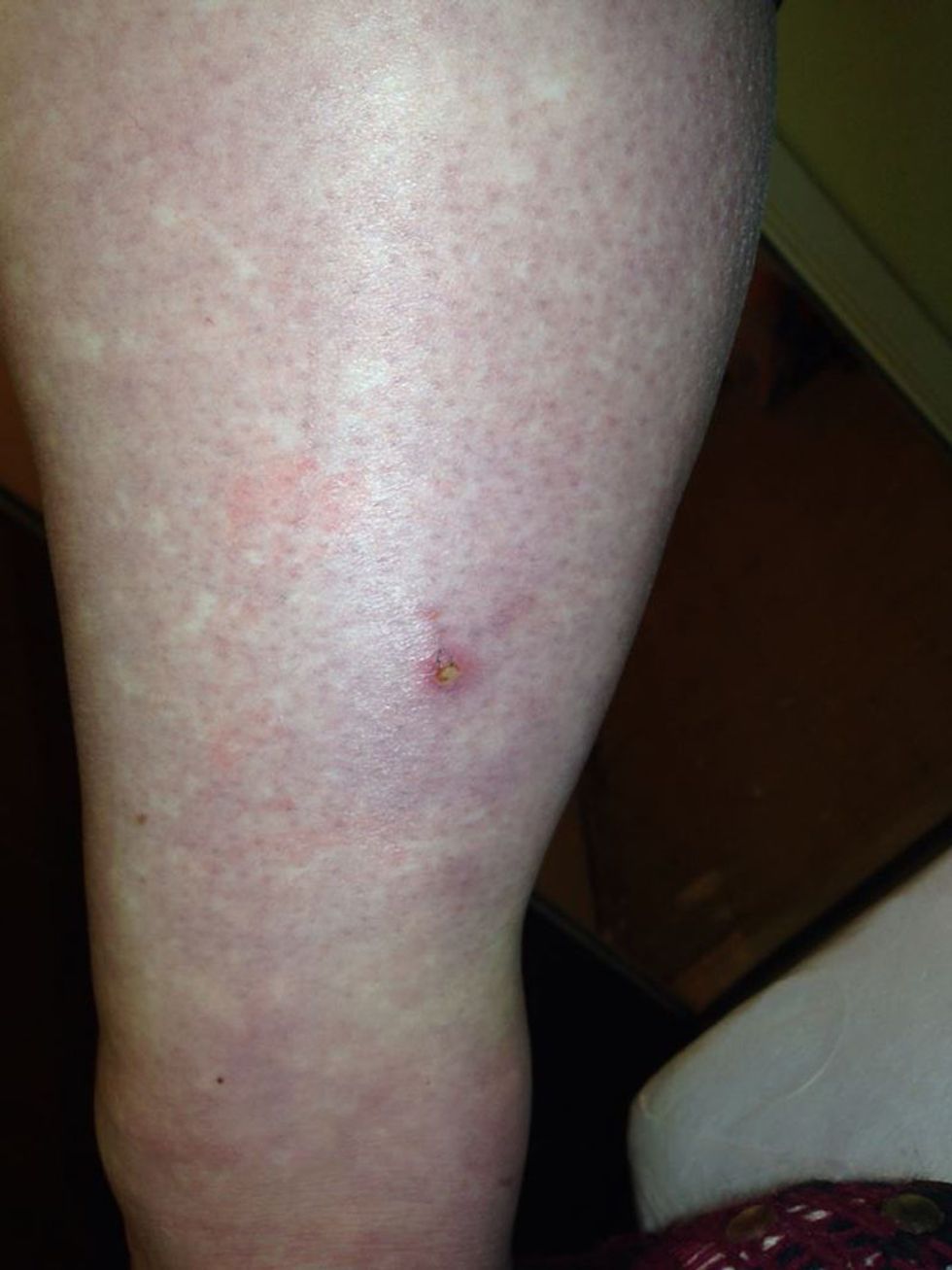 Lisa's original ulcer (Collect/PA Real Life)
From there, her right leg was ravaged by sore ulcers, which would weep with so much pus she could scarcely move.
Now though, Lisa says she has a new lease of life following an amputation which, after two cancelled appointments, finally took place last month, explaining:
"Before this, I was so ground down and worn out. Now I have my life back. I can finally see a light at the end of the tunnel."
"On my way to hospital for the amputation, I could barely contain my excitement. The doctors and nurses said they don't get many people who're excited about such a life-changing operation, but I really do see this as a massive positive."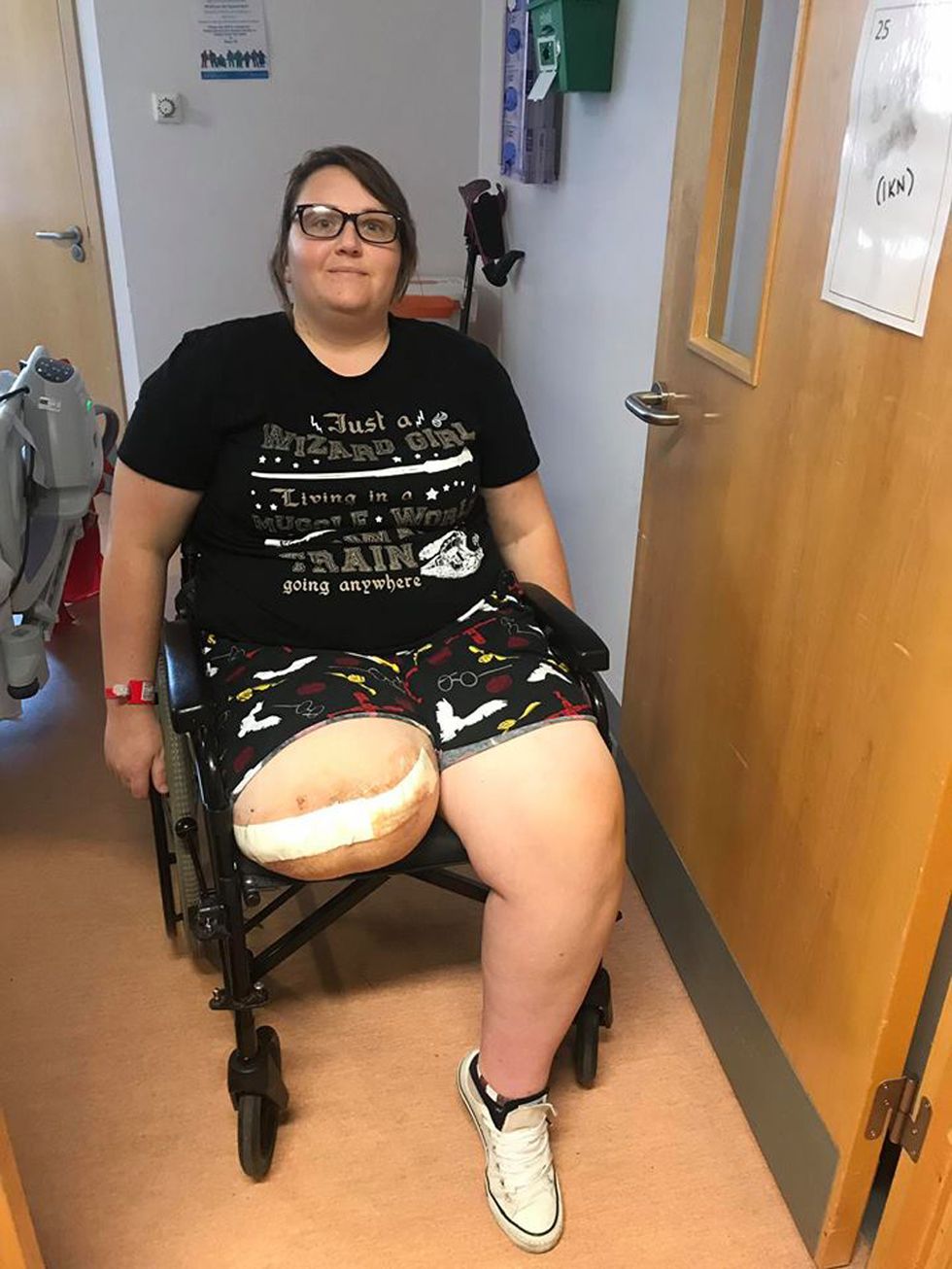 Lisa after her amputation (Collect/PA Real Life)
She added:
"The operation took four hours in total. My memory of it all is still very hazy, but I recall really clearly coming round, and before I'd even opened my eyes, I said, 'Is it gone?'"
"I sniffed the air, and for the first time in years, couldn't smell the horrific scent of my right leg. I knew then that it was done."
Looking back, Lisa recalls the day her nightmare began as being completely normal.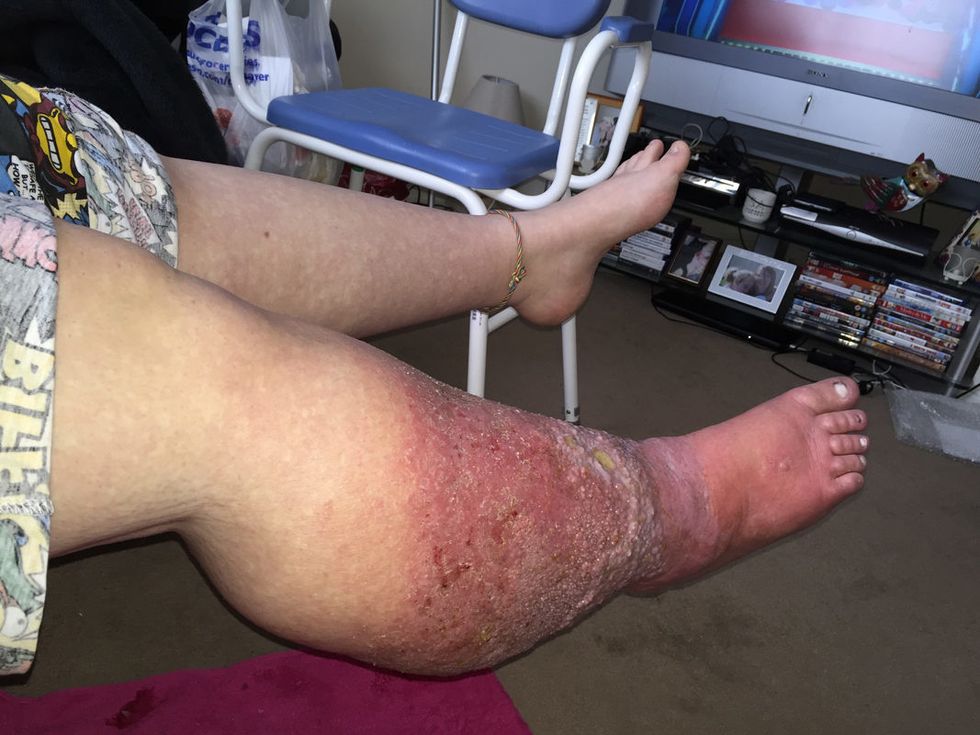 GRAPHIC IMAGE WARNING – Lisa's infected ulcers (Collect/PA Real Life)
On holiday in Saundersfoot, west Wales, at the time, she was paddling in the sea when an insect bit her right foot.
Unperturbed, she flicked the critter away and continued with her day.
But, in the days that followed, after turning red – which she at first thought was down to sunburn – her leg became swollen and painful.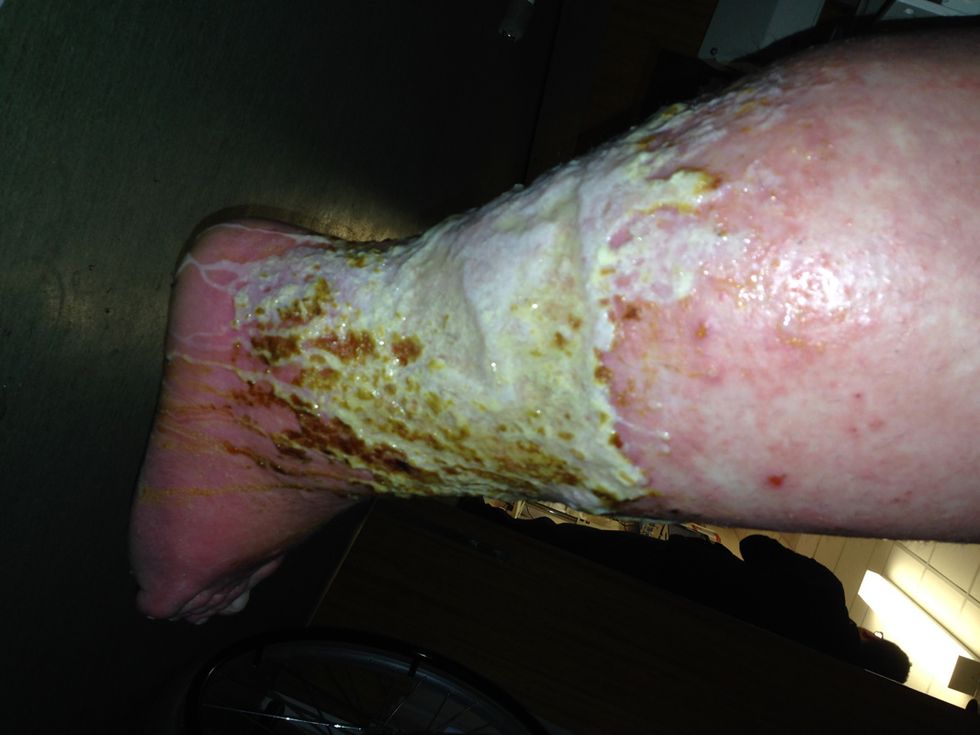 GRAPHIC IMAGE WARNING – Lisa's infected ulcers (Collect/PA Real Life)
After applying antihistamine cream and painkillers, her symptoms continued, so, once home, she went to A&E at Alexandra Hospital in Redditch, Worcestershire.
"My leg was turning purple, which was quite scary. By then, I was thinking it was much more than sunburn," she said.
For the next 18 months, singleton Lisa was referred to different departments, as doctors battled to find the root of her pain.
Infographic: 'But you don't look sick' understanding #invisibleillness#CRPS#chronicpainhttps://t.co/UpUXvv2e1o
— Burning Nights CRPS (@BNightsCRPS) September 14, 2018
She continued:
"It was so severe, I couldn't even face anyone or anything touching it – clothing, bedding or even a breeze caused pain."
Eventually, in 2013, after being referred to a specialist clinic at the Royal United Hospitals in Bath, Somerset, she was diagnosed with CRPS, an incurable chronic pain condition.
"I was relieved to have a diagnosis, but devastated that there wasn't much they could do. I was stuck in limbo and struggled to process it," she said.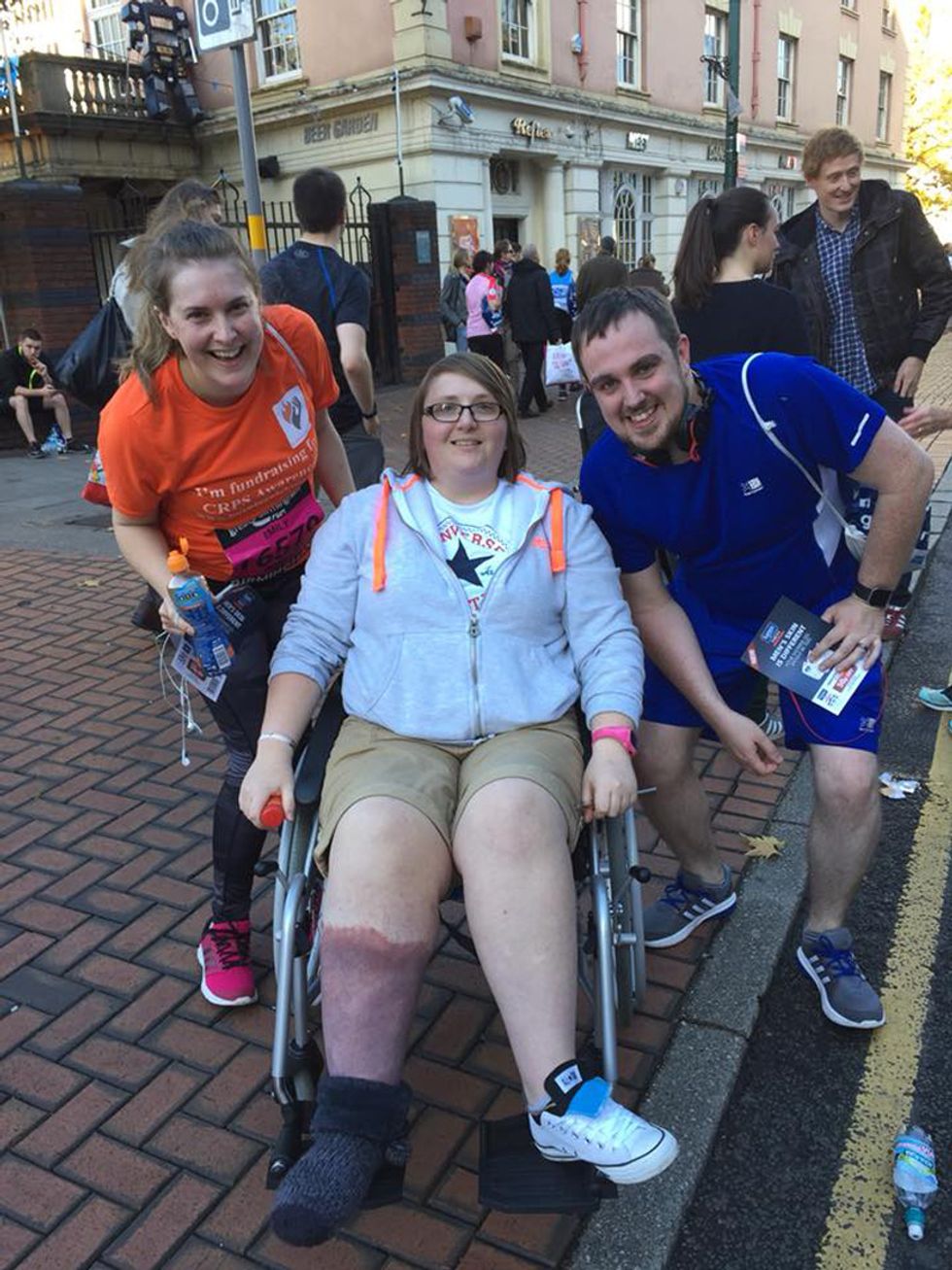 Lisa out with friends before her operation (Collect/PA Real Life)
More misery was to come for Lisa – who, despite her ordeal, struggled on, determined to complete her degree in youth work – when, in November 2013, an ulcer sprang up on her leg.
Worried, she visited a doctor, who bandaged it up, but it continued to grow and grow, before more appeared.
Eventually, her health deteriorated so much she could barely leave the house and needed a wheelchair to get around.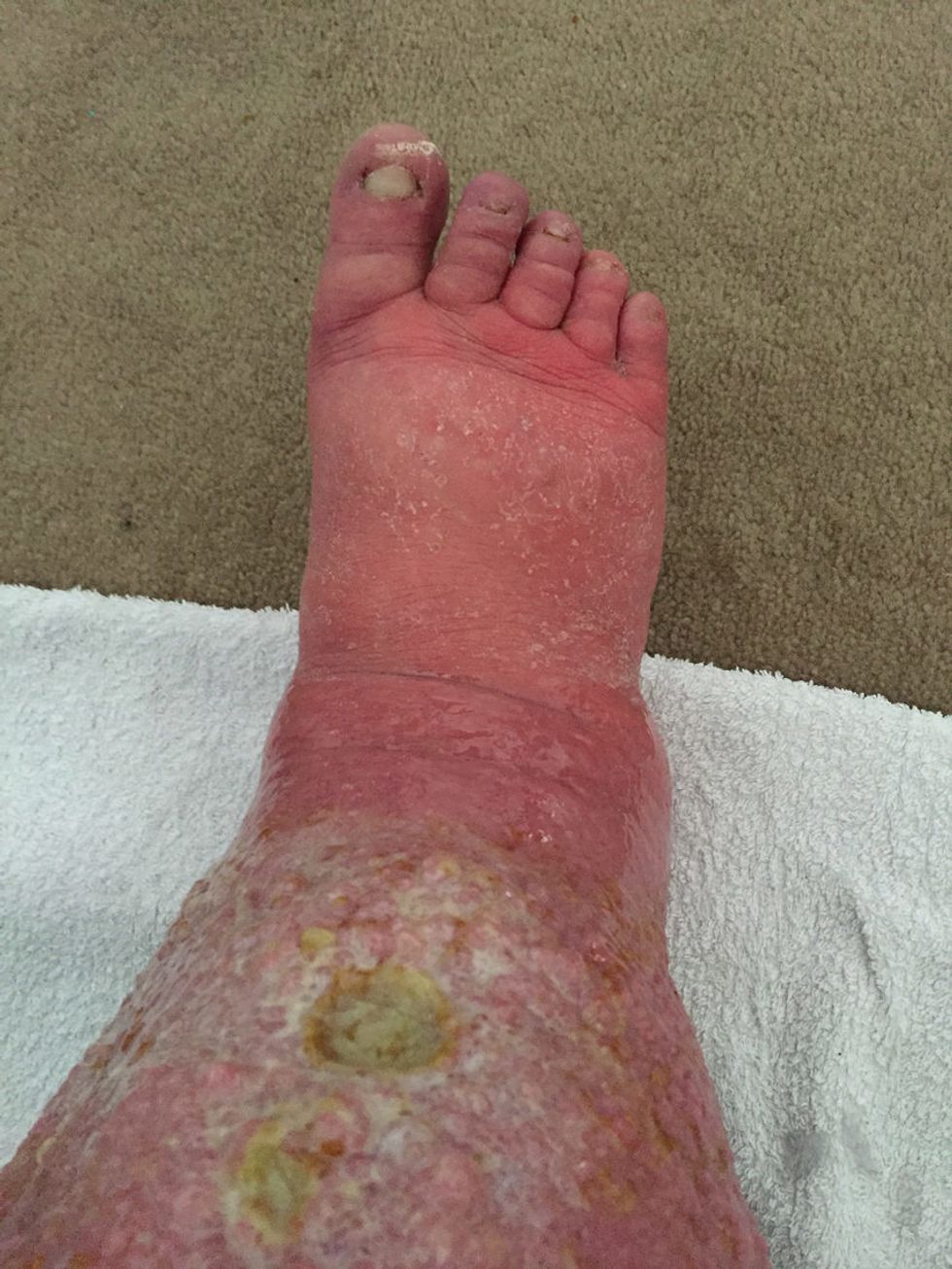 GRAPHIC IMAGE WARNING – Lisa's infected ulcers (Collect/PA Real Life)
"My leg ended up covered in ulcers," she said. "Conventional treatments weren't working because of my CRPS and they'd become infected. I had so many types of antibiotics that they became ineffective."
"I couldn't tolerate dressings on the ulcers, so they were constantly dripping. In the end, I couldn't even sleep in my bed anymore."
"I'd sleep propped up on the sofa, because the ulcers would ooze and drip so much that I had to contain the mess."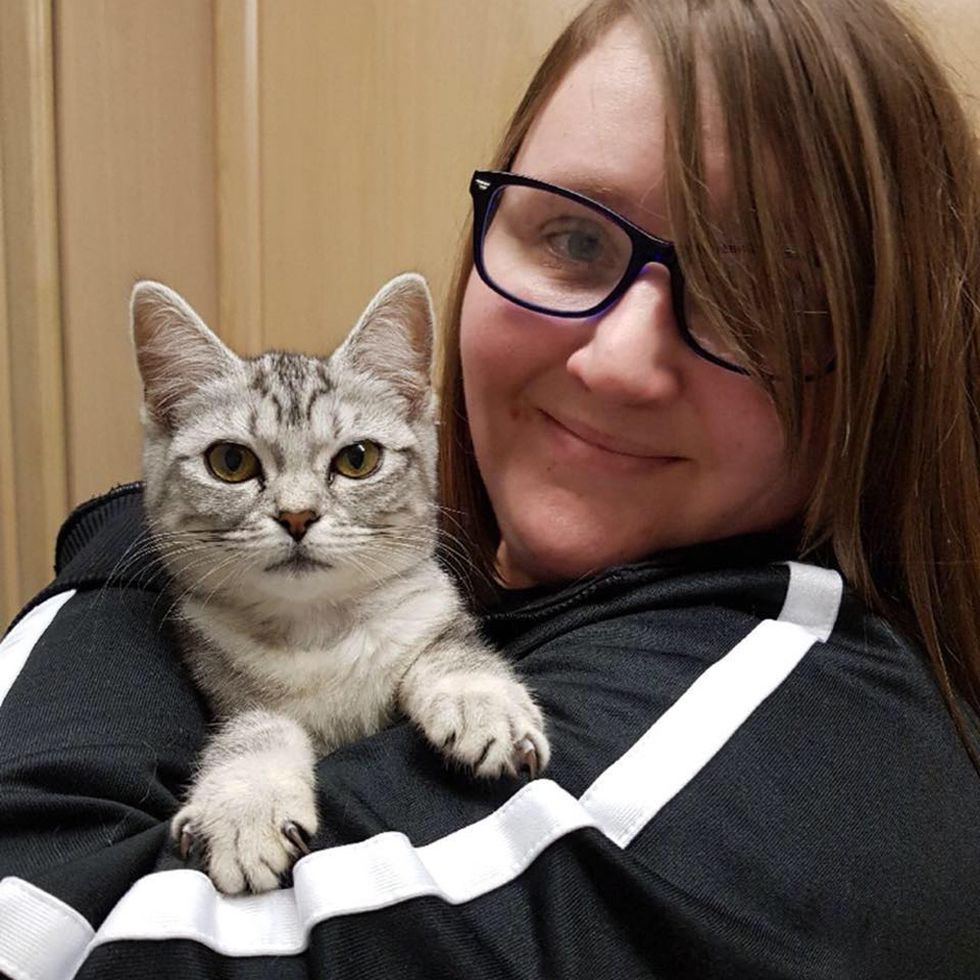 Lisa (Collect/PA Real Life)
Then, in 2017, doctors told Lisa that she would need her leg amputated above the knee to stop the ulcers – although the drastic surgery would not cure her CRPS.
Following a psychiatric assessment in July, to ensure she could cope with the life-changing operation, she was due to have surgery in August this year.
But, at the very last minute, the procedure was cancelled, as the surgeon was no longer available.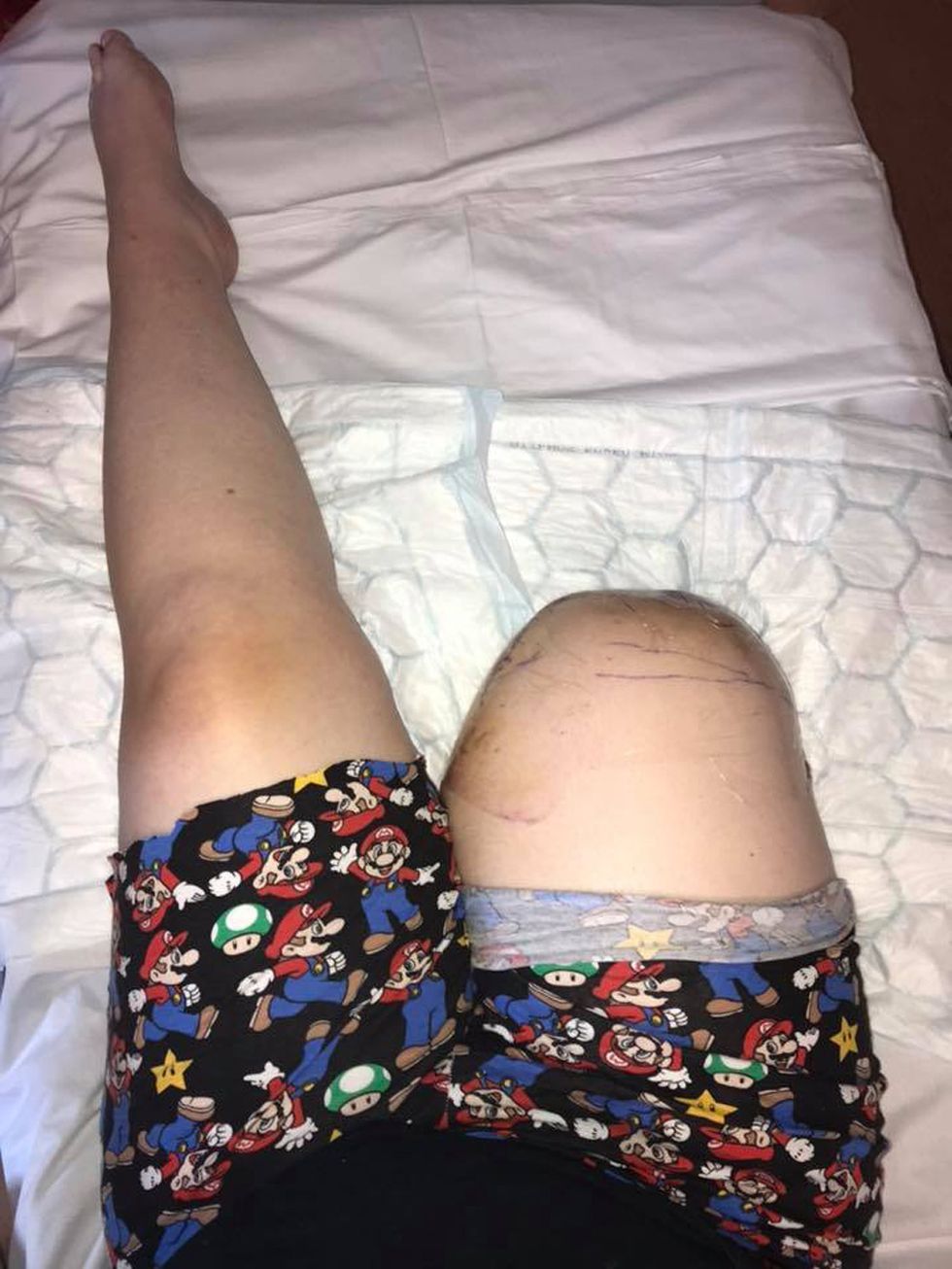 Lisa after her amputation (Collect/PA Real Life)
"The staff were great and very apologetic, but it was still a huge knock back," she said. "I spent the next day not really wanting to talk about it."
"There'd been so many obstacles to get to that point in the first place, that I wondered if my operation would ever happen."
Weeks later, Lisa was called back to hospital but, once again, a last minute cancellation came when it emerged there was no bed for her.
She added:
"I hadn't built myself up as much this time, as I knew cancellations can happen."
"It was horrible waiting, though. I hadn't slept much the night before because I felt quite anxious, so I was falling asleep with exhaustion on the ward, getting increasingly uncomfortable."
Finally, on 19 September, another call came, this time giving a guarantee that the surgery would take place five days later.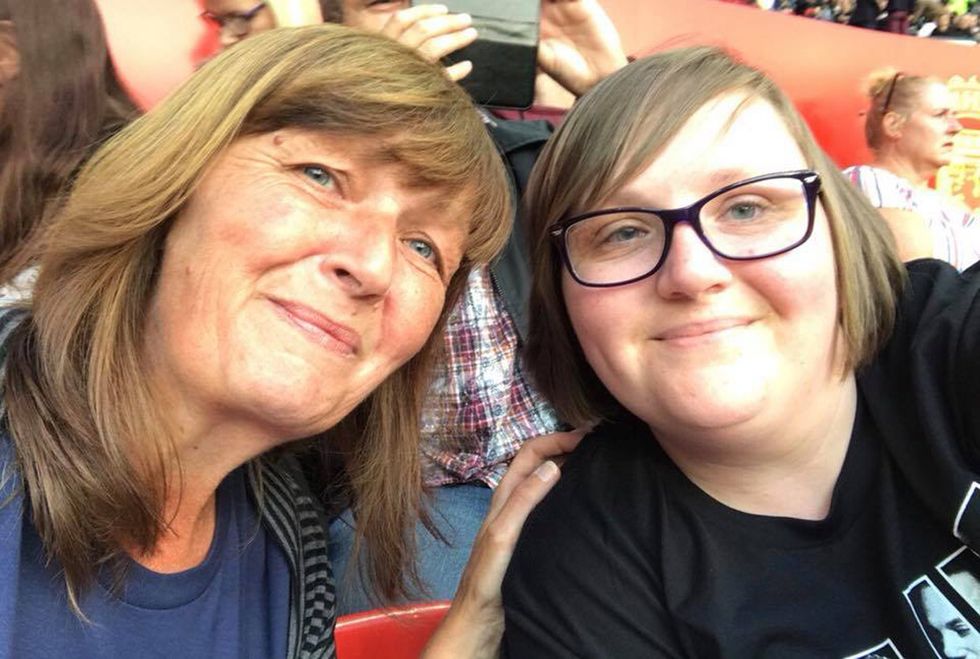 Lisa and her mom Karren (Collect/PA Real Life)
As her mom Karren, 55, drove her to hospital on the day of her operation, Lisa recalls feeling remarkably calm – and even excited.
"Everything happened so quickly, I didn't even have time to think much," she said. "Before I knew it, there was a bed there waiting to take me down to theater."
In total, Lisa remained in Worcestershire Royal Hospital for 10 days recovering.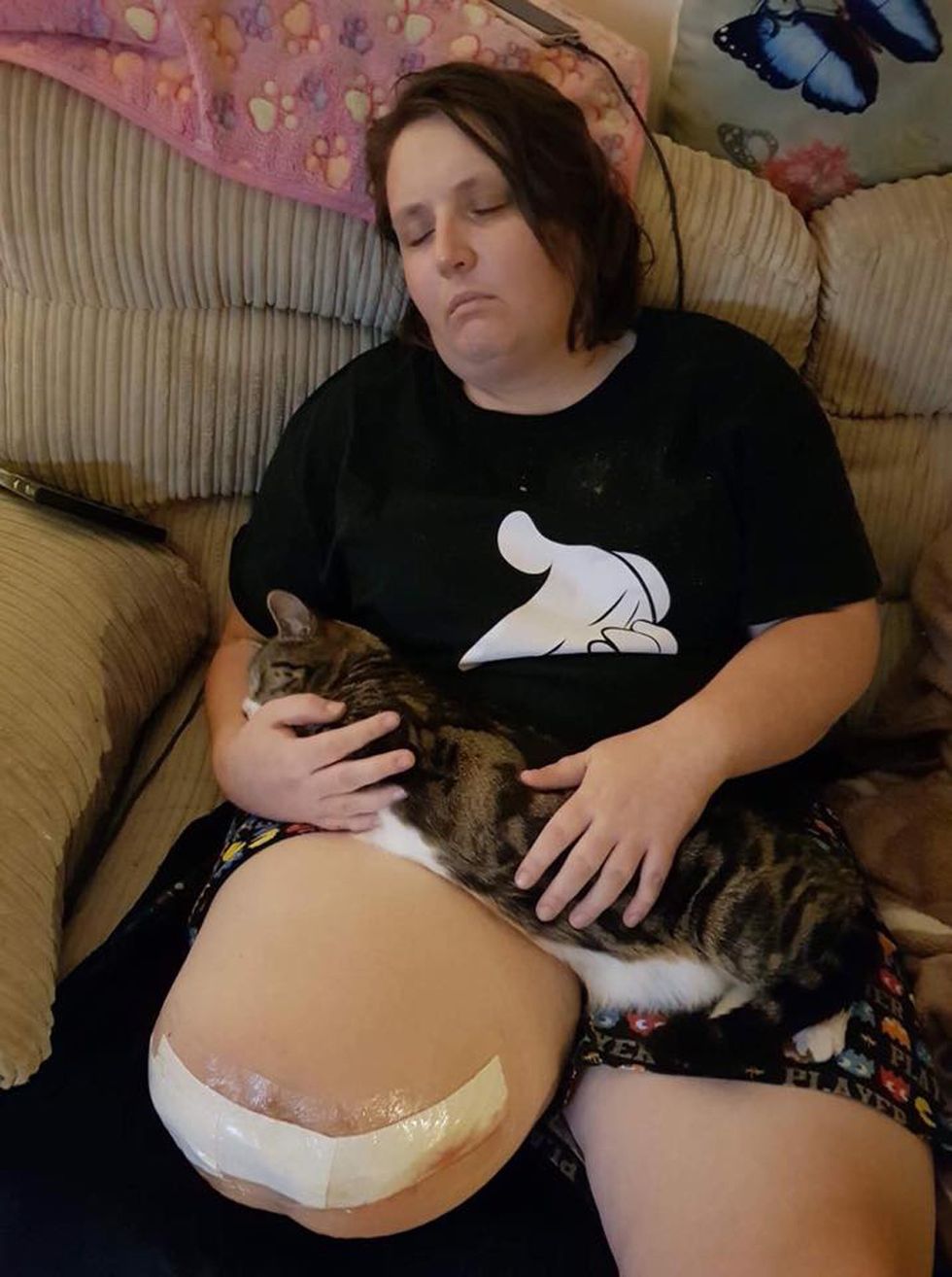 Lisa back home recovering after her amputation (Collect/PA Real Life)
Now back home, she is adapting to her new life, and has created a touching 'to do' list, of all the things that once seemed impossible.
As she still has CRPS, doctors are unsure if a prosthesis will be suitable, but she is accepting of the fact that she may need a wheelchair instead.
"My life is already changing in really small ways. I slept on my side the other day for the first time in years," she said. "It sounds silly but it meant so much."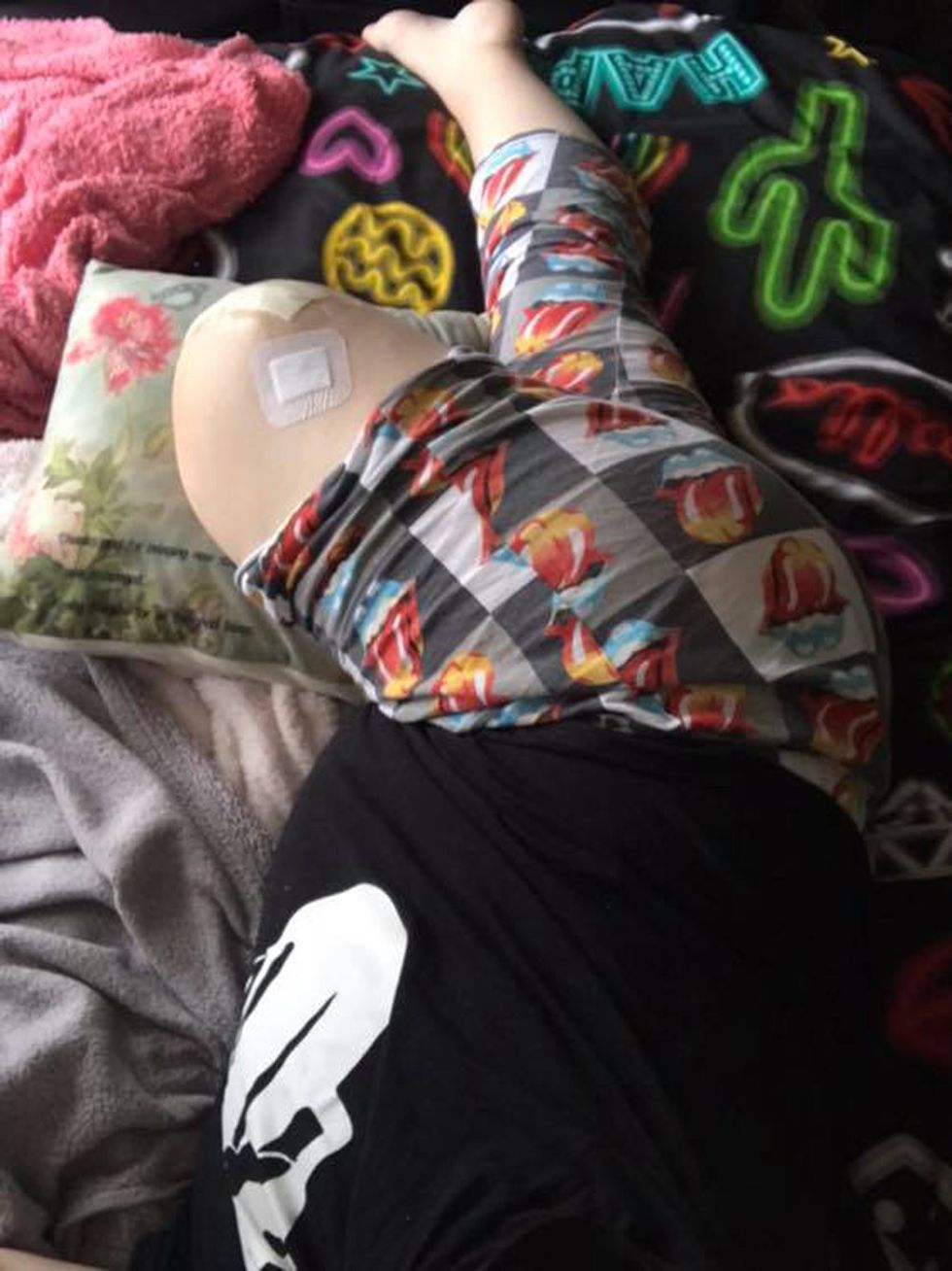 Lisa laying on her side for the first time in years (Collect/PA Real Life)
She continued:
"Finally, I can do all those things that people take for granted. I'd love to go swimming and get active again too."
"I can't thank the surgeons enough for what they've done. Finally, I have hope again."
Throughout her journey, Lisa has been supported by Burning Nights, a charity supporting people with CRPS, who she now works for as a trustee.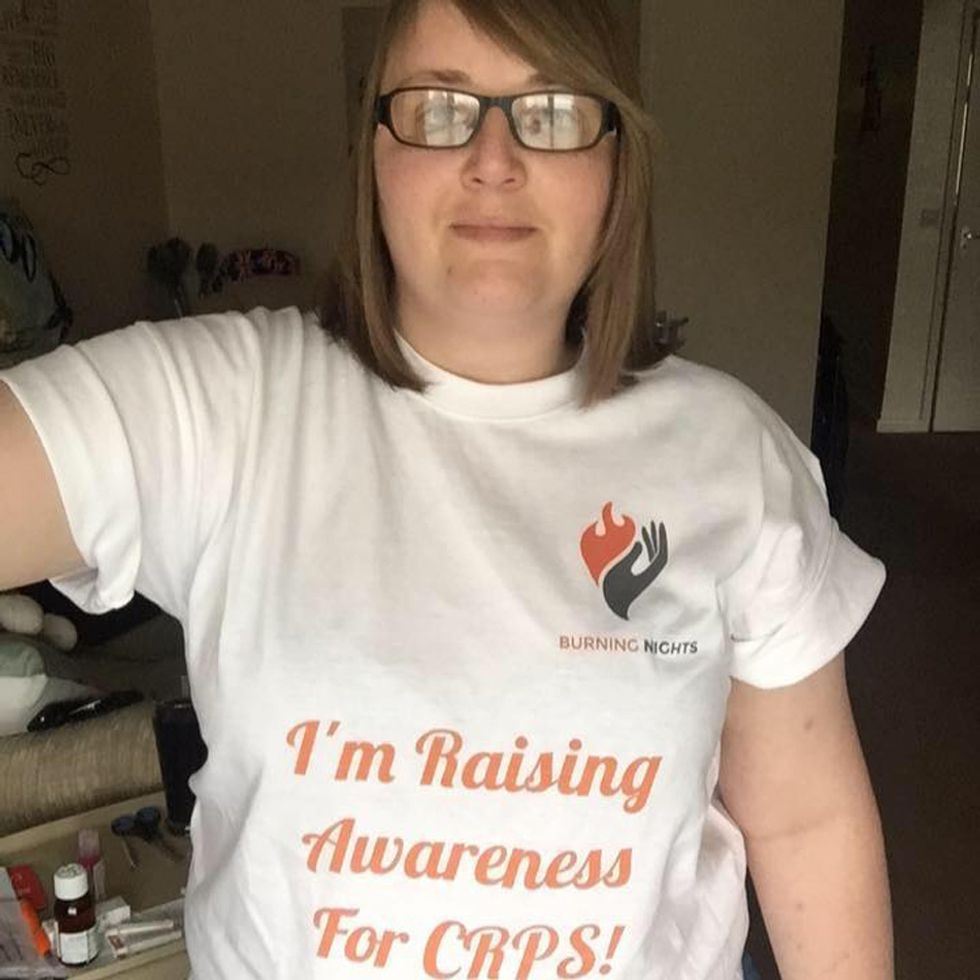 Lisa now works as a trustee for CRPS charity Burning Nights
(Collect/PA Real Life)
She explained:
"I found Burning Nights and read about the founder Victoria Abbot Fleming, who had been in a similar situation, so I approached her."
"She gave me such a boost, because she had so much information to share."
For more information visit www.burningnightscrps.org

A version of this article originally appeared on Press Association.