TikToker Kelsey Soles recently experienced a literal nightmare upon waking when she woke up and realized her entire apartment was on fire, as a result of an electrical issue.
On a channel that she describes as the chronicles of her "villain origin story," Soles explained how she had woken up in the middle of the night, greeted by her entire clothing rack on fire, as well as several other items. She was able to exit her apartment to get the attention and help of her superintendent, but by the time the pair returned, they were unable to reenter the home.
After the fire department arrived, the New Yorker was able to find one moment of levity when the only pair of shoes a "cute" firefighter could find for the shoeless TikToker was a brand new pair of black three-inch-tall wedges, which she then waded around her apartment in, looking for items she could save from the smoke, flames, and now water that had flooded her floor.
You can watch the first video in the series here:
The next day, Soles returned to the apartment to see what she could still extract from the apartment.
Most of the home was damaged, as shown in the next video, including her furniture and vintage items.
But she chose to remain positive and wrote:
"At least I'm alive. New chapter."
She also shared a video alongside her twin sister, showing the few garbage bags of items she was able to keep. Most of her bathroom toiletries were salvageable, as well as her espresso machine, but all of her clothes, personal items, and other decor were ruined in the fire.
You can watch the video here:
Fellow TikTokers were shocked and quick to show their support for Soles.

@kelseysoles/TikTok

@kelseysoles/TikTok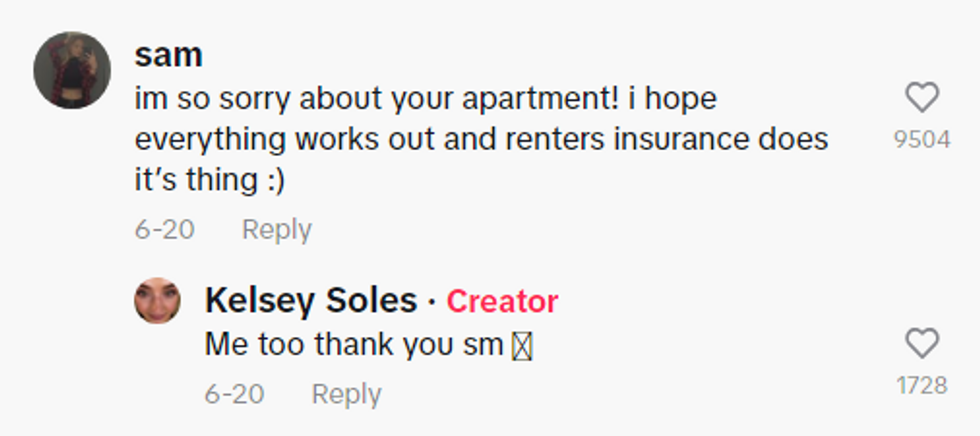 @kelseysoles/TikTok

@kelseysoles/TikTok

@kelseysoles/TikTok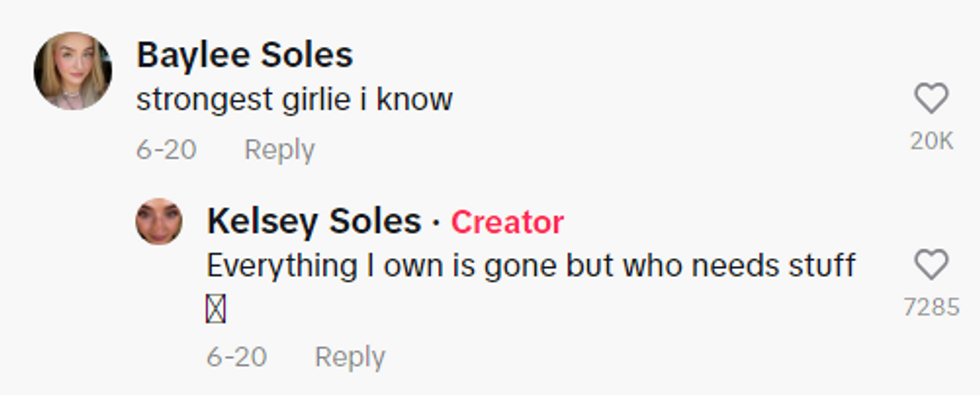 @kelseysoles/TikTok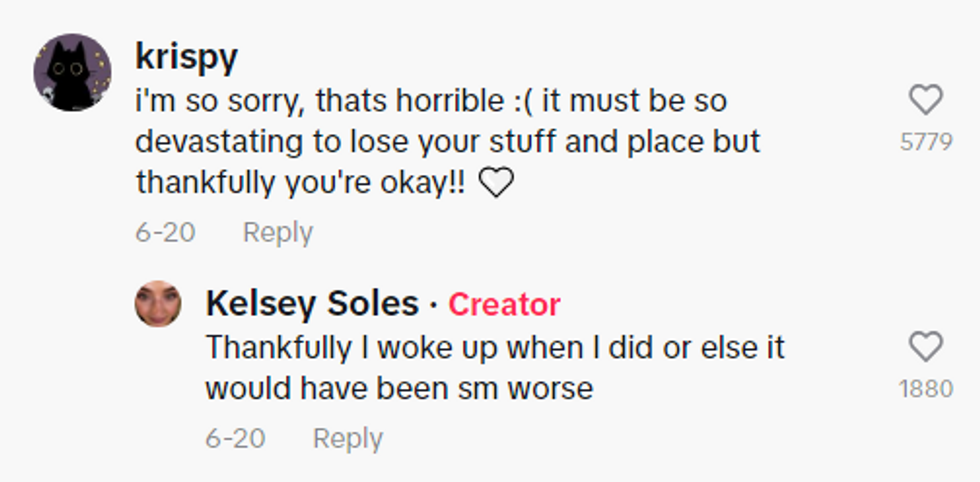 @kelseysoles/TikTok

@kelseysoles/TikTok

@kelseysoles/TikTok

@kelseysoles/TikTok
After she received countless positive responses and offers to fund her new chapter, Soles expressed her gratitude.

But she was already incredibly homesick for the home she had so suddenly lost.
"I got out, so I'm lucky that I got out when I did. But right now, I think I'm just homesick, because I just want to be home, and I don't have my home. But I'm lucky that I have friends and family around me that I can stay with in the meantime."
None of us like change one hundred percent of the time, but it takes a certain type of person to handle a change as big and as sudden as surviving a fire and leaving a home behind.
Grateful for the loved ones and TikTok community she has around her, we're glad to see Soles is staying positive and looking forward to the next chapter in her New York City life.