Taking a shower is probably something you would never consider as being a luxury.
But for one woman who is allergic to having skin contact with any form of water—including rain, sweat, and tears—the frequent routine of showering is an excruciating endeavor.
Niah Selway, who is from the UK, suffers from a rare skin condition called Aquagenic Pruritus.
The skin disease is characterized by the development of severe itching, stinging, or burning sensations without showing visible signs of irritation after having contact with water of any temperature.
She described her discomfort as feeling like her "blood is boiling" and that it can last for hours.

The 23-year-old demonstrated to her followers in a two-part TikTok video how she prepares before taking a shower.
@niahselway

Showering with an allergy to water 💦 part 1 #niahselway #fyp #aquagenicpruritus #chronicillness
"With an allergy to water, having a wash is really difficult," she began explaining in the first video.
She took us through the arduous process involved before stepping into the bathtub.

"I'm starting out by taking my blood pressure and temperature, and then selecting my sensitive skin-friendly products."
"I'm taking this dry brush and rubbing it over my skin to exfoliate and get rid of some of the dead skin that builds up on my skin."
Selway said it takes around 5-10 minutes after jumping in the shower before starting to feel the pain.

"It can last anywhere up to three hours after the initial contact with water. When I jump out of the shower, I'm in a lot of pain."

@niahselway/TikTok

@niahselway/TikTok
In the second video, she talked about the lingering effects after rinsing.
"I literally just writhe around in my bed until the pain stops and I start to feel exhausted."
The text on the clip read, "Being clothed is less painful on the skin than not."
"In really bad cases I take painkillers," she continued, with another accompanying text explaining she "always feels sick after and during an allergic reaction."
"Today I'm not doing that," said Selway, as she tossed aside the meds.
To keep her "energy up," she went for a bag of potato chips, despite the fact that she hates them because the crisps "literally taste like cardboard."
The clip concluded with Selway saying that, while there wasn't a major difference between her blood pressure and her heart rate before and after her shower, her temperature "worryingly" reached the level of being feverish at 41ºC.

@niahselway/TikTok
When users expressed concern for her alarmingly high temperature, Selway said she was told by the National Health Service (NHS) hotline—which is used in England—that unless she goes into anaphylactic shock, she wouldn't need to go to the hospital.
She added that she was going to consult a new doctor in Germany.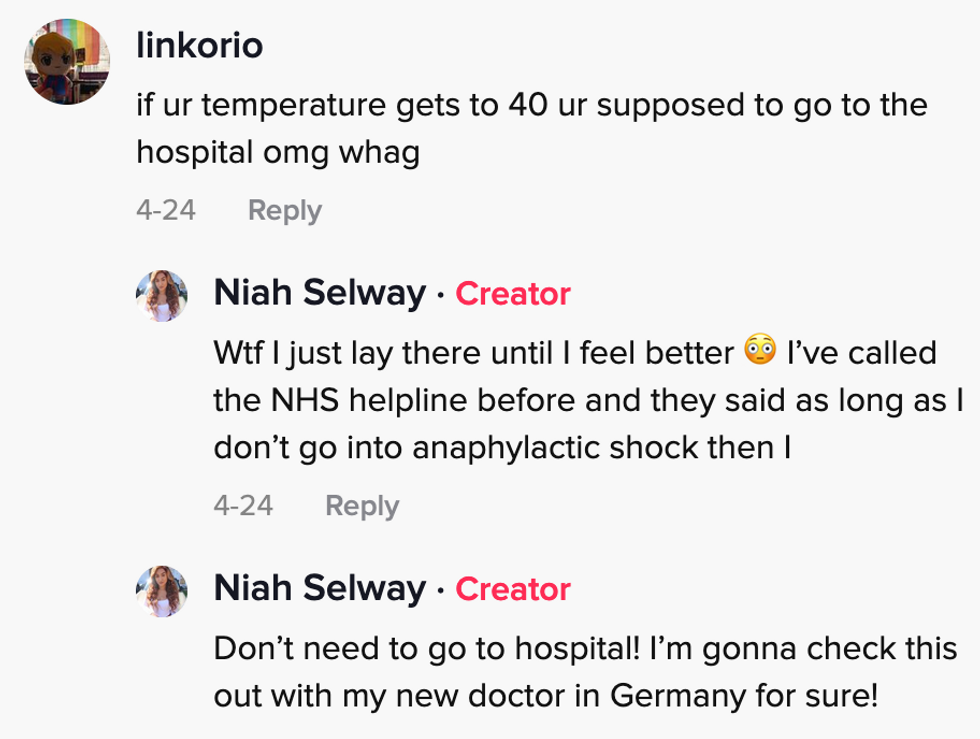 @niahselway/TikTok
To help cover the costs for her private medical treatment at the University of Munster in Germany, she started a GoFundMe page.
In her campaign description, Selway said she wasn't born with the condition but it worsened as she hit puberty.
"I started to have allergic reactions to my showers, which became more and more frequent as time passed," she said.
"My doctors put it down to a change in my hormones, but after many attempted treatments to lessen my symptoms, they soon decided that my skin condition was likely incurable, as I had responded to nothing they had tried and they couldn't find a specific cause for why this started happening to me."

@niahselway/TikTok
She wrote about all the doctors' solutions that did little to ease her pain.

"If I itch my skin, it doesn't give me any relief, to moisturize it doesn't help and antihistamines, painkillers and all of the treatments my doctors at St Thomas' Hospital have tried didn't have any impact on my symptoms."

@niahselway/TikTok
She added:

"So far, my treatment has been entirely provided by the NHS, which I am so eternally grateful for."
"I am, however, reaching the point where they have exhausted their treatment options for my situation and quite honestly, it doesn't feel like they have much belief that they can help me."

@niahselway/TikTok
So far, Selway has received nearly £16,000 ($22,107.44) in donations, towards her fundraising goal of £250,000 ($345,428.75).