When a barking mad animal lover started an Instagram page for her four legged besties – two guinea pigs and a dog – it was no joke when they attracted twice as many followers as her stand-up comedian husband.
But student finance manager Jen Furlong, 34, and funnyman Ken Garr, 43, soon laughed it off and love watching the side-splitting antics as Basset Hound-Shar Pei cross, Wilbur, and short-haired guinea pigs, Market Price and Rumpadump – aka The Dumplings – play together.
Jen, who adopted Wilbur from a farm as a two-month-old pup in 2014, then bringing The Dumplings – both females, or 'sows' – into their home in Los Angeles, California, a few years later, says her potty pooch even snacks on lettuce, like his piggy pals.
Revealing that her animals have over 4,600 Instagram followers, compared to Ken's 2,200, she laughed:
"Every day at around 3pm I'd feed The Dumplings some nice romaine lettuce."
"Wilbur started barking every time and I realized it was because he wanted some, too."
"The first few times he knocked it around, not sure what to do with it, but now it's become a staple of his diet."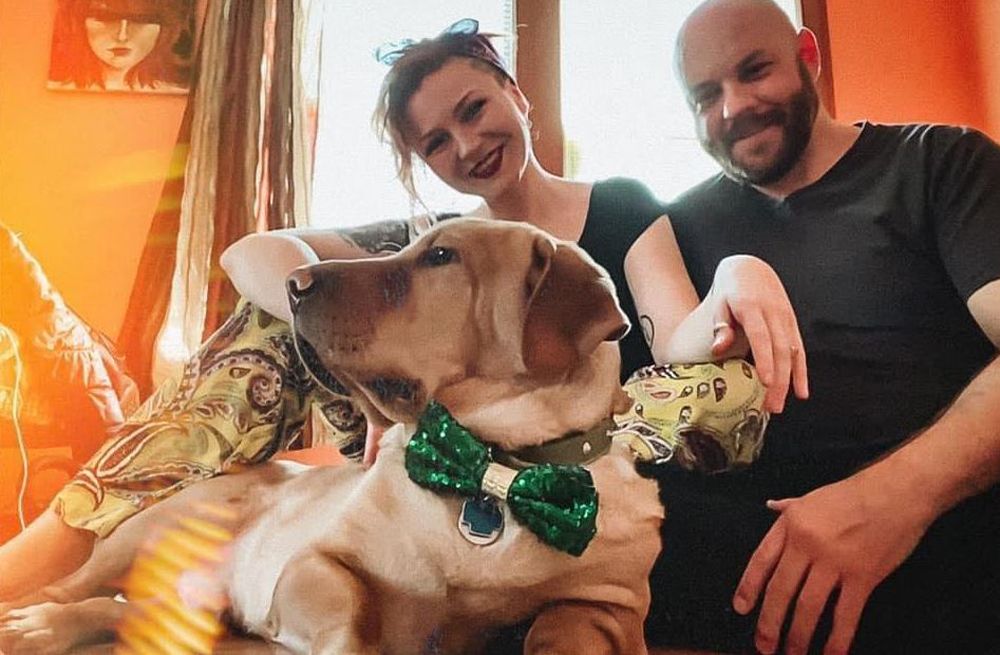 Jen, Ken and Wilbur (PA Real Life/@wilbur_allen_bashar)
She continued:
"It's got to the point where he'll chomp down red cabbage, too, just because they do. It's ridiculous!"
But the guinea pigs are not Wilbur's first rodent pals, according to Jen, who says he also befriended her dwarf hamster, Gus, when he was a puppy.
And when he passed away three months after the dog moved in, her pooch was heartbroken.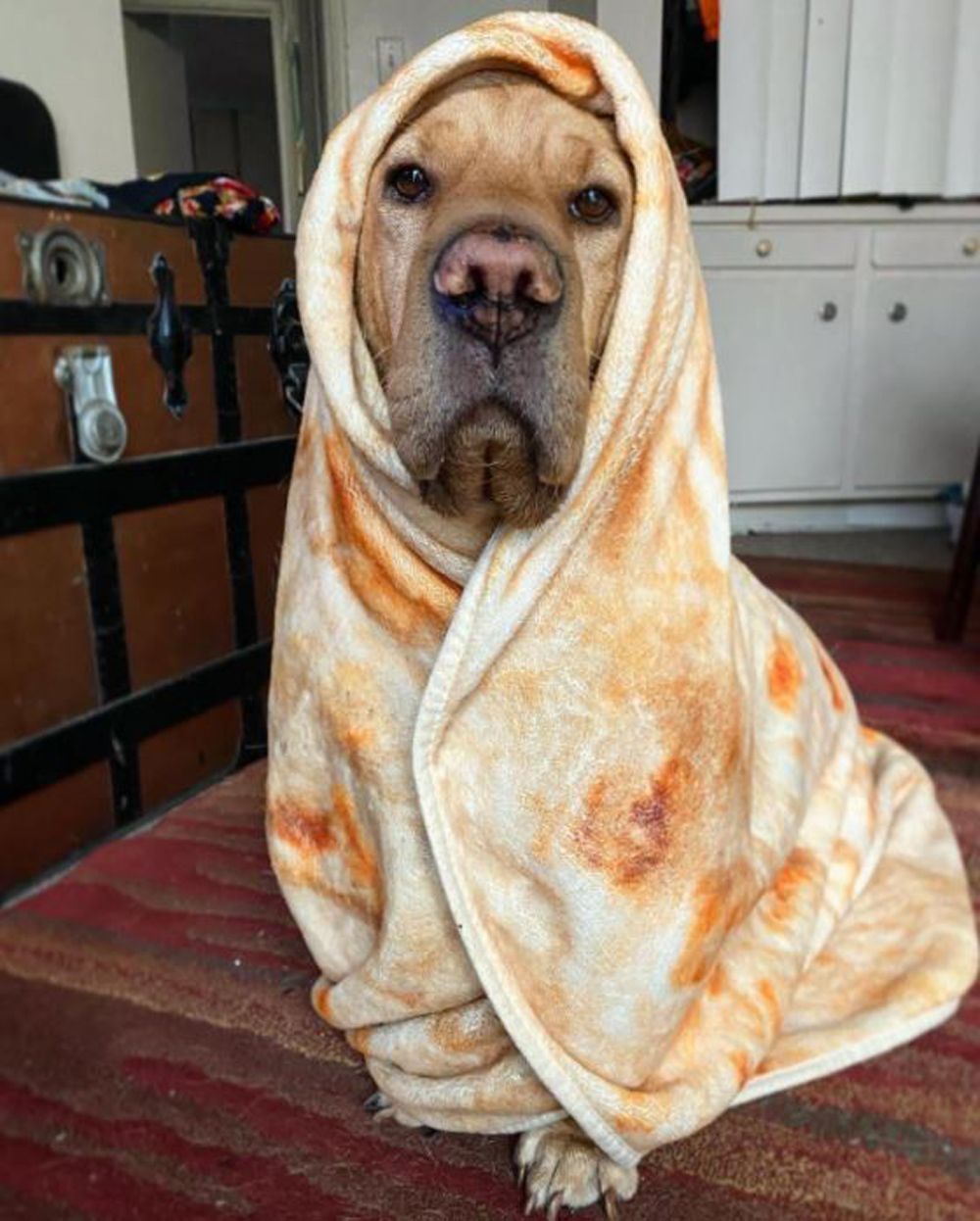 Wilbur (PA Real Life/@wilbur_allen_bashar)
She said:
"Wilbur is seven now, but since he was a pup, he's seen rodents as friends – not enemies."
"He's grown up with dwarf hamsters and guinea pigs."
"I always joke that he's more guinea pig than dog, especially after he's had his afternoon lettuce and red cabbage snack."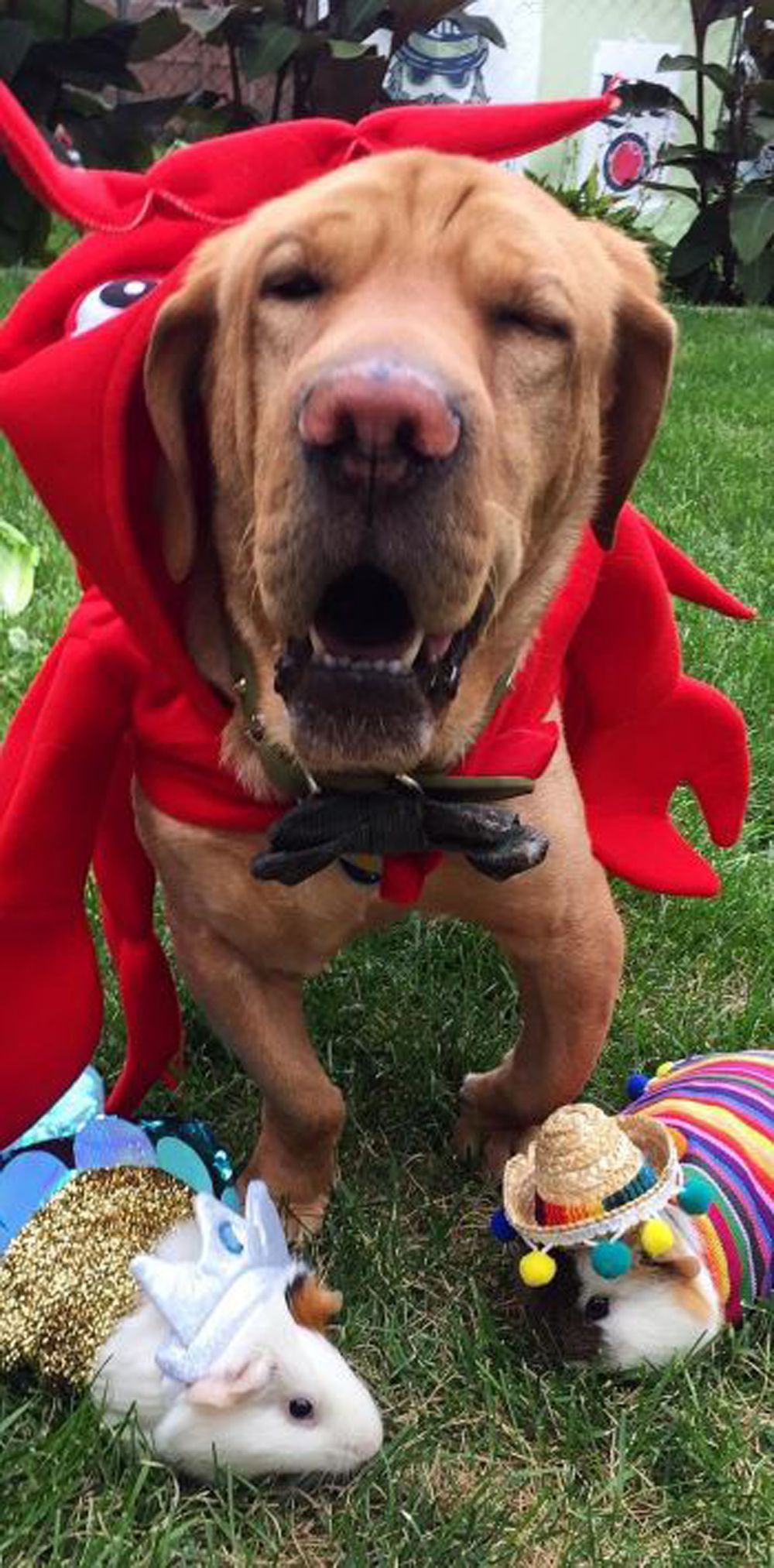 Wilbur and The Dumplings in costume (PA Real Life/@wilbur_allen_bashar)
Jen first started looking for a dog like Wilbur after spotting a Ba-Shar, or Basset Hound-Shar Pei mix pooch, at the end of 2012 in a pet shop.
She said:
"I couldn't get over how silly their features were – they all looked like cartoon puppies."
"My initial reaction was to go in and buy one, but it felt gross buying a puppy from a pet store, so I reluctantly walked on."
She continued:
"They were like nothing else I'd ever seen, they had the funniest faces with the saddest eyes."
Luckily, after scouring the land for a Ba-Shar puppy in need of a good home, on April 6, 2013, she brought Wilbur home.
She explained:
"I eventually spotted an advert for a litter of 'accidental puppies' on a farm 10 hours away."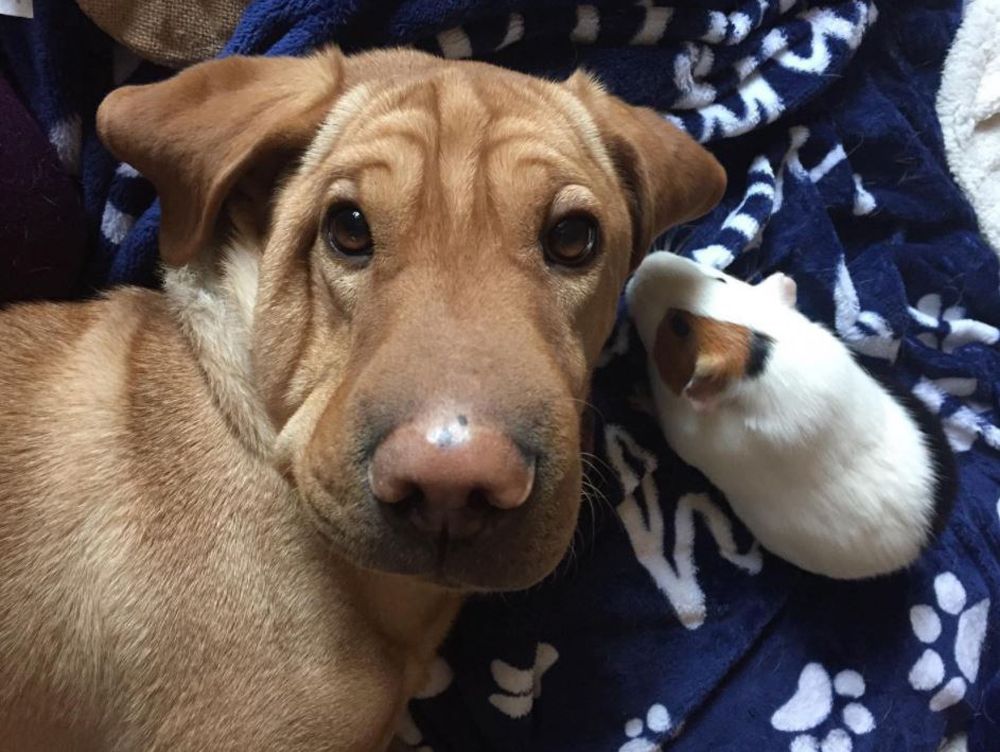 Wilbur and Rumpadump (PA Real Life/@wilbur_allen_bashar)
She continued:
"This guy's pet Basset Hound had accidentally fallen pregnant by a Shar-Pei and he wanted the pups to go to good homes."
"I'd been looking for so long, that I drove there that same day."
"When I got there, the litter looked like a bunch of mini walruses. They were so cute."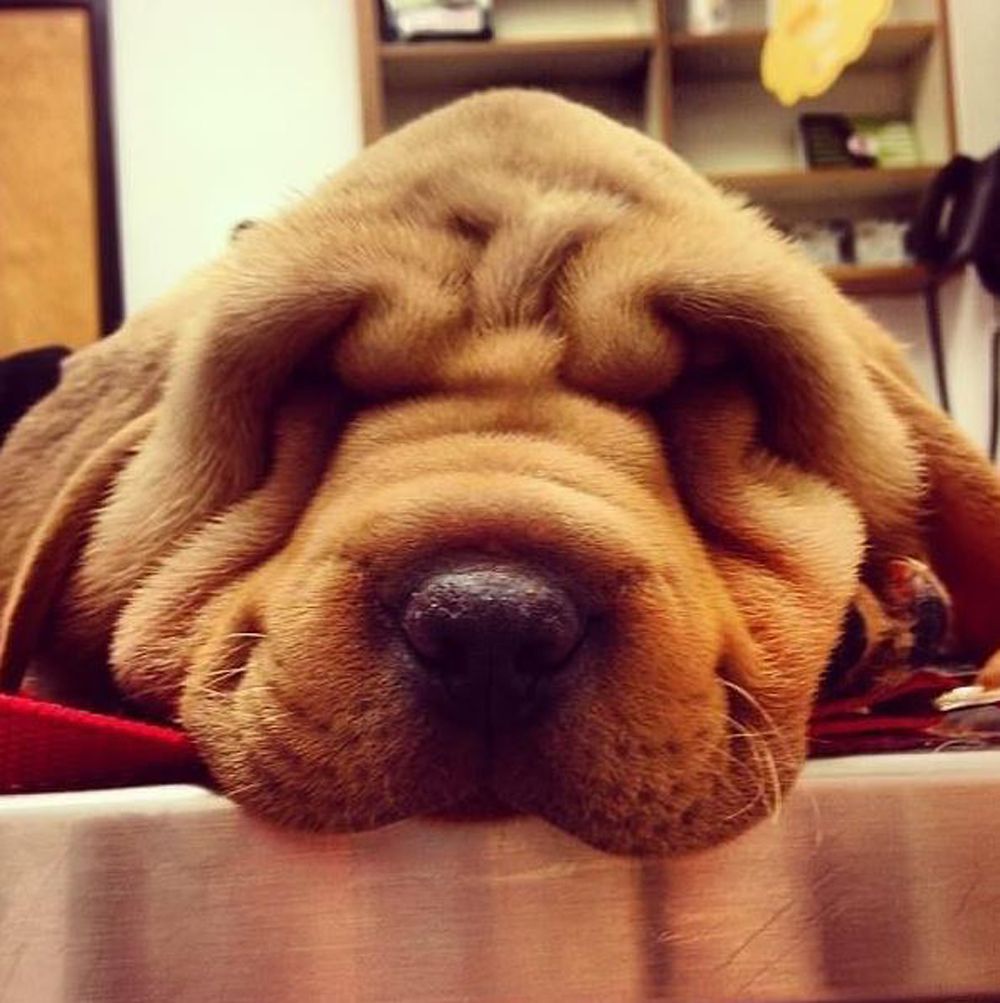 Wilbur as a puppy (PA Real Life/@wilbur_allen_bashar)
And Wilbur chose her, rather than the other way around – breaking away from his siblings and sitting on her lap.
She said:
"All the other pups were running around, chasing each other."
"But Wilbur came over and lay on my lap, looking at me with his big, sad eyes."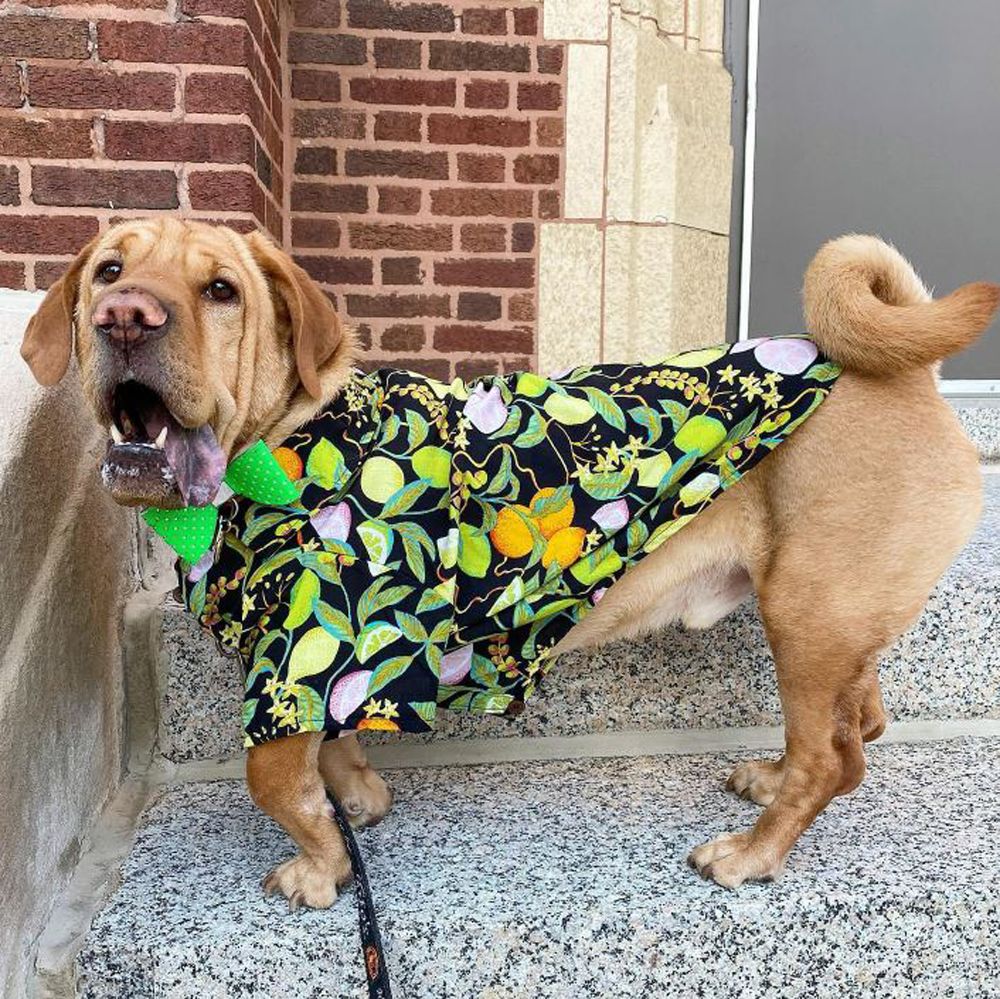 Wilbur in costume (PA Real Life/@wilbur_allen_bashar)
She continued:
"I took him home that same day."
Fortunately, any worries she had about introducing the new addition to Gus, then aged one-and-a-half, were soon eased, as the pair became great pals.
"After settling Wilbur in, I decided to introduce him to Gus in his hamster ball," she said.
She continued:
"That probably wasn't the best way for them to meet, as Wilbur initially thought he was a living toy."
"So, I quickly got Gus out, held him in my hand and there was no aggression whatsoever from Wilbur."
"He was very calm and just wanted to examine him and say hello."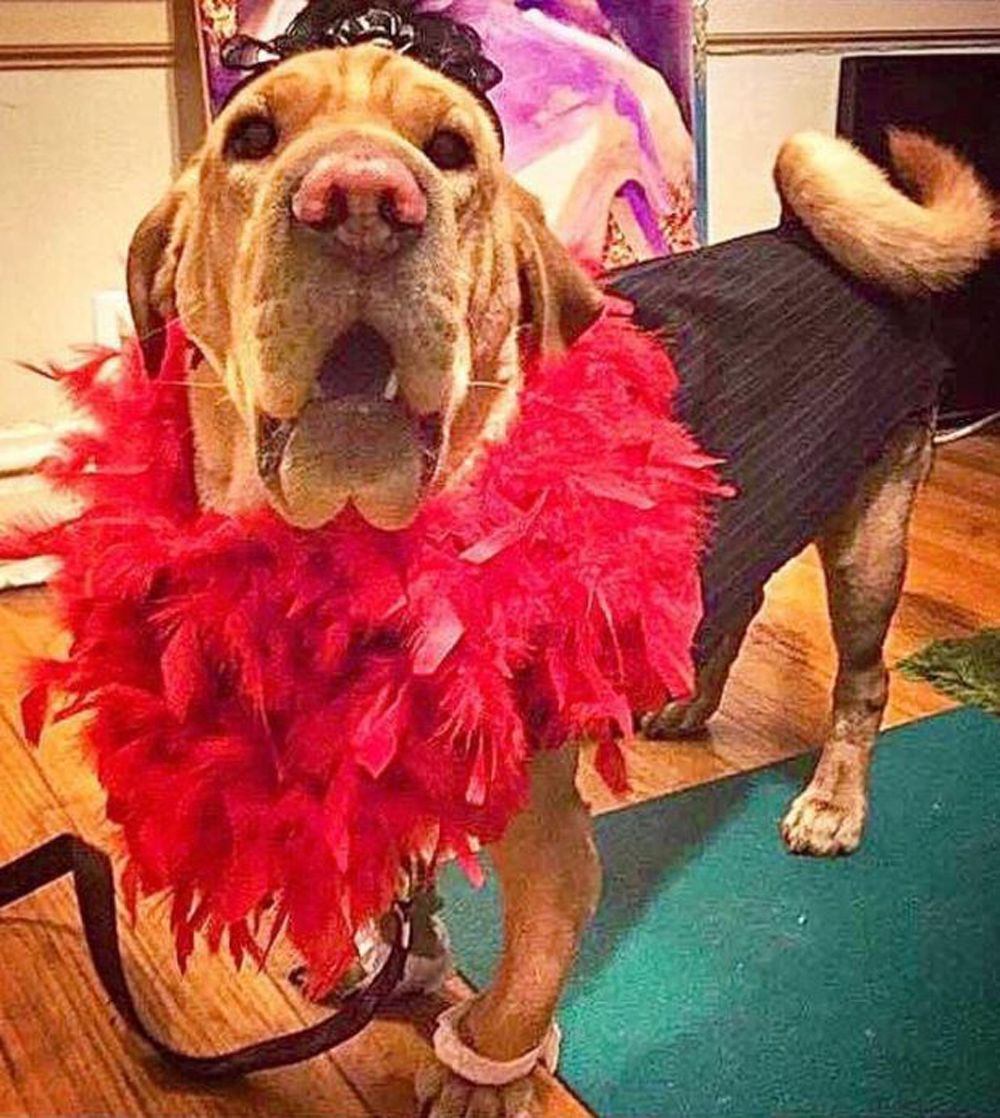 Wilbur in costume (PA Real Life/@wilbur_allen_bashar)
Before long, the pair were enjoying daily play sessions in Jen's living room.
She continued:
"Gus would come up to his cage door and asked to be let out."
"They loved their playtime together and sitting on the sofa, eating side-by-side. It was so sweet."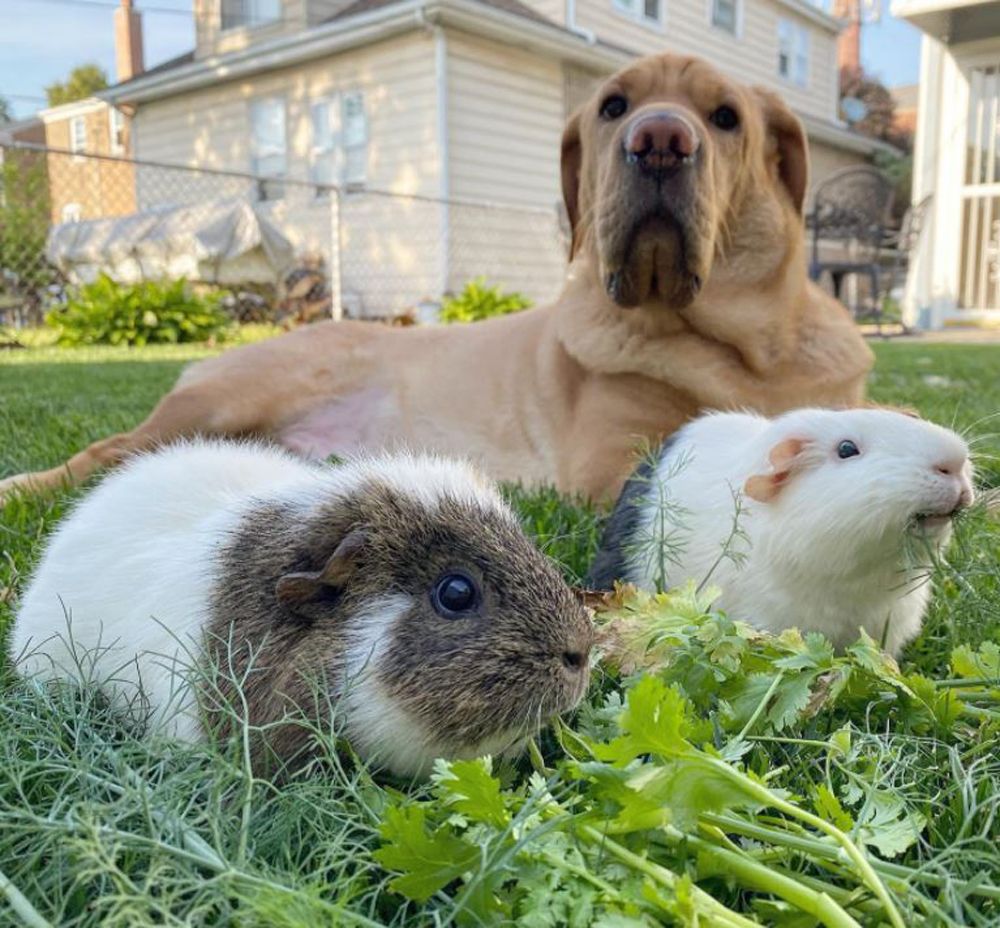 Rumpadump, Wibur and MP (PA Real Life/@wilbur_allen_bashar)
But when Gus died of old age three months later, the puppy was left pining.
"Wilbur was a wreck," said Jen. "Without a word of a lie, he would stand next to Gus' cage and cry."
"It broke my heart and made me think about getting another smaller companion for him down the line."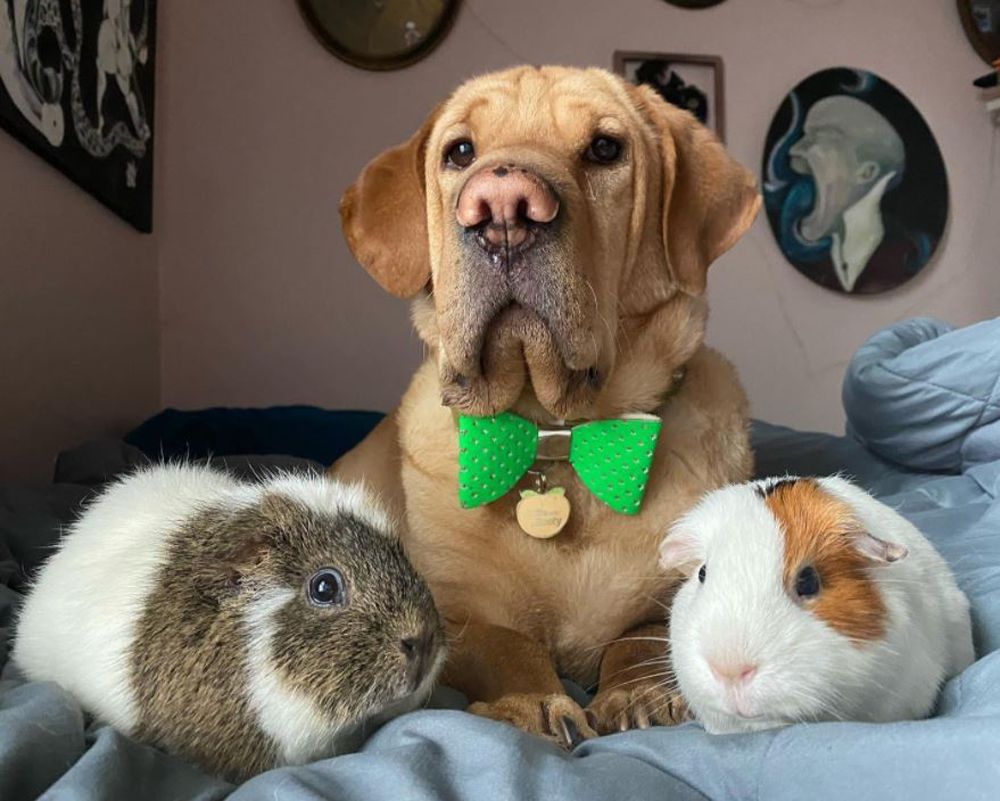 Rumpadump, Wilbur and MP (PA Real Life/@Wilbur_allen_bashar)
Eventually, three years later, on September 18, 2016, she agreed to take in Market Price – known as 'MP' – when a friend's daughter could no longer look after her.
"MP was not timid at all," Jen said. "She bonded with Wilbur right away."
"Their vibe is quite unique though, it's very much a brother and sister kind of feeling."
She continued:
"You'd think they were the same species, as they steal food from one another and bark or squeak at each other."
"She has free run of the living room and is always pushing empty boxes and using them to climb up and reach high up plants. She's very intelligent and a bit naughty."
Then, six months later, Rumpadump joined the menagerie.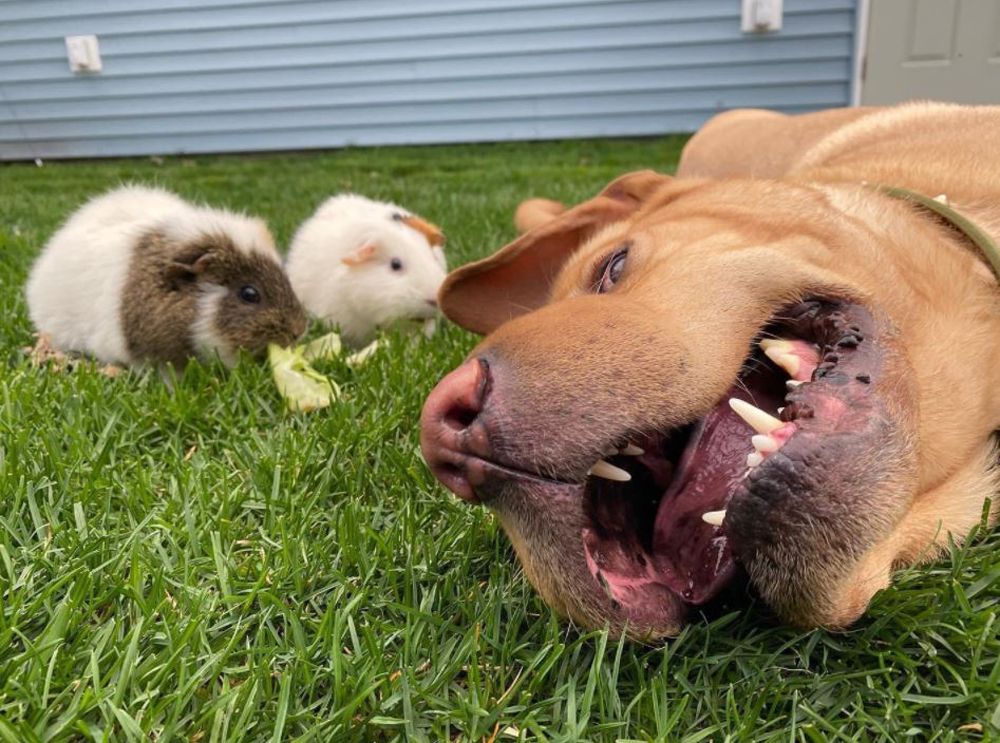 Rumpadump, MP and Wilbur (PA Real Life/@wilbur_allen_bashar)
"We adopted Rumpadump from a woman who had a house full of guinea pigs," Jen continued.
"Unfortunately, she was getting beaten up by all her friends, so she needed rehoming as soon as possible."
"At first, she was quite nervous of MP, let alone Wilbur. But, slowly, the three of them started to bond."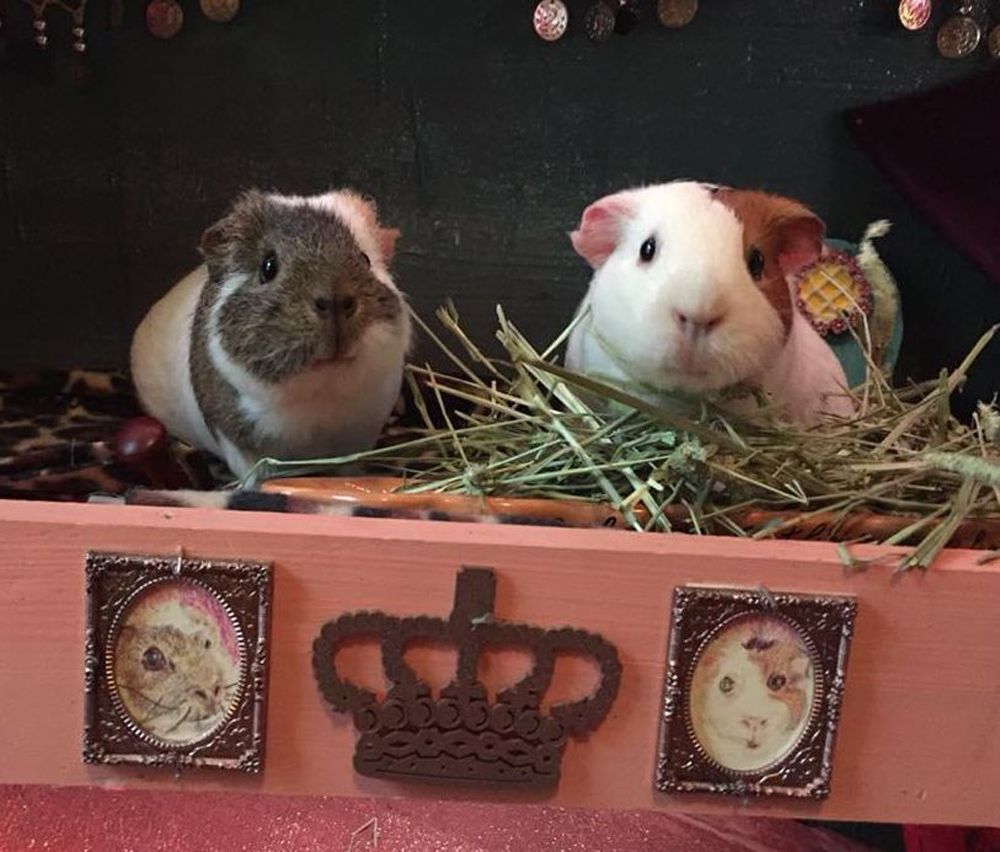 The Dumplings (PA Real Life/@wilbur_allen_bashar)
She continued:
"She's definitely the most adventurous one of the three now."
Finally, in late 2017, Wilbur and The Dumplings welcomed another human friend into their home – their new stepdad, Ken.
Jen laughed:
"We'd been friends for about eight years before we started dating."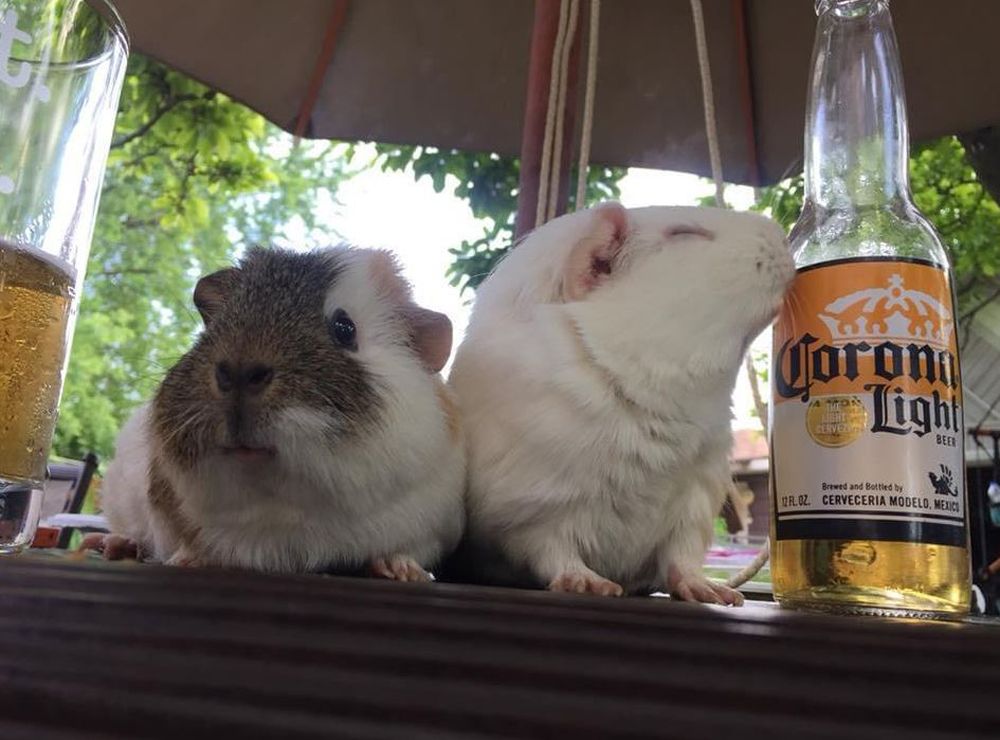 The Dumplings (PA Real Life/@wilbur_allen_bashar)
She continued:
"He's been with me through some ups and downs in my life and he really is the best – everything is right and perfect with him."
"Ken grew up with what he calls 'real dogs,' so he just finds Wilbur ridiculous."
"You say, 'camera,' and Wilbur will literally strike a pose – he loves it."
She added:
"He will stop to pose for anybody that wants to photograph him."
To satisfy Wilbur's clear desire for stardom, Jen started posting pictures of his antics with The Dumplings on Instagram.
She added:
"At first it was just Wilbur, who had his own Insta account, but I eventually started taking more and more snaps of all three."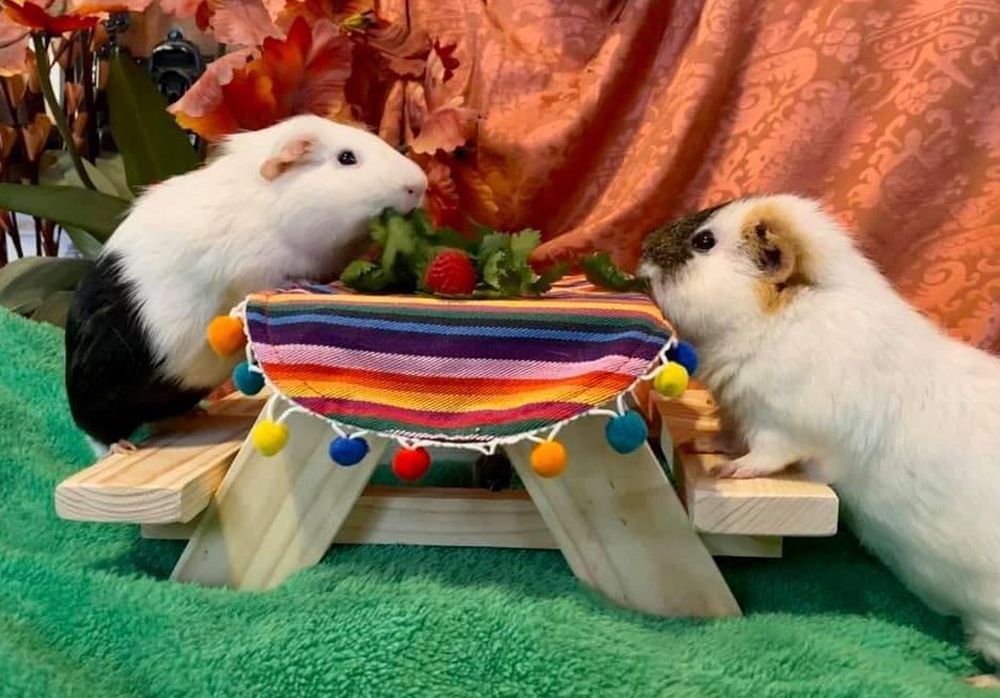 The Dumplings (PA Real Life/@wilbur_allen_bashar)
Causing something of a sensation, they had soon outranked Ken's social media presence.
"It was a year ago is when it really started to take off," said Jen. "Ken's has about 2,200 followers. Now, Wilbur and the girls have over 4,600."
"Ken doesn't mind, though, he uses it in his comedy routine quite a lot – the fact his dog has more followers than him."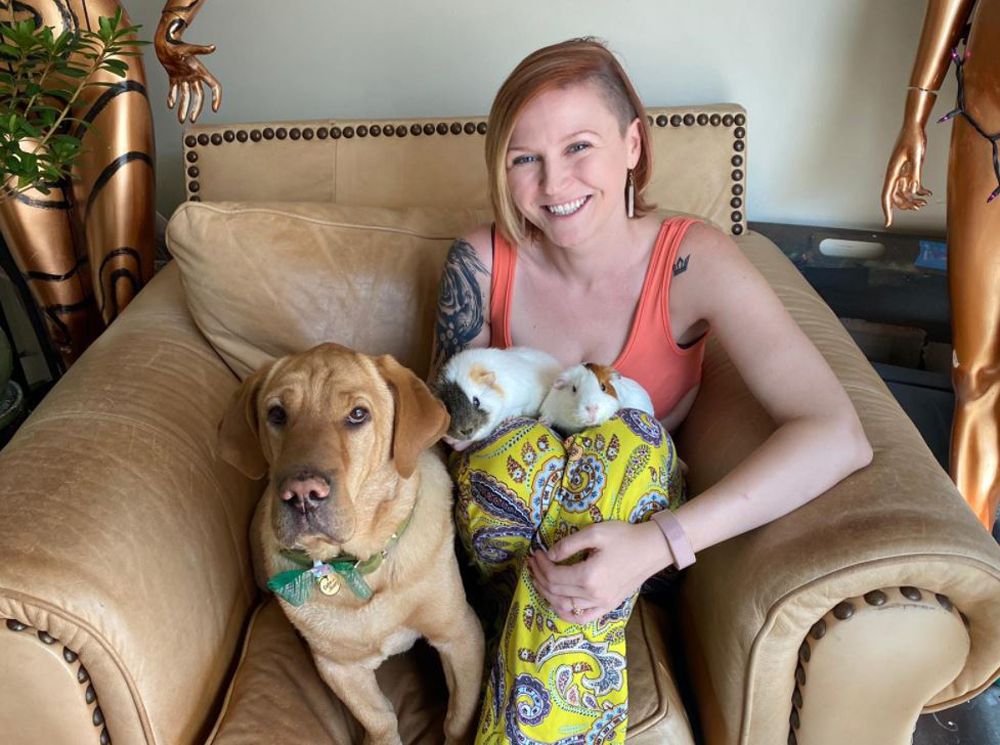 Jen, Wilbur, Rumpadump and MP (PA Real Life/@wilbur_allen_bashar)
She continued:
"People from all over are getting in touch to say how much they love Wilbur and The Dumplings – they're as attached to them as me."
"I can never decide who is more confused, the girls or Wilbur. He definitely thinks he's part guinea pig, but then I've never heard of piggies before that are besties with a dog!"
To keep up with Wilbur and The Dumplings, follow @wilbur_allen_bashar.