During Tuesday's live Halloween episode of The Wendy Williams Show, Williams, who was dressed as the Statue of Liberty, began stumbling over her words before suddenly fainting in a scary moment.
---
The show quickly cut to commercial break, leaving viewers with just a quick glimpse of show personnel running to aid the fallen Williams, and questions of whether or not it was part of some stunt Williams had planned.
OMG. What just happens to Wendy Williams??? https://t.co/m7joNyOy8K

— Baby Bye (@Baby Bye) 1509461552.0
@rachsynnott @WendyWilliams She passed out.....thought it was a prank too.

— Monet Esbee (@Monet Esbee) 1509461694.0
But after the commercial break, Williams explained that she had indeed fainted, saying: "That was not a stunt. I overheated in my costume. I did pass out, but you know what? I'm a champ, and I'm back."
Wendy Williams came back after commercial break. Said she overheated in her costume. https://t.co/jccZaQ9oK2

— Baby Bye (@Baby Bye) 1509461964.0
Still, some continued to believe that Williams did it on purpose as some sort of publicity stunt, which both the show and Williams later refuted.
@THR @WendyWilliams No offense but I think it was staged for publicity it was staged I think just didn't look real

— Christine (@Christine) 1509578567.0
In a statement, the show said: "Wendy is feeling much better. She overheated because of her heavy costume, makeup, and lights. She was able to finish the show in true Wendy spirit. She will address the incident on tomorrow's show."
And on Wednesday, Williams did indeed address what happened, saying: "A lot of people thought that was a joke, me fainting on my set. No, that was not a joke. I'm a tall woman and it's a long way down. I'm also a woman of a particular age and I'm not trying to break anything and also I don't do stunts and jokes for you like that. I don't need that."
She also explained that late in the show, she could feel herself getting a little dizzy and overheated as she was being briefed by a producer. And coming back from the commercial break, she knew she was going down.
Getting emotional, Williams said: "It was really scary. All I could think of though, in the middle of the scare, was 'don't pull the podium over on you, because that'll make for worse.'"
After pulling through to finish the show, Williams was told by paramedics that she was low on electrolytes, and was treated and released without any major injuries.
"I want to thank you all for your tweets and your flowers and my colleagues in this game on TV," she said, thankfully. "I got all of your well wishes and the people who covered it and you on social media who commented and even the haters because you motivate me."
Twitter is just glad Williams is ok:
@enews Glad u are ok!! Sometimes your health can be scary, I've had a few incidents myself take care ❤️

— Karen Stephens (@Karen Stephens) 1509576289.0
@enews I'm happy she is ok. People are making fun and joking, but I don't find it funny at all. Life is precious, and I thank God she is ok.

— Nikita Shelton (@Nikita Shelton) 1509567479.0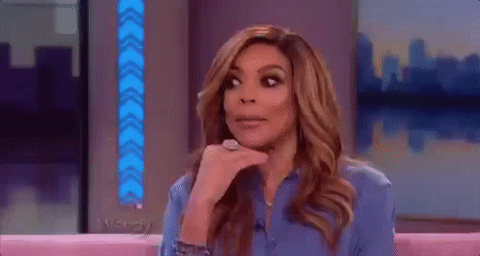 Please SHARE this with your friends and family.