In recent years, the Holy See's exhibition depicting the birth of Jesus has typically been unorthodox in its interpretations.
But this year's nativity installation, which the Vatican called "contemporary and unconventional," is getting widely panned by both ground visitors and social media users.
Mary, Joseph and the shepherds look like chess pieces with cylindrical bodies and large spherical heads, while box-shaped and legless animals remain squatting nearby.
But the main culprits for the controversy are in the anachronistic presence of an astronaut and a malevolent figure eerily reminiscent of Darth Vader from Star Wars.

The Vatican's 'Darth Vader' nativity scene has gotten so many terrible reviews that, if it were a Broadway play, i… https://t.co/4fZ5zHMxRb

— Philip Pullella (@Philip Pullella) 1608023909.0
So the Vatican's nativity scene this year contains a robot and Darth Vader, and basically sends a message confirmi… https://t.co/lymZAEWowg

— Ali Zeck (@Ali Zeck) 1607908705.0
In some ways, I find this to be the perfect #nativity for 2020. https://t.co/UTdMAFsF8C

— Matt Lakemacher (@Matt Lakemacher) 1607964778.0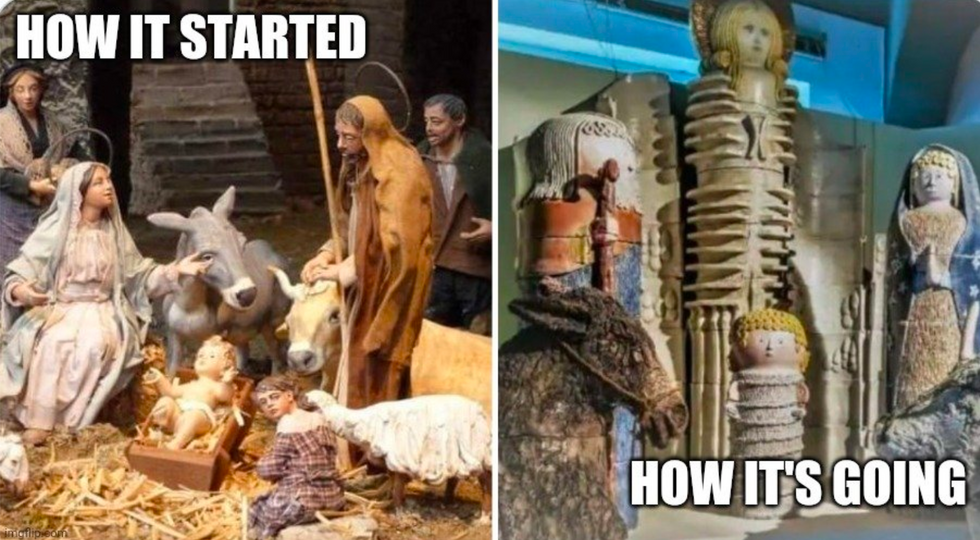 @Qstang2/Twitter
The modernist take on the presepe–which is Italian for Nativity scene–was created between 1965 and1975 by students and teachers from the F.A. Grue Art Institute in Castelli–a town known for its ceramic heritage.
Forbes explained the Vatican's nativity scene in recent years intentionally incorporated elements that were out of place to signify a particular event from that year.
The spaceman was an apparent homage to the 1969 moon landing.

The St. Peter's Diocese website explained:
"The teachers and students wanted to immortalize important events of the contemporary world,"
"And so within the work we find eccentric statutes compared to the traditional figures of the nativity, such as the astronaut, which is a reference to the conquest of the moon."
The visit by the iconic space villain to witness the sacred birth, however, remains a mystery.

You can watch the news report of this year's nativity scene in St. Peter's Square, here.
Other reviews for this year's crèche were less forgiving.
@Pontifex @thePatr37533772 Should we also pray for Darth Vader?? That Nativity Scene is sacrilegious! #TakeItDown

— Fisher of Men (@Fisher of Men) 1607899149.0
This is an abhorrent representation of the nativity. @Pontifex should be ashamed. How is this meant to comfort anyo… https://t.co/GFfAu2AZAG

— Thomas (@Thomas) 1607963005.0
@EdwardPentin @dibanezgut @NCRegister It is absolutely terrifying.

— Tim Stanley (@Tim Stanley) 1607711884.0
Art-historian Elizabeth Lev said of the criticism for the exhibit:

"It's so divisive, I don't hear a lot of people defending it."
The Duquesne University professor added that people look to the Vatican for "the tradition of beauty."
"We keep beautiful things in there so that no matter how awful your life is, you can walk into St. Peter's and that's yours, that's part of who you are, and it reflects who you are and the glory of who you are."
"I don't understand why we'd turn our back on that. It seems to be part of this strange, modern loathing and rejection of our traditions."
So the Vatican presepe has been unveiled....turns out 2020 could get worse... https://t.co/xI2NMNn81r

— Elizabeth Lev (@Elizabeth Lev) 1607687721.0
But Alfredo Chiarelli, a 65-year-old vendor in St. Peter's Square for 30 years, expressed disappointment over the display's uninspired aesthetic, especially in these rough times.

Chiarella told Reuters:
"With this global pandemic and everything else the Christian people, or anyone for that matter, was expecting a sign of rebirth."
"It has confused and saddened a lot of people."
The Vatican's nativity will remain on display until the Feast of the Baptism of the Lord on January 10, 2021.