Vanessa Lachey is a big fan of shower sex, and she's not afraid to shout it from the proverbial rooftops.
In a recent interview with The Bellas Podcast, Vanessa was asked how she keeps the spark going in her marriage.
Without missing a beat she dropped two iconic words of wisdom. Shower sex.
---
She had some pretty solid reasoning for it, too. Remember, Vanessa and Nick are both successful personalities and business people. They're also parents, show hosts, etc.
Sometimes when your schedule is that jampacked you have to get creative and get that cookie when and where you can. For Nick and Vanessa, that means morning showers.
She explained:
"So, I'm in the shower, I'm like, 'Alright, I have a full day, you have a full day.' I'm like, 'It's either now or never.'"
It may not be the most romantic or spontaneous approach, but Nick doesn't seem to mind Vanessa's practicality. Based on her sweet sweet sound effects (she mimicked the sound of Nick quickly stripping) we're thinking he's all about getting into his wife's splash zone.

Caution, Wet Floors indeed.
Vanessa doesn't just love it because it's a time saver. She also feels like it takes the pressure off of the expectation to perform at night before bed.

Obviously you can, there's nothing wrong with being intimate with your partner multiple times a day if you're both down for it. But Vanessa likes to think of that as "the cherry on top" of the sexytime sundae. If she doesn't get it, not a problem, since they already did it in the morning during shower time.
Not a fan of morning sex?
Neither is Vanessa, but making it shower sex seems to help. You're already naked, you know you're clean, you can just go from there!
Shower too small for sex, like Nikki Bella's? If you and your partner have some money, Vanessa suggests using shower sex as a motivational tool for that bathroom renovation you want.
She offered Nikki this advice for getting her man, Artem, to upgrade it.
"If you tell Artem, 'I want to have sex with you in the shower, so we need a bigger shower,' I have a feeling he'll be like Extreme Home Makeover. In 48 hours, you'll have a brand-new marble shower."
Whether your shower is big or small, sexperts (yup, that's a thing) caution that there is absolutely a right way and wrong way to have shower sex, and it flat out might not be for everyone. Shower sex can be slippery, so if you've got balance issues, bruise easily or might be seriously injured by a fall it may be best to stick with getting your candy on dry land, as DNCE would say.

Sexperts also recommend making sure you've got a good lube onhand as shower water tends to rinse away what nature provides. They also caution against trying to substitute soap, shampoo, conditioner, etc. for lube—particularly if anyone involved has a vagina. That's just begging for a yeast infection, bacterial vaginosis or an allergic reaction.
Finally, they recommend being mindful of your fitness level and physical limitations. You may see something tried in a movie or music video and it might look like fun, but make sure you're physically in good condition before you attempt it.
Sex Sent Me To The E.R. is a show for a reason, y'all. Let's not get all Cirque Du Soleil if you haven't trained for it, ya know?
If standing shower sex like Nick and Vanessa isn't for you, may we suggest pulling a Beyonce and filling the tub up halfway then riding with your surfboardt. Surfboardt.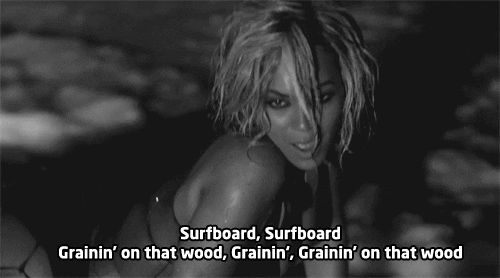 Giphy
Enjoy the splash zone, but do so responsibly, folks.