Airplanes have all the trappings of a comfort nemesis: the recycled hot breath of about 100 strangers in an airtight capsule, leg room minimized as much as possible to accommodate more strangers with hot breaths, chair arms that are far narrower than the actual width between arms in a human skeleton.
And now, with no warning and a sudden eruption, they destroy laptops.
---
Proof of the latest airplane hitch was bestowed, unprompted, to Delta customer and Twitter beefer Pat Cassidy.
The debacle arose from one of the yet unmentioned key failings of an airplane: the reclining seat and folding tray table combination.
Cassidy was set to go, gliding some 30,000 feet in the air and making the most of it. He had his tray table down and MacBook Pro running like a top. All seemed to be going as well as it could in an overcrowded tube at around 700 mph.
Then, out of nowhere, the passenger in front of Cassidy popped their seat back for a little shuteye, immediately destroying the MacBook.
Cassidy took to Twitter for the public customer service-hunting blast.
@Delta small note for the suggestion box, maybe have a little warning sign or someway to prevent my laptop from bei… https://t.co/SiluPiWVFz

— Pat Cassidy (@Pat Cassidy) 1582753738.0
Twitter responses keyed in on a few various issues from the calamity.

First, there were those who leaped at the opportunity to slam any and all seat recliners on airplanes, some calling for an outright ban on the practice.
@HardFactorPat @Delta Rapid "crash mode" seat recliners are THE worst people.

— Michael Fisher (@Michael Fisher) 1582902596.0
@HardFactorPat @Delta That would earn the "recliner" a solid knee in the lower back and punching the back of the se… https://t.co/pxyfaOFKpI

— Timmy (@Timmy) 1582809046.0
@HardFactorPat @Delta i sincerely do not understand why people are unable to gently recline backwards, it's not jus… https://t.co/jcFb85L0RB

— Bhoka (@Bhoka) 1582821764.0
@HardFactorPat @Delta Who are all these folk reclining instantly at maximum velocity? Surely the cursory back glanc… https://t.co/gQmbUaTj7q

— edward (@edward) 1582900781.0
Though take a close look at that screenshot in Cassidy's tweet. The laptop is tucked under that big screen-holding bit of plastic on the seat back. Cassidy had his MacBook screen snug in the space where the tray table goes when it's folded away.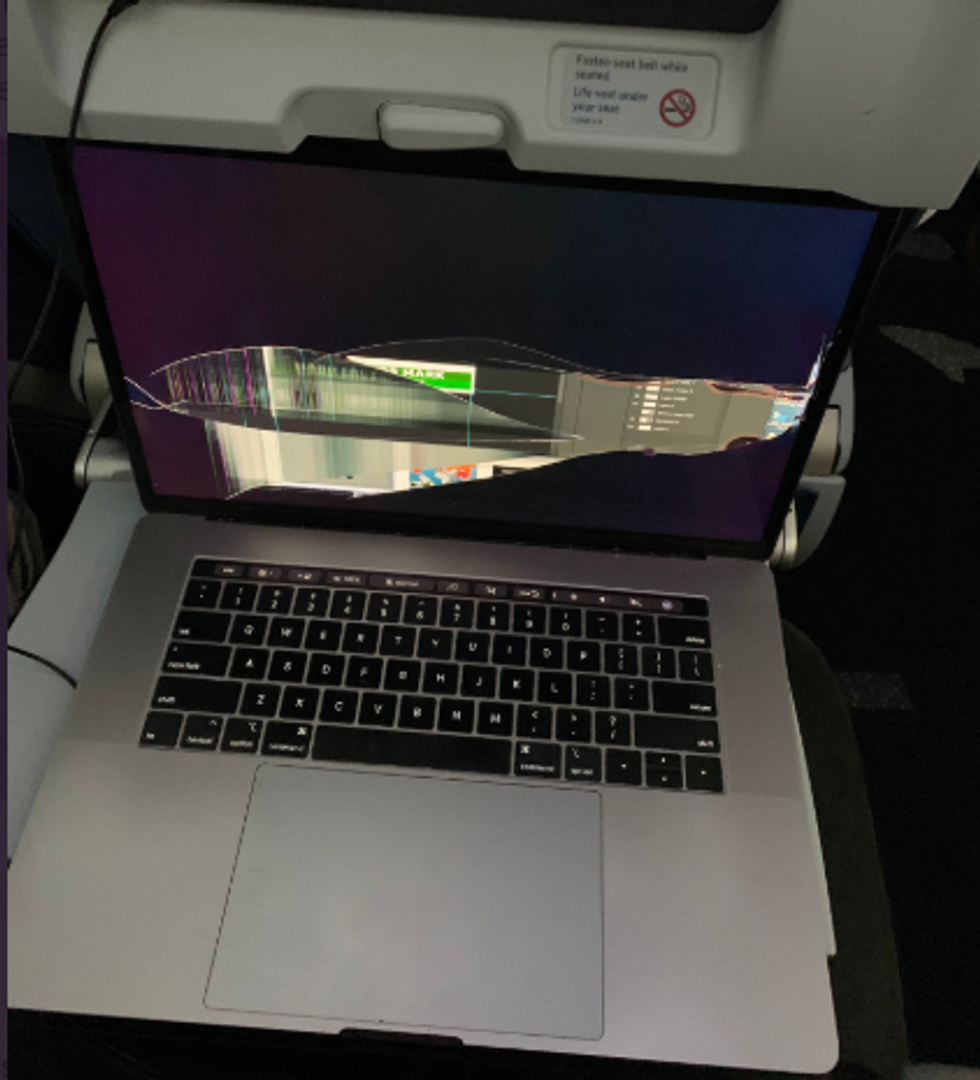 @HardFactorPat/Twitter
Snug means tension, and tension means susceptible to cracking.

Many comments to Cassidy's tweet keyed in on this factor. They responded to the discovery by blasting back.
@HardFactorPat @Delta Am I the only one to think this is not the airline's fault? You _tucked_ the screen into the… https://t.co/LPQ69DNYVQ

— Hisham (@Hisham) 1582810136.0
@Mannyj07 @HardFactorPat @Delta You can't see how easily this could happen? Look at the top pressure on the screen… https://t.co/Fz7dGbyfg2

— Hunterkll (@Hunterkll) 1582848498.0
Despite the partial disagreement from the Twitter legions, Cassidy continued with an additional tweet outlining how the airline service staff responded to his issue.
@delta Also, this one is more of a critique than a suggestion. I really appreciate that your flight attendant came… https://t.co/R0Novww6Ch

— Pat Cassidy (@Pat Cassidy) 1582754006.0
And he was eyes on the prize in the hopes of receiving some compensation from Delta. Cassidy shared a screenshot of Delta's customer service email response, which he clearly found unsatisfactory.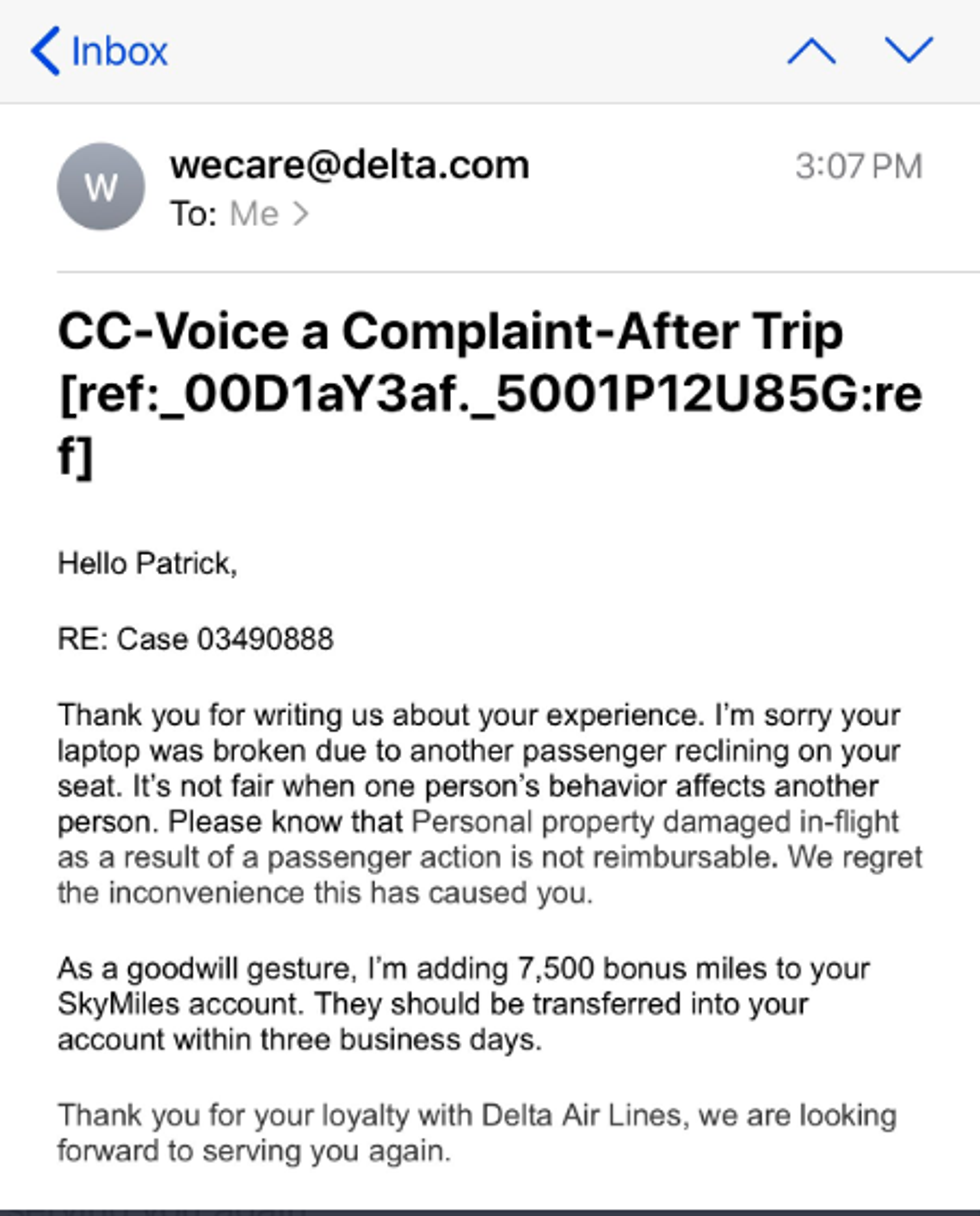 @HardFactorPat/Twitter
7,500 SkyMiles amounts to $75.00. The cheapest MacBrook Pro starts at $1,299.00.

Though, in spite of all these dynamics, some Twitter users just troll and troll and troll.
@HardFactorPat @Delta Did you try putting it in rice?

— dave (@dave) 1582771818.0
@HardFactorPat @Delta Have you tried turning it off and on?

— futtz (@futtz) 1582754970.0
There were no further updates regarding additional customer service measures taken by Delta. The great seat reclining debate rages on.