When news spread of a whistleblower report about a phone call between President Donald Trump and President Volodymyr Zelensky of the Ukraine, Trump and his personal lawyer, Rudy Giuliani tried to deflect.
As it became clear that Congress would not be letting the latest Trump transgression slide, the President ordered the call transcript released.
---
Any hopes Trump and Giuliani had of the transcript exonerating the POTUS were quickly dashed by public reaction to the conversation revealed by the written account.
One of the revelations was confirmation that President Trump targeted a United States citizen serving as Ambassador to the Ukraine. Trump had Ambassador Marie "Masha" Yovanovitch removed from her position.
At the time, Democratic House Majority Leader Representative Steny Hoyer of Maryland and Chair of the House Foreign Affairs Committee Representative Eliot Engel of New York sounded the alarm.
In a joint statement they said:
"It's clear that this decision was politically motivated, as allies of President Trump had joined foreign actors in lobbying for the ambassador's dismissal. By recalling Ambassador Yovanovitch just mere months before her tenure in Ukraine was set to end, the Administration is harming American interests and undermining American diplomacy."
Now that their concerns are confirmed, a former State Department official now at the Brookings Institution, Tamara Cofman Wittes, told The Huffington Post:
"What's horrifying is Trump's implication that, having recalled Ambassador Yovanovitch from post, he also intended to impose some kind of consequences on her for his displeasure at her failure to push his personal―not policy―agenda."
"It's absolutely chilling to our diplomats serving around the world, a message that their careers are on the line if they don't go along with abusive, unethical or illegal demands from this administration."
As well as confirming Trump targeted Yovanovitch for not putting his wants and needs before the interests of the United States, the transcript included the news that Trump still harbors animosity toward the former ambassador.
In the transcript, Trump tells President Zelensky:
"The former ambassador from the United States, the woman, was bad news and the people she was dealing with in the Ukraine were bad news so I just want to let you know that."
After Zelensky concurred with the POTUS, Trump added:
"Well, she' s going to go through some things."
Yovanovitch is a career member of the senior foreign service and still works at the State Department.
Before becoming the ambassador to the Ukraine, Yovanovitch served under President George W. Bush as ambassador to Kyrgyzstan, then she was again appointed by Bush as ambassador to Armenia.
Retired US Ambassador Nicholas Burns told CNN:

"It is so unprofessional of the President to do that—to throw a US government employee under the bus, someone as distinguished as Ambassador Yovanovitch is."
Burns added:
"It's injurious to morale and you can imagine how career people feel when they see one of the best people that we have, Masha Yovanovitch, treated like this."
Others who worked with Yovanovitch sang her praises.
According to retired US Ambassador James Melville:
"Masha (Yovanovitch) knows that part of the world so well, speaks the languages, knows the issues cold. They couldn't have had a better ambassador than Masha."
Burns concurred, calling Yovanovitch "extremely effective," "highly ethical" and "a person of high character."
It is perhaps those traits that put her on the wrong side of Trump.
As for the State Department, Burns said:
"The higher levels of the State Department [need to] come out and defend her. They should say she was a good ambassador, she did what was asked. She did what her constitutional duty asked her to do, represent the United States ably and honorably."
Burns added:
"She deserves an apology, a public apology."
An apology is unlikely from President Trump. As for Yovanovitch's credibility and credentials, Trump has demonstrated repeatedly that ability to do the job properly and in adherence with the Constitution takes a back seat to loyalty to Trump.
It looks a lot like Yovanovitch flunked the Trump over country loyalty test.
Think this is all a step too far? This shirt is available here.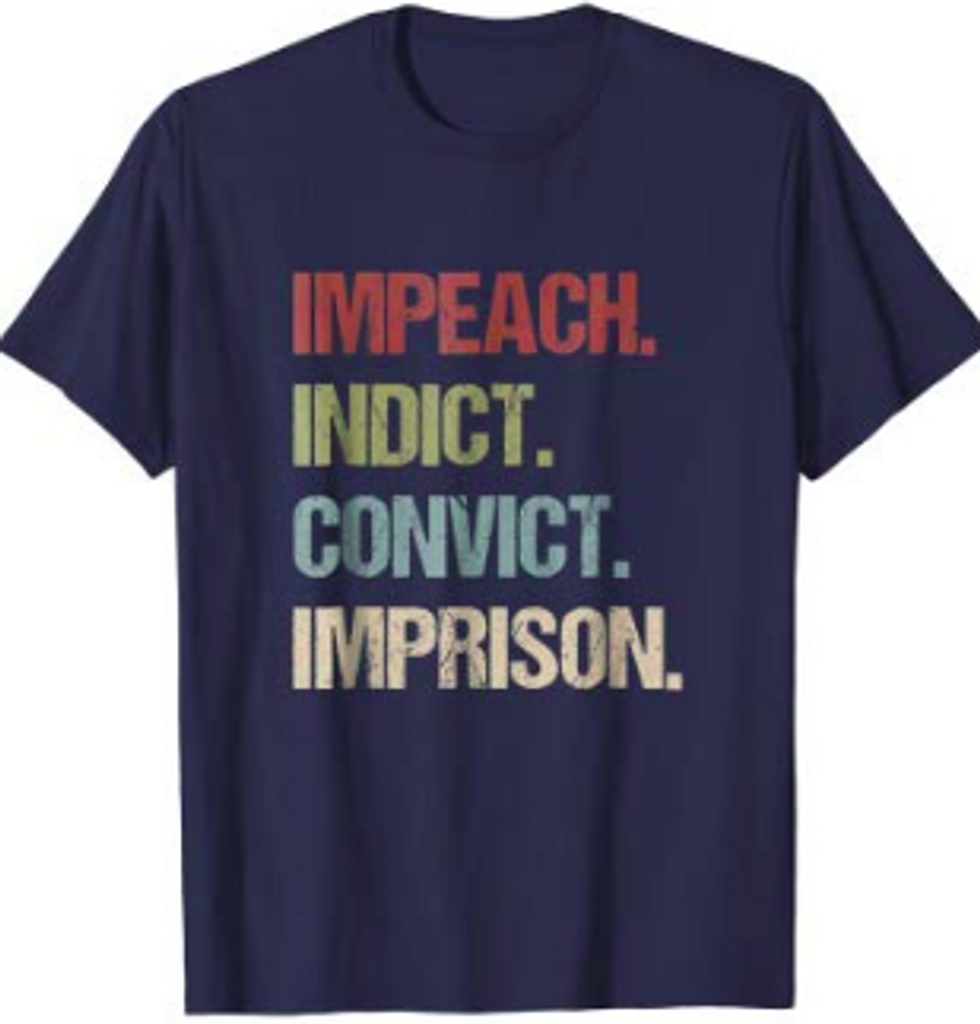 Amazon
*****

Listen to the first season of George Takei's podcast, 'Oh Myyy Pod!' where we explore the racially charged videos that have taken the internet by storm.
Be sure to subscribe here and never miss an episode.