A Trump supporter was widely criticized on Twitter after they said all fathers fantasize about their "sexy daughters."
The tweet came in response to claims from a former Trump administration official that former Republican President Donald Trump used to fantasize about his daughter—and then White House senior aide Ivanka—in front of staff.
Twitter user Victoria (@5dconsciousness) responded to those claims with the following ludicrous defense:
"What Donald Trump said out loud, millions of fathers with gorgeous, sexy daughters think about."
"You think fathers whose daughters end up in Playboy or are actresses/models who use their sex appeal to promote their attributes don't fantasize about them?"
"It's called being human."
You can see their post below.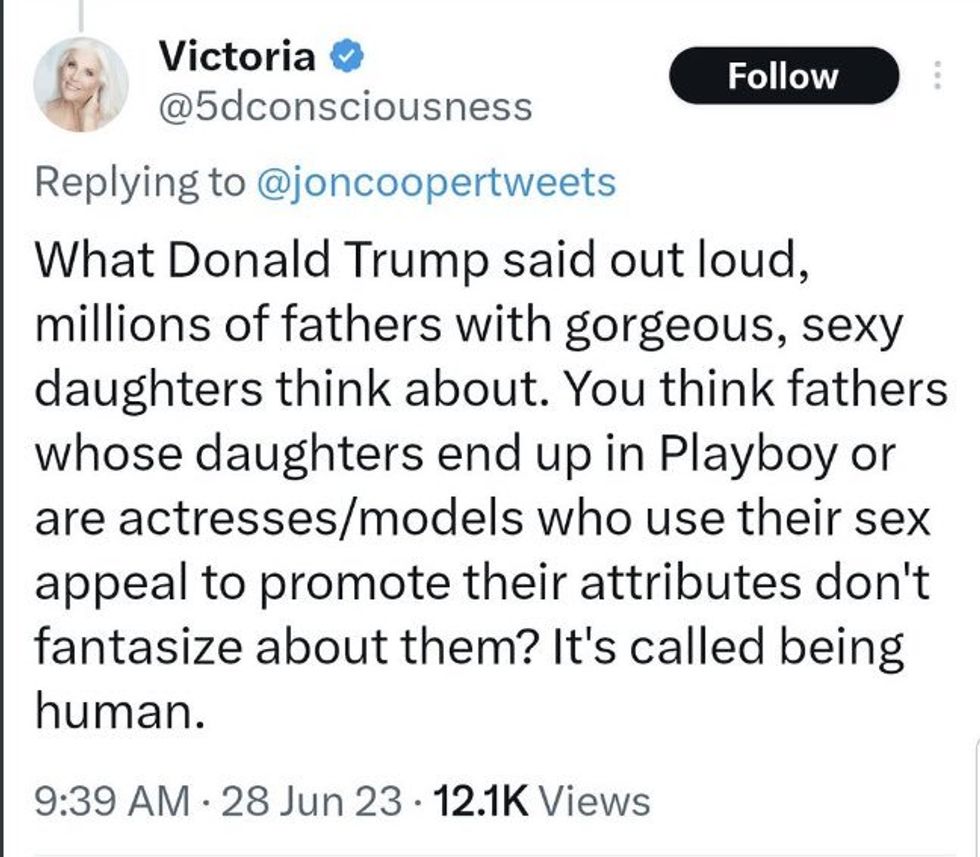 @5dconsciousness/Twitter
The claims that Trump fantasized about Ivanka came by way of Miles Taylor, who was Chief of Staff at the Department of Homeland Security (DHS) during the Trump administration.
Taylor claimed that Trump's remarks about Ivanka were part of a broader pattern of sexism and inappropriate behavior toward women within his administration. Newsweek obtained an excerpt from Taylor's book, shedding light on the alleged comments and the reactions they elicited from others in Trump's inner circle.
According to Taylor's book Blowback: A Warning to Save Democracy from the Next Trump, Trump made sexual comments about Ivanka's body on a regular basis:
"Aides said he talked about Ivanka Trump's breasts, her backside, and what it might be like to have sex with her, remarks that once led [White House Chief of Staff] John Kelly to remind the president that Ivanka was his daughter."
"Afterward, Kelly retold that story to me in visible disgust. Trump, he said, was 'a very, very evil man.'"
Indeed, Trump has a history of making sexualized comments about Ivanka. He has described her as "voluptuous," suggested he would date her if she weren't his daughter, and made remarks about her physical appearance during interviews.
Many pointed out that Victoria was very much condoning grooming—which is exactly what GOP politicians have baselessly accused the LGBTQ+ community of doing to children to garner support for legislation to strip them of their rights.
The Trump supporter's defense of this behavior was immediately called out on Twitter.
These recent allegations add to the long-standing criticism and accusations of sexual misconduct against Trump.
In the past, he has been accused by multiple women of inappropriate behavior and harassment. Earlier this year, a jury found Trump liable for sexually abusing and defaming writer E. Jean Carroll in the 1990s.
Several women who worked in his administration also came forward to assert that Trump behaved inappropriately toward women within the White House.
Trump's own words, captured on the now infamous 2005 Access Hollywood tape, showed him boasting about grabbing women without consent. He justified his behavior by claiming that his celebrity status allowed him to do anything he pleased.
As of this writing, @5dconsciousness appears to have deleted their account in response to the criticism.