Nina Cardinal from Arizona thought they she was dreaming after seeing her 15-month old daughter Chloe wandering the halls in the wee hours of the morning. Last time she checked, she and her husband Chris put the toddler safely to bed and closed the door; there was no possible way she could reach the doorknob to let herself out.
Maybe they should've shut it properly.
Fortunately, the mystery was solved and what they discovered on their surveillance footage was something far from supernatural and more towards super-hysterical.
---
Chloe loves feeding the resident's two golden retrievers, Colby and Bleu. Naturally, the dogs sought after their little provider for their early morning munchies.

Chris wrote with the YouTube clip:

Lately she's been dropping food for them from their bin, so they figured she must be good to help feed them breakfast
The hungry dogs took matters into their own paws and bounded into Chloe's room to get her to feed them. Chris confirmed that Colby has mastered opening doors, which looked like an effortless task in the video.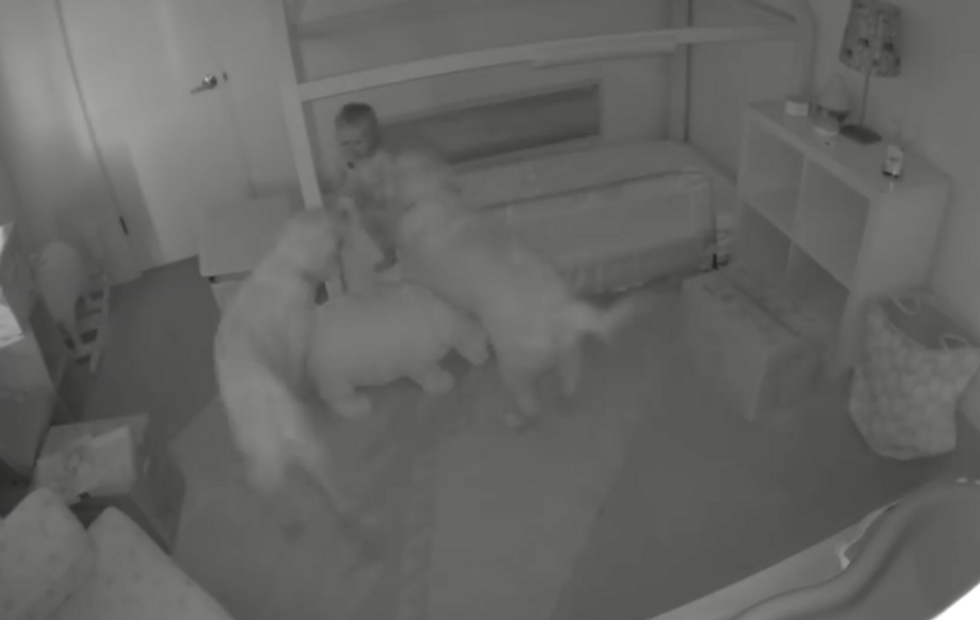 The best kind of alarm clocks.(Cheese Pups/YouTube)
After the pair of pooches repeatedly reentered the room to check on Chloe's progress getting out of bed, she eventually made her escape out the door.
Viewers are in love with Chloe's accomplices.



Colby & Bleu have their own channel on YouTube featuring more of their antics. This one is about Colby and his specialty: doors.
Colby & Bleu's love for Chloe (and food) can't be contained. Maybe their little friend can return the favor and help them to escape.
Friends for life!
H/T - DailyMail, YouTube, Twitter, HuffingtonPost