Black TikToker Destinee Stark has been fearlessly speaking out against the racism present in Jason Aldean's controversial song, "Try That in a Small Town" and debunking the claims he made in defense of it.
Unfortunately, her advocacy has led to a barrage of harassment—and even death threats—from the country singer's fans.

The music video, released earlier this month, came under scrutiny for allegedly promoting racism and advocating for vigilante justice. Filmed at the Maury County Courthouse in Tennessee—a site infamous for a historical lynching in 1927.
The video raised concerns about its content and potential hidden undertones harkening back to the good old days of lynchings, sundown towns and Jim Crow.
Stark exposed that several clips within the first 30 seconds of the video are either fake or taken from events outside the United States. She revealed that at least two clips were stock footage from other countries, one from a May Day festival in Germany and the other from a commercial video shoot in Bulgaria.
At one point, she observed:
"I get the vibe that Jason Aldean's team creative team was going for here. It was to instill fear that protestors and rioters are going to burn all of your cities to the ground, but this footage is not even real news footage."
While using stock footage and editing clips for music videos is common, the fact that Aldean claimed all the footage was real news footage to defend the video's content raised concerns. Many view the video's juxtaposition with the controversial song as potentially promoting violence in an already deeply divided country.

Unfortunately, Stark's revelations and critique were met with hostility from Aldean's fans. She faced numerous death threats, slander, accusations of fraud, and even doxxing, an alarming situation that highlights the intensity of the backlash against her.
She took to Twitter to address the matter, calling out Aldean and his fans in the process:

"All I've done is point out [the] racist undertones of a song [and] I've gotten dozens of death threats, been slandered [and] accused of fraud, been doxxed, [and] have had the most vile s**t said to me by [Jason Aldean's] fans."
"If he won't stand against racism, he should AT LEAST stand against this."
You can see her tweet below.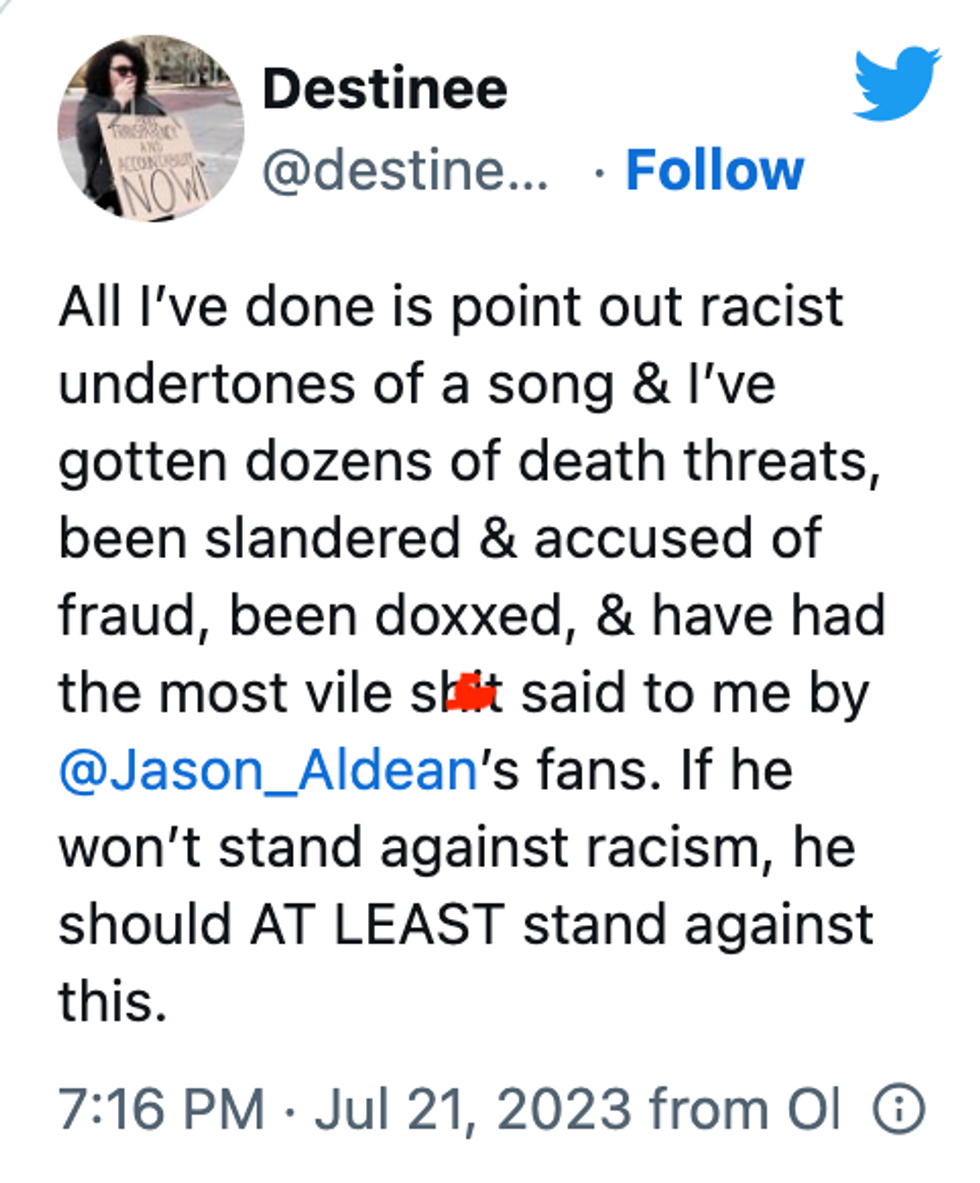 @destineenstark/Twitter
Many have come to Stark's defense and condemned the behavior of Aldean's fans.
Aldean has attempted to reinterpret "Try That in a Small Town" as a song reflecting the sense of "community" he experienced growing up—despite not growing up in a small town—with unity among neighbors.

However, critics argue the video's content and messaging overshadow any intended positive interpretation at a time when many around the nation are pushing for comprehensive gun control measures in response to a spate of increasingly common mass shootings.
Last week, Country Music Television (CMT) generated controversy after making the decision to pull the music video for "Try That in a Small Town," prompting a wave of backlash from conservative circles and calls for a boycott.