In a viral video, a TikToker showed the moment she exposed her racist neighbor by printing a screenshot of her conversation and taping it around their apartment complex.
The TikToker, @breezii_29, shared a 30 second video of the conversation where her neighbor, a North Carolina resident, used racial slurs when "venting" about the accessible parking spot being taken by another person.
The video starts with a photo of the neighbor with text on the screen that says:
"Meet my racist neighbor."
"She felt bold and comfortable enough to talk like this to other neighbors."
WARNING: uncensored racial slurs
@breezii_29

#greenscreen #racist #snowroach #neighbors #HowIBathAndBodyWorks #ChimeHasYourBack
The conversation was allegedly with another neighbor in the building.
Somehow the neighbor felt it was acceptable to talk about another neighbor in this way.
The screenshots shared read:
"This white honda b*tch as [n-word] that stole my spot is again backed into one and do is the [n-word] b*tch in 209 both of them back in this is 3 or 4 times they times they've done it n are getting away with it (sic)."
"It's all about entitlement n a race war (sic)."
Breezii then shows the screenshot printed out.
She posted them on doors, windows and what looks like a community bulletin board.
Then she showed a follow up message from the neighbor where she "plays the victim card":
"So yea someone blue up my comment n my opinion about the situation taped one copy on my door and other around here."
"My conversation that was supposed to be private turns out it wasnt !"
"I know who did it !"
"Im getting evicted bc it will [be] the third violation that the cops had to come here so I hope you guys are happy."
"I refuse to ever trust anyone here again."
"Im sure they girls will now do something to my car as well as me."
"Thank you it made my weekend."
The comments were removed from this video but there are over 73 thousand views.
According to The Daily Dot, Breezii explained in a comment the eviction paperwork was underway. Another person in the building had complained about the neighbor too and sent the apartment manager more "racist rant" screenshots.
Commenters were thrilled the neighbor was being held accountable for her actions. Though many believe she won't fully understand the impact she had and most likely won't learn her lesson.
One commenter said:
"[It's her] third violation and she can't see she's the problem."
Another commenter wrote:
""Parking spot = race war?"
"Any minor inconvenience is okay to excuse racism I guess."
There was a second video with several thousands views that appeared on Breezii's page but has since been deleted.
It was more screenshots of public Facebook posts where the neighbor stated she was sorry for the words she used and she was leaving Facebook. Many of the messages stated she believes no one will be her friend anymore.
Her post read:
"I got caught up with a situation about handicap parking got very frustrated and was venting for several days to whom I thought I could trust."
Strangely, in her confession, she decided to use the racial slur again.
"I had never been this frustrated before.."
"[I] got caught up with the anger n venting with someone and it just kept piling up until I did the unthinkable I let the words dumb a** [n-word] b*tch come into my messanger (sic)."
She went on to say she is "disgusted" with herself and she will "never do it again."
She said she wanted to post publicly so those she offended could see it but as many pointed out she was only sorry when she was exposed for her behavior.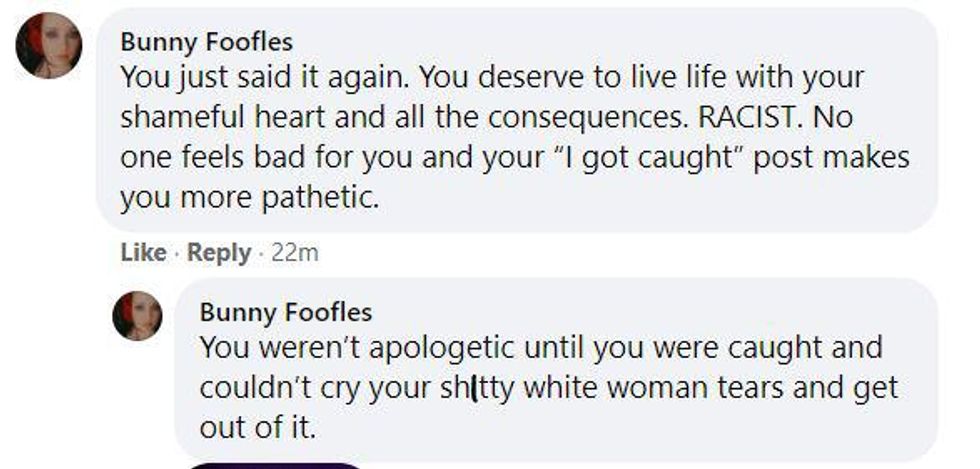 Bunny Foofles/Facebook
The neighbor ended her post with:
"I will be completely deleting FB soon as well as all other social accounts."
"If I don't isolate myself because of what I've done something might happen n I'll just disappear."
"I know I will lose everyone's friendship on her but I don't blame you."
"I just wanted to come clean be honest take responsibility and apologize."
"I don't know what will happen to me but not one will care after this."
"Nothing else matters."
"I wish I could make things right but it can never be."
"Goodbye everyone. Im out (sic)."
Hopefully during her time off social media she can take full accountability for her personal choices.
Any level of frustration or anger is not an automatic excuse for racism or any form of bigotry.
Many people are angry or frustrated every day without resorting to racial slurs.