Actress Linda Blair played with a Ouija board in the 1973 film The Exorcist, and things did not turn out well. Now, a Twitter user warns us not to be like Linda Blair.
---
Just in time to scare the bejesus out of us for Halloween, Twitter user @STOPFLEXIN took to his social media account to tell us a horrifying story from childhood of playing with a Ouija board with his cousin.

Professional tip: Don't do it.
i know there's are a lot of people who are skeptical of demons and spirits. but I would strongly advise you to stay… https://t.co/gt6hI3hhcb

— Marcus (@Marcus) 1539624948.0
It seems Hitchcock had an aunt who collected skulls and such, and owned a shop in New Orleans.
my aunt was into some weird shit. she owned an antique shop in New Orleans & she had a living space that was right… https://t.co/Yu9qihzqzE

— Marcus (@Marcus) 1539737006.0
After having a stroke, she was wheelchair bound. During Hurricane Katrina, she did not evacuate and drowned.
when they heard Katrina was coming, my family tried to her to come to GA, but she wouldn't leave the shop. when the… https://t.co/Mc4aLiEEcx

— Marcus (@Marcus) 1539737136.0
An uncle brought back some of her possessions, including a Ouija board. That is when things got strange.
Me and my cousin were going thru some of the bags he bought back and we found my aunt ouija board that she used to… https://t.co/9Hc5IzBMtP

— Marcus (@Marcus) 1539737447.0
After asking some typical teenage questions and not getting answers, Hitchcock and his cousin called on his dead aunt. Then things get really weird.
When the shit wouldn't let us talk to them, I came up with the AMAZING idea to ASK MY AUNT how to use it. So we ask… https://t.co/3GKYT4hsqP

— Marcus (@Marcus) 1539737740.0
The boys hide under a bed, and, after realizing his phone is in the other room, Hitchcock runs to get it. That's when they realize they are not alone.
So we back under the bed. House still pitch black. I'm tryna call my uncle but his phone going straight to voicemai… https://t.co/lJFAyKNNVv

— Marcus (@Marcus) 1539738608.0
The window is right above the TV where we could look up and see out of it. THERE'S SOMEBODY PEEKING THRU THE FUCKIN… https://t.co/6GNEkpNaCw

— Marcus (@Marcus) 1539738707.0
My cousin is fucking losing. It's tears and snot all over the floor but I got my hand over his mouth telling him to… https://t.co/fTNncbEV9B

— Marcus (@Marcus) 1539739252.0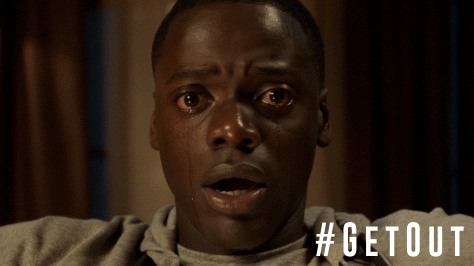 Giphy
Hitchcock grabs a shotgun and starts shooting.
I PICK UP THE FUCKING SHOTGUN AND JUST START PULLING THE TRIGGER. IT'S NOT FUCKING FIRING. THIS PERSON IS LIKE 10 F… https://t.co/SnD8T8Zv8f

— Marcus (@Marcus) 1539743476.0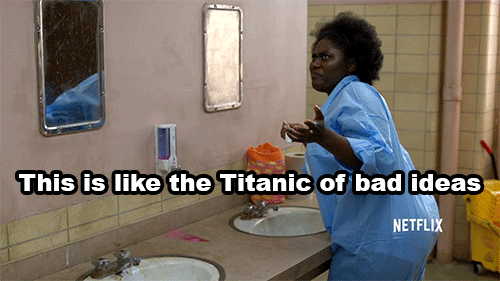 Giphy
Eventually, a neighbor shows up, but the horror story isn't over yet.
Me & my cousin just run out the side door house & toward this nigga truck. We tell him everything in like 7 seconds… https://t.co/GzQpQtlfq8

— Marcus (@Marcus) 1539744215.0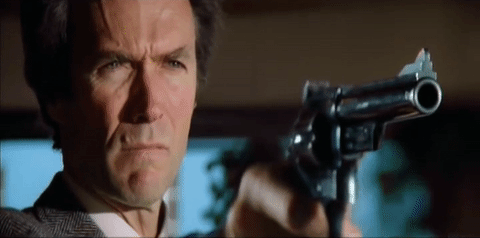 Giphy
Alas, it would seem Hitchcock was outplayed by his aunt.
This man finally come out the house, and run back to the truck. We drove back to his house and waited for the polic… https://t.co/tX4NDt10Xy

— Marcus (@Marcus) 1539744628.0
The police searched the entire house and didn't find anything. No signs of forced entry. No scratches on the window… https://t.co/RHk2Evzut0

— Marcus (@Marcus) 1539744741.0
We told the police the whole story, but these niggas treated us like we were just little kids seeing things. I KNOW… https://t.co/NepeWbQ6KM

— Marcus (@Marcus) 1539745061.0
The moral of the story? Hitchcock should've listened to Linda Blair, and we should listen to Hitchcock. They gave us the same great warning: don't play with Ouija boards.
It was all fun and games when Linda Blair's character Regan started to play with one:
The Exorcist 1973 Ouija SceneYouTube
But we all know how that ended: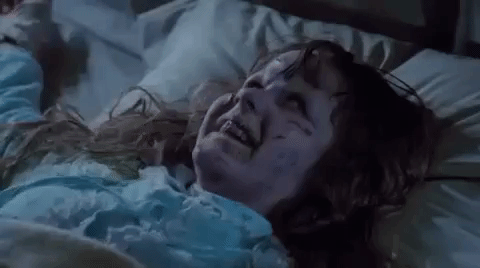 Giphy
Hitchcock and his dramatic tale succeeded in freaking people out.
@STOPFLEXIN 👹👺😈👻👿☠️🙀🎃👀🖤 https://t.co/AWH4AcfNk3

— Jeannie Gibson (@Jeannie Gibson) 1539917416.0
@STOPFLEXIN Phew, I feel like I need to burn some sage just from reading that! https://t.co/Ke1K7Q89SP

— L-dub (@L-dub) 1539903449.0
Kids...just stick with Chutes and Ladders.
H/T: Twitter Moments, YouTube