Tag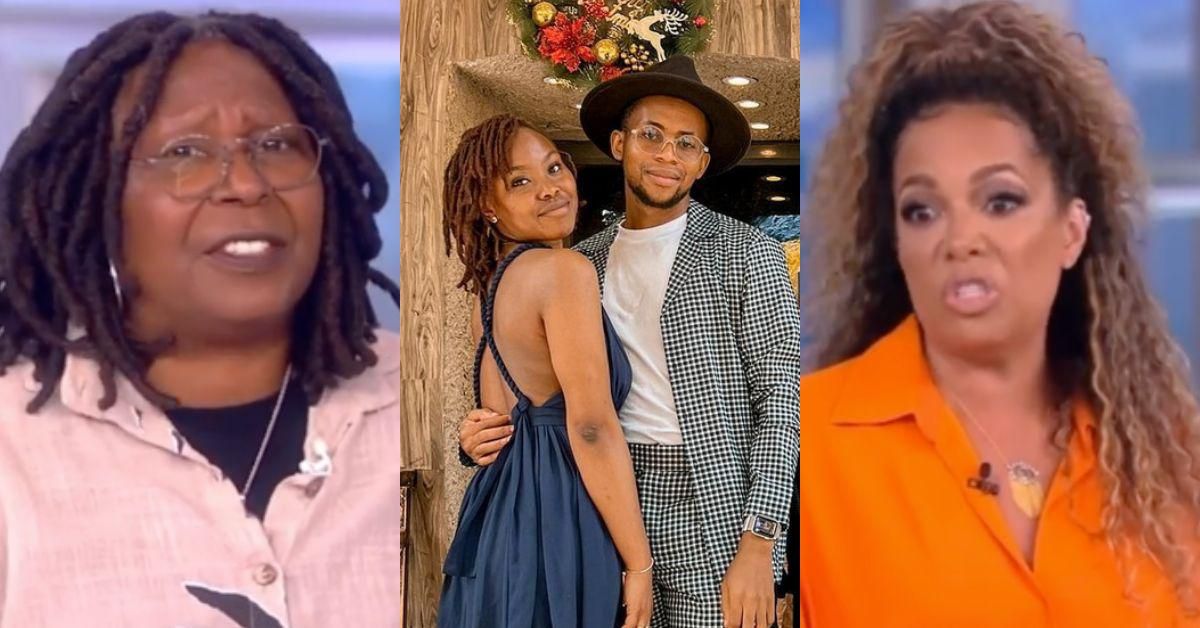 The View/YouTube; @solomon_buchi/Instagram
The co-hosts on The View were passionately divided over a viral social media post in which a man said his fiancée may "not be the most beautiful woman" or "most intelligent."
During the "Hot Topics" segment on Thursday's episode of the talk show, Whoopi Goldberg addressed the photo of the couple.

The man–who is podcast host Solomon Buchi–shared his love story online with a series of photos of him with his sweetheart.
\u201cWhoopi Goldberg And Sunny Hostin Get In Heated Debate About Man\u2019s Viral Post Calling His Fiance \u2018Not The Most Beautiful Or Intelligent\u2019 https://t.co/4bQq7BcXar\u201d

— Buzz Blogs (@Buzz Blogs) 1659442709
In one of the posts, Buchi wrote:

"You're not the most beautiful woman; neither are you the most intelligent woman, but I've chosen to never find perfection in anyone else."
The 26-year-old later explained:

"Stating that you're not the most beautiful/intelligent might sound like it's not a compliment, yeah?"
"But it's a realistic base for real love."
Many social media users were not impressed with his unromantic perspective. They suggested the fiancée, Adéọlá Àríkẹ́, should call off their engagement.
Goldberg, on the other hand, didn't see a problem with the groom's tribute to Adéọlá. "I didn't think it was a bad thing," said the veteran co-host.
But fellow co-host Sunny Hostin disagreed.
"I worry about this guy," said Hostin. "I hate him. But I worry about this guy for this woman. I wouldn't marry him after saying that."
Hostin continued:

"When they get older, what is he gonna do? Oh babe, you look a little fat today. Oh babe, that was really stupid that you said that'. I don't like that."
"Your partner should lie to you."
Goldberg was not onboard with that notion. "No!" she replied, adding, "They should not lie to you. Oh my god!"
As the two continued with their heated debate, Goldbert threw her gaze upward and remarked, "Oh my God! Please God, strike me now."
You can watch the full segment in the clip below.
Man Tells Fiancée "You're Not The Most Beautiful" | The View youtu.be
The conversation carried over to Twitter, where users were equally polarized over Buchi's declaration of love.
\u201cI\u2019m with @sunny! As the song goes \u201cTell me lies, tell me sweet little lies\u201d #TheView #PowerGrangers\u201d

— Kavin (@Kavin) 1659022035
\u201cTelling someone what is wrong with them\nbefore telling them\nwhat is right about them\nwhile comparing them to others\nthat you say are\n"competing" for your attention\nis about making them insecure\nto establish dominance\nand psychological control\nover them.\nhttps://t.co/u7ubSWiWjx\u201d

— MFKUSA (@MFKUSA) 1659439348
\u201cGod forbid a man should speak his true feelings about his woman. Lie to her? I'll remember that. \nhttps://t.co/yi3WjgZXCV\u201d

— NotsureNEMor (@NotsureNEMor) 1659447439
Co-host Sara Haines chimed in and said Buchi's "attempt might've failed a little bit" by putting his unconventional perspective on love in writing, but the co-host did believe he was "approaching love wisely."
"I think what he's saying is to expect perfection is to be disappointed," she said, to which Goldberg gave verbal affirmation.
While Haines agreed with Goldberg's take as Hostin was seen visibly unyielding, she said she hoped Buchi's proposal was "a little more romantic."
Haines added, "But this in itself I understood where he was going."
\u201c@TheView Once again, my girl @sarahaines gets it. He may not have said it artfully, but I would much rather have a man who is not looking for perfection and loves me for who I am, than a man constantly disappointed because I am not perfect. Respect to Sara and the in-artful fianc\u00e9.\u201d

— The View (@The View) 1659049201
Goldberg ended the conversation by addressing the fiancée. "Just keep it calm," she said.
"You know he loves you and you love him."
"If you decide to marry him, just know that's where he's at. He's not asking you to be perfection ... he's asking you to be the woman he loves."
"For all these other people who need to hear lies from people, so when you put the pants on and your behind looks like the side of a gate, and he doesn't tell you that your pants are too small for the size of your behind, it's a problem."
Hostin didn't add much else to the discussion, but as Goldberg wrapped up the segment, Hostin looked to the viewers at home, shook her head from side to side, and gave a thumbs down.