A school principal in Washington State expressed remorse and apologized for suggesting that Kobe Bryant's death was deserved.

Bryant died in a helicopter crash that also took the lives of eight other people, including three children.
Camas High School Principal Liza Sejkora is now on administrative leave for an inflammatory statement about the late NBA star player.

---
In a now-deleted Facebook post, Sejkora wrote:
"Not gonna lie. Seems to me that karma caught up with a rapist today."
It was followed by a shrug emoji.

The school principal said she had a "visceral reaction" upon hearing about Bryant's death.
She said the post had been up for about an hour before she considered taking it down. But by then screenshots had been taken and circulating around the internet.
Here is a screenshot of the deleted Facebook post.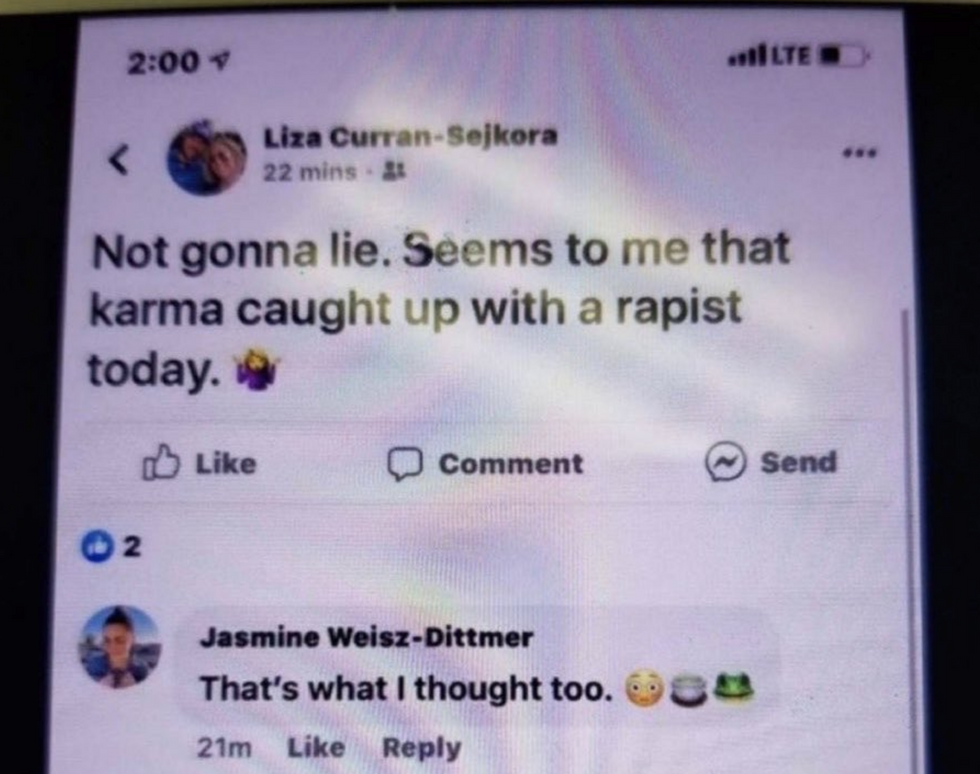 @KingLoganSav/Twitter
On January 26, the retired Lakers star was killed in a helicopter crash outside of Los Angeles, along with seven other passengers and the pilot.
Sejkora's comment about karma was in reference to a Colorado court case from 2003 in which a 19-year-old hotel employee in Edwards, Colorado, accused Bryant of rape.

Bryant maintained his innocence. When his accuser refused to testify, prosecutors dropped the felony sexual assault charge in 2005.
Bryant settled a civil lawsuit with the woman for an undisclosed amount.
After removing her post, Sejkora—who had been the Principal at Camas High School since 2017—wrote a followup, saying:
"You are free to judge me for the post just as I am free to judge the person the post was about."
You can watch the KGW News report here.

She told KGW News:

"In an educational institution, we hope that students learn that you make mistakes you own it, you learn from it and move on. That's how we grow as humans. I am hoping to model that I messed up pretty big here."
"I want to earn their trust back, I want to earn my community's trust back. I want people to trust that they're sending their students to Camas high school and not have it be tarnished with a bad decision I made."
Students were shocked and expressed it, including Camas High Senior student Adam Hoteit.

"It's just really insensitive. There's no real position for her to say that. Especially when she's in such a place of power that she is right now."
"She represents the school and that's how everyone's gonna see this town and this school."
Dorian Dahdli, also a senior, added:
"Saying things, you should watch what you post because you know you might get backfire and that's what happened in this situation. It just backfired pretty hard."
On Tuesday, Sejkora spoke to reporters outside the school about not practicing what is preached.

"As a career educator, the only adult job I've ever had for 22 years, we try to teach kids to think before they act, think before they speak, think before they post."
"I clearly didn't in this situation."
"I heard reports that Kobe Bryant had passed, just a visceral reaction to it. Posted quickly before I had any additional information."
On Monday, Sejkora sent an email to parents of the students explaining that her emotions impaired her judgement.
"You may be aware that a copy of a social media post I made on my personal Facebook page is circulating digitally in our community. Today, I apologized to my staff, and now I apologize to you."
"On January 26 after news broke Kobe Bryant's death, I made a comment to my private social media which was a personal, visceral reaction."
"I want to apologize for suggesting that a person's death is deserved. It was inappropriate and tasteless. Further, I apologize for the disruption it caused to our learning environment today."
"In education, we remind students to think before they post online, especially when feelings are inflamed. We also teach our students about context. My emotions and past experiences got the best of me in that moment. We also teach our students that what we share online has permanency."
She added:

"While what I wrote was posted on a private Facebook account to people who are my friends and was quickly removed, I acknowledge that private does not always mean private."

"I love being principal at Camas High School. We have tremendous students, staff, and community. I've learned an important lesson and I hope that I can earn your trust back."

According to students at Camas High, regaining that trust will take some time.