New York Republican Representative George Santos and Colorado Republican Representative Lauren Boebert were photographed sitting next to each other as the House voted on a new House Speaker—and the memes came rolling in.
Santos and Boebert had both been supporters of Ohio Republican Representative Jim Jordan's ill-fated bid for the Speakership.
During Jordan's second—and last, as it would happen—failed vote as Speaker, the pair were captured in a candid moment by Getty, seen sitting next to each other sharing a laugh.
You can see the photo below.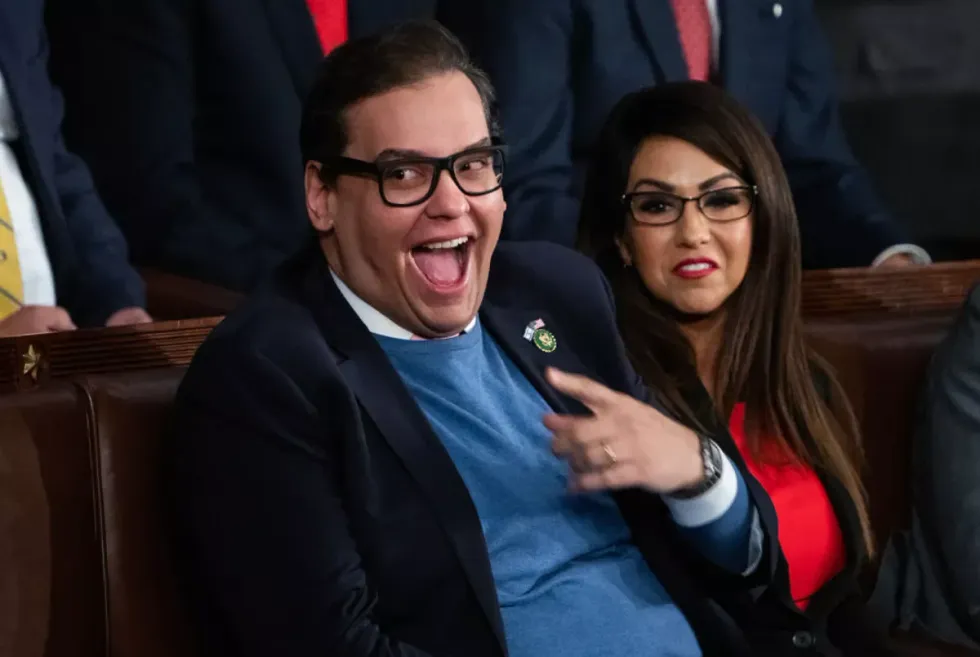 Tom Williams/CQ-Roll Call, Inc via Getty Images
The image of these two well-known House Republicans, who have often drawn criticism from liberals due to their policy positions, personal controversies, and criminal histories, made them the subject of many jokes at their expense.
On X, formerly Twitter, many have likened the two to some of fiction's most well-known duos.
These include Boris and Natasha, the antagonists on Rocky and Bullwinkle.
Others have suggested the two are as cozy as Janis Ian and Damian from Mean Girls.
Or as tight and Karen Walker and Jack McFarland from Will and Grace.
The two politicians, notorious for their anti-LGBTQ+ positions—a head-scratcher on the part of Santos, who is openly gay—could even be the next targets for the "Snatch Game" on RuPaul's Drag Race, that is, if fans get their way.

And other people were simply more keen to criticize them more directly.

Earlier this month, federal prosecutors in Brooklyn unveiled an updated indictment against Rep. George Santos, tacking on an additional 10 federal charges, which increases the total number of charges against the Long Island Republican to 23.
The expanded charges detail that Santos allegedly engaged in identity theft, unauthorized use of donors' credit cards, and the submission of falsified campaign reports. These reports included non-existent loans and contributions that were either fabricated or unlawfully obtained.
Boebert, meanwhile, has come under fire in recent days for lying about the length of her relationship with a bar owner with whom she was ejected from a Denver theater's production of Beetlejuice for "outrageous" behavior that included vaping, taking pictures, and fondling each other.

Boebert's recent campaign filings show she spent hundreds of campaign dollars at the bar owned by her date, contradicting her claim that they'd only just met that one time for the performance.