Despite significant strides made towards acceptance, members of the LGBTQ+ community too often are subjected to hate crimes. And for one San Pedro resident, homophobic harassment became a part of his daily life.

After he moved to a new neighborhood in Southern California, two years of being verbally harassed and physically assaulted takes an emotional toll. Ryan Gierach, a retired U.S. Army veteran who happens to be gay, shared his story on social media.
---
Gay Veteran Alleges Homophobic Abuse by Neighbors https://t.co/3dO9lttS93

— Ryan Gierach (@Ryan Gierach)1528492288.0
He confided to KTLA News about being a victim of abuse.

When I came here my neighbors directly across from me began calling me names — all of them revolving around gay epithets.

The harassment escalated after one of his neighbors hung a flier accusing Gierach of being a pedophile, an unfounded allegation that was disproven.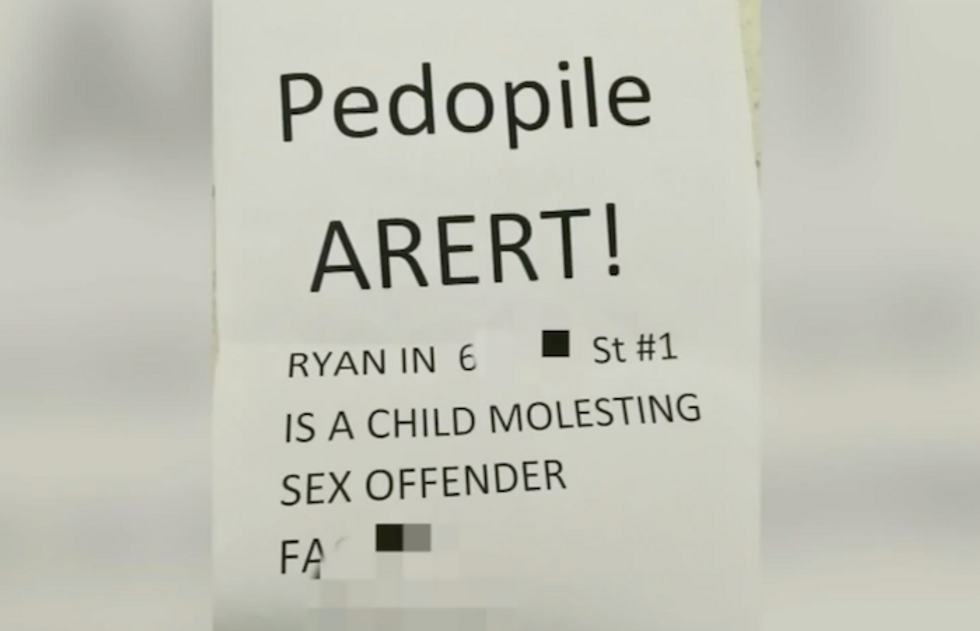 Homophobic harassers urge you to stay "ARERT," guys!(SucceedBeware/YouTube)
Gierach recently hung a rainbow flag in honor of Pride Month, prompting further persecution. The Army veteran managed to capture video of a woman spitting at him and another showing two women and a child mocking him and calling him names.
Help a man out He's in the San Pedro apartment complex in Los Angeles; his neighbors are engaged in disgusting ha… https://t.co/NFXDTOA6Lh

— (((Liz Ditz))) (@(((Liz Ditz))))1528412083.0
@GaylePitman Herein lies the power of this symbol today... These flags go up on San Pedro's welcome gateway tonight… https://t.co/hsbA0iHStP

— Ryan Gierach (@Ryan Gierach)1528491587.0
After being discharged from the Army for being gay in 1979, Gierach spent time as a publisher for the WeHo News and reported on victims of LGBTQ+ discrimination. But their pain and suffering is also his own.

"For 20 years now I've covered this sort of thing happening to other people," he said, breaking down during the exclusive interview. "And it hurt me deeply every time it happened to other people. To be attacked for being a loving person is perverse."
Former #WeHo News Publisher Ryan Gierach Alleges Abuse by His San Pedro Neighbors Because He Is Gay https://t.co/3N8HipRkyU

— Eye On WeHo (@Eye On WeHo)1528473973.0
Despite the perpetual torment, Gierach is determined to continue fighting for social justice.
He's also filed multiple reports with the Los Angeles Police Department. So far the authorities have been unsuccessful in their attempts to confront the accused neighbors at their homes.
@RyanGierach I've had hate crimes committed against me because I either flew the rainbow flag or had a rainbow stic… https://t.co/eCOsmduJXr

— Gayle Pitman (@Gayle Pitman)1528491963.0
@RyanGierach I can hardly believe what I just watched. The depth of ignorance spewing from your neighbors is astoun… https://t.co/TKOmL6xrB2

— Patricia Heaton (@Patricia Heaton)1528361475.0
Fortunately, Gierach is not fighting alone. There are members of the community who have his back, like local San Pedro resident Aiden Garcia-Sheffield.

It's a sad situation, and we're not going to let it happen, because if you mess with one of us you mess with all of us.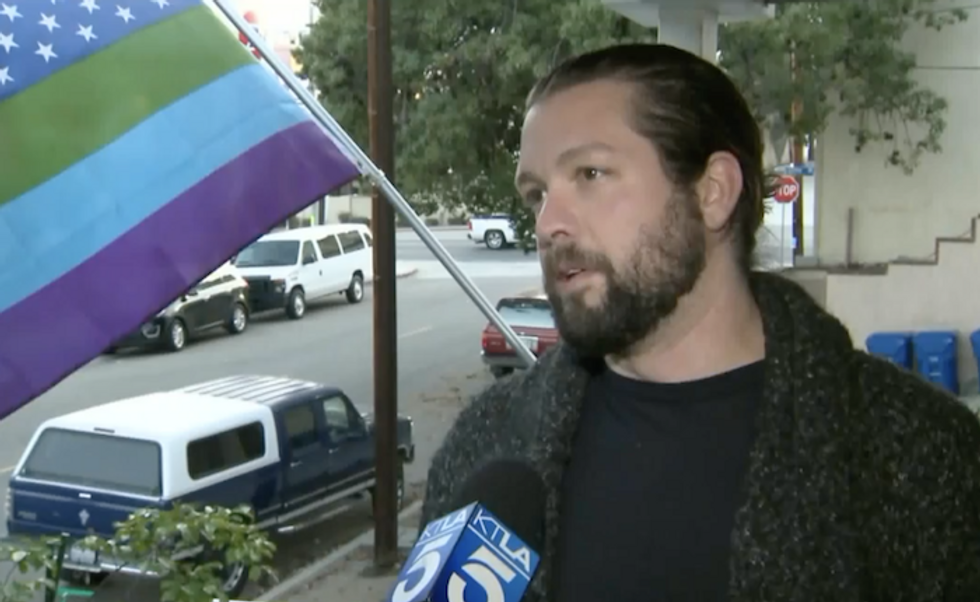 Fellow community resident, Aiden Garcia-Sheffield.(SucceedBeware/YouTube)
@RyanGierach That's not our San Pedro. You are welcome here and loved here.

— Rebecca Chambliss (@Rebecca Chambliss)1528384212.0
LGBTQ+ advocate Lambda Legal urges victims of discrimination to safely document incidents of harassment and abuse in addition to filing police reports.

Giearch's heartbreaking story is an important reminder to continue demonstrating no tolerance for bigotry and to speak out against all hate crimes.