Rudy Giuliani's daughter, Caroline, has joined the ranks of family members speaking out against their pro-Trump kin.
Mary Trump famously dropped a tell-all book after spending most of Donald Trump's presidency tweeting against him. Kellyanne Conway's daughter, Claudia, has gained a fair bit of internet fame for allowing the public behind the scenes during a tumultuous time for her family.
Caroline Giuliani has been speaking up and poking at her father for quite a while now, but Rudy Giuliani recently gave her (and the rest of the world) something new to talk about.
During a November news conference about voter fraud conspiracy theories, Giuliani began sweating profusely. That sweat caused a substance that most people assume is hair dye to start dripping down the sides of his face.
Twitter seized the moment so fervently there are now multiple accounts devoted to various iterations of "Rudy Giuliani's dye sweat."
Caroline—who recently contributed to Vanity Fair by penning an article full of self-care tips for Trump supporters who struggle to accept his loss—referenced her father's podium mishap too. In that now viral OpEd, Caroline took a swipe at her father's "oozing" face.
One of her tips read, in part:
"Avoid charcoal products or anything with artificial dyes, which may result in your face oozing as you make false claims of voter fraud in Philadelphia, for example."
While her oozing face tip got people laughing, it wasn't the only part of the piece used to take a swipe at right-wing ridiculousness. Rather, the entire piece reads like a smartly-crafted dis track.
Twitter's reaction was, essentially, the socially acceptable version of: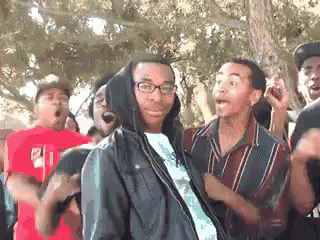 Giphy
While its clear there's no love lost when it comes to the elder Giuliani, his daughter is proving Miss Whitney Houston correct yet again.
She sang she believed the children were our future and we should teach them well and let them lead the way.

Twitter seems ready to embrace Caroline Giuliani's guidance.