Director Rian Johnson was tapped to helm a new trilogy to compliment the Star Wars saga, proving that the amount of stories to tell from a galaxy far, far away are infinite.
---
Johnson just wrapped the soon-to-be-unleashed The Last Jedi as the writer and director, but his stint is far from over.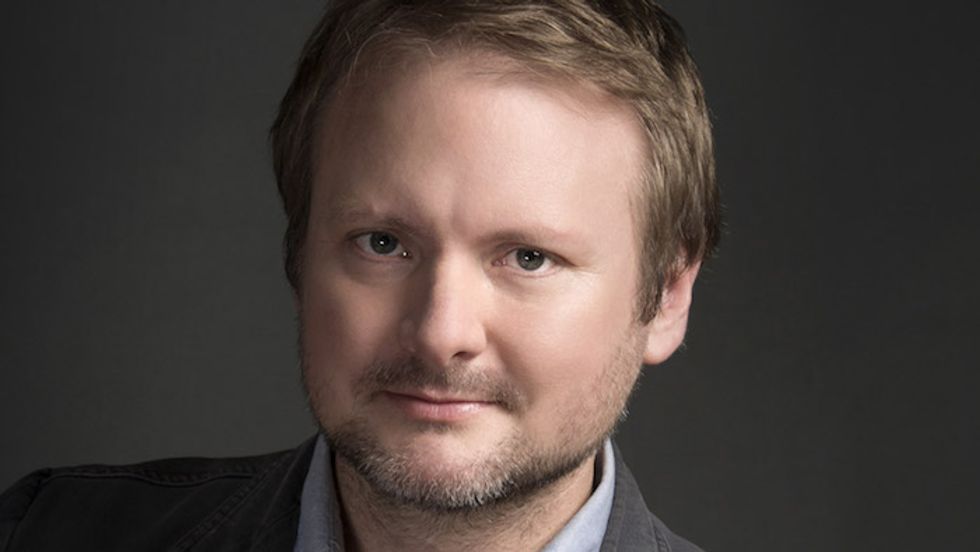 Disney CEO Bob Iger gave Johnson the reigns for a brand new trilogy of movies independent from the original saga that promises to "introduce new characters from a corner of the galaxy that Star Wars lore has never before explored."
A NEW STAR WARS TRILOGY CONFIRMED AFTER 2020 https://t.co/BiyqkRCvWz

— porgs❤️ (@porgs❤️) 1510268024.0
The announcement is cause for celebrating after Disney experienced turbulent beginnings this year with some of the upcoming Lucasfilm releases. Episode IX and the Han Solo standalone film now called, Solo: A Star Wars Story, have both replaced their original directors.
When Colin Trevorrow was dismissed from Episode IX directing duties, many assumed Johnson should take over. But that task was handed over to cinema-stalwart J.J. Abrams instead, who breathed new life into the franchise with 2015's Star Wars: The Force Awakens.
"The Last Jedi's excellence isn't guaranteed, of course," wrote Angela Watercutter for Wired. "But, come on. If Lucasfilm honcho Kathleen Kennedy has proven anything this year, it's that she and the studio's other shot-callers have no problem changing course mid-trip. They would not be giving Johnson his own freaking trilogy if The Last Jedi, which he both wrote and directed, wasn't, well, the Empire Strikes Back of the current saga."
The new trilogy will be a collaboration with the producer, Ram Bergman, who also produced The Last Jedi.
"We had the time of our lives collaborating with Lucasfilm and Disney on The Last Jedi," Johnson and Bergman enthused. "Star Wars is the greatest modern mythology and we feel very lucky to have contributed to it. We can't wait to continue with this new series of films."
@tolkienianjedi Take all my dollars. Make them forever. I'm ok with this.

— Jiub (@Jiub) 1510323076.0
Gizmodo predicts the new saga could incorporate elements from the old Expanded Universe and the Old Republic, including characters from the Knights of the Old Republic video games. Gizmodo also sees Disney salvaging the much-maligned prequels by starting them over with a clean slate.
"If anything, the Old Republic would in a way give Lucasfilm a chance to 're-do' the prequel concept and make it its own. The mixed reaction to the prequel movies has led to the pre-Luke Skywalker era being mostly ignored by Lucasfilm and Disney, with new material expanding upon the eras of the original movies and beyond a lot more than the time before it. The chance to craft their own take on the concept and explore further into Star Wars' past must surely be a tempting idea."
Whatever Johnson and Disney have up their sleeves are sure to leave Star Wars fans excited for years to come. Until the new trilogy unfolds with its first installment at an undisclosed opening date, fans can still look forward to seeing what happens after Daisy Ridley's Rey seeks out Mark Hamill's Luke Skywalker in The Last Jedi, when it hits theaters on December 15.
May the force be with us forever!
@starwarstuff @starwars Yeah, doing the dance! 😆 https://t.co/pVOJXYe9Ix

— The Applegate's (@The Applegate's) 1510277437.0
What a time to be a #StarWars fan. - #TheLastJedi next month - #StarWarsBattlefrontII next week - Brand new Star… https://t.co/K4AHEwh9vP

— Star Wars Stuff (@Star Wars Stuff) 1510273679.0
@starwarstuff Do not forget Star Wars land! Star Wars runs the world, and it just gets bigger

— Chris (@Chris) 1510273845.0
@CalcioAli @starwarstuff i feel like running and screaming star wars star wars star wars

— Rasha Bekdache (@Rasha Bekdache) 1510299686.0
Please SHARE this with your friends and family.