Comedian and singer Randy Rainbow is well known for filming musical parodies that skewer prominent politicians. His latest one takes aim at Republican House Speaker Kevin McCarthy's recent battle for the speakership.
A right-wing, QAnon, MAGA minions rebellion nearly cost McCarthy the coveted position. While he did ultimately win it, he only did so after 15 rounds of voting once he gave significant concessions to the far-right members of the GOP's House Freedom Caucus.
Inspired, Randy Rainbow reworked "Master of the House" from the musical Les Miserables. The original song is sung by the nefarious Monsieur Thénardier, Madame Thénardier and the ensemble.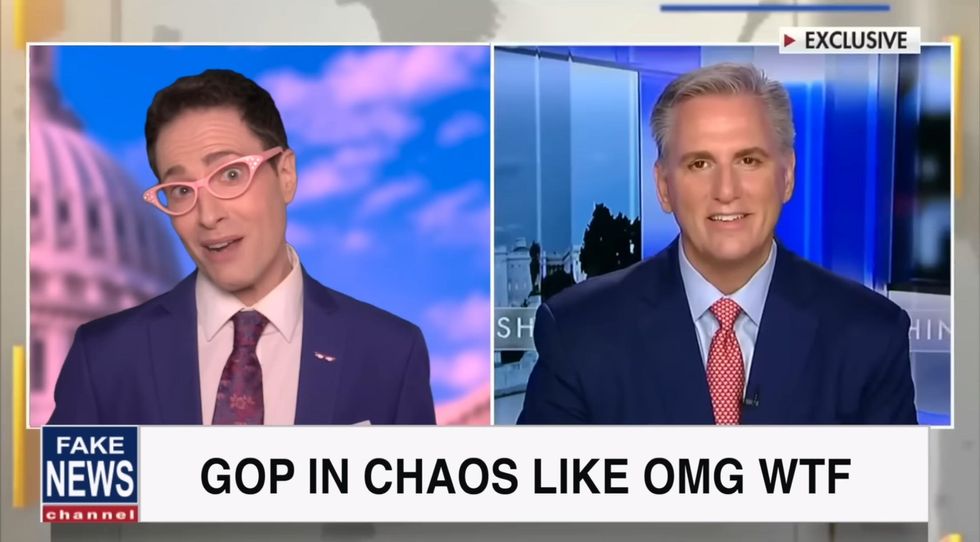 Randy Rainbow/YouTube
But in the hands of Randy Rainbow, it rips McCarthy and prominent members of the Republican-controlled House of Representatives including Marjorie Taylor Greene of Georgia, Lauren Boebert of Colorado and George Santos of New York.
You can watch the parody—aptly titled "Speaker of the House"—below.
McCarthy himself is the star of the video for "pissing off the left/paying off the right/pushing an agenda of revenge and spite," according to the comedian, who describes him as "covetous, conservative and full of crap."

And while Randy Rainbow notes that McCarthy was "quick to compromise," he points out that the compromise "only took the motherf**ker 15 tries."
Fans of the comedian loved every single second of it.
Randy Rainbow's Les Miserables parody is his first parody video since August 2022, when he mocked former Republican President Donald Trump's legal troubles by spoofing the song "Yesterday" by The Beatles.

In recent months, Rainbow—yes, that really is his name—has focused on his podcast where he interviews celebrities and other prominent figures while still finding ways to comment on the political issues of the day.
His most recent podcast episode featured an interview with Trump's niece Mary Trump, who discussed her uncle's narcissism and offered her own criticisms of the chaos that's defined the first few weeks of Republican control in the House of Representatives.