One minute she was enjoying the sound of festive carols and high spirits. The next, 20 weeks pregnant with her second child, all Amber Toon could hear was her own despair after her first ever eye exam on December 21 detected a tumor on her brain.
---
Sent straight to the hospital for a CT scan instead of preparing for Yuletide celebrations with her family on December 21, Amber, 25, a beautician, of Burton-on-Trent, Staffordshire, England, was being diagnosed with a non-malignant – albeit technically life threatening – tumor on her brain.
Forced to spend the festivities in Nottingham's Queen's Medical Center, she said goodbye to her boyfriend of two years, Mike Allen, 27, a wheelchair-maker, on Christmas Eve and went under the knife for two terrifying hours of complex brain surgery. It involved piercing the cyst on the pineal gland in her brain, before drilling a hole in the base of her skull, enabling excess fluid to be reabsorbed into the body – a procedure known as endoscopic third ventriculostomy.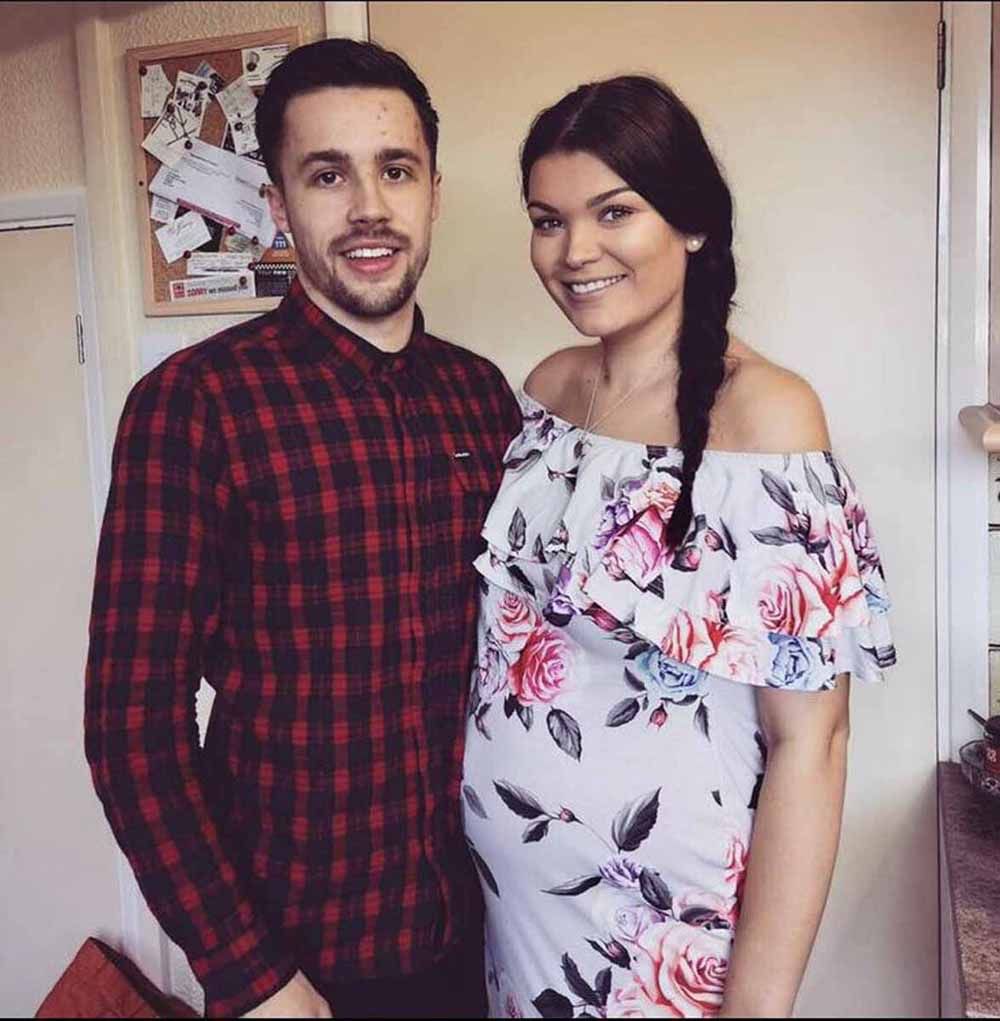 Mike and Amber (PA Real Life/Collect)
Discharged on New Year's Eve after the operation was declared a success, Amber, who has an older son, Alfie, three, from a previous relationship, did not finally breathe a sigh of relief until April 16 when, after a five hour labor, happy, healthy, 6lb 5oz baby Freddie was born at Burton Hospital in Staffordshire.
Recalling her ordeal, Amber – who will require six-monthly MRI scans for the rest of her life to ensure the cyst does not return – said: "One minute the optician was looking into the back of my eye and the next I was being told to get to hospital as soon as possible.
"I thought if you had good eyes that you didn't need to go for an eye test – how wrong could I be?"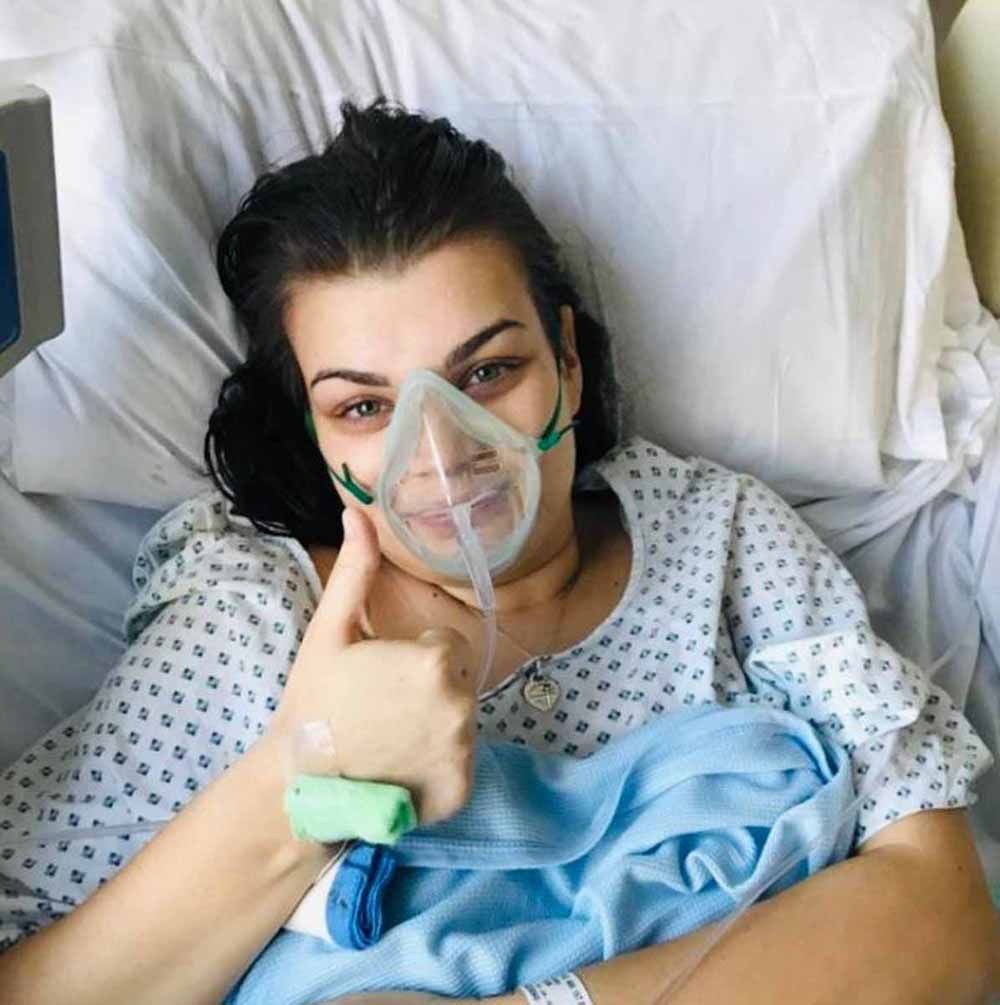 Amber in hospital (PA Real Life/Collect)
Speaking out to mark National Eye Health Week and raise awareness of the need for regular optical examinations, Amber recalled how, like Kate Middleton, she was plagued by hyperemesis gravidarum (HG) – a severe form of morning sickness – for the first 18 weeks of her pregnancy.
So, when she started feeling dizzy and light-headed, she simply thought it was a symptom of the condition.
But when she began bumping into walls and struggling with blurred vision, she decided to see her doctor.
"For the first three months of my pregnancy I was vomiting all day, every day, and even needed to be admitted to hospital for dehydration a few times," said Amber.
"Then, one day in town I came down with a dizzy spell and could barely see where I was going – I thought I was going to collapse.
"The doctor knew I'd had a rough pregnancy so far and, after hearing about my blurred vision, suggested I go to the optician, so I rang up Specsavers the same day and was booked in for an eye test the next morning – my first ever one."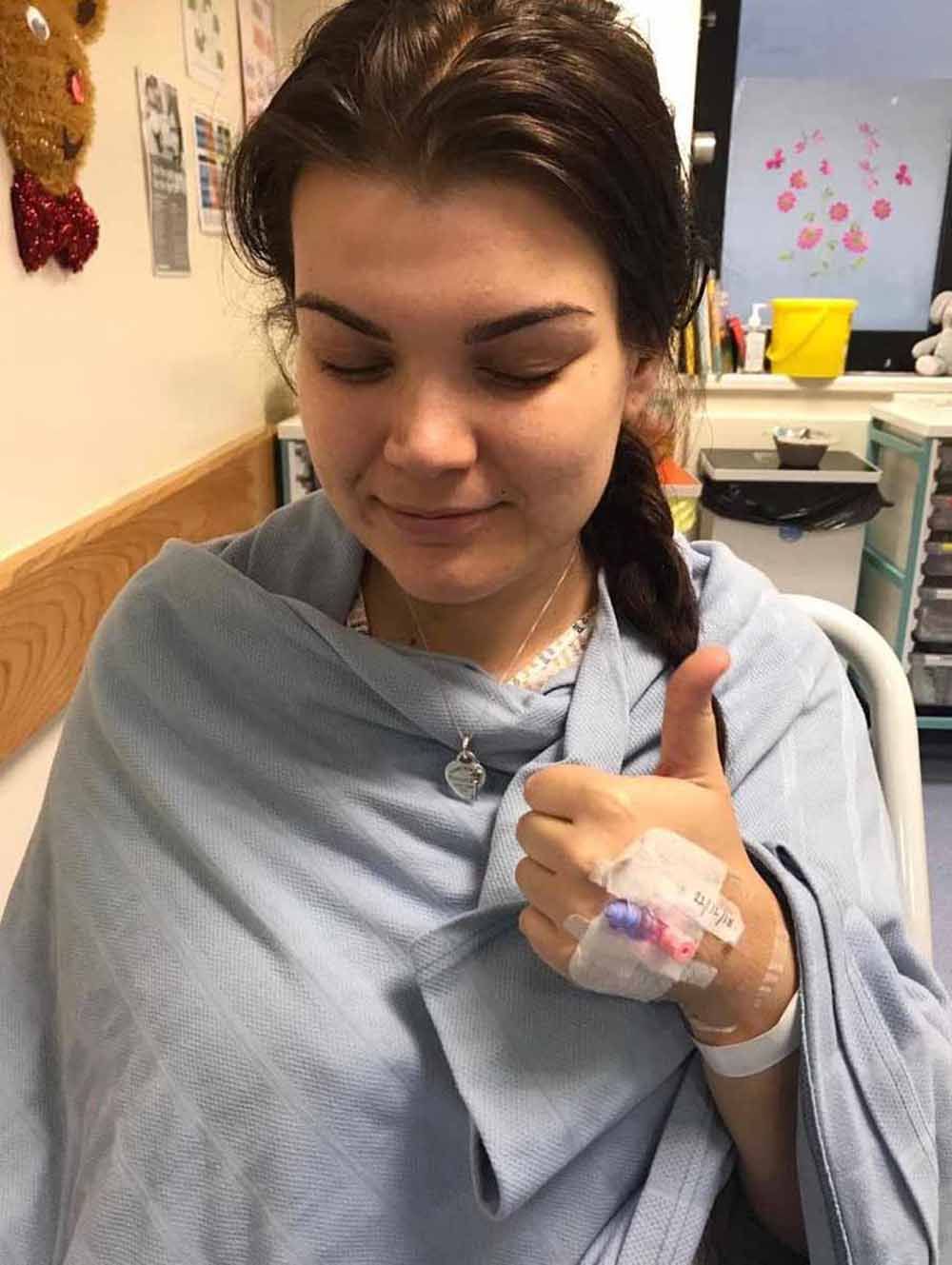 Amber after surgery (PA Real Life/Collect)
But the optician was alarmed to find a build-up of pressure behind both of her eyes and she was rushed to the ER at Burton Hospital, where a CT scan revealed a cyst on her brain.
She continued: "Doctors warned me it was 'quite large' and said that if it had been spotted any later, I would have slipped into a coma.
"It doesn't bear thinking about."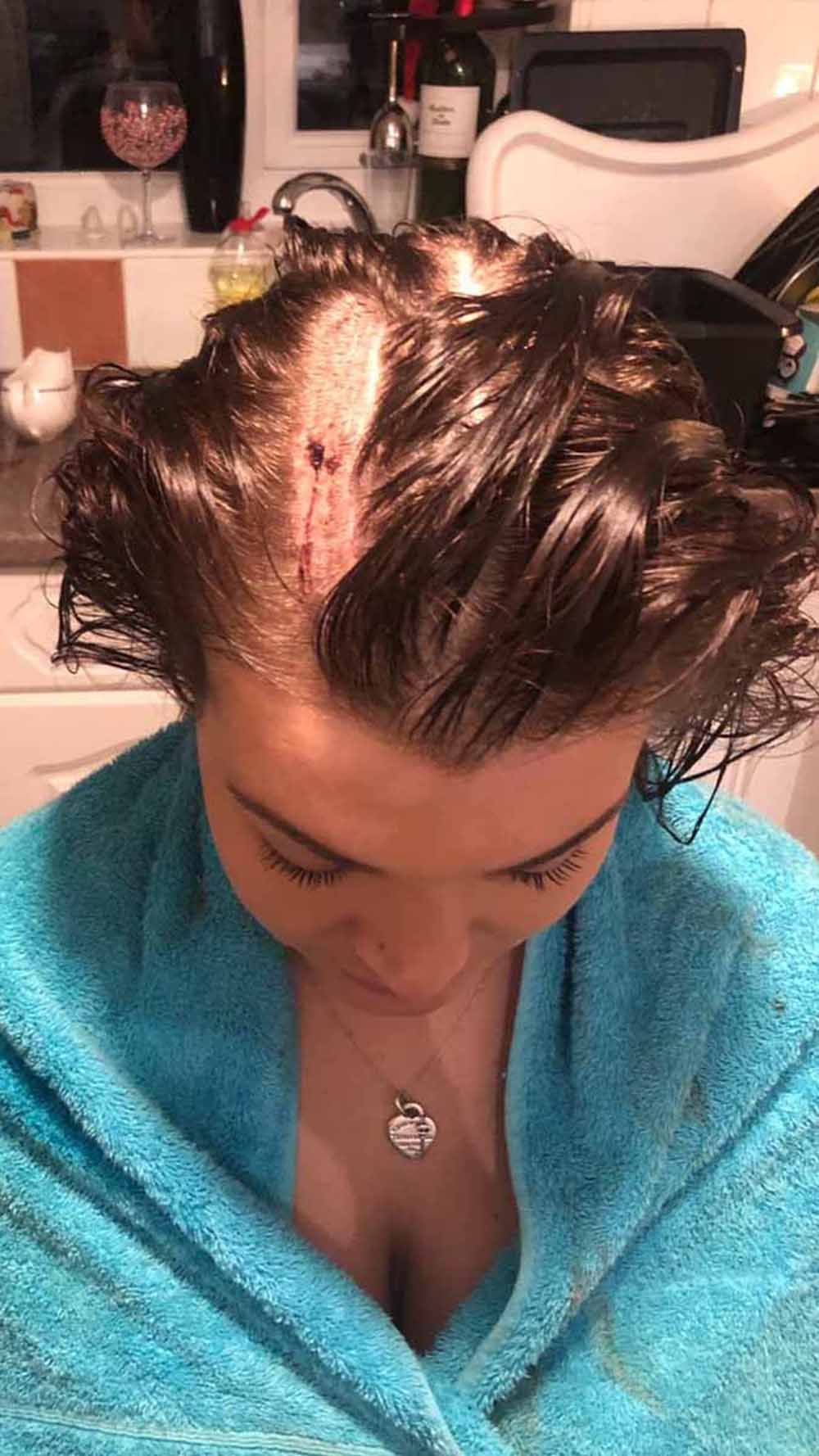 Amber after surgery (PA Real Life/Collect)
Amber knew something was very wrong soon after she sat in the optician's chair back on December 21.
She recalled: "Halfway through the examination, the optician suddenly went quiet and disappeared next door to speak to someone – I just assumed it was normal, at first.
"Then she called the hospital and told me I needed to get there as soon as possible, but I was under strict instruction not to drive."
Told she had serious signs of papilloedema, when the optic nerve swells as a result of extra fluid on the brain, Amber's dad, Richard Toon, 51, a caravan park director, collected her and drove her to nearby Burton Hospital right away.
After an initial examination, specialists sent Amber straight for a CT scan, where doctors discovered she had a cyst on the pineal gland – a gland which controls the sleep hormone, melatonin.
As a result of the cyst, she was told she also had hydrocephalus, a build-up of fluid on the brain, which was causing her blurred vision and dizziness.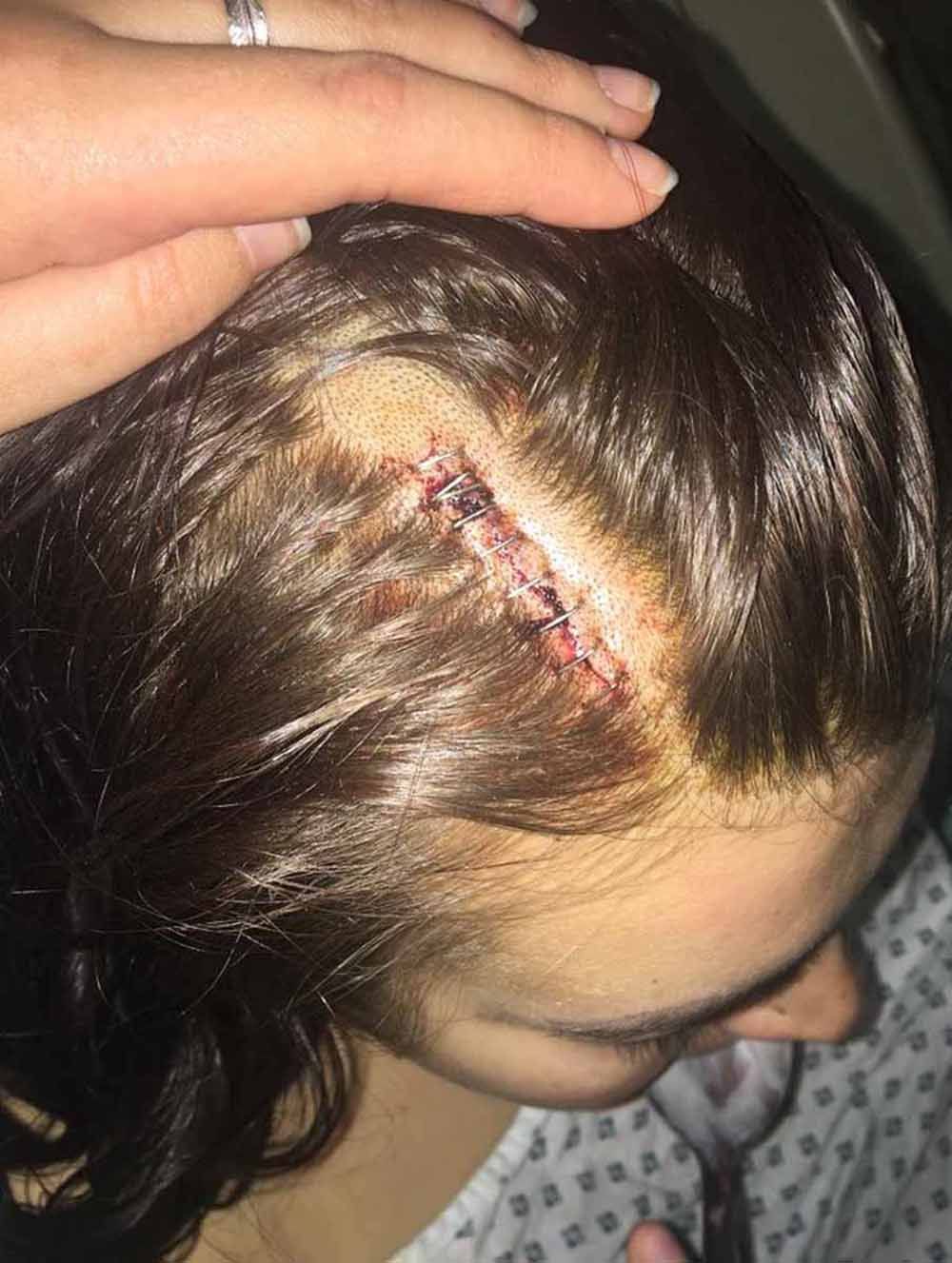 Amber's surgery scar (PA Real Life/Collect)
Advised to see a specialist immediately, she was blue lighted to Nottingham's Queen's Medical Center, where she arrived at 4am on December 22 and was given an immediate MRI scan.
"I didn't really know what was going on, as it all happened so quickly and everyone was using such alien words," she said. "But as soon as the doctors showed me a scan of my brain next to a normal one, I realized how bad it was – I could see my head was full of fluid.
"Doctors and midwives put their heads together to figure out the best course of action."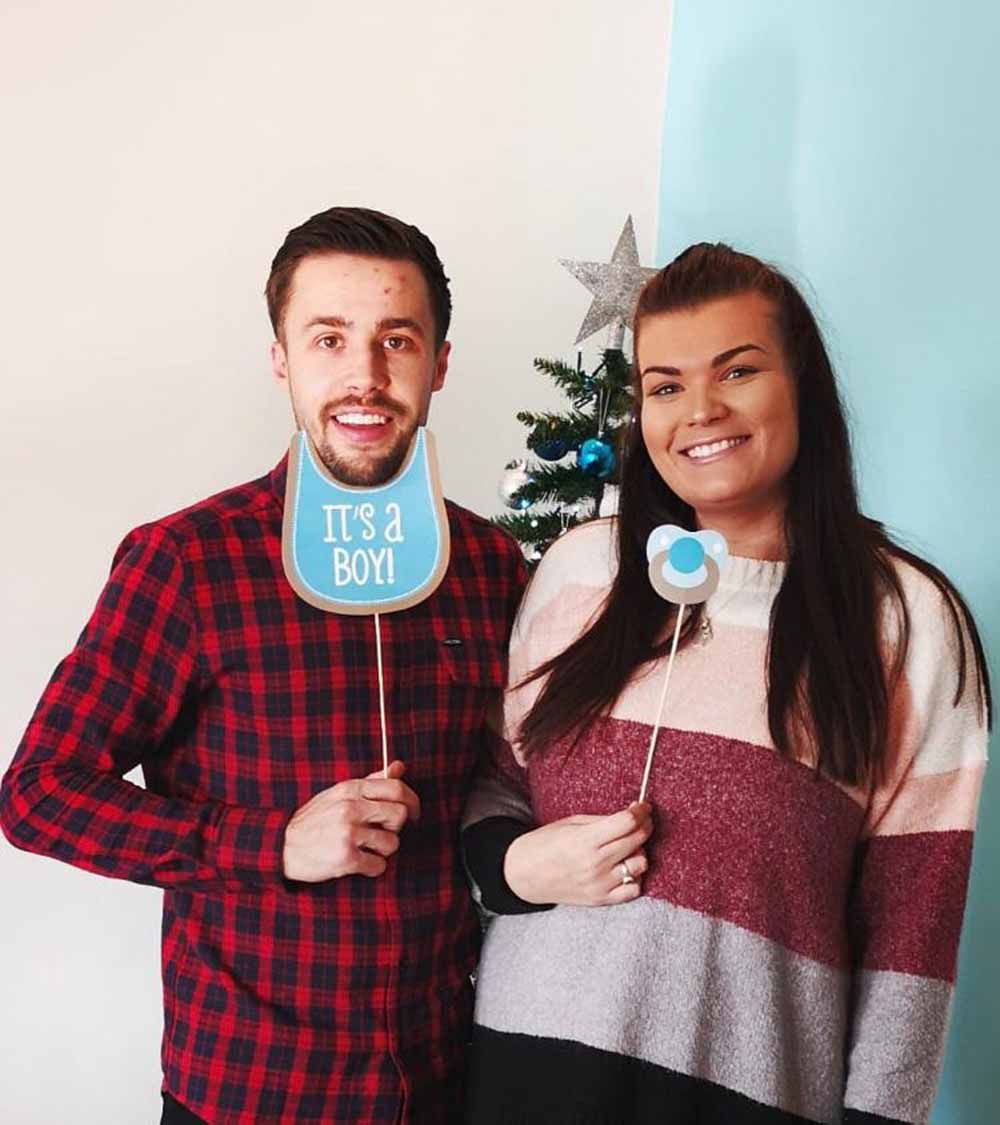 Amber and Mike (PA Real Life/Collect)
She added: "Obviously, their main priority was my welfare, especially given I was just 20 weeks pregnant, but all I could think about was what was going to be best for the baby."
While the standard procedure is to fit a shunt – a thin tube that allowed the fluid to drain away -Amber was warned by doctors that possible complications such as an infection or malfunction could have an adverse effect on her pregnancy.
Instead, she opted for the alternative endoscopic third ventriculostomy treatment, which was performed during a two hour procedure under general anesthetic on Christmas Eve.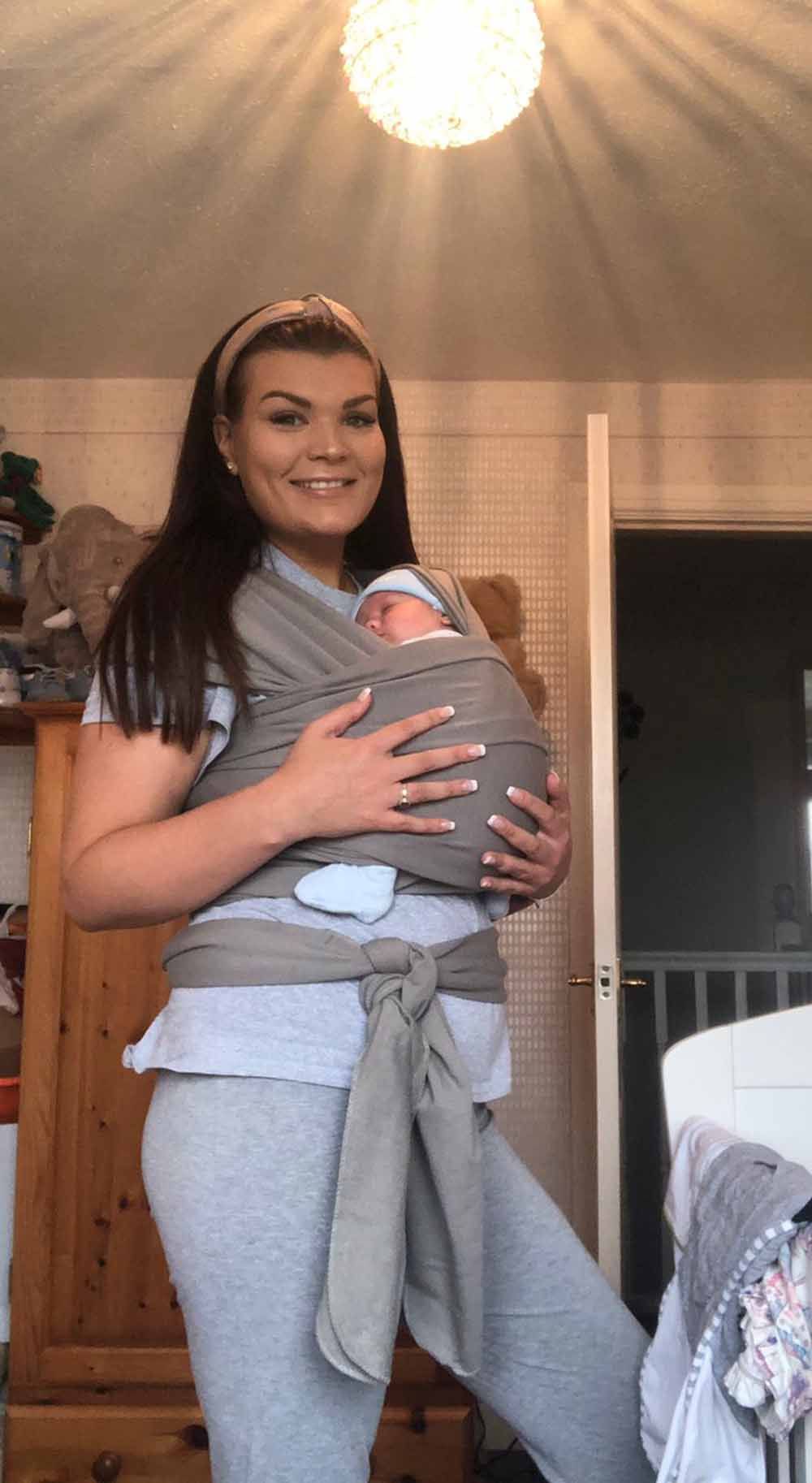 Amber and Freddie (PA Real Life/Collect)
"I was the first operation of the day and it was too early for visiting hours, so I had to FaceTime all my friends and family, " she recalled.
"It was definitely scary, not knowing if this would be the last time I'd see them, so I made sure to get all my festive wishes in before I was put under."
Two hours after surgery, Amber woke up surrounded by her nearest and dearest, to be told the procedure had been successful – but her main concern was whether it had harmed her baby.
"I woke up and my first thought was about the baby," she said. "For hours I fretted about whether he was okay and, because it was Christmas Eve, I couldn't have a scan straight away.
"Then in the afternoon I felt him kick and I burst into tears – along with the rest of the family."
Kept in for observations until New Year's Eve, the following day, her family wasted no time in throwing her a celebratory festive party – although, looking back at the photos, Amber now realizes just how poorly she had been.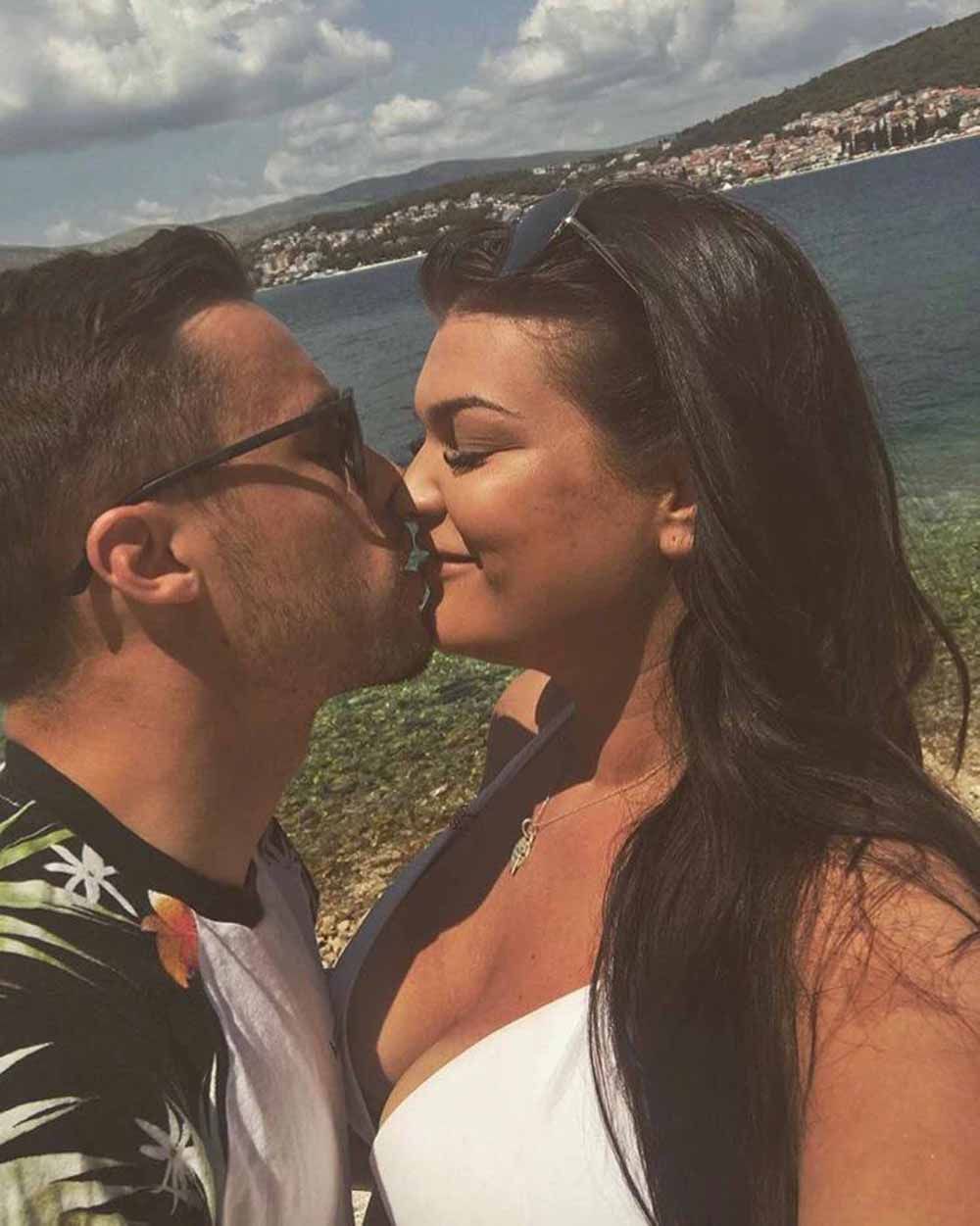 Mike and Amber (PA Real Life/Collect)
"I wasn't in a good way for a fair few weeks after the surgery and you can see it in my face, but I'm glad we did it," she said.
"I hadn't exactly had the Christmas I'd hoped for, as I spent a lot of it moping about waiting for the next lot of family to visit me in hospital.
"It was particularly hard not being with Alfie, as it was the first Christmas that he really understood what it was about, but I didn't want him seeing me in hospital. It wouldn't have been fair on him."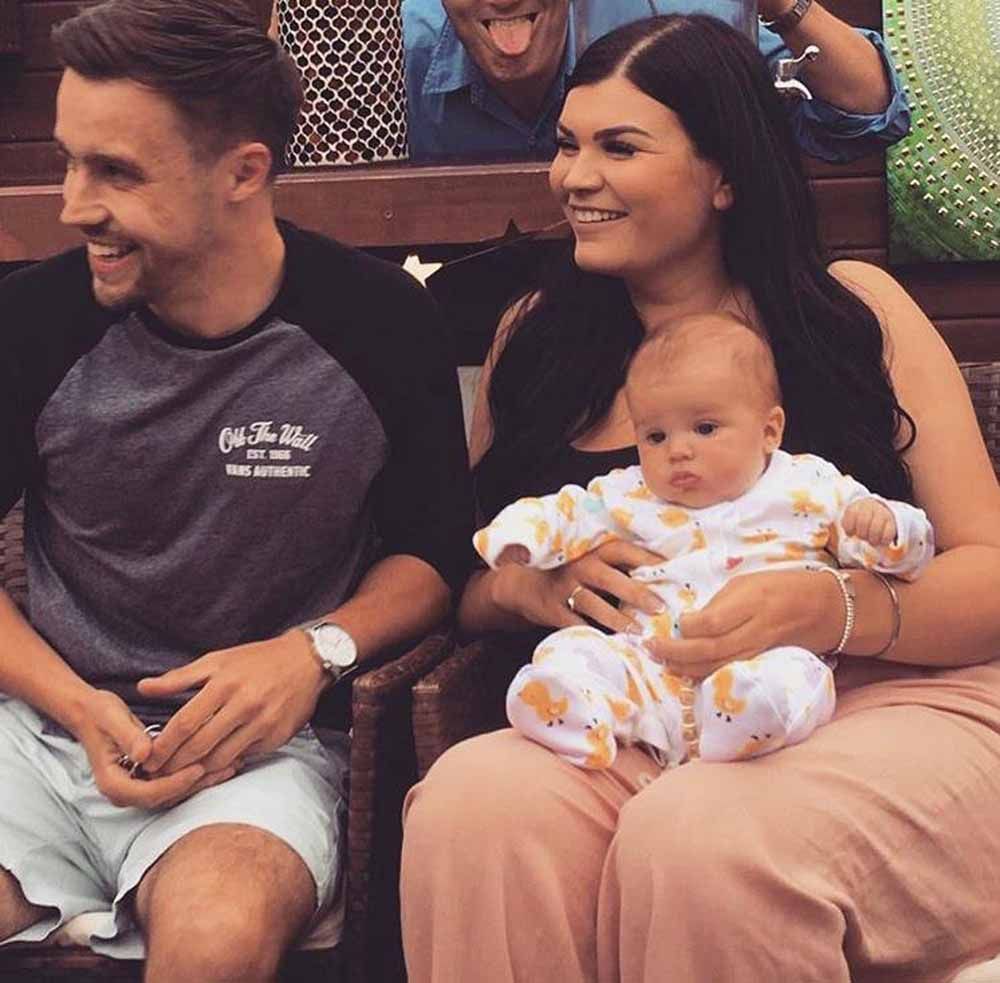 Mike, Freddie and Amber (PA Real Life/Collect)
After her ordeal, her pregnancy proceeded without any further dramas, but she was torn between having a C-section and a natural birth, the latter of which could cause undue pressure on her brain.
Not wanting to risk any further surgery, when her water broke on April 16, Amber gave birth naturally after a five-hour labor.
Now working with Specsavers to highlight the importance of getting your eyes tested at least once every two years, she continued: "I'm still recovering from everything I've been through and I've had wobbly moments."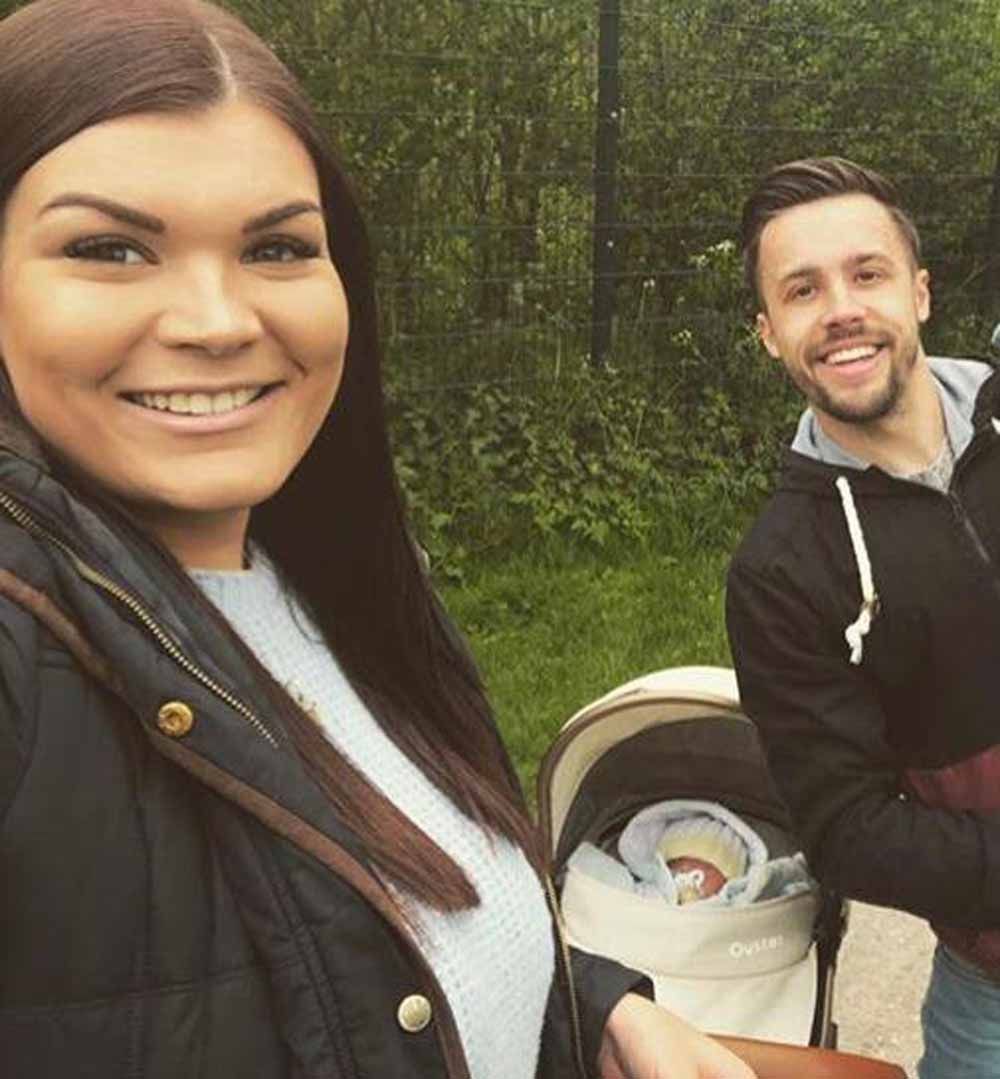 Amber, Freddie and Mike (PA Real Life/Collect)
She added: "Doctors say it could take two years before I properly heal and that I'll need six-monthly check-ups for the rest of my life, but if it wasn't for that eye test, who knows how things could have played out?"
Discussing her plans for a smooth Christmas this year, Amber explained that she plans to enjoy a big family get-together at her house.
She concluded: "Although I won't be doing any of the cooking, last Christmas was stressful enough without the entire family ending up in hospital with food poisoning."
This National Eye Health Week Specsavers is urging everyone to make regular eye tests a priority. For more information visit www.specsavers.co.uk