Pedro Pascal, the internet's newest boyfriend/daddy figure, boosted his popularity recently when he posted a series of LGBTQ+ and transgender pride flags on Instagram. Pascal, whose sister is transgender, has been an outspoken advocate for the LGBTQ+ community for years.
The post featured pride flags and the caption "The answer my friend is blowin' in the wind," in reference to the Bob Dylan song, 'The Times They Are A-Changin'.' And it was a little more pointed than usual for Pascal.
The post garnered the usual reactions, and those are coming, but first let's enjoy these replies from Pascal's co-star in the hit TV series The Last of Us, Bella Ramsey. Earlier this year, Ramsey told the New York Times that they use any pronoun and identify as nonbinary.

@bellaramsey/Instagram

@bellaramsey/Instagram
Another former co-star from Wonder Woman, Gal Gadot, also chimed in.

@gal_gadot/Instagram
And another—this time Sophie Turner from his time on Game of Thrones.

@sophiet/Instagram
Some members of the LGBTQ+ community, or people with LGBTQ+ loved ones, thanked Pascal for his outspoken support.


@karalstang/Instagram

@itslitgayshitt/Instagram

@taylrsprks/Instagram
Taking the 'Mandalorian' theme a littler further, many people made the following comment, quoting from the show:

@renatapcerqueira/Instagram
And in response to the small but vocal minority who expressed disappointment in Pascal's post, other fans quickly came to his defense.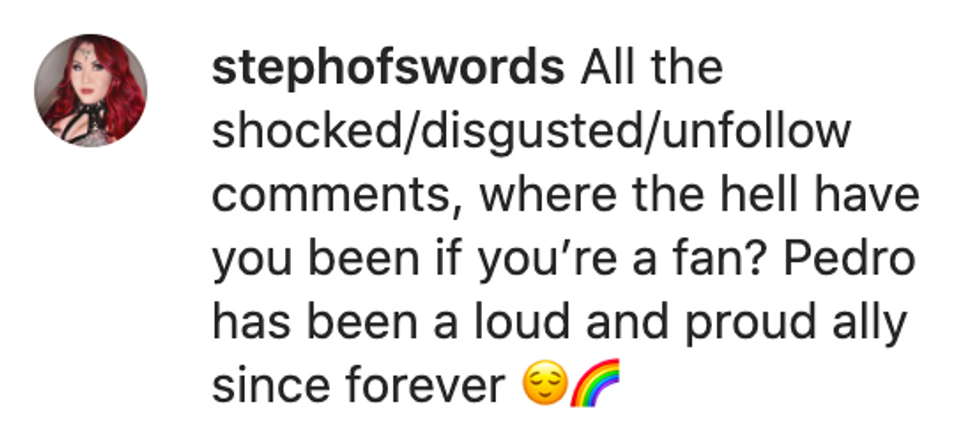 @stephofswords/Instagram
Finally, many people just swung by to say how much they appreciate Pascal's presence.

@youjustgotwonderwalled/Instagram
Pascal's support of the community has been consistent.
Perhaps he's gearing up for Pride Month?