Kiss rocker Paul Stanley spewed his thoughts on gender-affirming care for minors in a transphobic Twitter rant yesterday, attacking parents for what he called a "game" and "dangerous fad."
But people on social media immediately called him out.
Stanley shared his message on both Twitter and Instagram in a lengthy post he titled "My Thoughts On What I'm Seeing."
In his post, the singer and guitarist blasted parents for participating in the "sad and dangerous fad" and even compared the gender identity "game" to "playing dress up."
He began:
"There is a big difference between teaching acceptance and normalizing and even encouraging participation in a lifestyle that confuses young children into questioning their sexual identification as though some sort of a game and then parents in some cases allow it."
Stanley stated when adolescents reach adulthood, reassignment might be a necessary choice.
But he claimed parents are confusing childhood play time with gender identity.
"There ARE individuals who as adults may decide reassignment is their needed choice but turning this into a game or parents normalizing it as some sort of natural alternative or believing that because a little boy likes to play dress up in his sister's clothes or a girl in her brother's, we should lead them steps further down a path that's far from the innocence of what they are doing."
He finished:
"With many children who have no real sense of sexuality or sexual experiences caught up in the 'fun' of using pronouns and saying what they identify as, some adults mistakenly confuse teaching acceptance with normalizing and encouraging a situation that has been a struggle for those truly affected and have turned it into a sad and dangerous fad."
Needless to say, the backlash came swiftly.
Many slammed the rocker for referring to gender-affirming care a "game."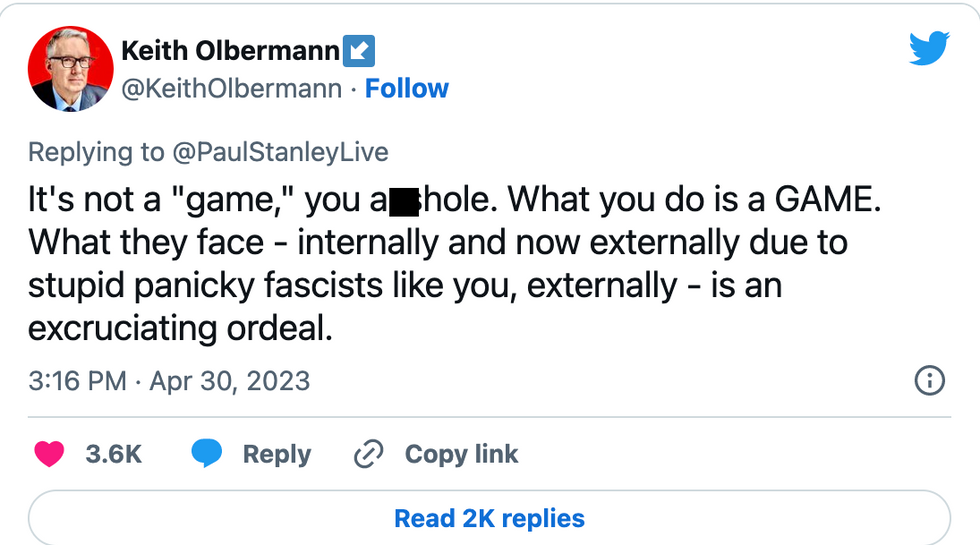 @KeithOlbermann/Twitter
Of course, several took the opportunity to point out the hypocrisy in Stanley's rant.
On his takes of both "dress up" and adolescence.
Neither Stanley nor his team have responded to requests for comment.
But we hope he educates himself a bit more on gender-affirming healthcare before spreading any further misinformation and false claims.