Offended consumers are now calling for an outright boycott of all Kraft Heinz products in response to a risqué commercial promoting a new line of frozen foods.
---
Since 1973 "big" commercials have been as much apart of the big game as terrible half-time shows, and for advertisers the stakes can be just as high as the two teams on the field.
As one of the most watched events on television a successful commercial can make or break a brand.
While the competition for the "best" commercial is fierce sometimes having the most controversial ad can be just as effective in getting your products name out there. As they say there is no such thing as bad publicity.
If customers have their way though food giant Kraft Heinz may start to regret all the bad publicity surrounding its latest commercial.
To promote a new line of frozen meals called Devour Foods the company aired a racy "food porn" commercial that many viewers found extremely offensive.
But they didn't stop there.
DEVOUR Food Porn | Big Game 2019 :30 www.youtube.com
Devour also produced an "uncensored" version of the spot that was deemed "too hot for TV."
When the ad was banned by CBS, Devour released a statement on Twitter defending it.
Our official statement on our big game commercial. #FreeTheFoodPorn https://t.co/pZRWm6T6hX

— DEVOUR Foods (@DEVOUR Foods)1549219019.0
DEVOUR Food Porn | Big Game 2019 Uncensored www.youtube.com
They even ran ads on an actual pornography website.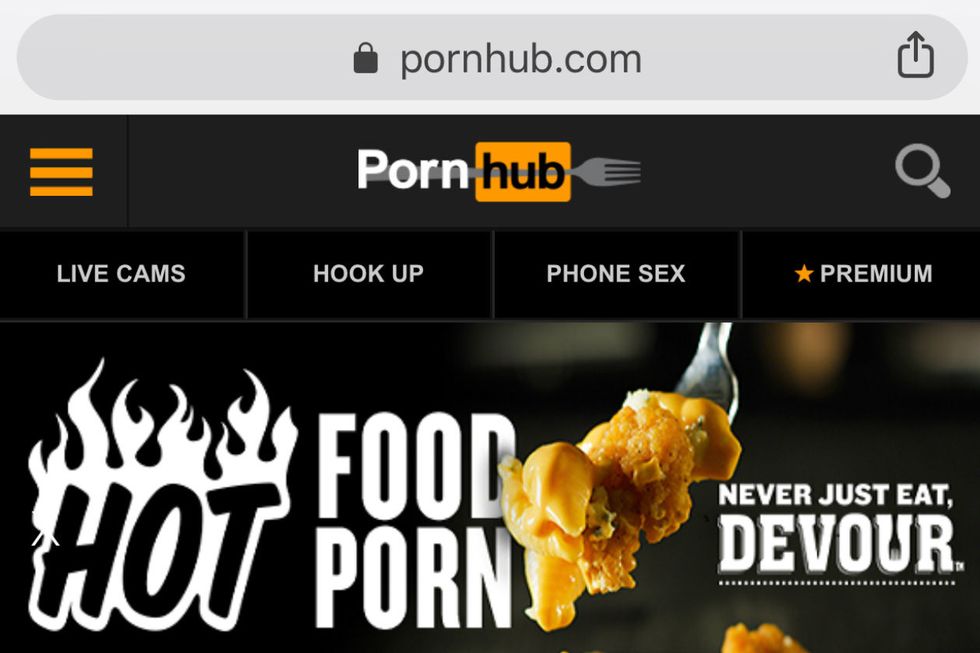 Screengrab via The Wall Street Journal/Pornhub
But an organization called Culture Reframed doesn't think porn addiction is a laughing matter.
The group which "builds resilience and resistance to hypersexualized media and porn" calls porn the "public health crisis of the digital age."
"Porn addiction is widely widely shown to destroy the individual, the partners, and the children of addicts," said Dr. Gail Dines, president and CEO of Culture Reframed in a statement released in response to the commercial.
"To promote porn use and make light of porn addiction is the height of irresponsibility and we call on Kraft Heinz to provide resources to groups preventing porn addiction."
The group is now calling for a boycott of all Kraft Heinz products, and they might not be the only ones.
@prof_gulati #notbuyingit Was not a fan of how the Devour commercial made porn adddiction for men a laughing matter.

— sarah Hasabumutima (@sarah Hasabumutima)1549516381.0
Hey, Devour...nothing funny about addiction! Lamest commercial by far!

— Bob Levine (@Bob Levine)1549245021.0
so the "banned" devour foods commercial is actually playing and not banned ... not cool

— Pat McEvoy (@Pat McEvoy)1549244988.0
And those who weren't offended were just grossed out.

Grossed out by that Devour commercial. Glad my son is too young for me to have to explain it. #throwawayculture

— EMC (@EMC)1549245248.0
Devour: food porn, amirite?! #plannerbowl https://t.co/GVEKrvsoPP

— Seth Gray (@Seth Gray)1549245120.0
@hwsport May be the best commercial all night... then they they show that stupid Devour ad 😖

— Heisenberg (@Heisenberg)1549246713.0
"He turned into a three-minute man"? Seriously, Devour? #SuperBowlAds #

— Robert A George (@Robert A George)1549245053.0
But Culture Reframed may be fighting a losing battle to boycott the company since many found the commercial hilarious.
That devour commercial just won the Super Bowl!

— MMegan (@MMegan)1549244991.0
"Amateur Food Videos" Devour just won best commercial in my wicked opinion.

— Jake Veezy (@Jake Veezy)1549245297.0
#devour frozen food might be the best super commercial 😂😂

— Jay-z son (@Jay-z son)1549245381.0
That devour commercial had me in tears lol

— ㅤㅤㅤㅤㅤㅤ☆ (@ㅤㅤㅤㅤㅤㅤ☆)1549245378.0
Good or bad publicity, Devour's "food porn" commercial certainly got people talking and probably earned them a bunch of new customers.
The type of new customers they are getting though might be a whole other problem.
@brvsgirl84 Basically what I took from that is, if I'm an out of shape loser who watches a bunch of porn, Devour is… https://t.co/FBi9l0Yr6N

— Jeff (@Jeff)1549245322.0