With fall officially here, some people are shrugging on their favorite cozy clothes and really settling into their element—fall leaves, flannel, Pumpkin Spice everything, and of course, spooky movies and decorations.
2020 was a bust for a lot of people's Halloween celebrations, between social distancing and a lot of businesses being closed down. With having to stay at home and not being able to trick-or-treat, why would anyone want to bother with decorating?
But that's all in the past for some Halloween Type A's who have been going full-swing in the holiday decoration sections at stores like Target, Wal-Mart and Home Depot.
A person can easily redecorate the whole inside and outside of their home with a cozy or spooky fall theme. Especially if they managed to snag the 12-foot grinning skeleton currently available again at Home Depot.
The product sold out almost immediately since its introduction.
But one gentleman in Olmsted Falls, Ohio, Alan Perkins, decided a 12-foot tall skeleton was not going to be enough this year.
Why tower over your family and potential guests when you could tower over your entire house and neighborhood instead?
You can see video footage here:
If we were to walk by the Perkins' household right now, we would see much more than a thoroughly decorated yard. Perkins' house appears to be abandoned and broken apart with boarded-up windows, cobwebs, and life-sized spiders.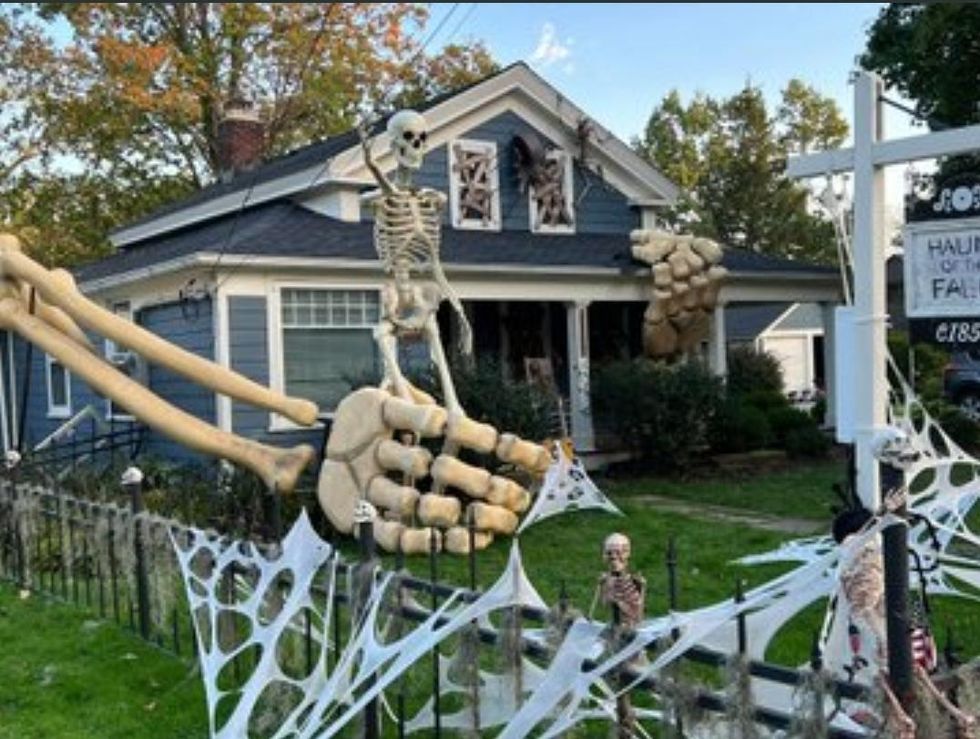 @rob_sheridan/Twitter
There are small skeletons in various places on and around the house, seeming to emerge from it, not to mention one of the 12-foot grinning guys from Home Depot.
But leading the skeleton crew is a house-sized skeleton, seeming to break out of the home. One hand is reaching out into the yard, grabbing that 12-footer, and the other hand is grabbing onto the roof, trying to pry the framing away.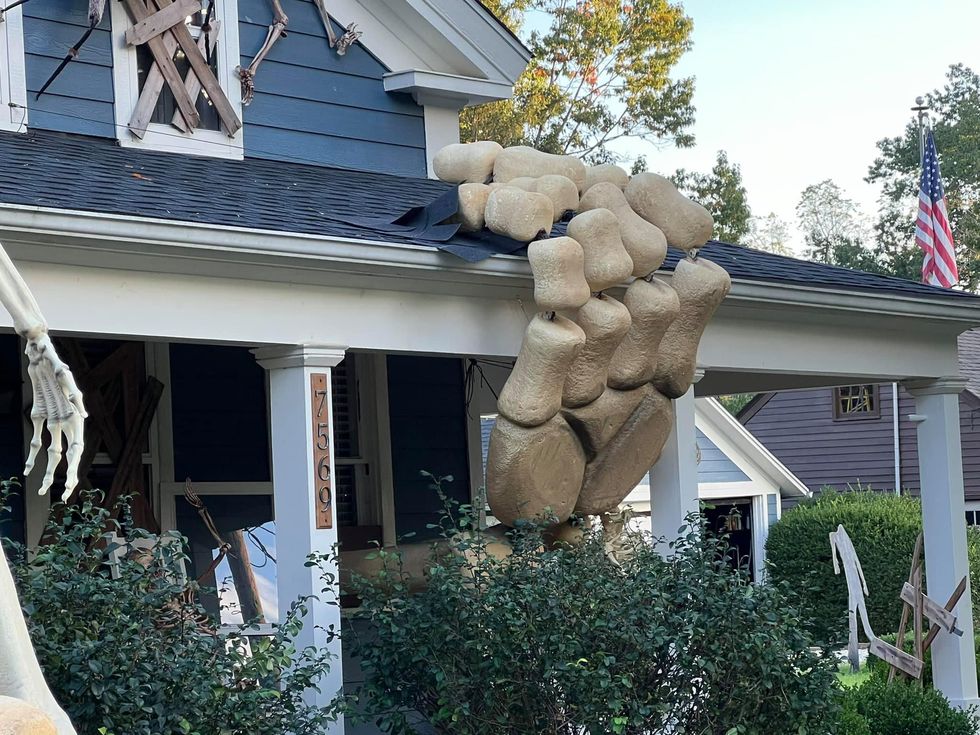 @rob_sheridan/Twitter
Perkins explained in a blog post he shared on Instructables Living that creating this one-of-a-kind creature wasn't an overnight decision, but rather a project that had been in the works for the better part of three years.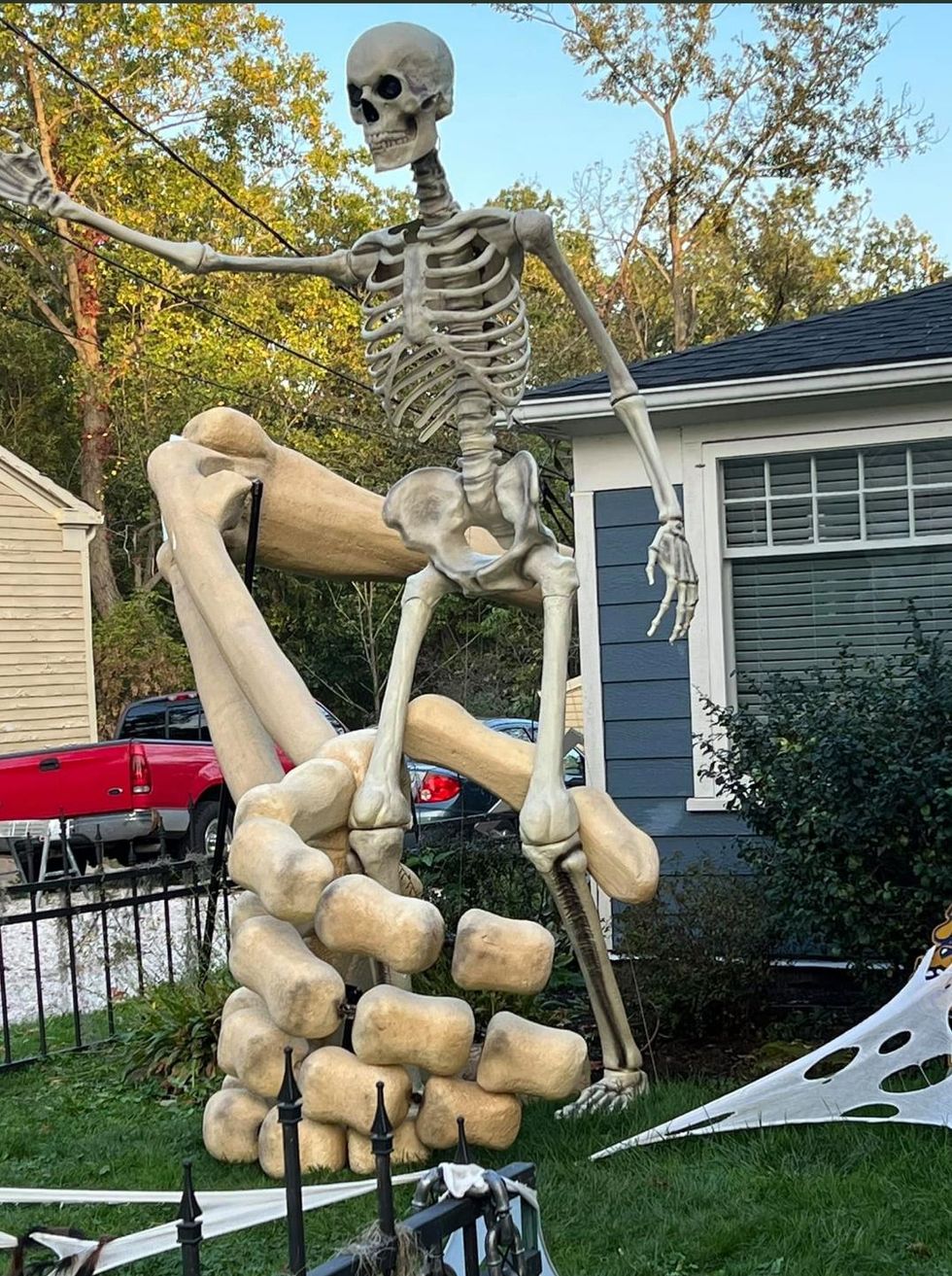 @rob_sheridan/Twitter
To create such a large attraction, Perkins had to spend time collecting all the supplies he needed. Getting enough PVC piping, furniture-grade PVC connectors, giant foam blocks, glue and paint was not going to happen in a one-day shopping trip.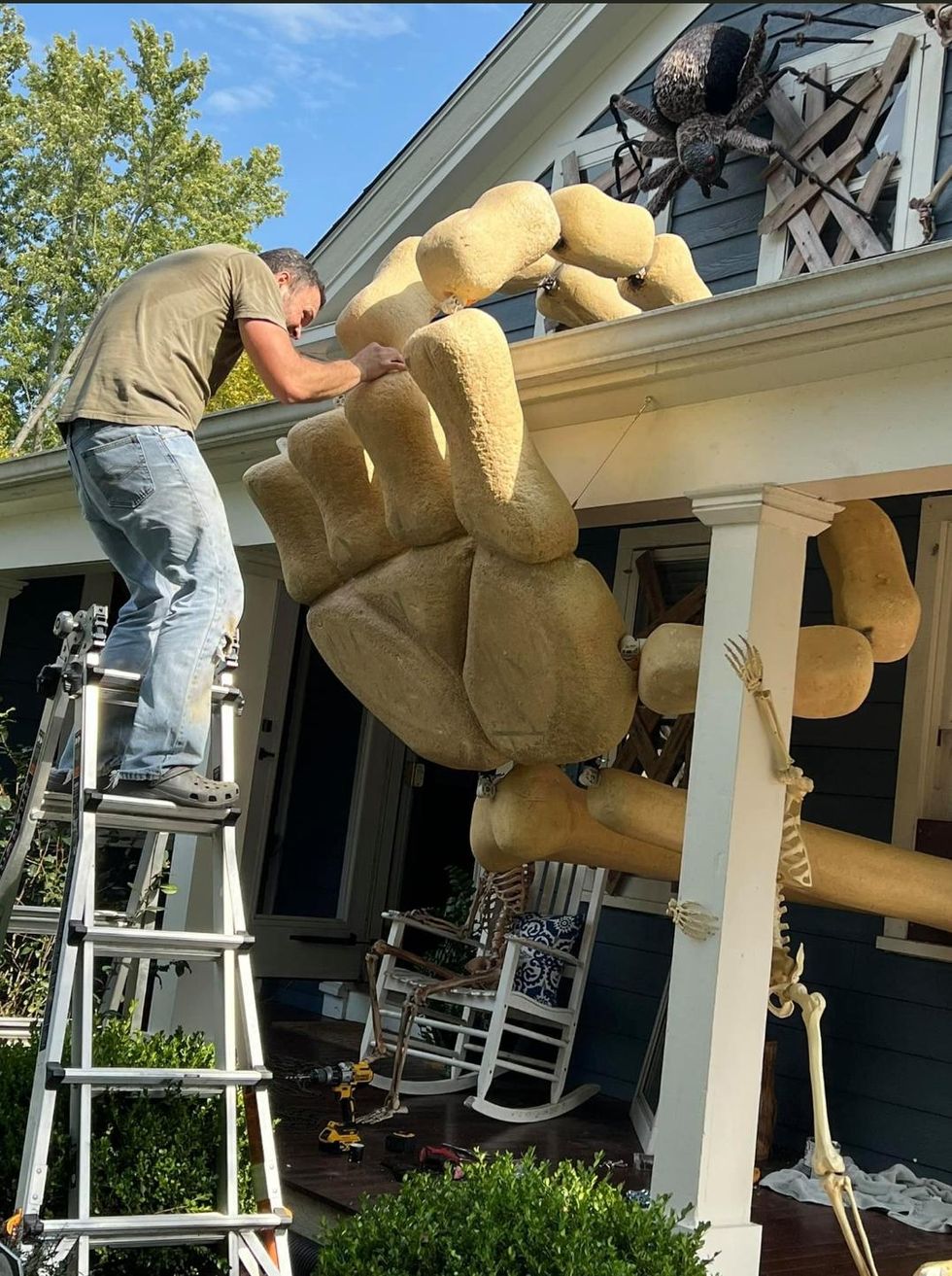 @rob_sheridan/Twitter
Perkins managed to purchase large sums of supplies from Facebook Marketplace as well as a construction company liquidating all of their supplies.
He started the project with 48 x 96 x 8 feet sheets of foam.
He estimated that one finger would be about 8 inches thick, which would make the hand about 8 feet in size.
The rest is glorious history.
Perkins' work paid off and Twitter is spookily thankful for the new supersized neighbor in their neighborhood.
Some were incredibly impressed with the details.
Others admired Perkins' commitment to the project.
A few entertained ideas of what would come next.
Perkins told News 5 Cleveland:
"I like to create things that are whimsical and family friendly for Halloween, but somehow make somebody scratch their head and say, 'How did you pull it off?'"
"It allows me to sort of have a creative outlet and do something because I can."
Sinister or whimsical, the internet was not ready for the skeleton that would put the already-sold-out 12-foot skeleton in his place, let alone a skeleton that when standing fully erect would probably be able to look out over his whole neighborhood.
We'll just have to see what this leads to.
One neighborhood's Michael Myers stuck around for the rest of the holidays.
Maybe this skeleton will, too.