On Tuesday, New Zealand Green Party MP Chlöe Swarbrick was recognized by the Speaker and began to speak about climate change.
The 25 year-old member of Parliament stated she would be 56 years old in 2050. That year has been set as a goalpost for countries to achieve climate neutrality.
---
Swarbrick attempted to point out the impact of 2050 on members of her generation whilst decisions were being made largely by individuals who were unlikely to be impacted. A member of the National Party took exception to the reality he'd probably be dead by 2050 and heckled MP Swarbrick, saying, "That's impossible."
Whether it was her age, her math skills, his own mortality or something else he took exception to is unclear.
While the National Party MP's comment couldn't be heard on the video of her speech, Chlöe Swarbrick's response could.
She replied:
"OK Boomer."
Referring to baby boomers—those born between 1946 and 1964—the phrase has become a standard response to "call out or dismiss out-of-touch or close-minded opinions associated with the baby boomer generation."
Swarbrick shared video of the speech on her Facebook page—which is odd because didn't millennials get blamed for killing Facebook?
Anyway, not everyone caught what Swarbrick said in response to her heckler.
The official New Zealand Parliament video service captioned her response:
"OK Berma."
Green MP @_chloeswarbrick was heckled by a National MP during her speech on the Zero Carbon Bill. She fired back w… https://t.co/oDVGLnyLyw

— Jason Walls (@Jason Walls) 1572929599.0
Once pointed out, they issued a mea culpa and corrected the error.
We apologise for the error, and have updated the captions accordingly. Clearly we need to start doing all-office me… https://t.co/6GJBf8k1UF

— NZ Parliament (@NZ Parliament) 1572987458.0
It didn't take long for this to happen...
@Jasonwalls92 @_chloeswarbrick https://t.co/uM6EuIpy2X

— 🇳🇿 Liz, usually horizontal 😴 (@🇳🇿 Liz, usually horizontal 😴) 1572948042.0
Some other MPs felt left out.
@Jasonwalls92 @_chloeswarbrick 😂😂 Feeling aggrieved!! As a Gen X'er we are so sandwiched between the boomers and millennials

— Todd Muller MP (@Todd Muller MP) 1572982785.0
But Gen Xers assured them anyone can use "OK Boomer" when instructed to get off their proverbial lawn.
@KeanGerard @Jasonwalls92 @_chloeswarbrick Older gen x here, and I feel like this too.

— Flubberdonkey (@Flubberdonkey) 1573068934.0
As for Swarbrick, according to her Facebook page, the remark drew some ire.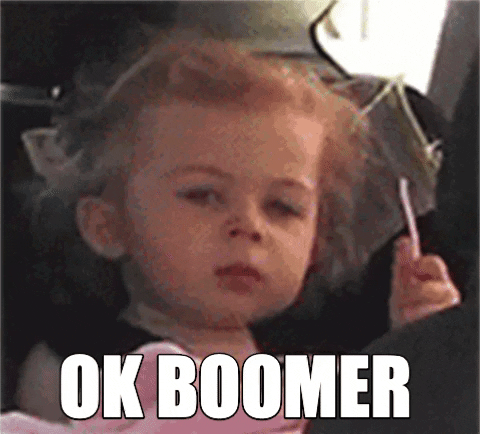 Giphy
She responded by including some of the comments and criticisms Baby Boomers routinely level at millennials:

ruining things
pulling up bootstraps
avocado toast
Swarbrick's point on who would be dealing with climate change might have been lost on the National Party MP, but others got it.
@KiffinEileen @Economissive @Jasonwalls92 @_chloeswarbrick I'd be 95 and there's some chance I would make it to 205… https://t.co/yMCL0fIcZg

— Sue Boyde - Save Us: Act Now Climate XR ✡️ (@Sue Boyde - Save Us: Act Now Climate XR ✡️) 1572939983.0
Some were simply amused by what dominated New Zealand political news online.
@Jasonwalls92 @_chloeswarbrick Logs into Twitter... 😂 #nzpol so good rn. https://t.co/5vw1ilDVMp

— Adam (@Adam) 1573001837.0
And Swarbrick's video costar drew some attention as well.

@Jasonwalls92 @_chloeswarbrick That speech has so much. Swarbrick: "In the year 2050, I will be 56 years old." Sha… https://t.co/hY0MKk5AWL

— Economissive (@Economissive) 1572930325.0
@Rtmiss @Jasonwalls92 @_chloeswarbrick @jamespeshaw Having to hide the grin I think. I thought only teenagers had q… https://t.co/GSJizItwHM

— Michelle Strahan (@Michelle Strahan) 1572943533.0
@Jasonwalls92 @shanebazzi @_chloeswarbrick https://t.co/Kp92j3sEHW

— n 💌 (@n 💌) 1573035445.0
As for the legislation, it passed.

Congratulations New Zealand—and MP Swarbrick—for standing up for the future.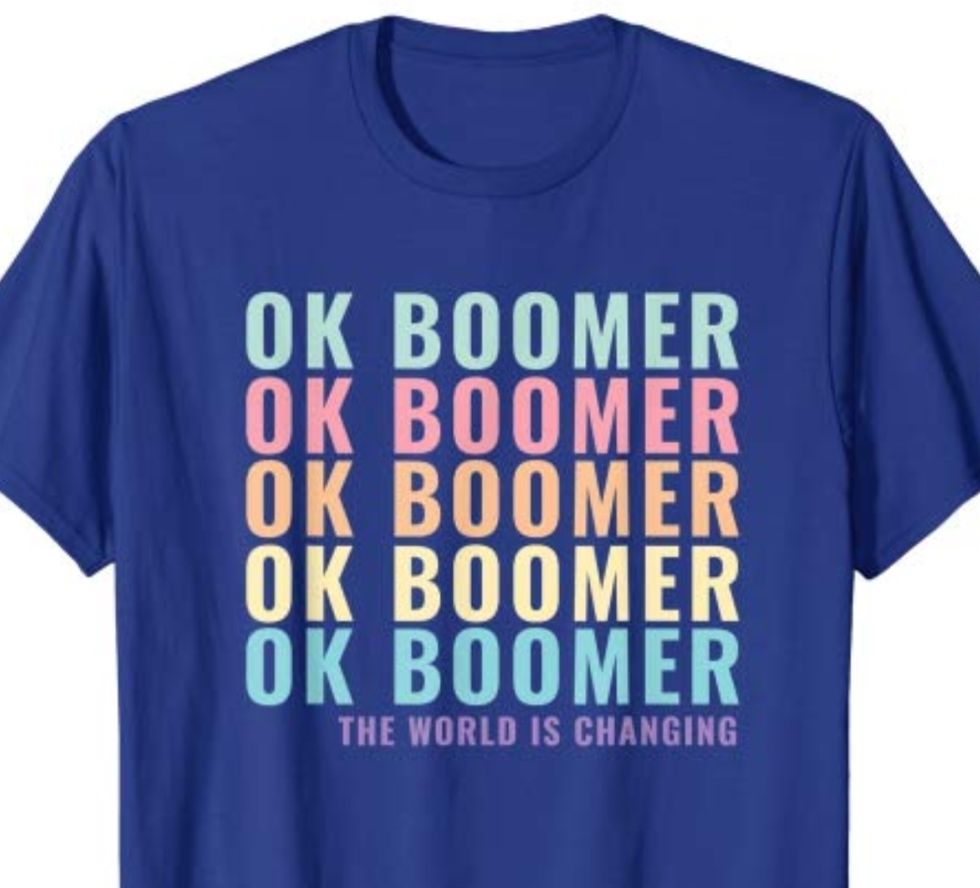 Amazon