June officially kicked off Pride month in the United States and several other countries. It promotes visibility, awareness and equality for LGBTQ+ individuals.
Unfortunately, the celebration is often frowned upon by those who dedicate their lives to condemning and harassing marginalized groups on social media.
Luckily, there are allies like Georgie Henley who have LGBTQ+ people's backs and shut down hateful trolls.
Henley—who played Lucy Pevensie throughout the Chronicles of Narnia series on the big screen—has not only grown up since the movies, but she has fiercely defended the LGBTQ+ community.

On Wednesday, the 25-year-old actress wished everyone "happy pride" and followed her tweet with a generous helping of exclamation points to mark her enthusiasm.

She accompanied the tweet with a screenshot of a homophobic rant written by a Twitter troll who was extremely disappointed upon discovering the actress of a popular movie, with strong religious undertones, was an ally of the gay community.

The unnamed hater wrote:
"Homosexuality is one of the decays in the human species. Made more popular & accepted since the 1960's."
"Normality & innocence has taken a back seat in societies self made journey to destruction."
"I can not believe that the Narnia actress has stooped so low."
Henley proudly owned her stance and responded with:
"AND I'LL STOOP LOWER!!!!!"
She followed her declaration by adding a trio of angel emojis to stick the landing.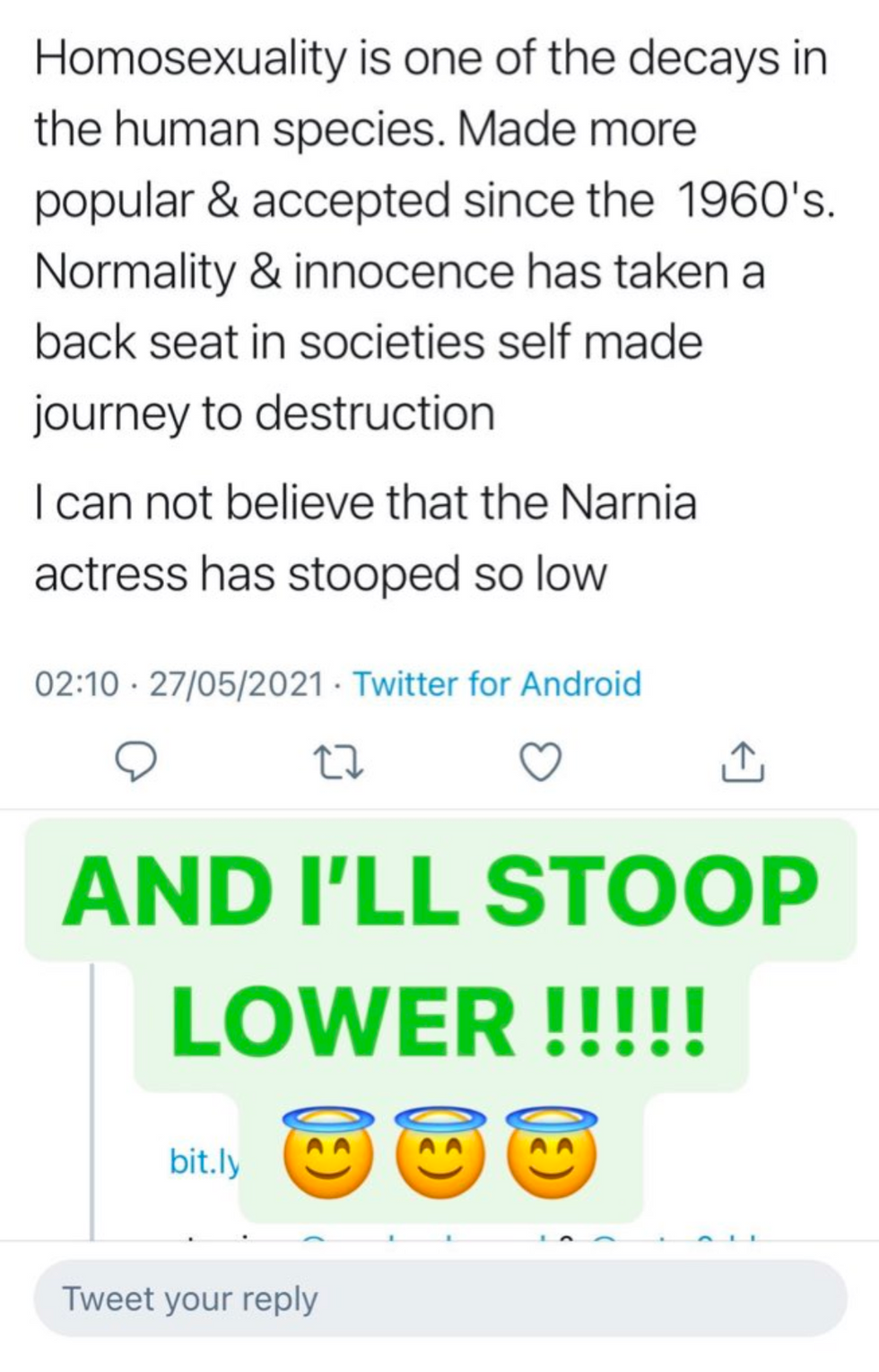 @geohenleyreal/Twitter
Twitter praised her for her fearlessness.
The community expressed deep gratitude for their loyal Queen.

And with that, the troll was vanquished, peace was restored and the festivities celebrating all love and gender identities resumed in the kingdom of Twitter-land.
Happy Pride and long live the Queen!