Former Republican President Donald Trump lashed out at billionaire Elon Musk after Musk's revelation that he voted for Democratic President Joe Biden in the 2020 election.
The information angered Trump because, according to him, Musk had previously said he'd voted for him.
In an interview with Fox News personality Tucker Carlson that aired on Monday, Musk confirmed that he had, in fact, voted for Biden. However, he also clarified that he was not necessarily a fan of the current President.
Noting that he'd prefer "just a normal person as president, a normal person with common sense and whose values are smack in the middle of the country," said:
"I didn't vote for Donald Trump."
"I actually voted for Biden. I'm not saying I'm a huge fan of Biden, since that would probably be inaccurate. But, you know, we have difficult choices to make in these presidential elections."
You can hear what Musk said in the video below.
Trump, on the other hand, was not convinced by Musk's admission.
He took to his social media platform, Truth Social, to declare that he did not believe Musk voted for Biden, and he accused Musk of "trying to make friends" with the Biden administration to secure government subsidies and permits.
Trump said:
"I don't believe Elon Musk voted for Biden, not for a minute!"
"He told me that he voted for me, but who knows about that, and who cares? Elon is just trying to make friends with the absolutely horrible Biden Administration because of all the government subsidies he gets, and all the permits he needs."
You can see Trump's post below.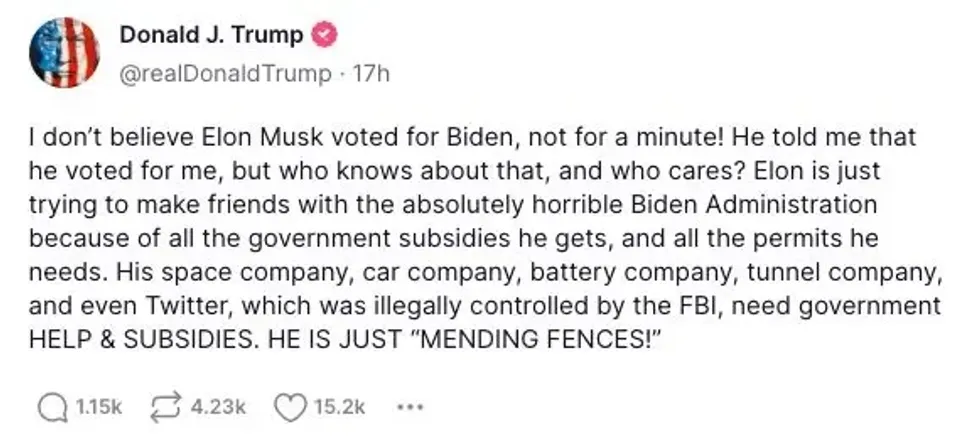 @realDonaldTrump/Truth Social
Musk's revelation and Trump's subsequent attack exposed the both of them to criticism.
Though Musk has officially reinstated Trump to Twitter, Trump has opted not to join the platform, preferring to devote his time to Truth Social, a conservative playground and Twitter clone.

And while Musk has publicly defended Trump on many occasions, Trump wasn't particularly fond of him last summer, referring to Musk as a "bullsh*t artist" shortly after Musk announced what proved to be a futile attempt to abandon his deal to purchase Twitter for $44 billion.