On February 23, an unarmed Black jogger in Georgia was fatally shot by two White men who claimed they mistook him for a burglar.
They chased him down in their vehicle after grabbing several firearms and killed him in broad daylight.
---
Atlantic Judicial Circuit District Attorney Tom Durden hopes to present the death of 25-year-old Ahmaud Arbery to a grand jury to consider criminal charges.
I can't express what I'm feeling as I watch the killing of Ahmaud Arbery a short drive from my city. As a cop I jus… https://t.co/pEJ3WBP0DN

— Patrick Skinner (@Patrick Skinner) 1588722676.0
The two-month-old video footage of the alleged shooting of Arbery surfaced on social media after it was posted by Brunswick radio station on Tuesday.
The footage is expected to be introduced to the Glynn County jury.
Attorney Tom Durden wrote in a statement:
"I am of the opinion that the case should be presented to the grand jury of Glynn County for consideration of criminal charges against those involved in the death of Mr. Arbery."
However, due to the pandemic, Georgia courts are prohibited from enlisting a grand or trial jury through at least June 12.
He added:
"I have no control over the suspensions due to the pandemic, however, I do intend to present the case to the next available grand jury in Glynn County."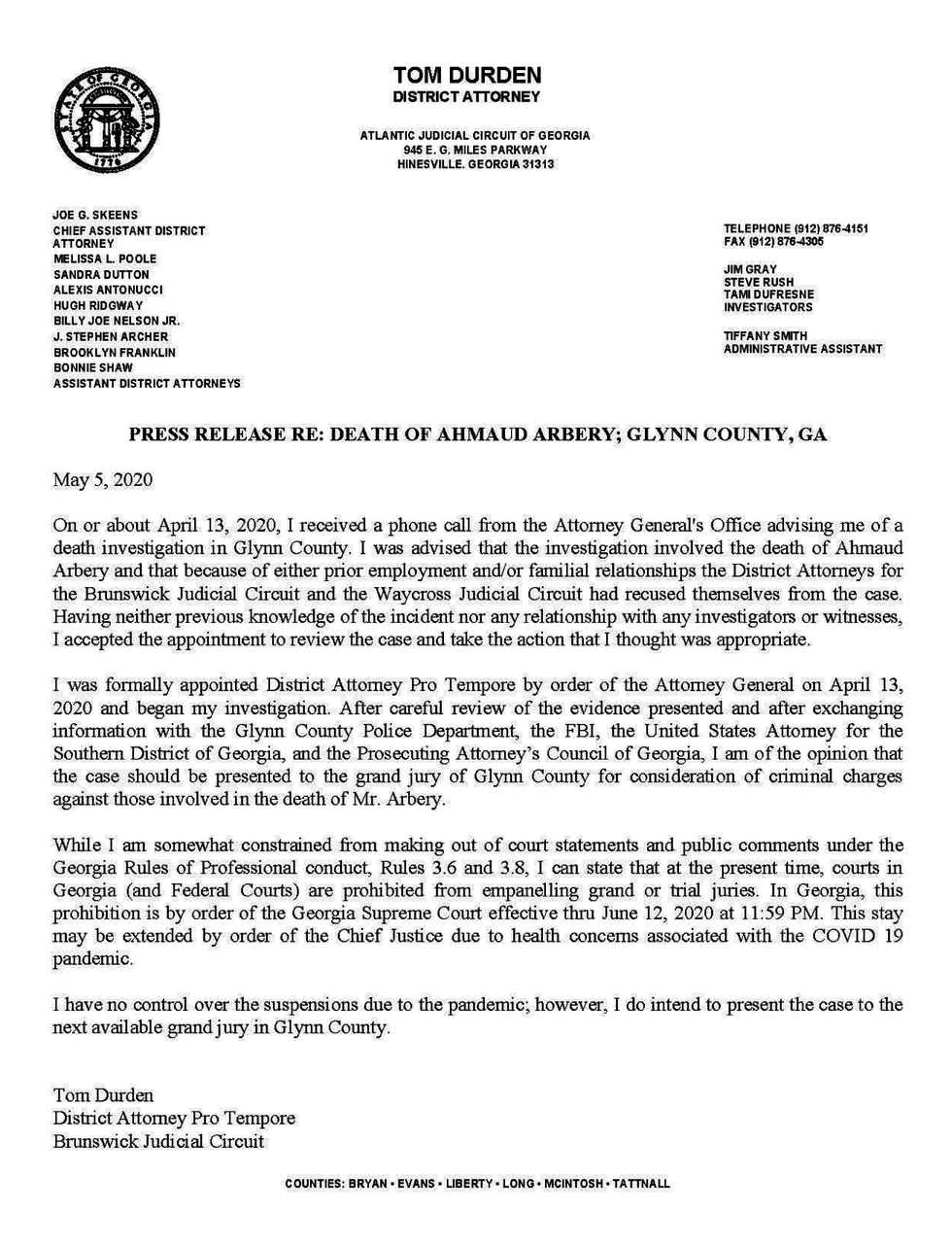 Jackie L. Johnson, District Attorney - Brunswick Judicial Circuit/Facebook
Police have identified Gregory McMichael, 64, and his son, Travis McMichael, 34, as two of the men who chased and gunned down the victim.

Gregory McMichael had been an investigator for Glynn County District Attorney Jackie Johnson, who had recused herself from the case "because of either prior employment and/or familial relationships."

Arbery had been jogging on a Sunday afternoon through the Satilla Shores neighborhood in the coastal town of Brunswick – located between Savannah and Jacksonville, Florida.
You can watch the CBS This Morning news report in the clip below.

WARNING: the footage is violent and graphic in nature.
Grand jury to consider Ahmaud Arbery case as video of fatal shooting surfacesyoutu.be
According to the Glynn County police report, McMichael witnessed Arbery "hauling a**" and thought he recognized him as someone who was responsible for break-ins in the area.

Not long ago I mentioned to a group of white people that I never run at night because of the dangers of being a lar… https://t.co/gxPQB9uLWi

— jelani cobb (@jelani cobb) 1588740896.0
Gregory McMichael reached for his .357 Magnum while his son grabbed a shotgun before piling into their pickup truck to pursue the suspected jogger.
The report also indicated there was a third man who joined them in truck.
A confrontation ensued after the father yelled at Arbery to stop.
@SkinnerPm Unquestionable. When did vigilantes get to start riding around in trucks with guns chasing people on unf… https://t.co/KmZi8HjLtX

— DQ (@DQ) 1588723305.0
The police report states:

"McMichael stated (that) the unidentified male began to violently attack Travis and the two men then started fighting over the shotgun at which point Travis fired a shot and then a second later there was a second shot."
However, the video footage revealed someone attacking Arbery after he tried to go around the white pickup truck that had stopped in front of him.

The sound of three shots being fired were heard in the video, after which Arbery staggers away from his attacker and collapses on the ground.
@SkinnerPm This was a lynching-plain and simple.

— JimBoTron (@JimBoTron) 1588724180.0
After obtaining the footage from someone close to the victim, Attorney S. Lee Merritt—who is representing the victim's family—accused Travis McMichael of shooting Arbery with a shotgun at close range.
"Mr. Arbery had not committed any crime and there was no reason for these men to believe they had the right to stop him with weapons or to use deadly force in furtherance of their unlawful attempted stop. This is murder."
Merritt added:
"We respect that there is a legal process that must be followed in order for formal indictments to take place, but for the safety of this community; for the respect of Ahmaud Arbery's memory we demand that ... these men be arrested."

The attorney also believes the footage on the internet was the same footage investigators had since the day of the shooting.

"As a result of local law enforcement's failure to share the video with the victim's family, they will see this horrific murder for the first time on the internet."
Wanda Cooper Jones, the victim's mother, said she hasn't watched the video.
She told CBS News:

"I saw my son come into the world. And seeing him leave the world, it's not something that I'll want to see ever."
Based entirely on account of Gregory McMichael's police report, no arrests have been made as of Tuesday.
Civil rights attorney Ben Crump, who is also representing the family, told reporters that if the ethnic roles were reversed in the incident—with two Black men gunning down a White jogger— there would have been arrests.
Crump is aware of the challenges in obtaining an indictment while a majority of the country remains on lockdown, but he hopes the Arbery case will not go on ignored.

"It is unacceptable that this district attorney is continuing to try and kick the can down the road."
When Victoria Rose asked on the Jackie L. Johnson, District Attorney - Brunswick Judicial Circuit Facebook page why the men were not in custody, Lamar Bookman echoed what many people were already silently thinking.

Jackie L. Johnson, District Attorney – Brunswick Judicial Circuit/Facebook
The book Hands Up, Don't Shoot is available here.