Excitedly snapping a selection of pictures of their baby boy using a camera her fiancé gave her for Christmas, a mum has revealed how the present saved his life – when a photo revealed a sign of eye cancer.
---
Stacey DeClerk, 33, was thrilled with her new Canon EOS 1300 D – a festive gift from her drainage engineer fiancé Richard Barnes, 37 – and could not wait to see the pictures she took of Brody, now one.
But when she showed his gran, early retiree Jenny DeClerk, who is in her fifties, the pair noticed a strange mark in the middle of his right eye in one image, prompting the stay-at-home mum, of Watton, Norfolk, England to see their GP.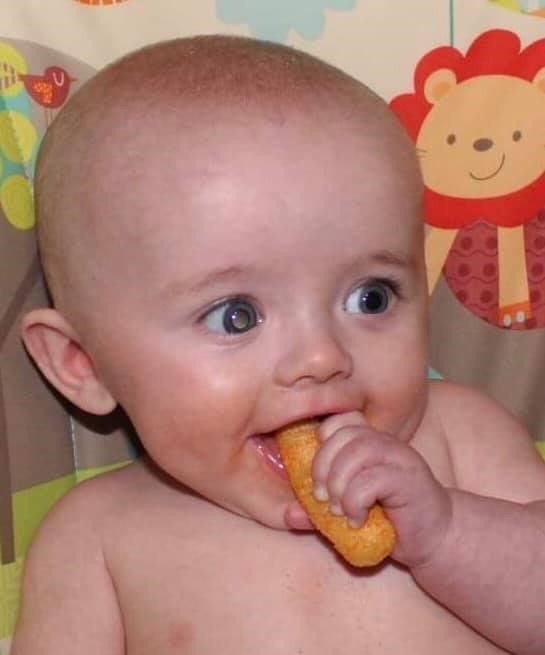 The picture that identified the cancer with the glow in Brody's right eye (PA REAL LIFE/COLLECT)
A series of tests followed, leading to a diagnosis of retinoblastoma, a rare cancer of the eye that usually affects young children, when Brody was six months old.
Thanks to a specialist form of chemotherapy at London's Great Ormond Street Hospital, the tumor shrank and Brody's eye was saved – although he will need regular check-ups until he turns five.
Speaking to raise awareness of infant eye cancer, Stacey said: "It's very hard to know if there are any symptoms, especially when children are so young."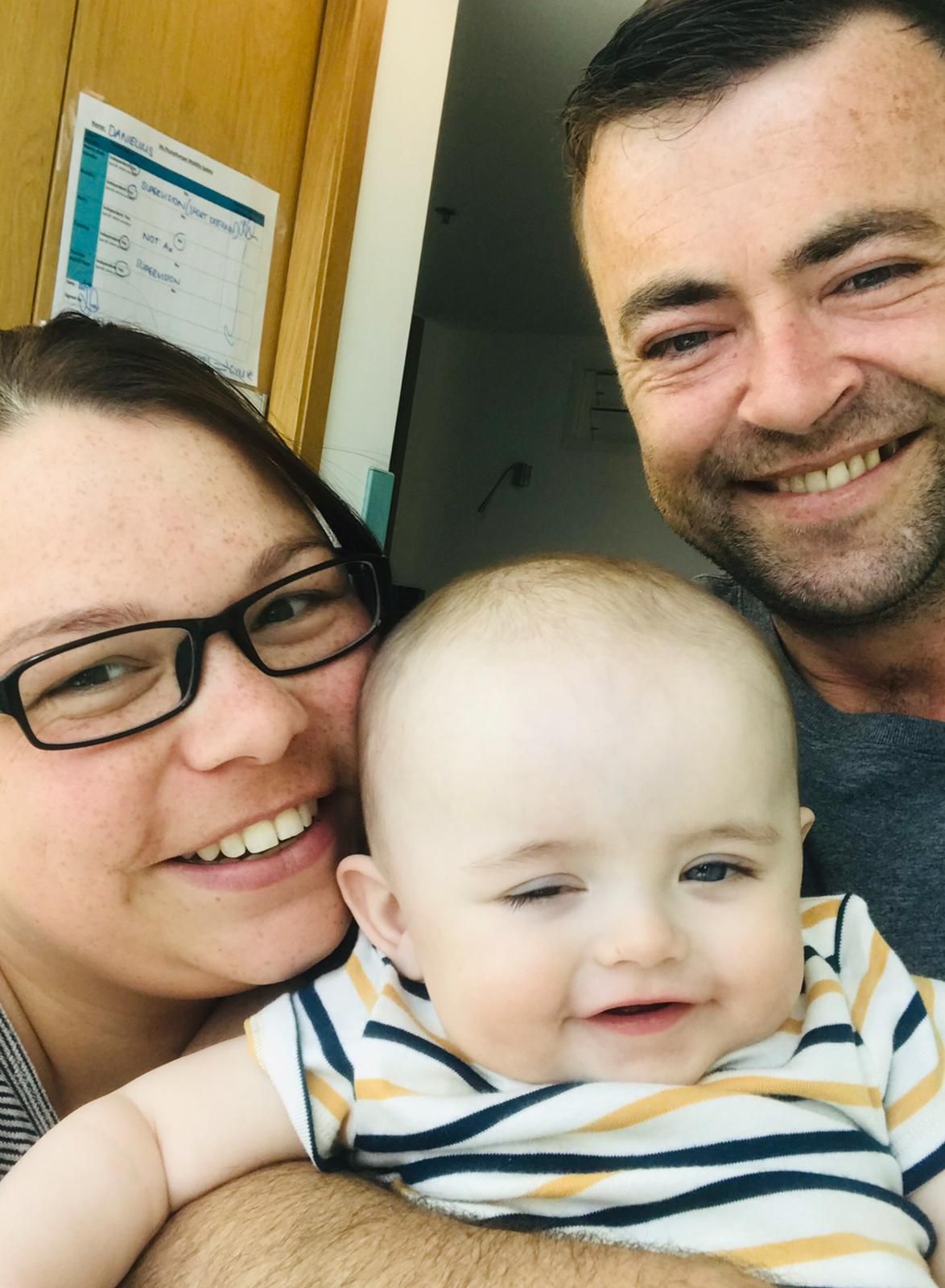 Brody with Stacey and Richard (PA REAL LIFE/COLLECT)
She continued: "We keep thinking about how lucky we were to find it. If I hadn't got that camera, it would be a completely different story. That Christmas present saved my boy's eye.
"I've tried to recreate the picture. I must have taken thousands and you can see it in just one of them. It has to be at a certain angle, which makes it even more lucky that we spotted it in that first image."
Knowing she was keen to get into photography, Richard bought Stacey, who also has another son, Cory, seven, a £345 camera last Christmas.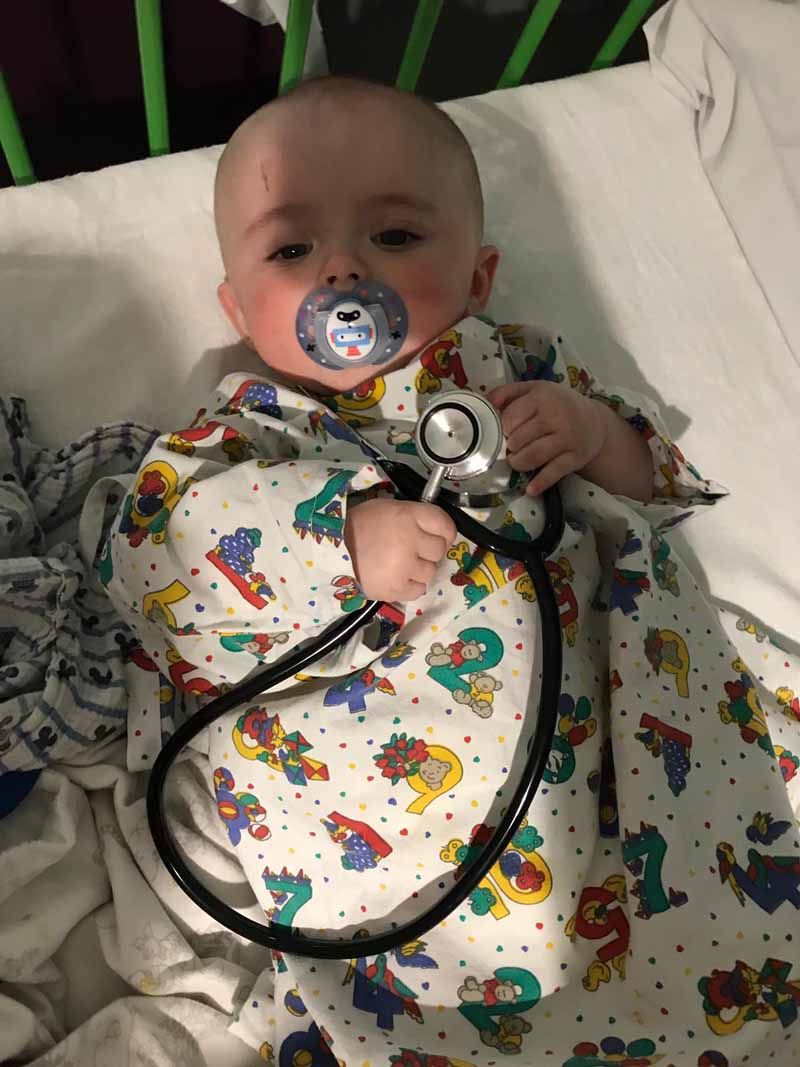 Brody in hospital (PA REAL LIFE/COLLECT)
But, unsure how to use it, she stored it away until March 2019, when she had a bit more time to experiment with it.
"I was sat with Brody in his bouncy chair and was just snapping away. I had it in sport mode so took 30 to 40 pictures," she recalled.
"I was going through deleting them when I saw the one with the funny white mark in his right eye."
At that stage, Stacey figured the spot was nothing more than a strange reflection.
But around a week later, she showed the photos to her mum – and alarm bells began to ring.
"Mum had seen something on This Morning a few weeks before and told me I should get it looked at," she added.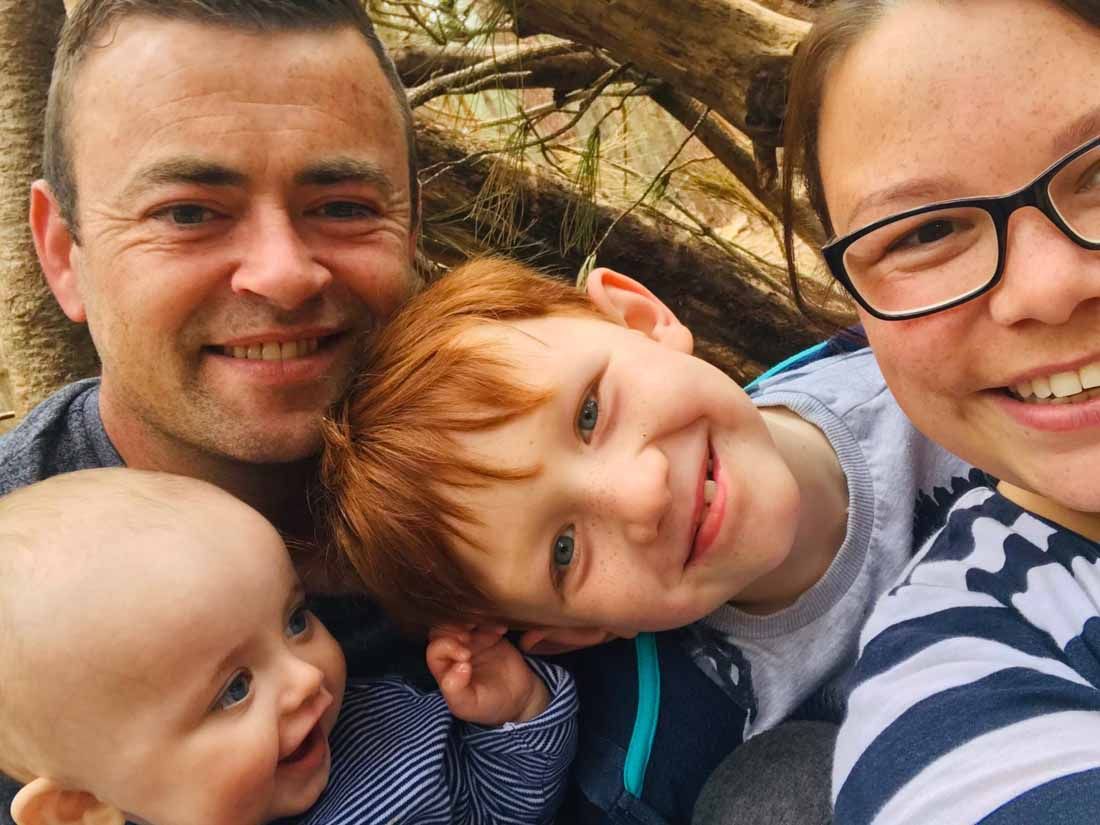 Brody, Cory, Stacey and Richard (PA REAL LIFE/COLLECT)
With her mum clearly worried, Stacey booked a doctor's appointment and started looking online at what the white mark could be.
She continued: "It was coming back with cancer – but I was still looking for something else.
"I didn't want to believe it. I found it could be a white reflex – a reflection on the retina of the eye – so thought it would be that."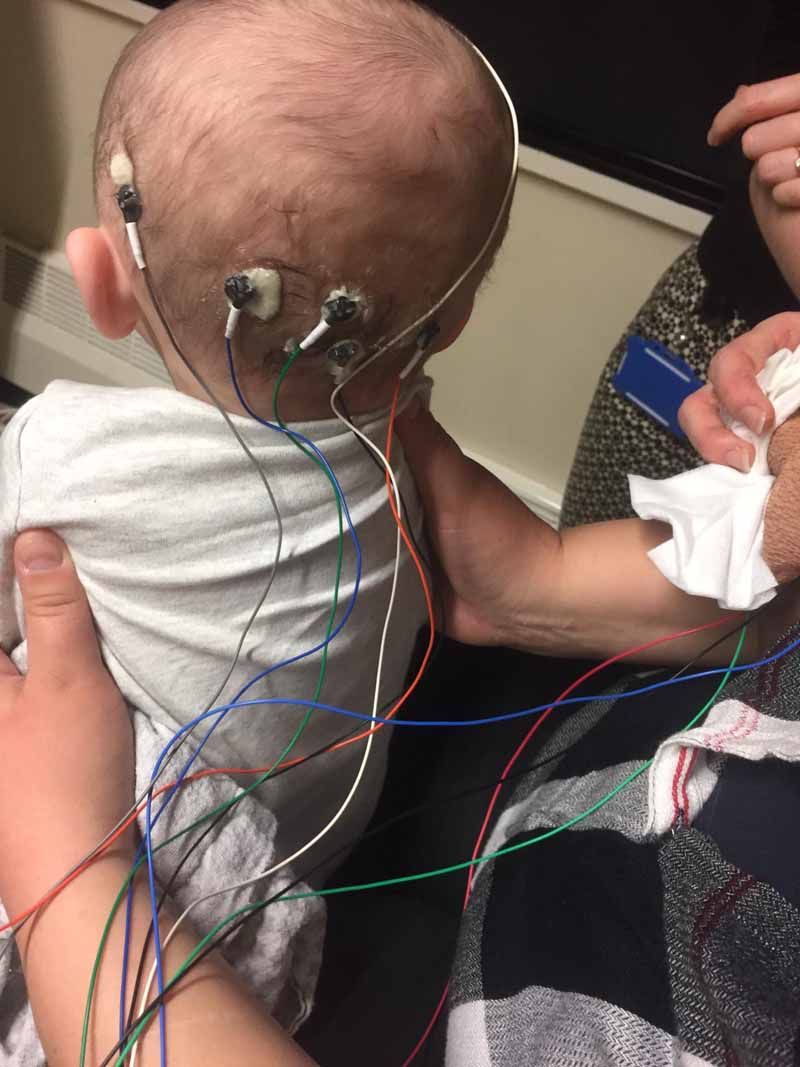 Brody in hospital (PA REAL LIFE/COLLECT)
She continued: "With hindsight, I realized that Brody did struggle to grab things. He would reach out for toys but miss them, which we later found out was because the tumor was covering his retina and affecting his sight."
After visiting the GP, Stacey and Brody were referred to the eye clinic at Norfolk and Norwich Hospital, where the tot underwent a string of tests, including an ultrasound scan of his eye.
"I had to hold Brody so that medics could put him in a head brace and have a proper look at his eye, which was horrible," Stacey said.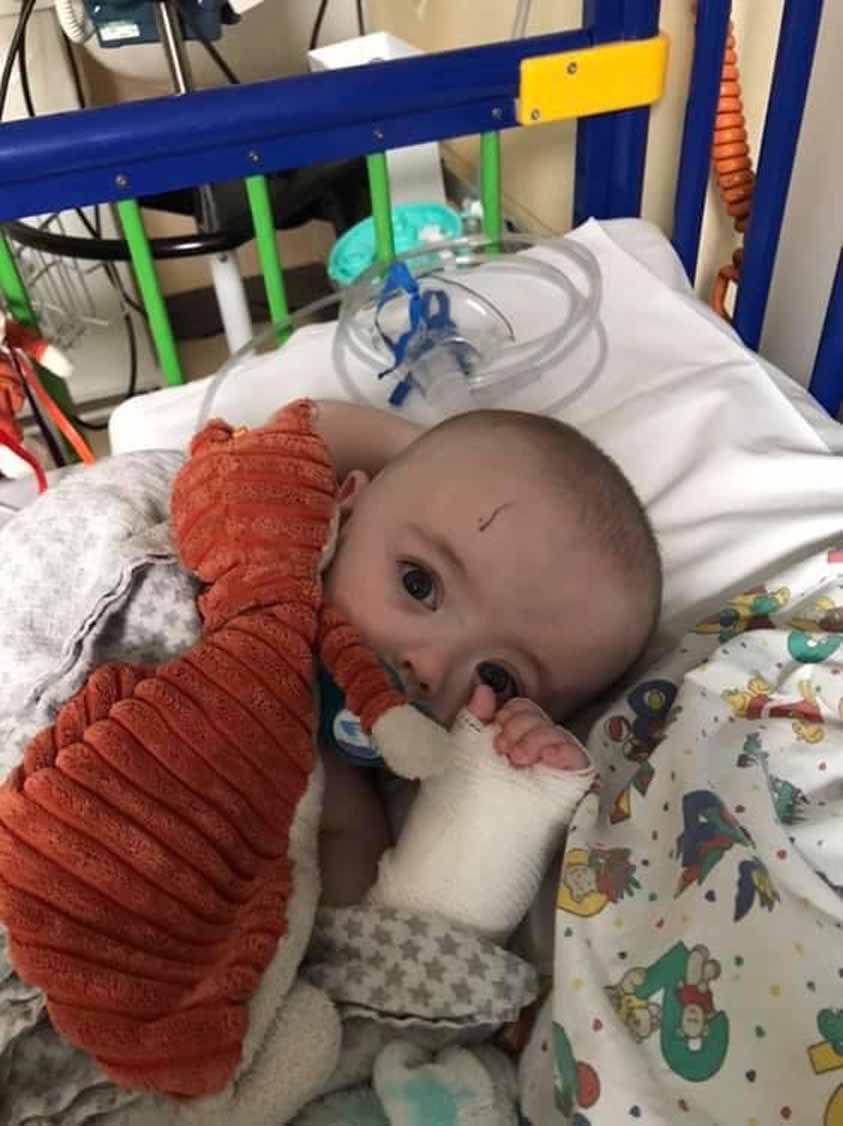 Brody in hospital (PA REAL LIFE/COLLECT)
"I could tell by their faces that they could see something. At that point, I started crying because I knew that it wasn't good," Stacey added.
"Then, they took us into a different room, where they did an ultrasound. They could see a white mass across Brody's retina and told us it was probably a tumor.
"Richard and I just broke down in tears. We were devastated. I won't forget that moment because no one wanted to say the word, 'Cancer'."
It's Childhood Cancer Awareness Month! The internationally recognised symbol of childhood cancer is a gold ribbon… https://t.co/3PaW9X1TO9

— FMO (@FMO) 1568284621.0
From there, Brody was referred to Royal London Hospital, a retinoblastoma treatment centre in the east of the capital.
There, a week later on March 13, he was given an anesthetic so a specialist could perform a type of X-ray and confirm the official diagnosis.
The procedure took around half an hour – although Stacey notes it felt like "forever" – and afterwards, doctors broke some devastating news.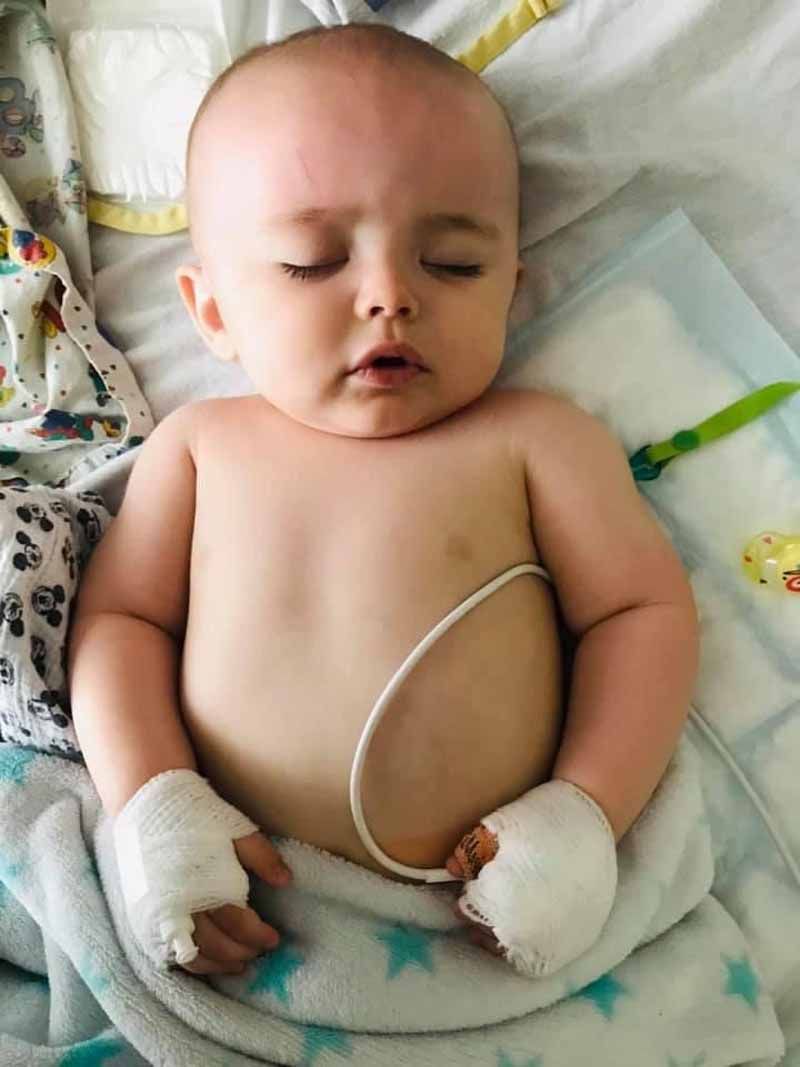 Brody in hospital (PA REAL LIFE/COLLECT)
The young mum recalled: "We sat down with four doctors and a nurse. It was very daunting. They explained Brody did have retinoblastoma.
"We had prepared ourselves for them saying that, but didn't know how bad it would be to actually hear it out loud.
"They grade it from A to E with E being the worst, meaning a full removal of the eye is needed. They said Brody was at the beginning of a grade D, and that there was a 60 per cent chance of them having to remove his eye."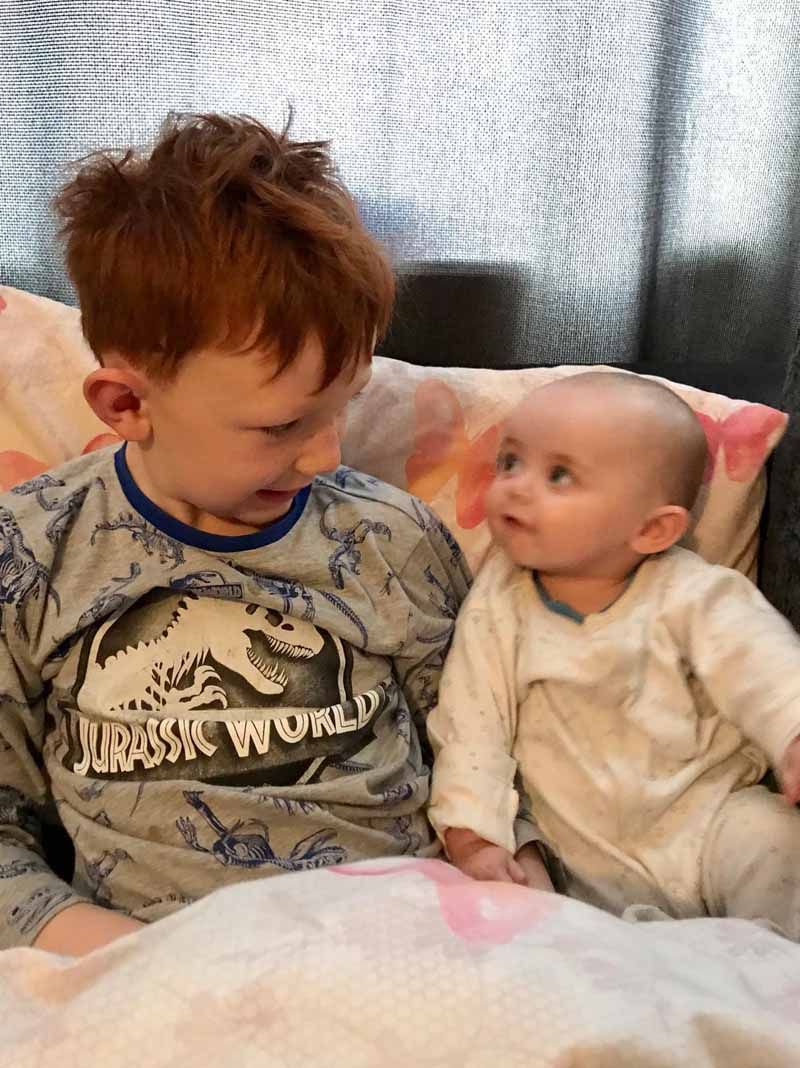 Brody and Cory (PA REAL LIFE/COLLECT)
According to the Childhood Eye Cancer Trust, retinoblastoma is a rare and aggressive form of eye cancer that affects babies and young children, mainly under the age of six.
On average, around 40 to 50 cases are diagnosed a year in the UK – almost one child a week.
Retinoblastoma represents three per cent of all childhood cancers, and 10 per cent of cancers in babies under the age of one in the UK.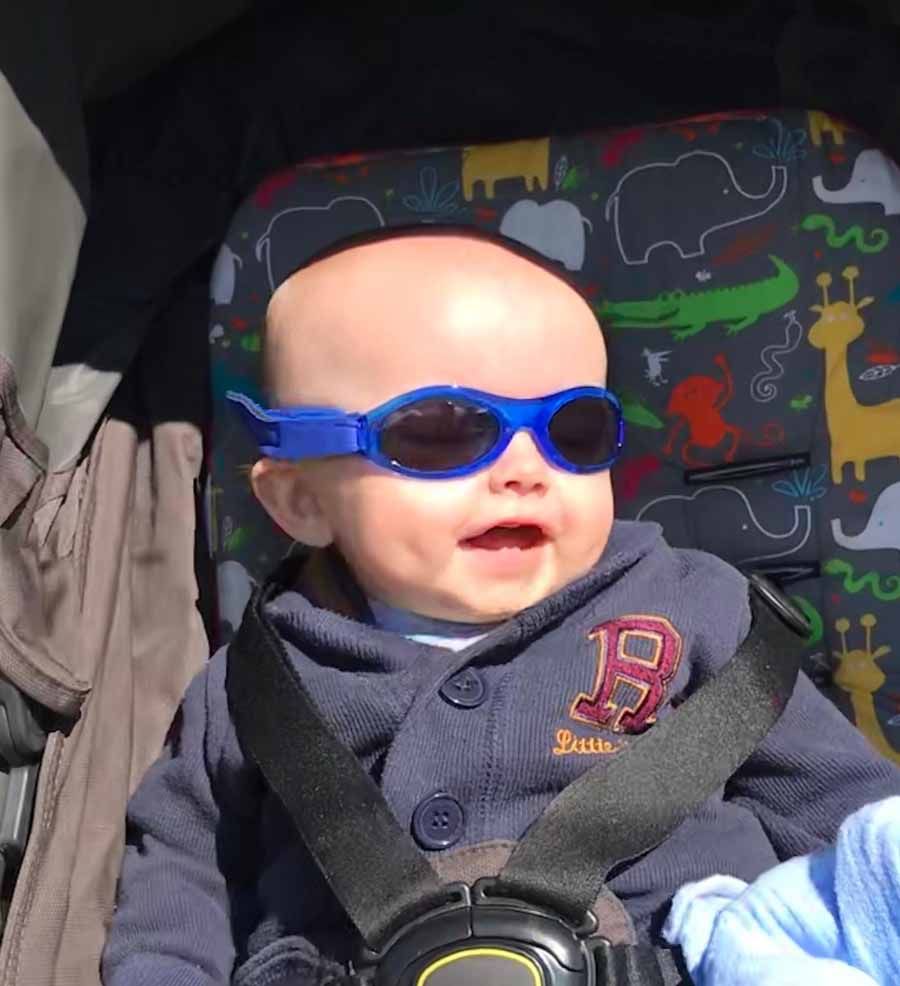 Brody (PA REAL LIFE/COLLECT)
Explaining the options, doctors told the heartbroken parents that Brody would either need to have his eye removed or they could try and treat him with either standard or intra-arterial chemotherapy – where the chemotherapy is injected directly into arteries closer to the cancer.
Stacey said: "We had a lot of discussion about it and decided that we would not want to put him through standard chemotherapy.
"We had seen friends go through it, and thought it would be too much for his tiny body to take. We were worried, also having an older child, that it would leave him prone to infections."
Stacey recalled: "We spoke to a lot of people through a group we joined on Facebook. We listened to the doctors and asked them what they would do if it was their child. They said that the intra-arterial chemotherapy was the best option, as it supposedly has less side-effects.
"A nurse told us he is only the second child in the country to be offered this kind of chemotherapy as a first treatment."
So, after much soul-searching, Richard and Stacey decided to try intra-arterial chemotherapy at London's Great Ormond Street Hospital, in the hope it would save Brody's eye.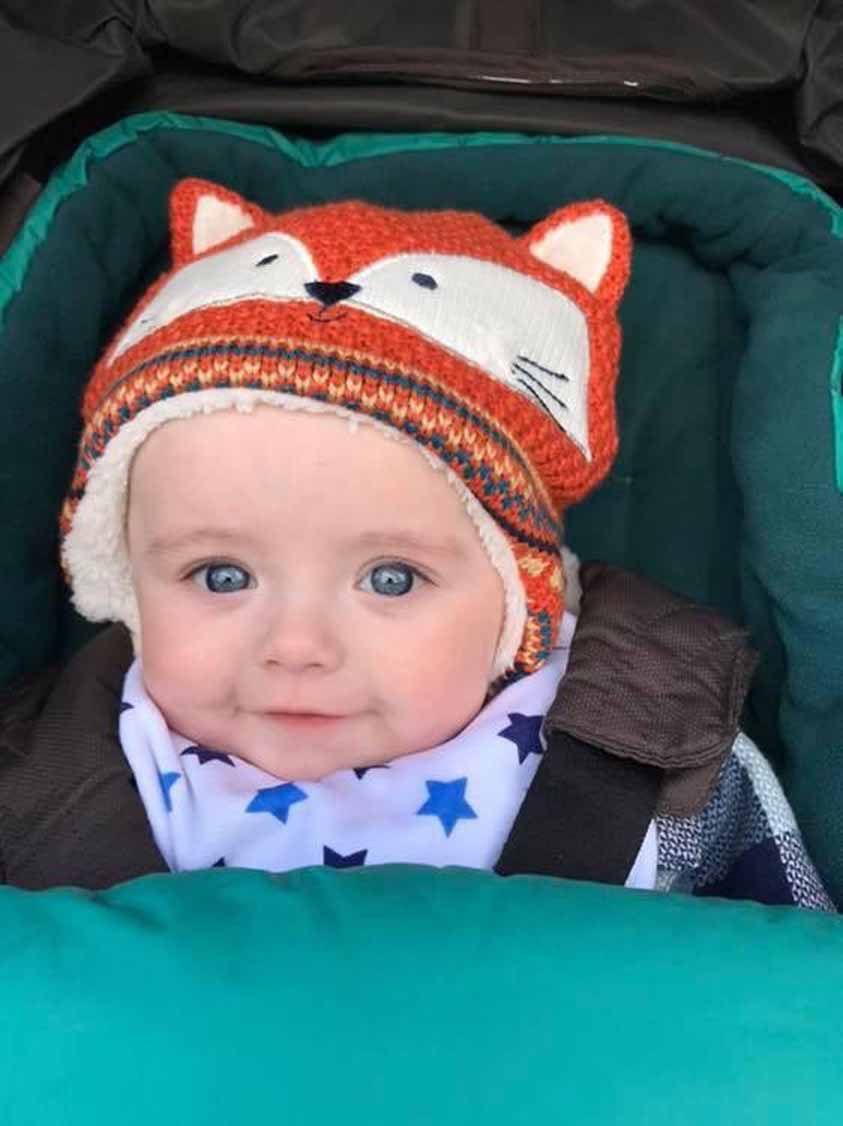 Brody (PA REAL LIFE/COLLECT)
And in March, medics put a cannula through the main artery in his groin, before threading it through blood vessels into the ophthalmic artery, which feeds the eye, to inject a chemotherapy drug.
Under general anesthetic, he had three sessions over as many months, which took its toll, leaving him off his food, with a high temperature and leading to him losing his eyelashes and eyebrows.
Frighteningly for his parents, on the third session, Brody's body reacted to the tube being inserted and his heart rate shot up – but doctors managed to stabilize him.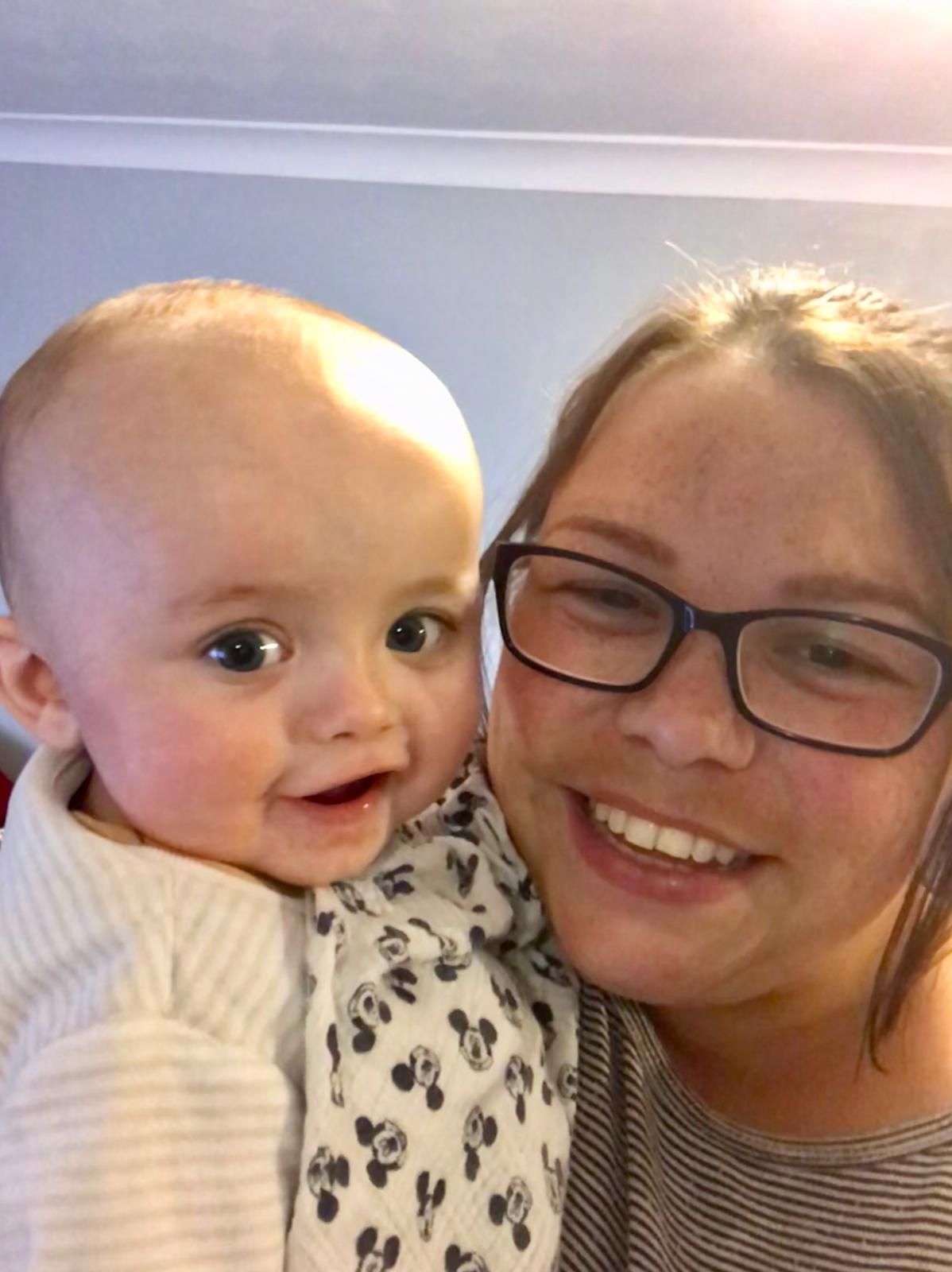 Brody and Stacey (PA REAL LIFE/COLLECT)
"Every time he was put to sleep and taken to theatre, we wouldn't see him until he had woken up in recovery. After that final session, they came through and told us how it went. It was very scary hearing that he'd reacted like that," Stacey said.
"The chemotherapy shrunk the tumor by half and contained it within the eye, but it can still grow until he is five so he has to have follow up appointments every four to six weeks, every time under general anesthetic.
"There is still the possibility of it growing and needing further chemotherapy until the age of five. Most of the children do relapse which is real worry to us and is why we have regular check ups."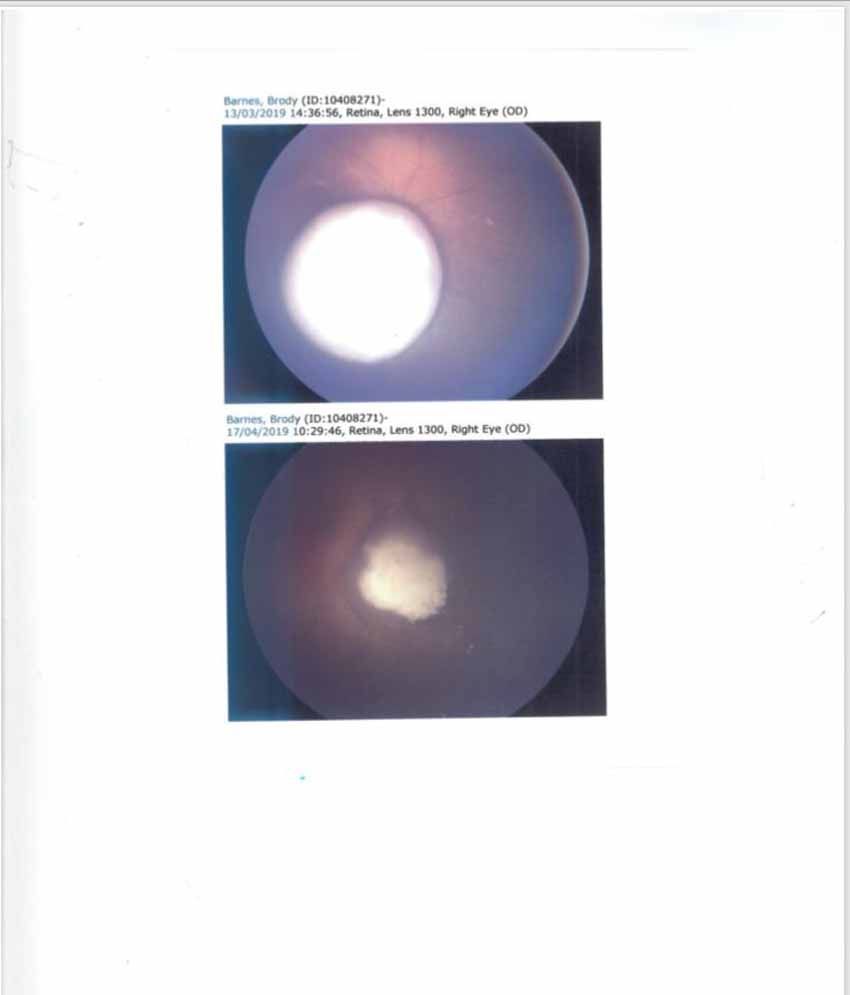 Scans showing the tumour in Brody's eye (PA REAL LIFE/COLLECT)
She continued: "It will be there for the rest of his life but it won't be able to grow once he reaches five because the eye will be fully developed so the tumor will not be able to expand."
At the moment, Stacey is unsure how badly – if it all – Brody's sight has been affected by his ordeal.
According to her, the tumor "floats around the jelly in his eye," and sometimes, he will try to reach for something that isn't there – making her think he can see floaters, or black dots.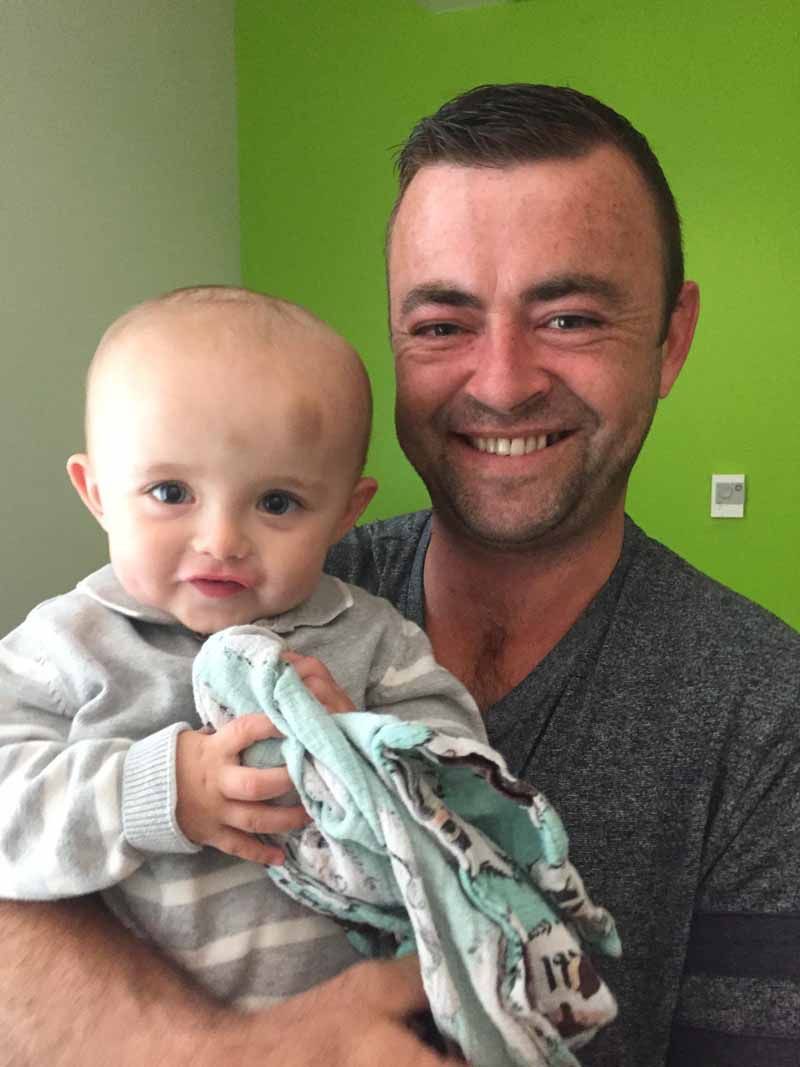 Brody and Richard (PA REAL LIFE/COLLECT)
He also struggles with his balance, but despite everything, is a "happy little chap, who is always smiling."
Stacey said: "He missed out on quite a lot because of the chemotherapy, like not being able to socialize with children his age, so we've just started going to some baby groups but he tends to go off on his own.
"The first time he saw a baby he didn't really know what to do. He looked at me like he didn't really know what it was."
"He's better with older children and he's really sociable with adults. He's not shy around them at all," Stacey explained.
"We do not know how it will impact his sight until he's older, but he probably will have some vision problems."
Now Stacey is working with The Childhood Eye Cancer Trust to raise awareness of the condition, and has raised £5,000 for them by holding various fundraising events including a skydive and sponsored fishing event.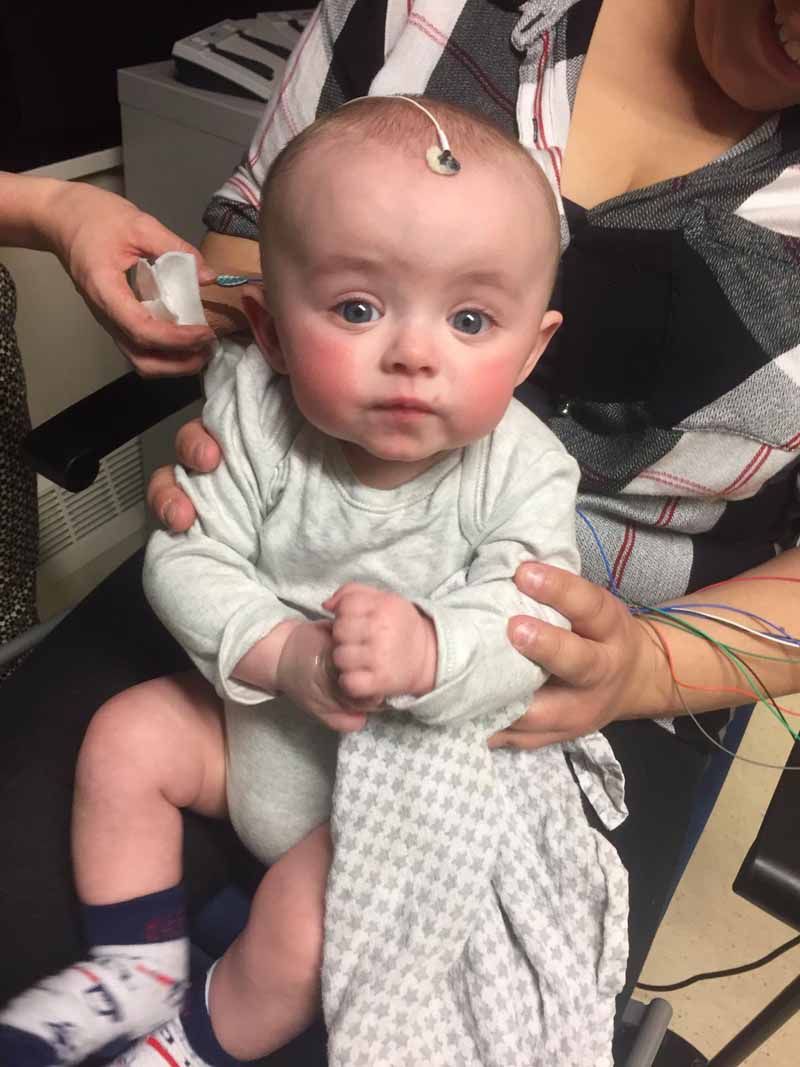 Brody in hospital (PA REAL LIFE/COLLECT)
"It's so hard to know until children get a bit older and can tell you if something isn't right," she continued.
"I spoke to one mum who only found out because she had been to a child's birthday party and her daughter was dressed as a pirate with an eyepatch, and she said she couldn't see anything out of the other eye.
"I keep thinking about how lucky we were to spot it when we did."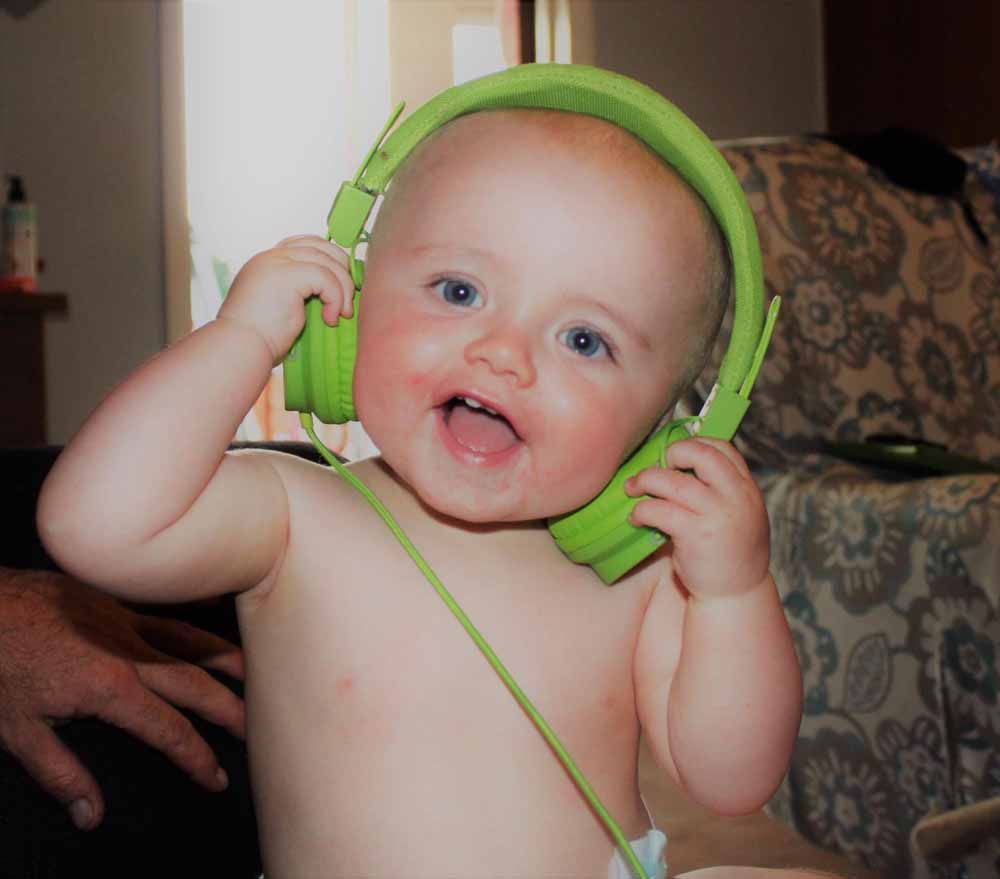 Brody (PA REAL LIFE/COLLECT)
Patrick Tonks, Chief Executive of the Childhood Eye Cancer Trust said: "Retinoblastoma is a rare and aggressive eye cancer which normally affects children under the age of six. Approximately one child per week in the UK is diagnosed with the disease. Sometimes symptoms can be subtle, often presenting themselves as a white glow or a squint (lazy eye).
"There is a 98 per cent survival rate for retinoblastoma in the UK, however this is often at the devastating cost of around half of children with the condition having to lose an eye to save their life.
"Early diagnosis can help save a child's sight, eyes and even life, therefore, we urge parents to have their child checked by their GP or optician if they have any concerns at all."
To donate visit https://www.gofundme.com/f/sky-dive-for-retinoblastoma-awareness.