In a viral TikTok video, a user by the name selenabrookes posted a video of her mother exorcising her room because she's gay.
The text over the video read:
"If you're wondering what religious abuse is, here."
Brookes bio on her tiktok reads "gay, gay, gay."
She has several other videos with the hashtags "gaycouples," "lgbtq," and "equality."
The video was later shared on Twitter.
In the video, you can hear who we can assume to be Brookes mother said:

"Thank you Jesus."
"Demons, foul spirits, lying spirits, Satan, I rebuke you in the name of Jesus."
"The name above all names. Praise you, Jesus!"
Then she promptly walked away.
Brookes slowly closed the door and begins to either cry or laugh, or both. In the comments, Brookes received an outpouring of love and support.
Many people who are Christian also said her mother's behavior was not true to the religion.

@jegaysus/TikTok

@jsquared2009/TikTok

@mad.y01/TikTok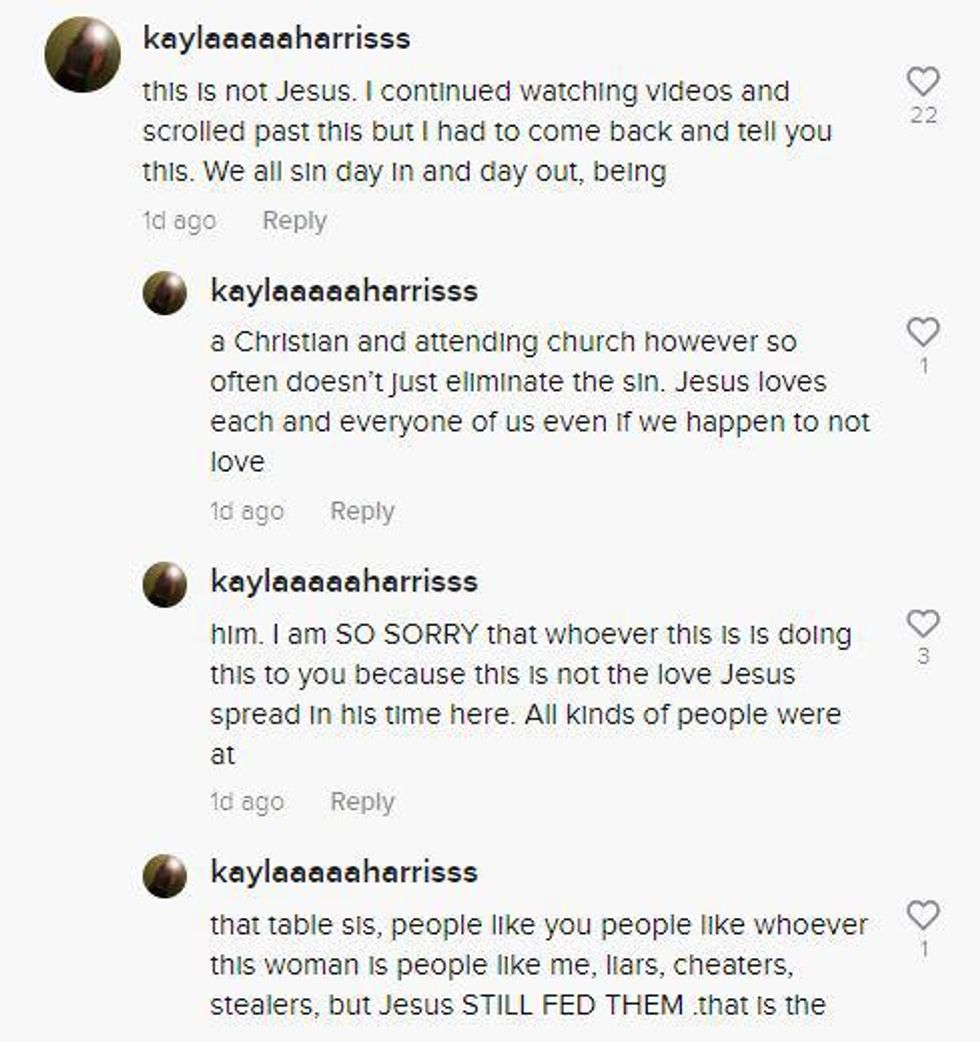 @kaylaaaaaharrisss/TikTok

@havenferrer/TikTok

@may.the.gay.wizard/TikTok

@renegadescienceteacher/TikTok
Many people also shared their experiences with religious family members.

@maysieeeeeeee/TikTok

@sunnybrooke14/TikTok

@nihilli/TikTok

@okayjhen/TikTok

@daniellebublitzrd/TikTok
On Twitter, she also received love and support.
Brookes used the hashtag "emancipation," which would imply she might be thinking of leaving her living situation before she turns 18.
The Trevor Project reports:
"As a result of family rejection, discrimination, criminalization and a host of other factors, LGBTQ youth represent as much as 40% of the homeless youth population."
In 2018, a study revealed LGBTQ+ people felt increased negative feelings about one's self and an increase suicidal ideation as a result of religion.
This is in direct contradiction to other studies that showed religious practice being a protective factor for non-LGBTQ+ people.