A Mississippi high school has come under fire following a decision to force its Black female valedictorian and salutatorian to share the honors with two White students.
The administration of West Point High School in West Point, Mississippi claimed it made an error in evaluating who exactly won the top spots in the class of 2021.
But other students at the school alleged the real reason for the change was the White students' parents complained about the two Black honorees.
The two Black students, Ikeria Washington and Layla Temple, were named valedictorian and salutatorian at the school's annual senior awards ceremony on May 27.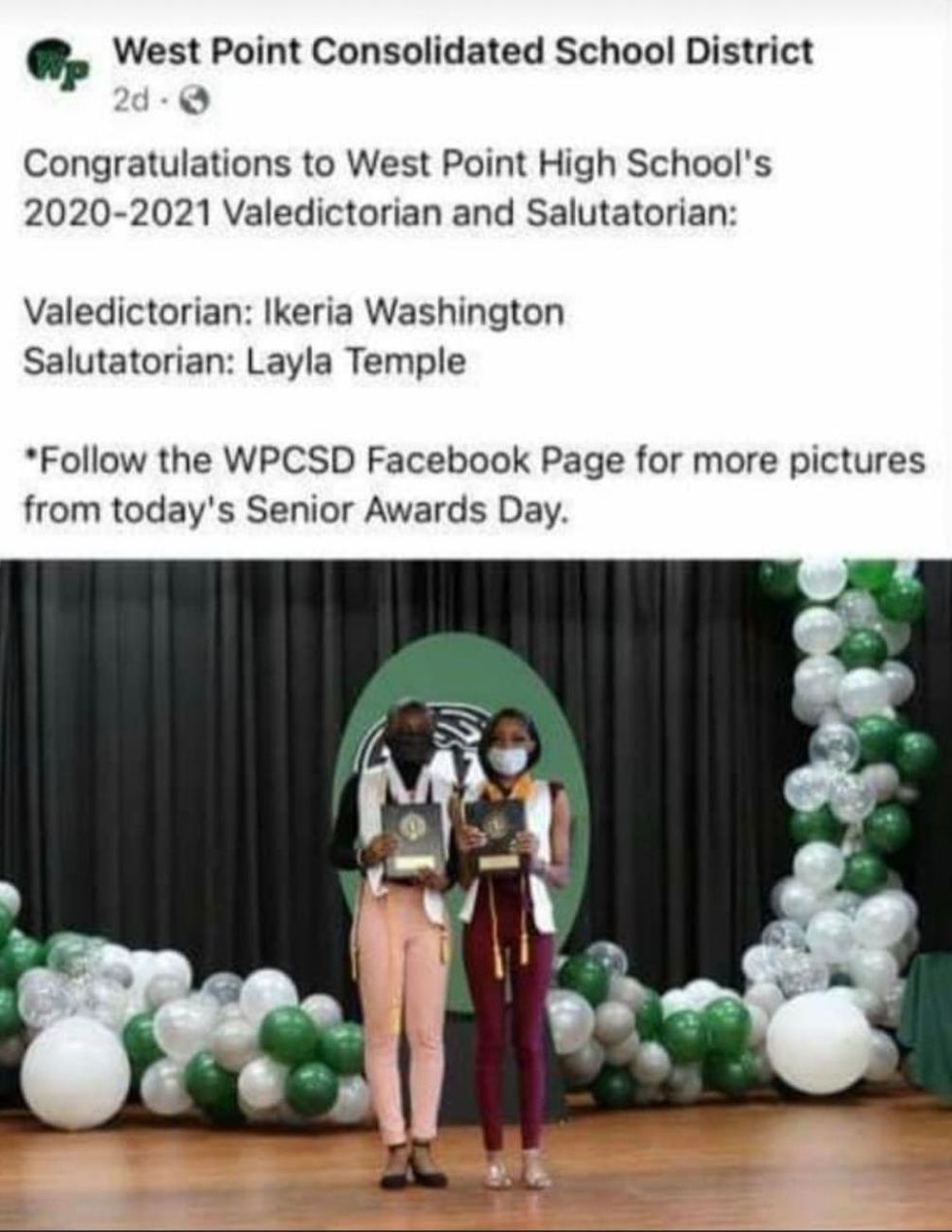 West Point Consolidated School District/Facebook
But on the morning of graduation day, school officials announced they made an error based on the school's use of two different metrics for determining the top spots in the class, Grade Point Average and Quality Point Average.

The school explained while Washington and Temple had the top QPA scores, two White students, Emma Berry and Dominic Borgioli, achieved the highest GPA scores. Burnell McDonald, the school district's superintendent, told local media an unidentified school guidance counselors made the calculation error.
Speaking to Mississippi Today, McDonald claimed:
"...[W]hen you generate the report from the system, it clearly shows the two White students would've been first and second based on that [GPA] number."
He also vigorously denied discrimination influenced the school's decision, a claim Melissa Borgioli, mother of White co-valedictorian Dominic Borgioli, echoed.
"Because those two young ladies are African-American and my son and the other person are White, it's become a racial issue when it's strictly a 'the counselor did not use the correct policy and the school wouldn't admit it' issue."
People congratulated the newly appointed co-valedictorian and salutatorian on Facebook.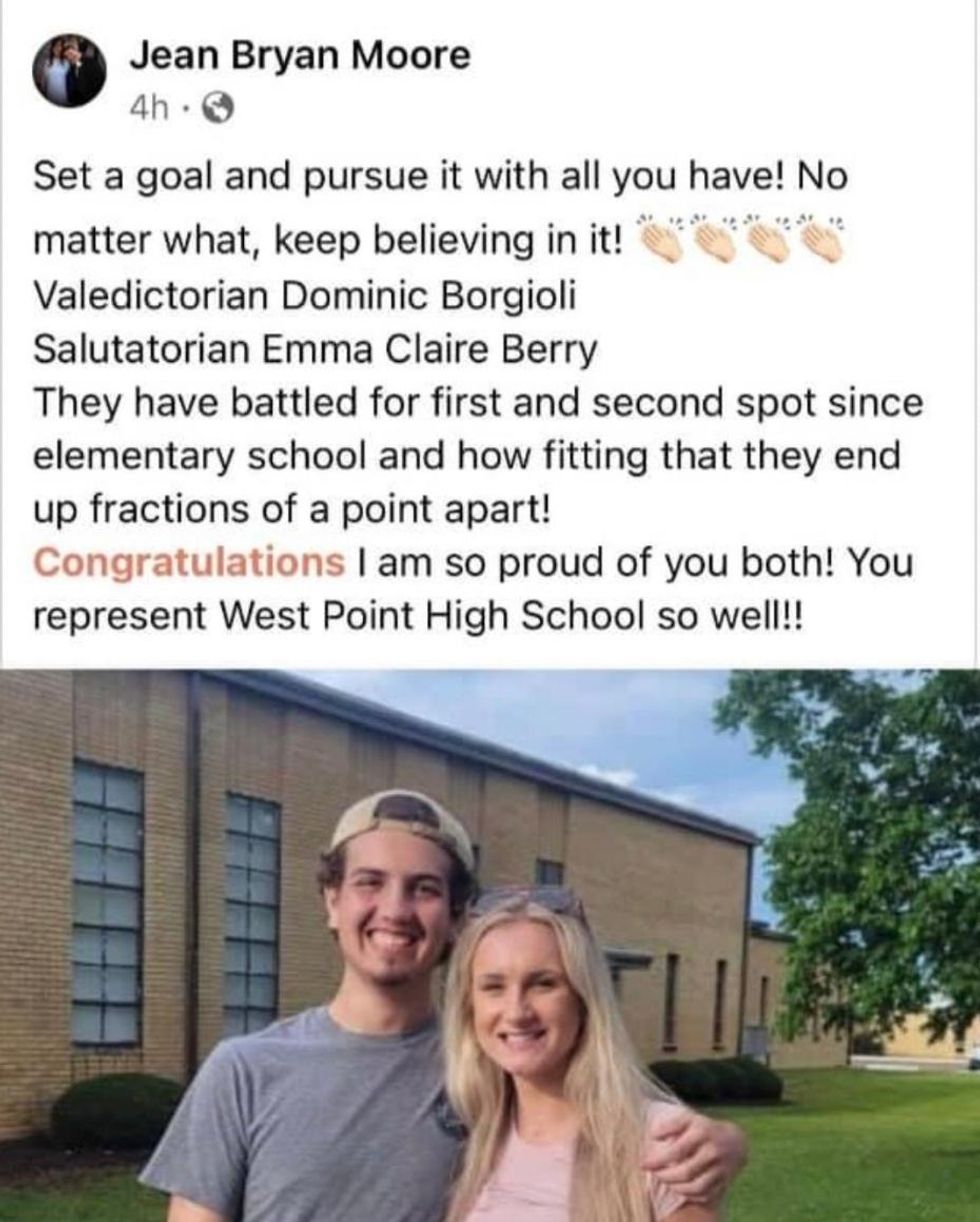 Jean Bryan Moore/Facebook
But Angela Washington, Ikeria's mother, painted a starkly different picture of the controversy.

In a reply to the school's since-deleted Facebook post about the matter, Washington claimed Berry and Borgioli's parents had complained about Washington and Temple's selection profusely, despite the fact the girls took multiple AP courses, thus weighing their GPAs more heavily, while Berry and Borgioli had not taken advanced courses.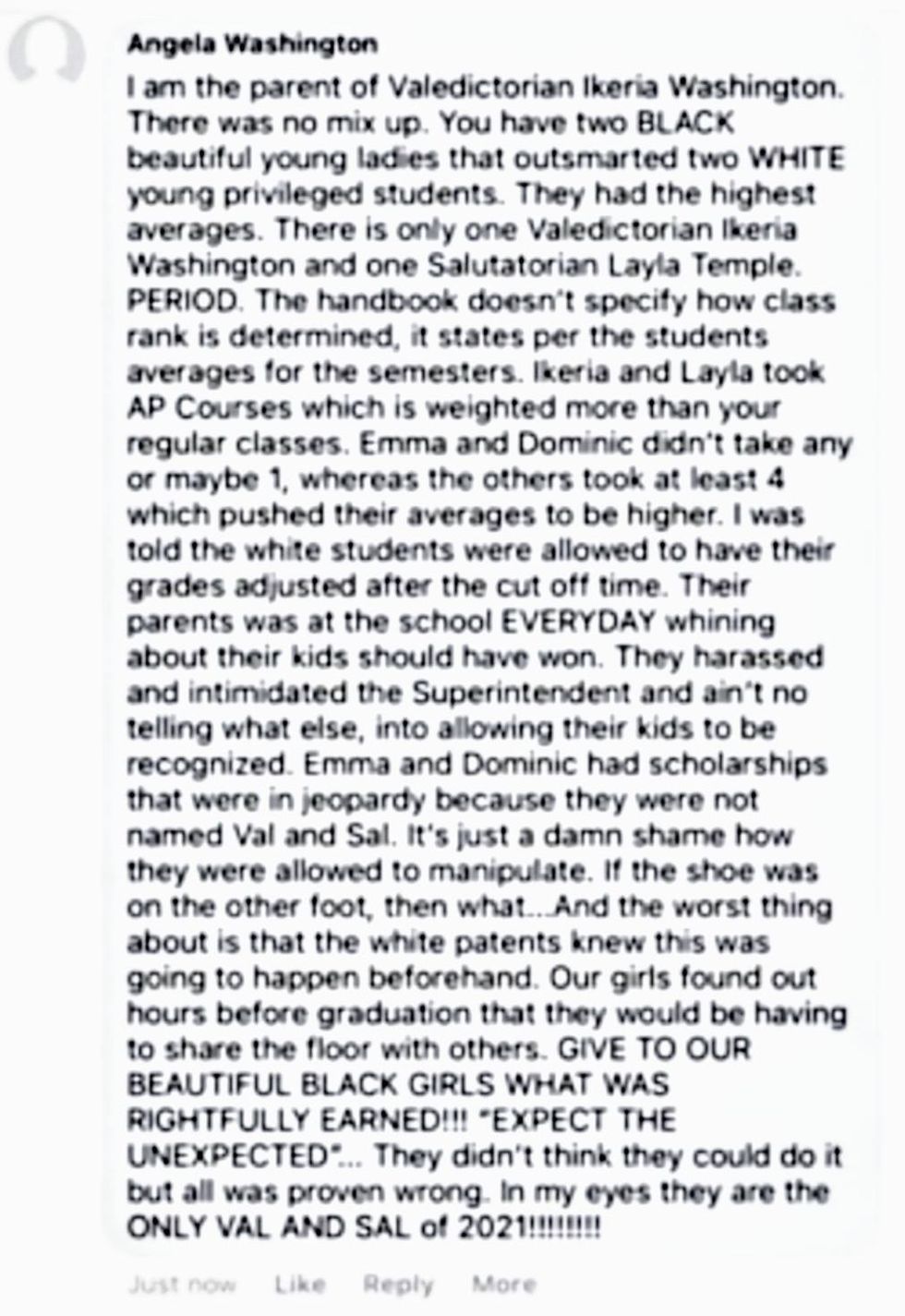 School districts weight classes when determining top positions.
Harder classes are given more value than easier ones with AP classes considered the hardest.
Washington also told Mississippi Today because the school's stated selection procedure is vague, the school simply changed the rules to appease the White parents.

"I'm still baffled... What it looks like is because the handbook doesn't specifically say GPA or QPA, to make the other side happy, he changed the rules on his own."
On social media, the incident left people outraged.
The school district released a statement apologizing for the misunderstanding saying they took full responsibility for the controversy.