Michael Fanone—who worked for the Metropolitan Police Department of the District of Columbia for 20 years until he sustained serious and life-threatening injuries when he was brutally attacked by former Republican President Donald Trump's supporters during the January 6 insurrection—did not hold back in his response to the news of Trump's indictment.
Trump was indicted in connection with his widespread efforts to overturn the 2020 election result and faces four felony counts, including conspiracy to defraud the United States and conspiracy to obstruct an official proceeding.
The indictment further accuses Trump of attempting to exploit the events of January 6 to further his quest to maintain power.
Reflecting on these developments, Fanone shared his thoughts with NBC News, stating:

"Donald Trump spent his entire lifetime f**king around and he's about to find out. I'd like to think that in some small way I played a part in all this."
"When I heard confirmation of the indictment I couldn't help but feel incredibly proud to be an American. The same way I did when President Obama announced that our military had killed [Osama] Bin Laden."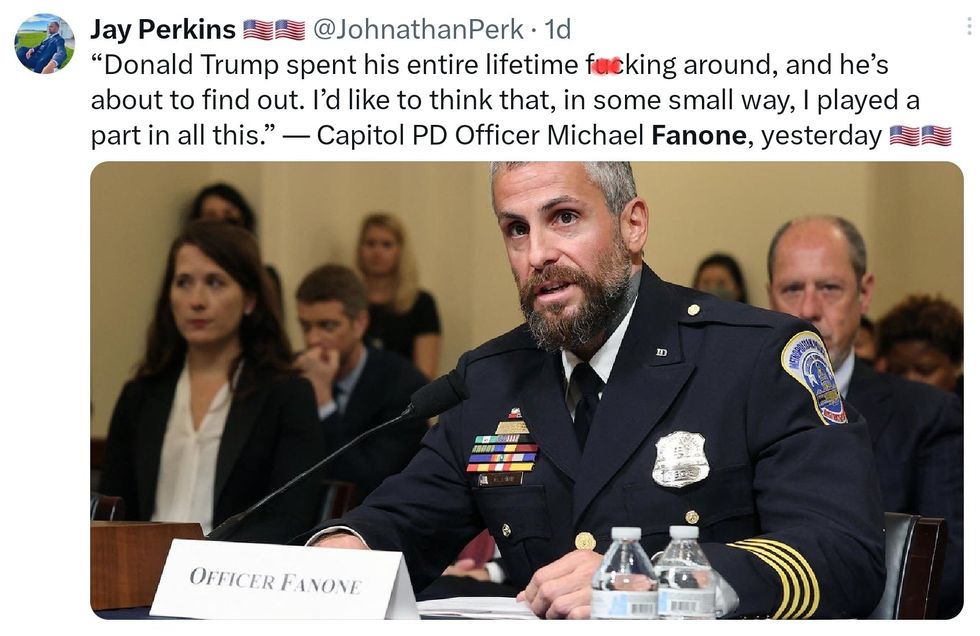 @JonathanPerk/Twitter
Fanone also called out Republicans who've defended Trump despite the overwhelming evidence:

"I saw the Trump-fueled MAGA attack before my eyes. It was calculated, premeditated, and malicious."
"It disgusts me that House Republicans are heinously coming to the defense of Trump's criminal behavior while putting up the foundation of our democracy as collateral."
Many praised Fanone's response.

Fanone's name became synonymous with the many police officers who suffered horrific and unprecedented trauma as they attempted to restore order and protect the seat of the nation's government on January 6.

In June, U.S. District Judge Amy Berman Jackson denied a request from the legal team for insurrectionist Thomas Sibick that she loosen restrictions she put in place after she released him from a Washington, D.C. prison last October. Sibick had earlier tried and failed to be relieved from a 24-hour lockdown at his parents' home so he can use dating apps.
Sibick faces up to 20 years in prison if convicted of obstruction of an official proceeding, the most serious of the charges against him. Federal authorities have also charged him with robbery, civil disorder, assaulting police and committing an act of physical violence on Capitol grounds.
His face became known nationwide for his involvement in the attack on Fanone, who suffered a traumatic brain injury when he was beaten with a flagpole.
Sibick robbed Fanone of his badge and radio while others tased Fanone and threatened to beat him with his own gun. Fanone's badge and radio were recovered from the spot where Sibick buried them after returning to Buffalo, New York from D.C.
Fanone, who currently works as an on-air contributor and law enforcement analyst for CNN, has described the attack as "the most brutal, savage, hand-to-hand combat of my entire life," adding he "experienced a group of individuals that were trying to kill me to accomplish their goal."